Located north of Ephraim, Sister Bay is a charming town of just under 1,000 people, with a beautiful shoreline and marina plus a large number of options for dining, shopping and hotels.
My recommendations include:
Sister Bay Bowl: This is one of my favorite spots in Door County. This is an historic bowling alley from 1958 and a supper club from 1964. I loved having lunch in the bar area and then watching locals bowl. It has a great atmosphere.  
Base Camp Coffee Bar: At 10904 Hwy. 42, this is a fun coffee shop that also serves breakfast and lunch items.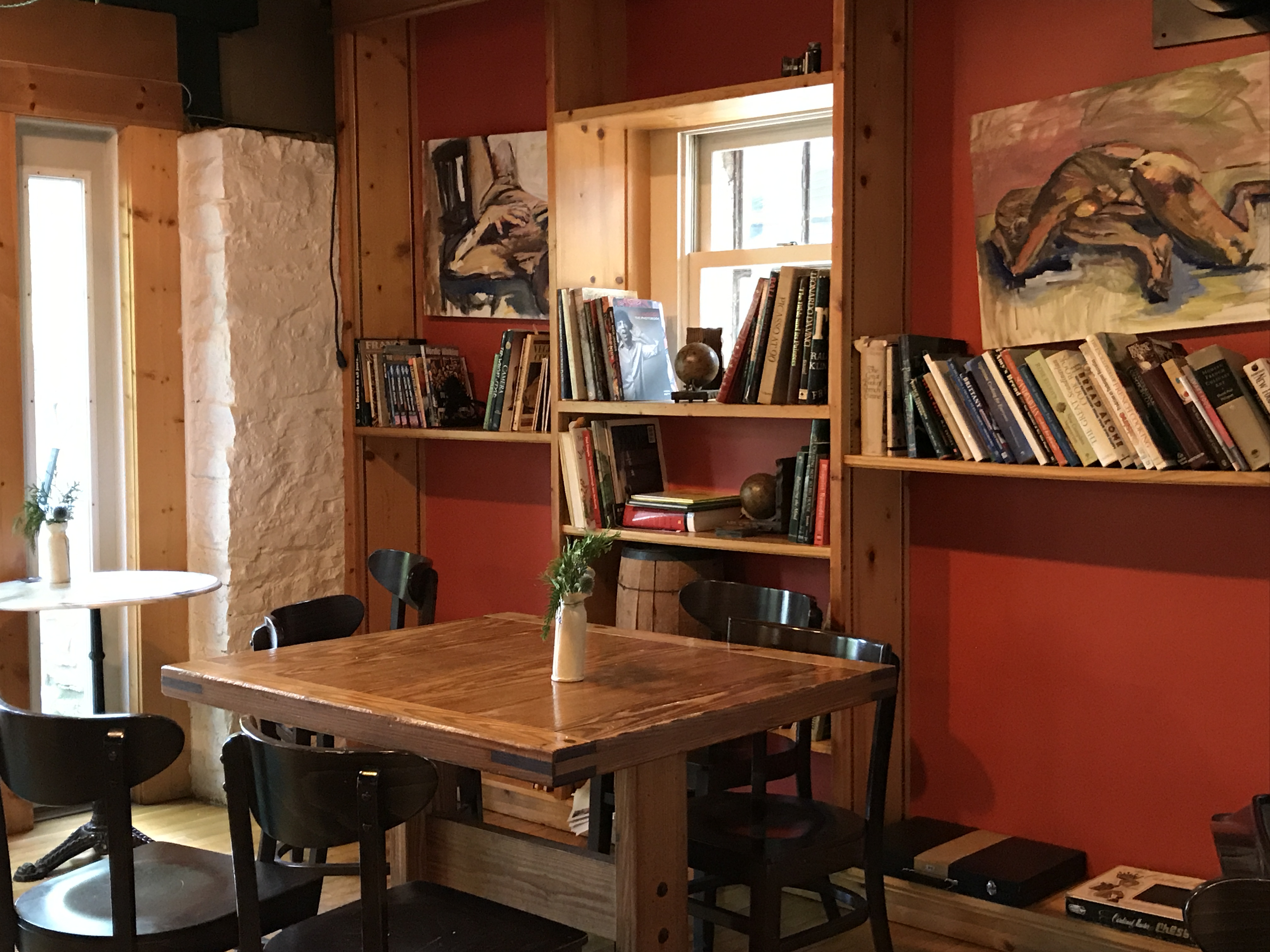 In the same building upstairs is Summer Camp Antiques & Gifts which is a beautiful new store with some wonderful pieces.
Door County Ice Cream Factory & Sandwich Shoppe: Originally Al Mickelson's General Store from 1912, the building is now the home of Door County Ice Cream Factory and Sandwich Shoppe that is a fun spot to grab a sandwich, salad or a homemade ice cream treat. 11051 Hwy. 42.   
Door County Creamery: This is a casual cafe and deli where you can buy a large selection of local cheeses and charcuterie, plus sandwiches and salads. During the summer, you can sign up for a tour of their goat farm at lunchtime. 10653 N Bay Shore Dr.
Don't miss breakfast or lunch at Al Johnson's Swedish Restaurant & Butik in Sister Bay at 10698 N. Bay Shore Dr. This is an authentic Swedish restaurant from 1949. Not only do the servers wear traditional Swedish dress, but you can find goats grazing on the sod roof of the restaurant which has been a tourist attraction for many years. A little less touristy is their Stabbur Beer Garden, at 702 N. Bay Shore Dr. where you can enjoy a drink outside and the great weather.  
Another spot getting good reviews is JJ's La Puerta Restaurant for Mexican food on the water. 10962 Hwy. 42.
Chicago friends were just there and really liked Grasse's Grill which is a casual spot for breakfast and lunch. 10663 N. Bay Shore Dr.
The Liberty Lodge at Sister Bay also get good reviews with attractive rooms. 11034 State Hwy 42.
Seaquest Orchards Farm Market: This farm market from 1986 is located two miles north of Sister Bay at 11482 Hwy 42. It is located at Seaquist Orchards which began over 100 years ago. They specialize in fruit and fruit products. You can find fresh fruit, made from scratch bakery items, salsas, pie fillings, dried fruit, gourmet fudge, gifts and more. I am enjoying their no sugar added jam at home of which they have eight varieties from tart cherry to apricot and blueberry.
I recently read about Boathouse on the Bay, a fun spot with great views of the marina an bay. They feature lobster rolls, chowders, seafood, sandwiches, burgers and classic cocktails at 10716 N Bay Shore Drive. I also just saw a great review for the Waterfront Restaurant with wonderful  sunset views.  It is located at 10947 WI-42  and features a seasonal menu showcasing produce and ingredients from local farmers, fishermen and purveyors.