Every time I go to Vail, Beaver Creek and the Vail Valley, there are more and more restaurant options to explore from casual to fine dining. In addition, there are several new distilleries and microbreweries that have recently opened. My top recommendations for where to eat in the Vail Valley, by location, are as follows:
Vail Village
Sweet Basil 193 Gore Creek Drive: One of my favorite spots is Sweet Basil which overlooks a stream in the back of the restaurant. It has been there since 1977 and still is one of the best in town! It was voted Colorado's Most Popular Restaurant by the Zagat survey.
Pepi's Restaurant and Bar at the Hotel Gasthof Gramshammer, 231 East Gore Creek Drive, has also been there for years, since 1964, as has The Red Lion which opened in 1963 at 304 Bridge St. The Red Lion has live music on certain nights and features steaks, burgers and barbecue.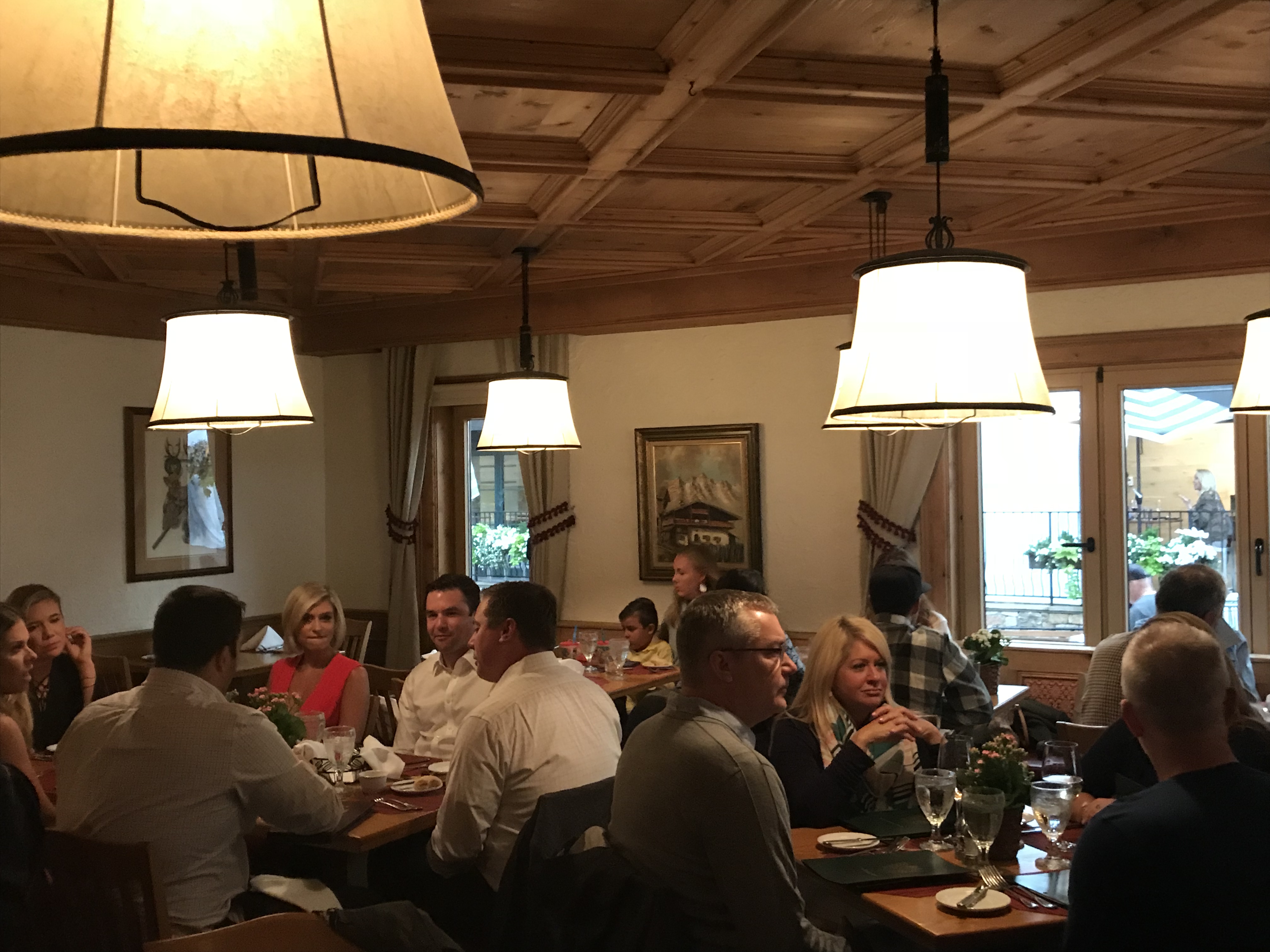 Mountain Standard (owned by Sweet Basil) is a rustic tavern with wood fire cooking. I went for dinner and loved the experience. It has nice outdoor seating along Gore Creek. 193 Gore Creek Dr.
Other recommendations from my local friends include  the Alpenrose Restaurant & Bar for lunch and dinner, La Bottega for high end Italian, La Tour for French, Matsuhisa for wonderful Japanese and sushi, BOL which is an upscale bowling alley also serving food and Los Amigos for Mexican. I thought BOL had a great sleek, contemporary design with bowling available.
Vail Brewing Co.: Their brewery is in Eagle Vail but they have a tasting room in Vail. I tried the Bears and the Bees. "This is a  simply light and fruity Saison ripe with blueberries and wildflower alpine honey straight out of this valley! What more could a backwoods bear want, let alone a beer lover?" It was really excellent, smooth and not hoppy. 
On my August, 2022 trip to Aspen/Snowmass, I stopped at their brewery in Eagle for lunch with friends. This is a fun, casual spot right off of I-70 at 41290 US. HWY. 6 UNIT B2/B3.  Not only can you taste and buy their beers, they have a live music and tacos, burritos and more from the Rocky Mountail Taco Truck.
10th Mountain Whiskey & Spirit Company: At 227 Bridge St., I made sure I went to their tasting room after arriving in town. I tried their bourbon and rye whiskey. Both were excellent!! Their distillery is located in Gypsum, CO.
Up the Creek Bar & Grill, at 223 Gore Creek Drive #103, has been a local's favorite since 1988, with great creekside dining. Also check out Joe's Famous Deli, an old-school deli offering baked goods, sandwiches, breakfast items and housemade ice cream in a diner-like setting. I stopped in for ice cream after dinner! I love the atmosphere. 288 Bridge St.
Another  local friend recommends The Little Diner in the Lionshead area of Vail for great breakfasts. In Arrowhead at the Country Club of the Rockies is Vista with great mountain and golf course views.  Another casual  local's breakfast and lunch spot is the Big Bear Bistro for coffee, breakfast items and gourmet sandwiches. 297 Hanson Ranch Rd.
I also heard that White Bison is good for creekside dining and après-ski cocktails at 223 Gore Creek Dr. Fall Line features globally accented New American cuisine and cocktails served in a ski lodge–inspired setting. 232 Bridge St.
Another good recommendation is the Remedy Bar located at the Four Seasons Resort and Residences. It is known for its cocktails, craft beer and great pizza. My friend also likes Vendetta's for  great pizza and  Italian food. Still another loves the rustic Almresi, at the Top of Bridge St., for Austrian, German and Swiss specialties.
The Swiss Chalet Restaurant, at the Sonnenalp Hotel is a perfect spot for fondue and traditional European cuisine in a classic Swiss-style setting. 20 Vail Rd.
Root and Flower is known for its wine list and classic cocktails along with appetizers and small plates. 288 Bridge St. C-4
Beaver Creek
Beaver Creek has several good dining options as well. My local friends love Grouse Mountain Grill, Hooked for sushi and seafood and the Beaver Creek Chophouse located slopeside.
Rimini Chocolate and Gelato has locations in Avon, Beaver Creek Village and Vail. Stop in for gelato or coffee.
The Golden Eagle Inn Restaurant is also very nice for lunch and dinner at 118 Beaver Creek Plaza. At the entrance to Beaver Creek, Mirabelle is a fine dining restaurant in a rustic setting featuring Belgian cuisine at 55 Village Rd. Splendido  Restaurant at The Chateau in Beaver Creek is another fine dining option that gets good reviews for its refined American-European cuisine.
Beano's Cabin is my favorite on-mountain dining spot in Beaver Creek since I went several years ago. They feature game and rustic Colorado fare. In the summer you can reach the restaurant on horseback or by shuttle. In the winter you can reach it by open-air sleigh ride.
Minturn
Don't miss the small town of Minturn, located between the two resorts on Highway 24 south of I-70, with its small main street. The Minturn Country Club is known for its steaks that you cook yourself. This was fun to do. The Minturn Saloon is known for its Mexican Food, quail (which I have had) and other specialties. On Saturdays during the summer there is a local Artisan Market that was recommended to me as fun to attend.
Sunrise Minturn: This is a fun, casual café open for breakfast and lunch at 132 Main.
Edwards
I recently went to Edwards, CO for the first time. Just west of Avon and Beaver Creek, it is well worth the visit. The Riverwalk at Edwards is a planned community along the river. It has a number of condominium buildings, a hotel, offices along with some excellent shops and galleries. You can also find a large number of restaurants and bars as well. My recommendations include:
Juniper is a wonderful fine dining spot with lovely views of the Eagle River. They feature a a menu of contemporary and seasonal cuisine. I loved my black cod entrée with asparagus and a crab crepe. The ambiance and service were excellent. I appreciate my local friends recommending it! 97 Main St. E101.
My same local friends love Main St. Grill, at 97 Main St., for great food with a Cajun twist. They also love Zino Ristorante for Italian specialties including pastas and pizzas at 27 Main St. and e-town kitchen + bar for draft beer, cocktails, burgers, sandwiches, salads and entrees. 295 Main St. C104.
On the river with a great eclectic, atmosphere is The Rose. Opened in 2013, this casual spot has a restaurant, cocktail bar and bakery with expanded new space. They have good food and feature a number of starters, soups, salads and entrees. 97 Main Street, Suite W1028.
The Gas House, at 34185 Hwy 6, is a great spot in a rustic cabin atmosphere that is open for lunch and dinner. They feature hand-cut and aged Colorado beef, seafood and wild game. I went for lunch and loved the design with the old photos, licenses plates and antlers on the walls!! Though the outside patio is great, I didn't want to miss the great indoor atmosphere. My reuben sandwich was great. It was one of my favorite finds of my trip to the Vail Valley. 
Avon
In Avon, my friends always enjoy Northside Kitchen and Vin 48 featuring a wine bar and modern mountain cuisine.