Founded in 1880, after the Denver and Rio Grande Railroad reached the area, Salida, in central Colorado southwest of Colorado Springs,  has Colorado's largest National Historic District, with a very lively downtown. Here you can see more than 100 beautiful turn-of-the-century buildings, eat at great cafes and restaurants, enjoy local microbreweries and distilleries, see excellent art and shop for gifts and souvenirs. In addition, the surrounding area has many year-round outdoor experiences from skiing, hiking and whitewater rafting to fishing, public beaches and hot springs.
After reading about Salida, I added it to my itinerary for my most recent summer trip. I was very pleased that I did, as it was a wonderful place to explore. My top recommendations include:
Where to Eat
My favorite restaurants that I found were:
Howl Mercantile & Coffee: This is a contemporary store and coffee bar along with great ice cream. Drinks include coffee, tea and hot chocolate. The store has a nice selection of apparel, gifts, accessories, ceramics and books. 130 W. 1st St.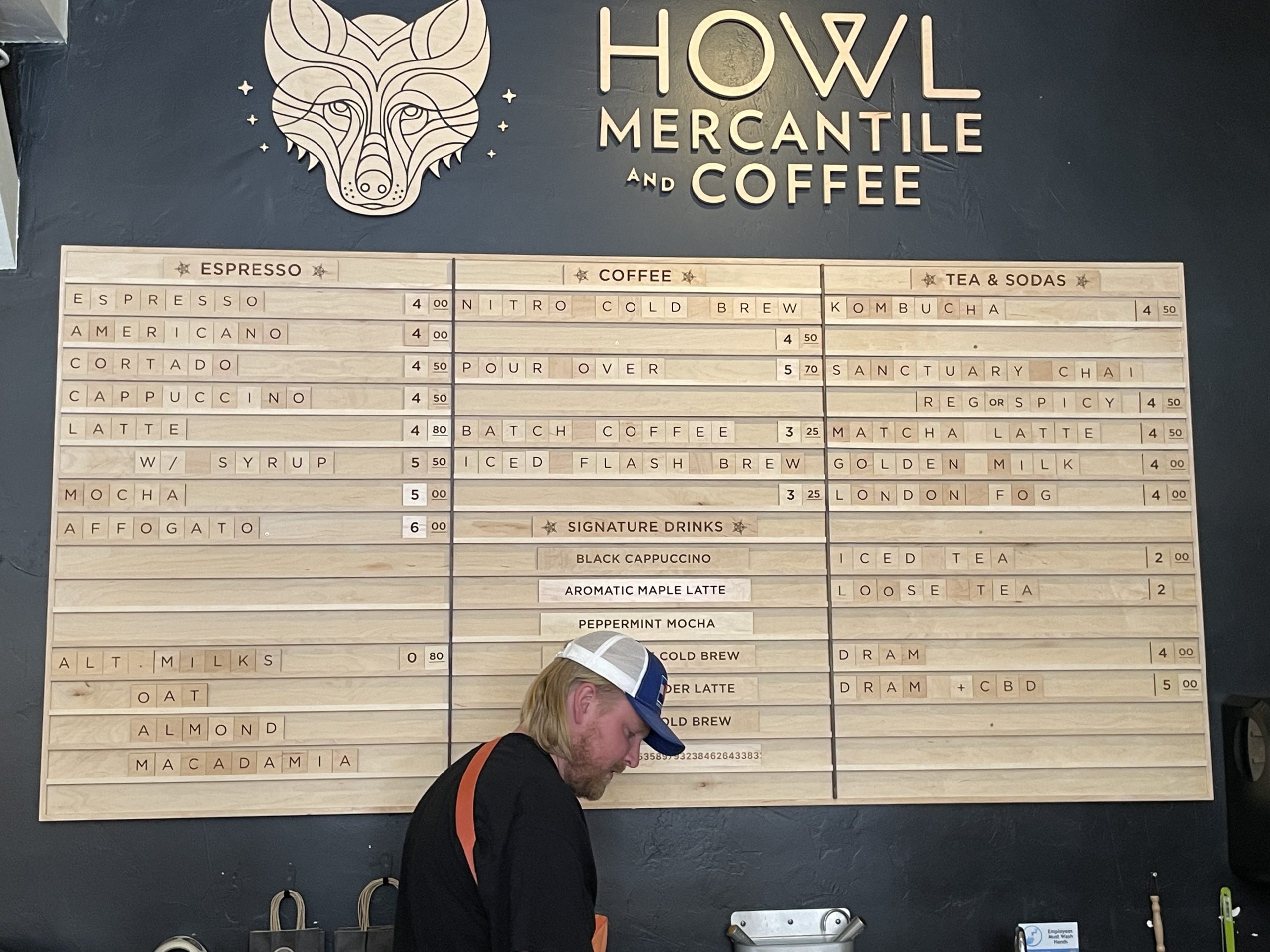 Boathouse Cantina: After reading about this popular restaurant, featuring Mexican cuisine, on the river in the Manhattan Hotel, I went for dinner on my first night in town. I had pork tacos and a great margarita on the outdoor patio in front. They also have a terrace overlooking the river. 228 N. F St.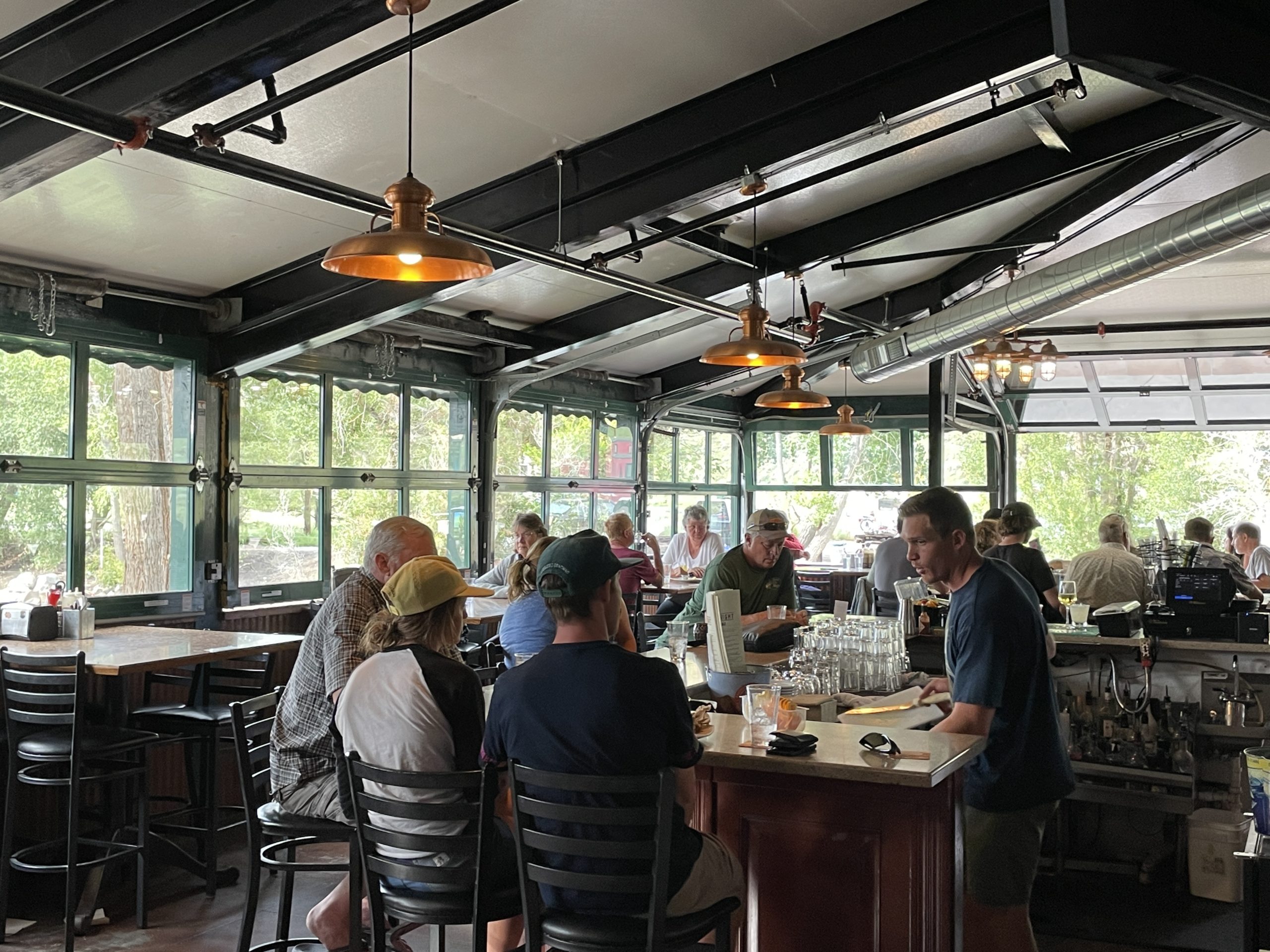 The Hotel also has Pizza Rio for New York-style pizza on the second floor along with the Soggy Surfer, a casual outdoor patio restaurant and bar with live music, and Chill Ice Cream. After my dinner at the Boathouse Cantina, I went to Chill and loved the tasty almond joy ice cream!
Currents Steaks & Seafood is a popular downtown spot at 122 N. F St.  I went for dinner on my last night in town and had great Prince Edward mussels and a spinach salad on their outdoor patio on a beautiful summer night.
I also highly recommend the High Side! Bar & Grill, at 300 W. Sackett Ave. The restaurant is located along the Arkansas River and has great views from its multi-level outdoor patio. They also have a selection of appetizers, burgers, salads and sandwiches. I went for dinner and loved the lamb gyros sandwich, which was served on toasted pita with feta and a tasty Tzatziki sauce.
Sweeties Sandwich Shop: Located at 129 W. Sackett St., Sweeties serves over 60 different sandwiches plus salads and baked goods. I ate lunch at their upstairs restaurant, The Biker & The Baker. They have indoor seating as well as a lovely outside terrace with lovely views. Their brunch menu is served daily. I had a great omelet, The Avalanche, which was  stuffed with goat cheese, caramelized onions, spinach and avocado and served with hash browns.
The Fritz: Also recommended by several sources is The Fritz, a gastro pub, at 113 E. Sackett Ave. For over 12 years, they have had a focus on several international cuisines, including French and Spanish, and small plates. 
Bunny and Clyde's Corner Café and MarketSeñor Murphy Candymaker: Señor Murphy Candymaker has been a local shop for handmade chocolates since 1971. 140 N. F St.
On the way into downtown, I recommend stopping by the Little Red Hen Bakery for great pastries and cookies. I loved the scones that I bought. 302 G St. 
Salida Pharmacy & Fountain: This is a local downtown pharmacy and old fashioned soda fountain for milkshakes, malts, sundaes and ice cream. 137 F. St.
Brown Dog Coffee Co.: At 105 F St., this is a fun, casual coffee shop with great lattes. They also have a location in Buena Vista.
Where to Drink Beer and Spirits
Salida has a number of local microbreweries, distilleries and bars to visit while you are in town. I recommend:
Moonlight Pizza & Brewpub: This is a small batch brewery with typically 13 beers on tap, ranging anywhere from classic English styles and German lagers to  pale ales. Favorites include their Peach Wheat, Thai Chili Stout, Mango IPA, Barrel-Aged Wee Heavy, Dry Hopped Maibock, Cinnamon Raisin Stout, Blueberry Cream Ale and Coffee Porter. I really loved the Peach Wheat and the Moonlight Cream Ale. They also serve pizzas, calzones, sandwiches and salads onsite  242 F St.   
Tres Litros Beer Company: Located downtown at 118 N. E St., they make a number of IPAs, stouts, porters and seasonal beers. I really enjoyed the seasonal Vulpes Vulpes whiskey barrel-aged tart cherry golden ale.
Soul Craft Brewery: This microbrewery is located outside of downtown at 248 W. Rainbow Blvd. They make a number of lagers, ales, stouts, sours and  IPAs. I enjoyed the Cherry Tart Brown Ale infused with real cherries. They also have a food truck outside serving burgers, salads, sandwiches and brats. 
Wood's High Mountain Distillery: At 144 W 1st St., this is a local distillery that makes whiskey, vodka, liqueur and gin. They have a fun bar and tasting room in the heart of downtown. I enjoyed my old fashioned cocktail, before my dinner, made with the rye whiskey.  
Benson's Tavern & Beer Garden: This is a small tavern downtown for pub food and cocktails along with live music. They have a large outdoor patio as well. 128 N. F St.
Where to Stay in Salida
After reading several articles and reviews, I decided to stay at the Amigo Motor Lodge. Built in the 1950s and 60s, this is a former motel that reopened in 2016 after a major renovation. It has a contemporary design with accents of Southwestern Decor. There are 16 rooms along with 5 airstream trailers that can be rented as well. There is a hot tub, fire pit and sunroom onsite with hanging swings. They also offer coffee and tea service with a limited grab and go style breakfast. There is also a refrigerator in the rooms if you want to buy other items for breakfast. I really liked the design of my room, the comfort of the bed and the fun vibe. I would definitely go back.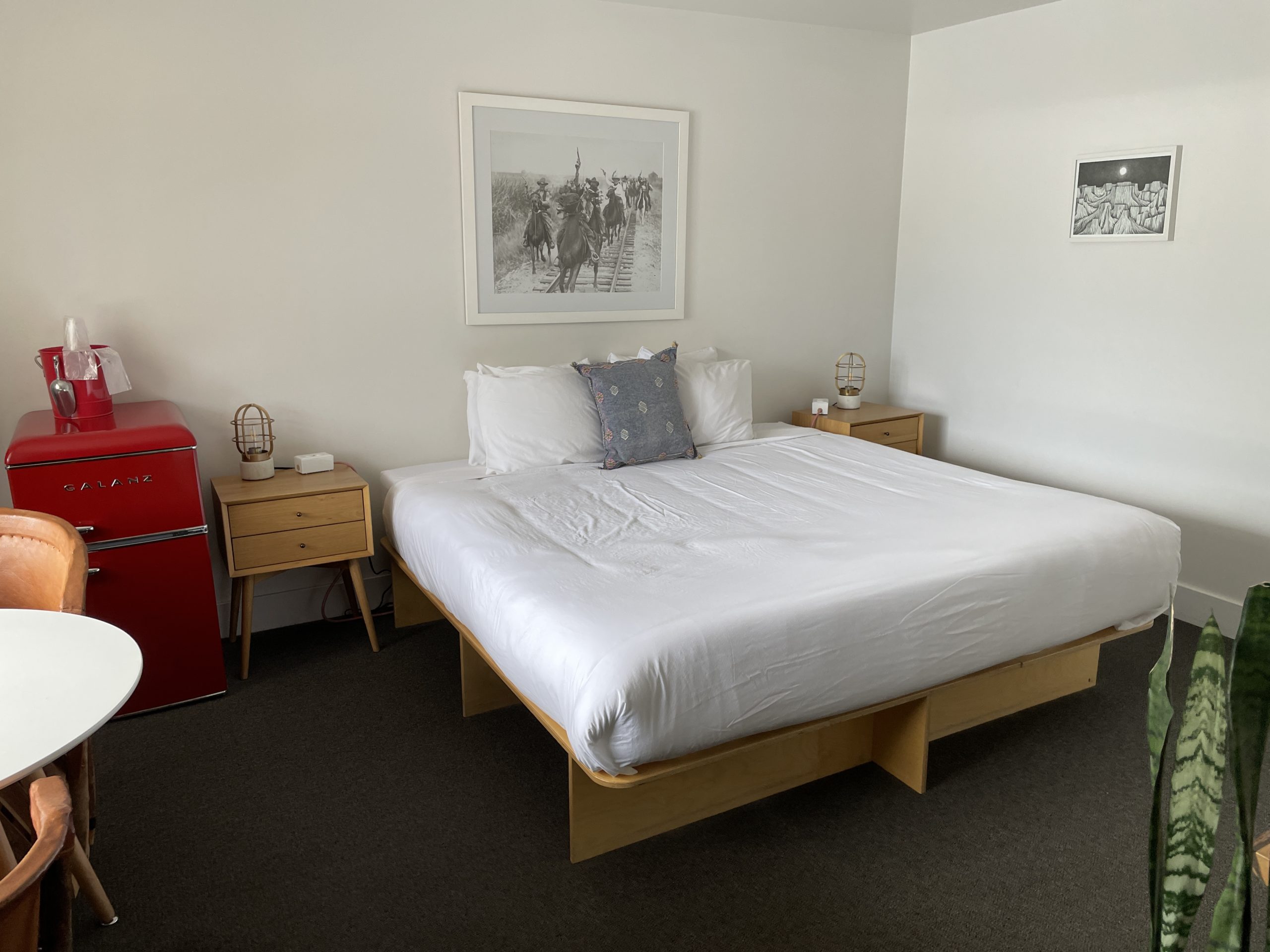 What to Do in Salida
Salida offers a range of activities from fishing, hiking, biking, river rafting and hot springs to art and music.
In downtown Salida there are a large number of local galleries as part of the Salida Creative District. Currently there are 18 studios and galleries you can visit. Each September there is the Salida Studio Tour where you can visit these studios and several others. There is also the Salida Art Walk every June. 
 Some of my favorites were the Mary Leslie Art Studio & Gallery, for contemporary, western and wildlife art at 148 B E. 1st St. and the Brodeur Fine Art at 113 E. 2nd St. for its colorful mixed media, acrylic and oil paintings.
The SteamPlant event center is near the river at 220 W. Sackett Ave. It contains a theater venue, outdoor sculpture garden, art galleries, riverside plaza, conference rooms and a spacious ballroom. It is home to the Salida JazzFest in August along with the Summer Concert series, films, poetry readings, theater productions and classical music.
In the summer, during July and August, is the Salida Concerts and Aspen Music Festival with concerts in Salida and Buena Vista. The Salida Arts Festival is held in Riverside Park every summer in mid-July. Families will definitely like the Chaffee County Fair and Rodeo, also in July. 
Salida is surrounded by ample hiking and biking trails, 14ers and a stretch of the Arkansas River that is perfect for both fishing and boating. Across the river, you will discover the Arkansas Hills Trail System, one of the Salida Mountain Trails, with easy and short loop options, while advanced hikers will enjoy the North Backbone and Sweet Dreams trails. You can also stroll the Arkansas River Walk, a paved stretch with several resting spots. 
A two hour drive south of Salida is the Great Sand Dunes National Park. The tallest dunes in North America are the centerpiece in a diverse landscape of grasslands, wetlands, forests, alpine lakes, and tundra. I have driven through the area in the past and loved the beauty.