Exploring Saugatuck, a small city in Southwest Michigan that sits along Lake Michigan and the Kalamazoo River and around Kalamazoo Lake, has much to offer. Originally a port and a lumber town, it became a tourist destination and an art colony in the late 19th century. Today tourists are drawn to the charming downtown, the galleries, uniques shops and restaurants and the beauty of the beaches nearby. The population of nearly 1,000 swells to more than 3,000 people in the summer months. It is also a popular destination for gay and lesbian tourists.
I have been going for many years to visit Chicago friends who have had homes there and really love exploring the area which includes Douglas, Fennville and Holland. I have also enjoyed heading over on President's Day Weekend in February for the Winter Break Gallery Stroll in Saugatuck and Douglas. The galleries feature works from local and national artists, and includes special exhibitions, artist demonstrations, food and drink. The works include paintings, ceramics, sculpture, blown glass and photography. I still enjoy the three oil paintings I have in my house from the Water Street Gallery.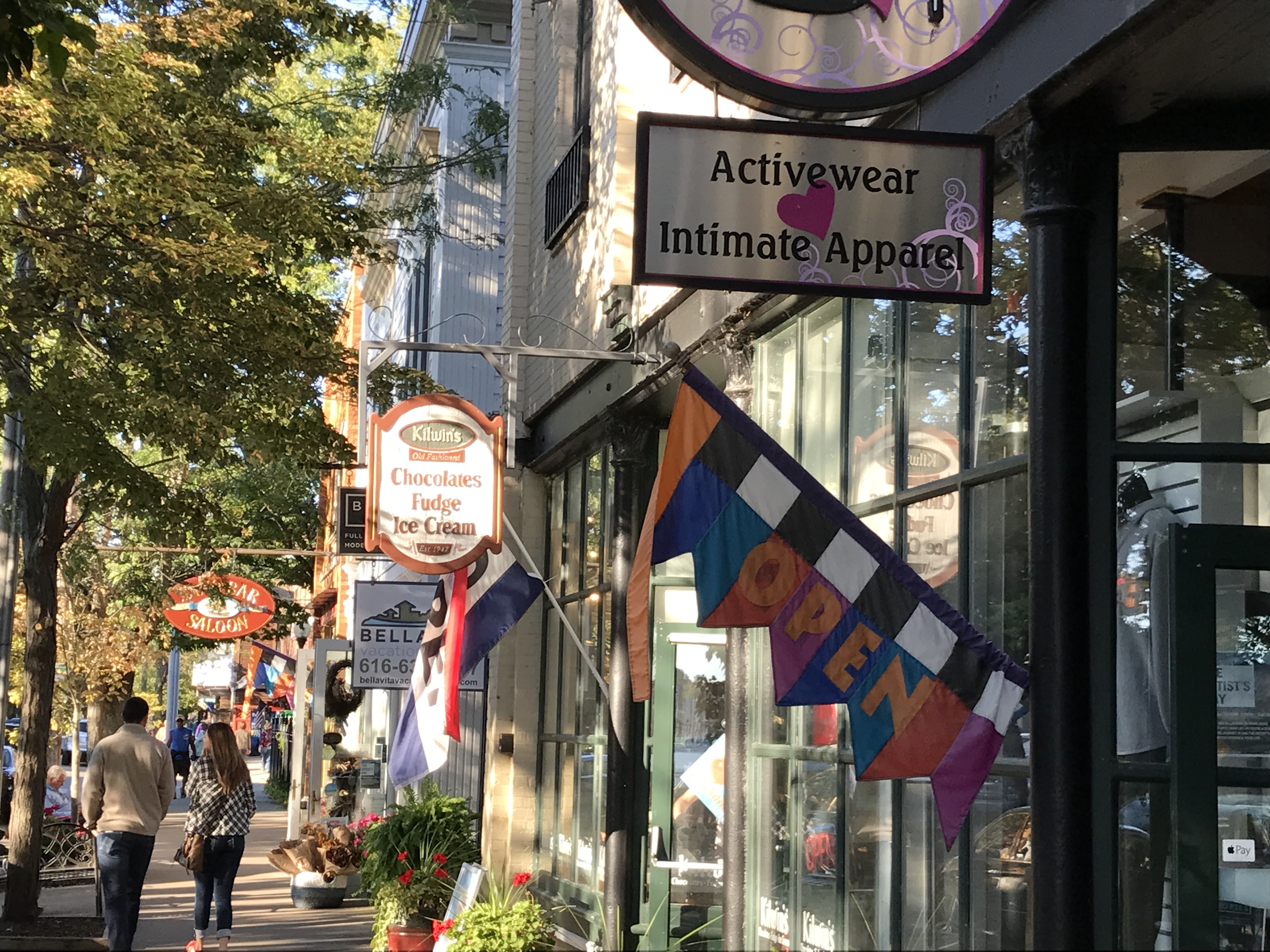 Ox-Bow School of Art and Artists' Residency: Artists should be aware of Ox-Bow that was founded by artists from The School of the Art Institute. Classes in painting started in the early 1900s. It moved to the site of the Riverside Hotel. Today it remains at that location and continues to be affiliated with the SAIC and a haven for artists. They feature one and two-week classes for credit and non-credit for beginning, intermediate and advanced students in all media. Classes are also held from early June to mid-August in the summer and during the winter intensive for two weeks each January.
Make sure to walk down Butler and Culver streets and stop in at the many shops and galleries. Some of my favorites include:
Kindel & Company Lifestyle Mercantile: At 241 Culver St., this is lovely store for home decor, accessories, clothing and furniture.
Paper Mache: This is a fun store featuring gifts and paper products including cards, notebooks, journals and party supplies. 252 Butler St.
American Spoon: This is the place, for the best in jams, jellies, fruit butters, salsas, grilling sauces, maple syrup, dried cherries, granola and more made from locally sourced ingredients. I highly recommend the Sour Cherry Jam or Spoon Fruits. 308 Butler St.
Saugatuck Jar Company: This is a good spot for BBQ and grilling sauces, olive oil and balsamic vinegars. 201 Culver St.
James Brandess Studio & Gallery: At 238 Butler, this is a local gallery featuring original oil paintings as well as his reproductions plus posters, note cards, post cards and more highlighting his work.
There are also river, harbor and Lake Michigan tours on the Star of Saugatuck paddleboats. Families might enjoy this experience.