Bronzeville is an historic neighborhood on Chicago's South Side which runs from 31st St. on the north to 51st St. on the south and from S. LaSalle St. or the Dan Ryan Expressway on the west to S. Cottage Grove Ave. and S. Drexel Blvd. on the east. The area is famous as an early-20th-century African-American business and cultural hub.
According to nearby IIT or Illinois Institute of Technology, "residents included musicians Louis Armstrong, Nat "King" Cole, Sam Cook, Dinah Washington, Quincy Jones, and Herbie Hancock; gospel music pioneers Mahalia Jackson and Thomas A. Dorsey; choreographer Catherine Dunham; women's aviation pioneer Bessie Coleman; author Richard Wright; activist and writer Ida B. Wells; Olympic legends Jesse Owens and Ralph Metcalf; Negro League Baseball founder Andrew Rube Foster; boxer Joe Louis; and Pulitzer Prize-winning poet Gwendolyn Brooks."
The neighborhood was, from the 1920s to the 1940s, fairly affluent and middle class. "Founded by Jesse Binga, Binga Bank was Chicago's first Black-owned life insurance, realty, and financial institution. Daniel Hale Williams, an African American, pioneered open-heart surgery in Bronzeville's Provident Hospital. The Chicago Defender and Chicago Bee were African-American daily newspapers of national influence and distribution. The Wabash Avenue YMCA established the first Black History Month. Venues like the Savoy Ballroom-Regal Theater complex and the Sunset Cafe rivaled Harlem's Apollo Theater in importance in music, film, and live performance."
"1916 marked the beginning of the Great Migration when African Americans left the American South for Chicago with the promise of better jobs and reduced oppression. The reality, however, fell far short of this promise as conditions were still repressive and segregated. African Americans were restricted to live in the Black Belt in white-owned housing that was largely dilapidated and densely populated yet more expensive than housing in white areas. Forced to live in this isolated area, Bronzeville's residents toiled hard and cooperatively to establish a full-fledged community with business, culture, and community institutions that did not have the racial restrictions enforced in most parts of the city. Bronzeville's institutions grew to have national influence rivaling and even exceeding those of New York's Harlem."
One of the most famous sites was The Sunset Cafe. "Countless jazz legends played at this legendary jazz club, including: Bix Beiderbecke, Jimmy Dorsey, Benny Goodman, Earl Hines, Fletcher Henderson, Count Basie, and of course, Louis Armstrong. The club was run by unsavory mafia types and the musicians often had no choice but to keep playing here! Disjointed as it may be, the legendary club no longer exists and the building houses a beauty supply store."
Also no longer there is the iconic Palm Tavern at 446 East 47th Street. It was known for its restaurant and blues and jazz club from 1933 to 2001. "It attracted artists from music to writers. The Palm Tavern was home away from home for the likes of Dizzy Gillespie, Count Basie, Duke Ellington, the Ink Spots, Josephine Baker, and other notable musicians. It was frequented by Richard Wright and Langston Hughes." Gerri Oliver, the owner, recently died at the age of 101.
Unfortunately it experienced hard times during the Great Depression and went into great disrepair. Many businesses were forced into bankruptcy. It experienced segregation and overcrowding while crime and urban blight expanded throughout the neighborhood.
Today, the neighborhood is seeing major community-driven revitalization efforts, mostly by wealthy and entrepreneurial African-Americans who value the neighborhood's historic importance. "Renovated and restored historic homes complement new housing open to all income levels. Architectural landmarks, many of which have been restored, include the original Chicago Defender Building, Unity Hall, the Chicago Bee Building, Overton Hygienic Building, Michigan Boulevard Garden Apartments, The Forum, the Wabash Avenue YMCA, and the Supreme Life Building. Restaurants, shops, and other local businesses have begun to flourish, but Bronzeville's profound history remains the primary draw for both locals and tourists."
The Great Migration mentioned above has had a lasting impact on the food traditions and culture of Chicago in the same way that Polish, German, Hispanic and other immigrants have had on the the city. Some of my favorite restaurants in the area where you can experience this food history include:
After seeing it featured on a local TV station, I tried Peach's Restaurant at 4652 S. King Drive, just west of Hyde Park. It features biscuits, pancakes, waffles, omelets and Southern specialties. It is a great place for breakfast or brunch.
North of Peach's in Bronzeville is a great new find Pearl's Place at 3901 S. Michigan Ave. This is a classic white-tablecloth restaurant serving Southern/soul food classics such as fried chicken & catfish. I went with my assistant who was originally from Memphis, TN. She loved the fried catfish! I really enjoyed the shrimp and grits along with collard greens. In addition to their menu, they also have a buffets featuring breakfast, lunch and dinner items. I highly recommend the experience.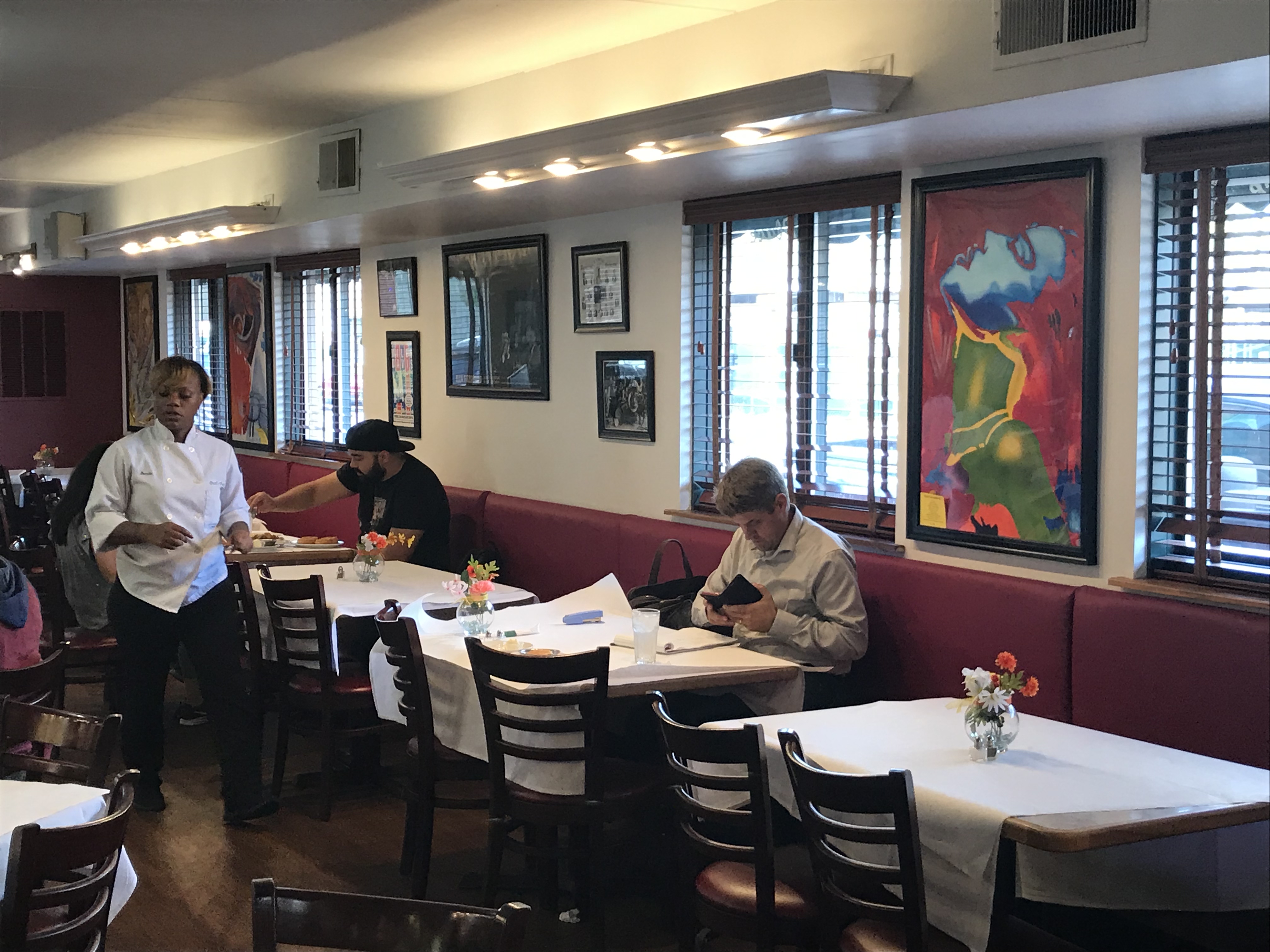 Also in Bronzville is Chicago's Home of Chicken & Waffles at 3947 S. King Dr. After hearing about it on Check Please on WTTW in Chicago a few years ago, I enjoyed my visit to this popular soul food restaurant. I am looking forward to going back again soon.
Not to be missed is the campus of IIT or Ilinois Institute of Technology in the northwest part of the neighborhood. Ludwig Mies van der Rohe, the last director of the Bauhaus in Germany, came to Chicago and became head of architecture at IIT in 1938 . He designed many buildings on the campus.
Widely regarded as one of Mies van der Rohe's masterpieces, Crown Hall, completed in 1956, is one of the most architecturally significant buildings of the 20th century Modernist movement. "It features his basic steel and glass construction style, beautifully capturing simplicity and openness." It embodies his signature style in his famous quote "less is more". The building houses IIT's school of architecture.
In addition to Crown Hall, the campus encompasses 20 of his buildings, the greatest concentration of Mies-designed buildings in the world.