Famed author, Ernest Hemingway is known for the time he spent in Paris in the 1920s, Key West in the 1930s and Havana, Cuba in the 1940s. You may, however, be unaware that the area around Petoskey, Michigan is also Hemingway Country. I was not aware of this until I was doing research before my trip there. I have seen his boyhood home in Oak Park, IL and have toured both his homes in Key West and Havana. I have also visited some of his favorite bars in Havana. Still on my list are his former haunts in Paris and in Ketchum, Idaho, where he bought a home and spent time in the 1950s before his death there and where he is buried.
Hemingway grew up in Chicago, but in his early years this lakefront vacation town was where he loved to be as his family built a lakefront vacation home on Walloon Lake in 1898. He would visit every summer from 1899 until he was married in Horton Bay in 1921. He actually wrote some of his early short stories "Up in Michigan", "The Three Day Blow" and "Big Two-Hearted River", about the area.  "He wrote real gossip about real people and became persona non grata." However, time has passed and all is now forgiven.
According to an article in the New York Times by John O'Conner, "By all accounts, northern Michigan had a seismic effect on Ernest Hemingway and his future work. He spent his first 21 summers there, fishing, hunting, drinking and chasing girls. It was a place where men lived hard and lean, ran trotlines and considered bilge water a beverage. "Good stuff for essays," he wrote in a 1916 journal entry, recording fishing trip details he would later channel into Nick Adams stories."
"But if you want to understand the writer, you have to start here. Michigan-era Hemingway is threshold Hemingway — young and raw, before the fame and subcutaneous padding and 16-daiquiri lunches. It's where he experimented in delinquency, learned to cast a fly rod, stepped unmoored into the wilderness and first tinkered with a prose style that would one day make him famous."
You can pick up a map for the self-guided Hemingway Tour to make sure you see the key sites that he enjoyed or that were the subjects of his writings. The Michigan Hemingway Society also has some great info online.
Horton Bay
Today you can see a number of Hemingway's haunts in the area. I drove southwest of Petoskey to the small town of Horton Bay. Nearby was Windemere, the family's Walloon Lake cottage which became a national landmark in 1968. It remains in the Hemingway family but is off-limits to tourists. Here you can see:
Horton Bay General Store: Located at 5115 Boyne City Rd., this is the old general store in the village of Horton Bay that was established in 1876. Hemingway frequented the store as a boy and a young man. He described it in the story "Up in Michigan", and it seems to be the model for Mr. Packard's store in "The Last Good Country".  There are Hemingway photos and memorabilia still displayed here.
Next door, the former Red Fox Inn, an inn and then a popular restaurant, is now home to a bookstore that specializes in Hemingway titles and memorabilia.
A few hundred yards east of the Horton Bay General Store and just west of the Horton Bay United Methodist Church is the Township School. The school stands across the road from what was the site of the village blacksmith shop. The school and the blacksmith shop are mentioned in Hemingway's "Up in Michigan" while the blacksmith shop also appears in "The Indians Moved Away".
Lavender Hill Farm: When you are in Horton Bay and want a break, you might visit Lavender Hill Farm, which offers a number of lavender products from soaps, lotions as well as food items like lavender maple syrup, lavender jelly, lavender honey and shortbread cookies. They also have lavender ice cream!! 07354 Horton Bay Rd.
Petoskey
City Park Grill: I highly recommend eating at City Park Grill, at 432 E. Lake, when you are in town. It is located in a building from 1875 that was once McCarty Hall, a men-only billiard parlor serving cocktails and cigars. From the 1910s to 1920s, Ernest Hemingway made northern Michigan his summer home. The Annex was one of his favorite places where he would sit in the second seat from the end of the 32 ft., solid mahogany bar, and write his ideas for short stories and books. You can sit in the second seat and see where, supposedly, Hemingway put out his cigars on the bar top leaving the burn marks you can still see!!  Here he also played billiards and then watched bare-knuckle boxing matches in the park across the street.
Make sure to check out the Hemingway statue in the park with a plaque that describes his time in Petoskey.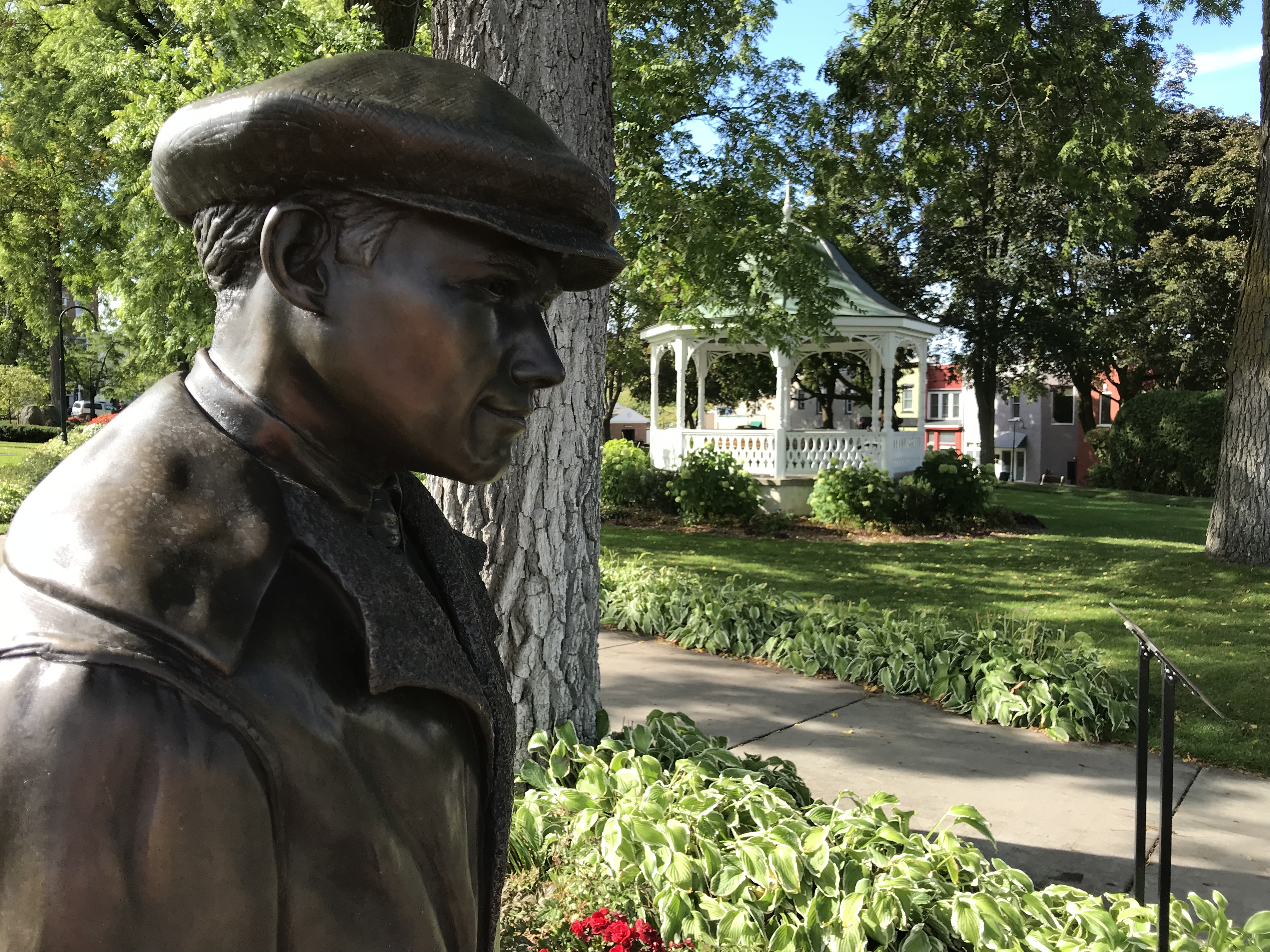 Jesperson's Restaurant: Established in 1903, this was a Petoskey favorite and known for its home-style cooking and delicious pies. Jesperson's was said to be a favorite hangout of Hemingway and his Petoskey friend Dutch Pailthorp. It recently closed but you can still see the plaque on the wall outside. 312 Howard St.
During the winter of 1919-1920 he stayed at Eva Potter's Rooming House, in Petoskey, at 602 E. State St. As it is now a private residence, you can see the plaque on the front lawn and see the second-floor window where he might have sat gazing while waiting for his next inspiration to strike as he struggled there without much success, according to what I have read. 602 E. State Street.
He also hung out in the Noggin Room Pub of what is now Stafford's Perry Hotel, built the year he was born and the last of Petoskey's original grand hotels still in business. 
Across the street from the hotel  is the Pennsylvania Plaza (Railroad Station). As an important station on the Grand Rapids and Indiana Railroad, this depot was rebuilt with brick in 1899 and became part of the Pennsylvania Railroad in 1920. The Hemingway family passed here on trains which carried them from Harbor Springs, where they took the steamer, to their summer cottage on Walloon Lake south of Petoskey.