St. Joseph, MO
I still vividly recall my parents returning from their annual trips to Europe.
Once home, Dad first organized his slides in Kodak carousels so he could show them to us and to their friends. He then pulled out some old burgundy colored movie seats that he had found and set up a mini theater in the rec room of our mid-century home. The room was named the 707 Room in honor of Boeing's first jet plane from the late 1950's and was decorated with a large collage of colorful TWA airline posters that he had created. It was the perfect setting for those slideshows. I can still hear his narration as he walked us through their trips to England, France, Italy, Austria and Switzerland. This was the beginning of my love for international travel even though I wasn't able to go yet!
Finally, in early 1972 they asked me to join them in May on a three week trip. Of course I said yes!
Paris, France
Visiting Paris for the first time was so exciting.
I had loved seeing the slides of Paris and of France that my father had taken on their previous visits, plus I had taken French in both high school and college and loved the culture. In addition, our family always watched episodes of The French Chef with Julia Child about French cooking starting in early 1963. We had her cookbook at home which my mother used often. French food became one of my favorites!
My parents and I stayed in a classic hotel near the Paris Opera or Palais Garnier. I went to my first opera and loved the music and the grandeur of the opera house with its stunning grand staircase. Along with visiting the museums, eating well was a highlight. I loved the pastries! My mother and I snuck into a charming patisserie for a wonderful chocolate éclair and a decadent Napoleon. Then, my father happened to walk in and caught us as we indulged ourselves without him!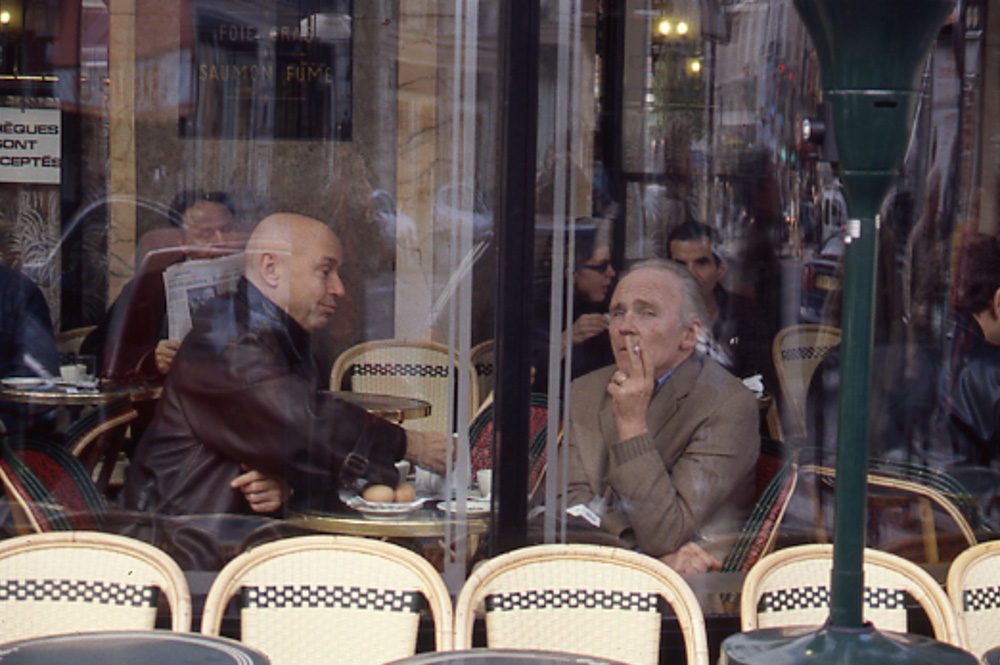 To celebrate my mother's 54th birthday, we chose a traditional café on the Left Bank in the 6th Arrondissement. I still remember the warm atmosphere, mirrored walls and the waiters dressed in their traditional long white aprons. It was just how I had imagined it would be. When I got my entree, after confidently ordering from the menu what I thought truite, I looked down and saw this slimy piece of meat covered in a mustard sauce. After one bite, I knew that something was wrong and immediately sent it back. I had learned the hard way that tripe is not a fish!!!
I was definitely bitten by the travel bug on this trip which resulted in my 48 years of addiction to travel. Thankfully, I was introduced early to Harold and Roz Crandus of Herald Travel in Chicago by their daughter. They helped plan my first solo trips, with the earliest being a TWA tour of Italy and Greece, including a cruise to visit the Greek Islands. I was in heaven! I loved meeting new friends on the trip, several of whom I kept in touch with for many years.
This was followed by many solo trips to London, Paris and other European destinations during my vacation time. Luckily, I had five weeks of vacation very shortly after relocating to Chicago, which allowed me to start exploring the world a little faster than some of my friends. Starting my own business in 1993, gave me even more time and flexibility to take longer trips to South America, Northern Africa and Asia. It was like I was setting up my life to be able to travel and explore the world!
As I grew as a traveler, the trips also became more adventurous as the years went by, to include group walking, biking, skiing, river rafting, photography, food and cultural trips.
From my bucket list, I traveled to Egypt to see a production of Verdi's Aida at the Pyramids in Cairo and to Venice to attend a masked ball in a palace on the Grand Canal during Carnivale!
Peru
On my first trip to Peru with Country Walkers, I had the rare opportunity to hike to the small village of Cancha Cancha in the Urubamba Valley, located four miles up from Yucay near a glacier. The people, in their native dress, were living like the Incas in stone houses with no electricity or running water. There were guinea pigs running around the house we visited, which is a large part of their diet. Life has not changed there for hundreds of years.
We took school supplies to the children who greeted us with songs. Our group then sang them a song which all us knew, "I've Been Working on the Railroad", the American folk song, to the delight of the children!  What a special day.
Myanmar
My 50th birthday trip to Myanmar was very special and I was so pleased I went. I saw no military presence during my trip, only wonderful warm and friendly people.
I loved the traditional dress (or longyi). Both men and women wear a long skirt which is practical with the tropical heat. Different patterns and colors are found in different regions of the country. Everyone wears flip flops or sandals. The colonial architecture of Yangon (Rangoon), was somewhat neglected which reminded me a lot of Havana Cuba.
The food. I loved the food! I could eat papaya at every meal. The morning glory (like spinach) was my favorite.
One of the highlights, while visiting the hill tribes near Pindaya, was hiking to a Danu village with a monastery. I was able to attend a Donation Festival at the beginning of the Full Moon Festival. There were monks along with people eating food seated on the floor and at small round tables. The 80-year-old woman with no teeth was my favorite who laughed and said "people say I am beautiful even with no teeth". Taking pictures of the children and monks was equally fun. I gave a donation to one of the monks who then blessed me and wished me much happiness. On the trail going to a farmhouse for lunch I saw wild orchids and large groups of monks and people walking to the temple. I later visited a primary school where I handed out candies and pens. The teachers loved it and all of the children waived goodbye to me as I left!
To sum up these experiences, I will never forget the monks in red, receiving blessings of long life, toothless smiles, the taste of the stirred-fried morning glory, kind brown faces, beautiful children with large brown eyes waving goodbye from their school, chanting and music permeating the air, wild poinsettias, a wonderful festival plus hiking to small village for lunch and meeting new friends!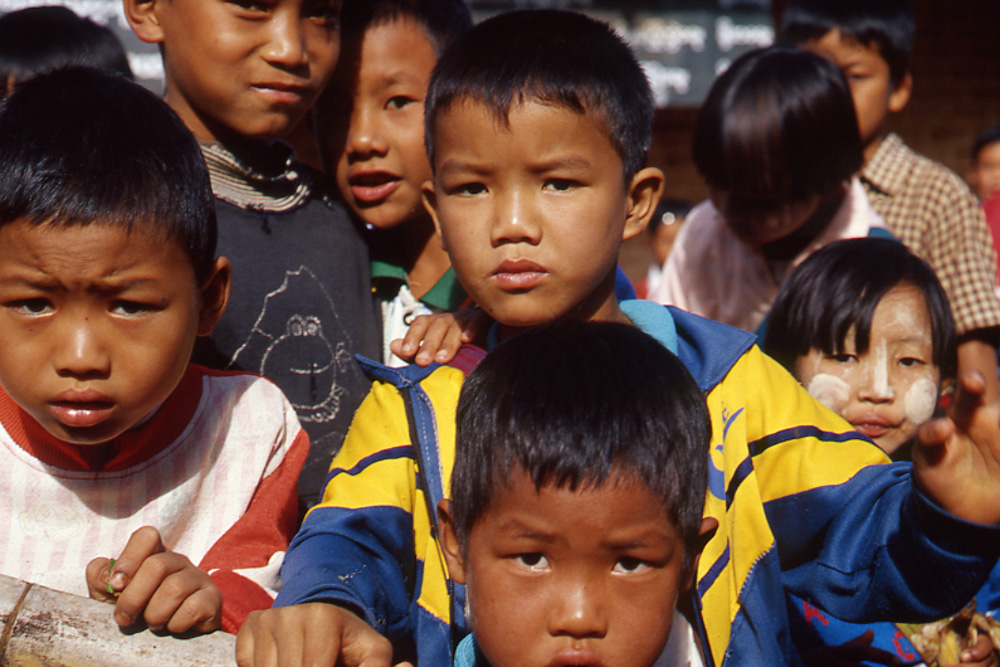 Bhutan
Bhutan is calm and spiritual and a wonderful place to reflect on our many blessings.
The prayer flags, representing prayers sent to heaven, were spectacular. You see many flapping in the wind against dark blue skies and white snow-capped mountains as you cross over the passes. They are blue, green, red, yellow and white capturing the elements of water, wood, fire and earth.
The turning of prayer wheels is a practice seen all over Bhutan. The cylindrical wheels, some of which are handheld and others are huge and located outside the temples, are filled with prayers which are "said" each time the wheel is turned. Monks and devotees spin the wheels to gain additional merit and to concentrate the mind on the mantras and prayers they are reciting. You see many people walking around the larger wheels in a circle chanting Om Mani Padme Hum (or hail to the jewel in the lotus), the main mantra of Tibetan Buddhists.
All men and women wear the distinctive traditional dress as required by the King. Men wear ghos which mostly come in plaid or stripes. They are long robes hoisted to knee length and held in place by a woven cloth belt or kera. They also wear knee socks. The women wear a floor-length dress called a kira. This is a rectangular piece of silk or cotton cloth that wraps around the body over a silk blouse. The kira is fastened at the shoulders with elaborate silver hooks and at the waist with a belt of silver or cloth. They then wear a short jacket called a toego.
I was so fortunate to be able to attend a small Buddhist festival in the remote village of Ngang Lhakhang, above Bumthang. There is a temple that was built in the 15th century and I was able to sit in on one of the prayer sessions, early one morning, with the monks praying out-loud and playing instruments including cymbals, drums and a high pitched trumpet. I was offered tea with milk and sugar, along with a cookie, as I watched this prayer service. My private horseman, cook and guide pitched my tent, cooked my food and introduced me to the culture. It was a perfect experience with the villagers being so kind, the kids wonderful and the dancing magical.
The Mekong Delta in Vietnam
In 2005, I was introduced to Room to Read, a non-profit organization with a mission of improving literacy and gender equality in education in the developing world. Along with other Chicago friends, we hosted a fundraiser and raised enough funds to build a preschool in the Mekong Delta in Vietnam, near Can Tho City.
On a trip to Asia in November 2006 I made arrangements to visit the school. My guide and I were escorted to the school in a small village that was funded by us, but built by the local residents and parents. I immediately saw the small plaque at the entrance which was inscribed with "World Change Starts with Educated Children – This school was established through the cooperation of the local community, Room to Read and friends in Chicago, IL USA. May this be the beginning of a lifetime of learning for all the children of Vinh Yen Hamlet."
It was so moving to see what we had accomplished and then to be introduced to the children. They greeted me with flowers and singing as I toured their new classrooms. It was very emotional and life changing. I can still see their blue and white uniforms and the smiles on their faces and love in their eyes!!! The smiles from the parents and teachers were equally touching.
I was so happy to have been involved with this project and to, hopefully, have helped to improve the education that they all received. As mentioned above in the plaque "World Change Starts with Educated Children!"
Guatemala
Holy or Easter week in Antigua is the largest celebration in the Western Hemisphere and second only to Seville Spain.
The highlight of being in Antigua is to see the many processions. There can be several in a day. The streets had been blocked off beforehand so the neighborhood could complete the elaborate alfombras, or carpets, made mainly out of colored sawdust. Flowers, flower petals, pine needles, fruit, seeds can also be found on some of the carpets. The people who make them take great pride in their designs. However, as soon as the processions pass the street sweepers are not far behind.
The processions were extremely spiritual, particularly the ones on Good Friday. Originating from the many churches, the processions were led by Roman soldiers, some on horseback. The large floats, some weighing 7,000 lbs., were carried by 80 or more people. Thousands of processional carriers, known as cucuruchos, participate in the processions. Many are members of a brotherhood and have carried the statues since childhood. Men carried floats of Jesus while women carried the Virgin Mary. Often somber music was played by a small group of musicians. As the floats were so heavy, the carriers were replaced almost at the end of each block. These somber events sometimes went on for twelve or more hours. Some started early in the morning and others started late and ended in the middle of the night. I could hear the drum beats often in the distance from my hotel room.
Another highlight of my trip was attending the Mayan New Year celebration on the Tuesday before Easter. I was taken by my guide Sara and her family to a sacred Mayan site just outside of Tecpan. Her son was one of the Shaman who was participating in the ceremony. We arrived early to watch them build the altar. They started making the sign for the day in colored sugar. Then round pieces of incense were added along with multicolored candles, cigars, flower petals and pine needles. It was a colorful altar that was lit as the ceremony began.
The Shaman were all smoking cigars. All who came to the ceremony brought things to add to the altar. The group that had gathered were all greeted by the Shaman. There was praying toward the North, South, East and West as well as dancing and drumming. It was a wonderful experience as they prayed to the Mayan Gods. There were a few of us gringos present. We were welcomed and told that we could take pictures as long as they were used for good and as long as we told the world that the Maya people are still alive. What a heartwarming message.
Istanbul Turkey
On my first trip to Istanbul over Thanksgiving, I found the perfect place to stay in a small boutique hotel with wonderful rooms, rooftop terraces and a lovely garden. My room was in the penthouse suite with a private terrace overlooking the Blue Mosque. I will never forget hearing the call to prayer five times a day, from a smaller nearby mosque with a tall brick and stone minaret. The sound, that pervades the Muslim culture, is mesmerizing, hypnotic and so calming.
When I later visited a mosque as I explored the city, I watched the men wash their hands and feet prior to the service. It was then very moving to hear them deep in prayer inside. There were the lines of worshipers, alternately standing straight up, hands on their stomachs or in front of them, then bending over, then standing back up straight, and again kneeling down on their hands and knees in the famed Islamic prostration position.
I loved the old world charm, colors, mosques, and the warm friendly people.
Havana Cuba
I have loved my two trips to Cuba. Nothing beats great Cuban music and nightlife, drinking local rum, wandering the streets to see and interact with the locals, viewing the colorful architecture and searching for and photographing the classic old cars. One of the best experiences was being exposed to Cuban cuisine. My last trip was actually a food tour! The cuisine is a blend of African, Spanish, and other Caribbean islands. Some Cuban recipes share spices and techniques with Spanish and African cooking, with some Caribbean influence in spice and flavor.
I find the food very comforting. Dishes that I have enjoyed include ropa vieja or shredded beef cooked with tomatoes, tostones or flat fried plantains, rice and beans, yuca or cassava root, maduros or sweet plantains, arroz con pollo or chicken and rice and of course a rich flan for dessert. Also popular is the traditional Cuban sandwich of ham, pork, cheese, pickles, and mustard on thick Cuban bread.
I always laugh when I think the reason I love Cuban cuisine is for the fact that I may have been conceived there when my parents were there on a cruise nine months before I was born!!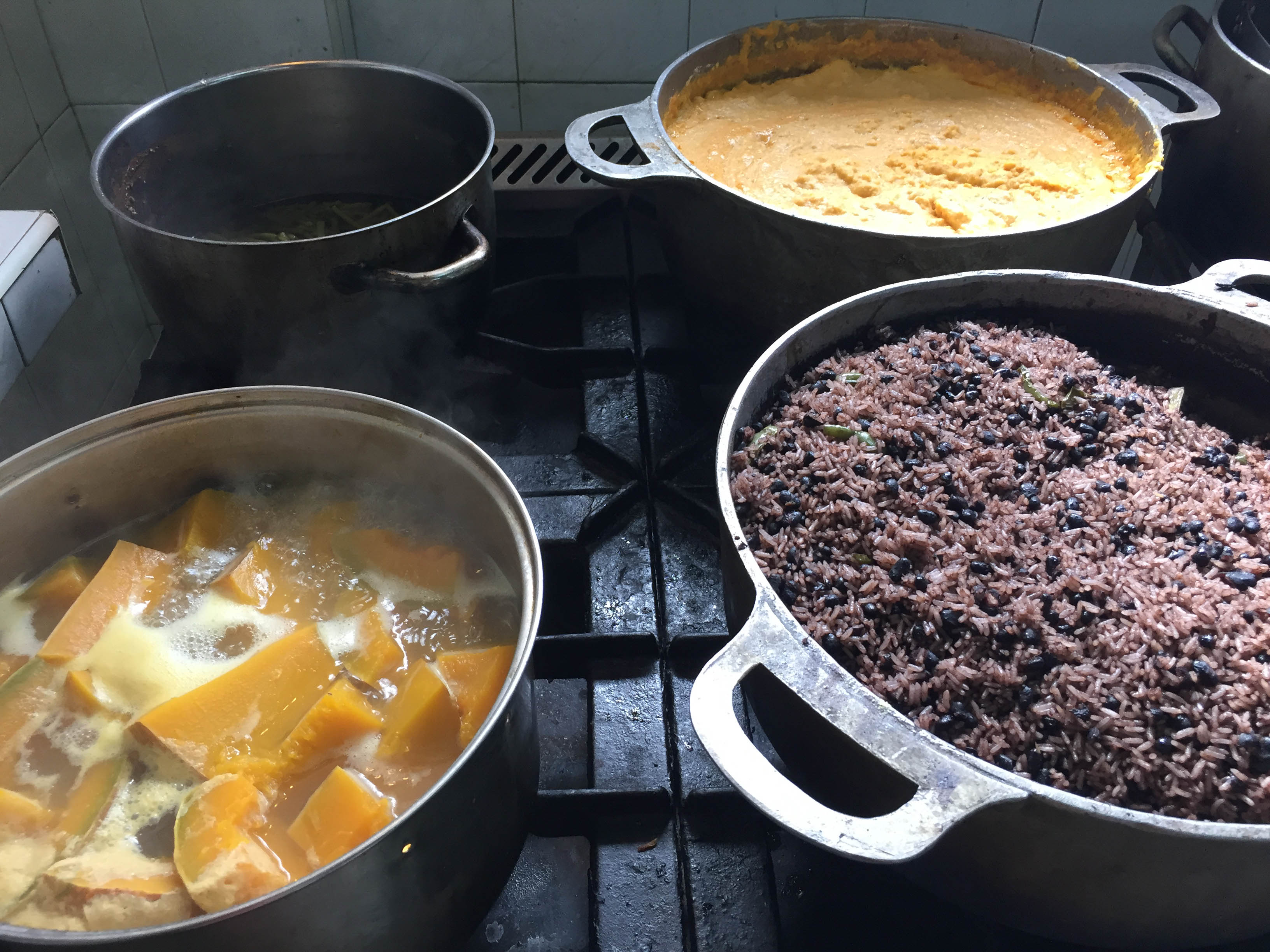 Rajasthan India
With great excitement I headed to India with a small group tour organized by ATJ.
One of the highlights of this trip and of my many overseas adventures, was the time I spent in Pushkar and the Pushkar Camel Fair. You know you are going to experience something very special as you first see the long lines of camels, going to and leaving the town on the small country roads as you drive into town!
The town is a place of lakes and temples located in Rajasthan. It is a sacred Hindu site with 52 ghats along Pushkar Lake where devout Hindus make at least one pilgrimage to bathe at the holy ghats and wash away their sins, thereby earning themselves a place in heaven. In addition to the ghats, it has many temples including one of the few temples in India dedicated to Brahma.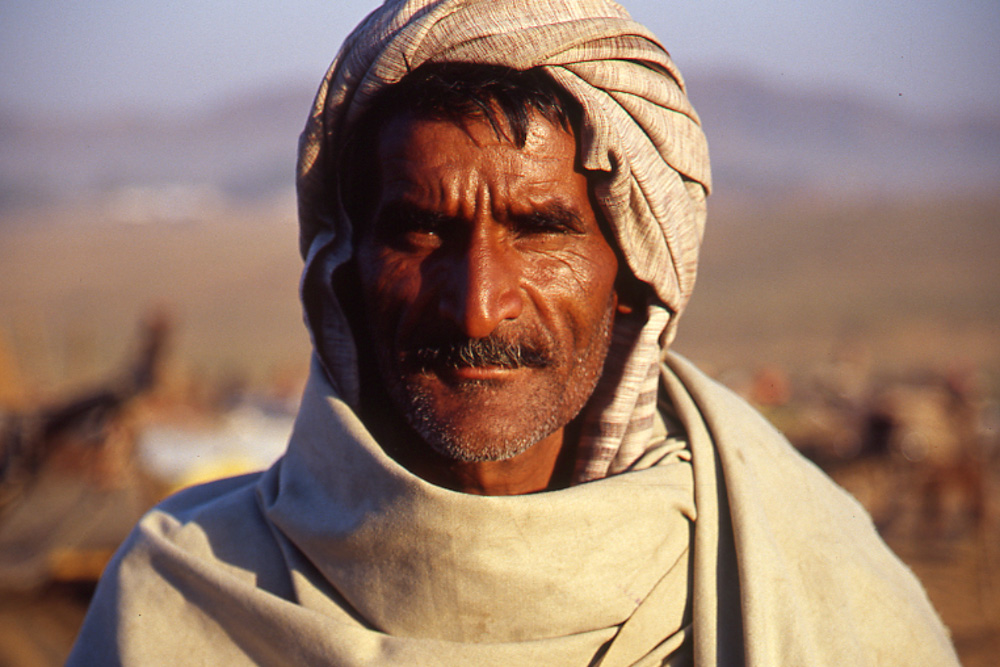 Ten days after Diwali, the Indian festival of lights in October/November, this peaceful town becomes a huge annual fair and animal market. Tents and campsites spring up to accommodate the thousands of pilgrims, villagers with herds of cattle, horses and camels and tourists from all over the world. Men buy and sell their livestock while the women go to the stalls, full of bracelets, clothes, textiles and fabrics. I loved the camel bells and other decorations, but I gave up my camels several years ago! There is entertainment, music and dance, and many food stalls along with camel races. In the evenings, people sit around campfires listening to folk music and telling stories. The fair reaches its peak on the night of the full moon festival when the pilgrims bathe in the lake. It is "unequaled for color, music, costumes and festivities" per the well-known book, 1000 Places to See Before you Die.
The group stayed in a tented camp, along with our guides, where we also had our meals. I went out early in the morning to walk and see the camps begin to wake up and to take photos when the light is the best. People were cooking, washing and beginning to sell their livestock. It was a magical experience to wander back just before sunset when the light was also excellent for photography!
Then afterwards in Varanasi, the sights, smells and sounds were amazing. I am not sure I was prepared for total sensory overload! I saw many people bathing in the sacred waters to pay obeisance or reverence to the Ganges. You can see them washing and even brushing their teeth. Prayers were said and then floating candles were placed in the river. There were many holy men under large umbrellas or sitting on the steps of the ghats in meditation along with rows of priests sitting under bamboo parasols, ready to perform ritual prayers for the pilgrims that had gathered.
Then there were funeral pyres burning all day, cremating the bodies wrapped in white that are brought there through the streets. Prayers were said with salutations to the river in the evening. Old lamps were offered and bells rung while sacred mantras were chanted. The small narrow streets were swarming with huge crowds. You could also see sacred cows, saffron-robed sadhus or holy men and devotees making offerings at roadside shrines.
San Miguel de Allende Mexico 
One of the best decisions of my life was to have purchased a home in San Miguel de Allende, Mexico in 2014.
My first exposure to Mexico in October 1983 was not great. A friend and I were pickpocketed on a bus from Mexico City to the pyramids in Teotihuacan and then I got a bad case of Montezuma's Revenge in Acapulco. Not the best trip!!
But I went back and fell in love with the culture and the people. I tried the traditional moles in Oaxaca, collected colorful ceramics and folk art, watched the many processions during Easter week or Semana Santa in San Miguel, visited the cemeteries at night in Patzcuaro during Day of the Dead, went to local markets and just walked the streets to witness and experience daily life.
While taking a travel writing class in San Miguel de Allende in October 2019, we were asked as a class assignment, to focus on a specific color as we wandered the streets of this charming colonial city. I chose the color blue in sharp contrast to the reds, oranges, yellows and ochres found on the doors and walls throughout town. When I looked for this color, I then started to focus on the children and the people of San Miguel and the blue in the clothes that they were wearing.
I immediately noticed the families walking together, the women gently holding their children or holding their hands as they walked, two lovers engaged in a touching moment in the Jardin or main square and close friends engaged in conversation in a quiet cafe.
Mexico has a wonderful, positive energy and "mucho cariño" or "much affection". I experience this daily when I am back in town!  Where else do you speak to people on the street wishing them a buenos dias, buenos tardes or buenos noches? Where else do you see such well-behaved children playing and just having fun? Where else do you see such kindness? Where else do you see such hardworking people? Love or "amor" is everywhere!
Chicago, IL
Today, while stuck at home during the pandemic and not able to travel the world, I can picture myself sitting in my father's theater seats and now watching the photos of my own travels since 1972 which have taken me to 43 countries around the world.  (I have included my own slideshow throughout this post). I am yearning for adventure, for serendipity and for new experiences that create lasting memories like those that I wrote about above.
Travel to me has been transformative and life changing. I have never been afraid to travel, nor have I had any really bad experiences. Though group travel has allowed me to meet many new friends, solo travel has allowed me to connect more with the locals.
Travel has made me feel like I am a citizen of the world and not just the US. As I see the faces of the people in my photos, the memories flood back. Having differences in my mind is positive. I see kindness and strongly believe that we are basically all the same. We all want the same things: to enjoy our friends, earn enough money to support our families and to go to the park on a Sunday afternoon to relax with them. I now see the good in people and am not scared of people of different cultures, races and religions.
I have grown and changed so much in the last 50 years and owe this in great part to my parents first introducing me to the world!!!