The 30 mile Leelanau Peninsula is northwest of Traverse City and extends into Lake Michigan. Here you will find charming towns, wineries, fun shopping and great restaurants. Highlights of my recent trip included:
Glen Arbor
Glen Arbor is a small town with a population of only around 230 in a beautiful setting. There are many annual festivals as well as outdoor activities in every season to enjoy. I was glad to connect with a long time friend who was able to show me around.
The highlight of the area is the Sleeping Bear Dunes National Lakeshore. This is a spectacular National Lakeshore that should not be missed. I started my exploration here before heading to Glen Arbor. Established in 1970, the most prominent features are the stunning dunes above Lake Michigan. The dunes overlook at the Sleeping Bear, Empire and Pyramid Point bluffs are about 400 feet above Lake Michigan. With 65 miles of Lake Michigan shoreline and numerous inland lakes and streams, the park is wonderfully water oriented. Make sure to get a map and pay your entrance fees at the visitors center. You can then drive through the park, stop for hikes or just to view the dunes and the below lake.
Glen Haven Historic District: Just north of Sleeping Bear Dunes is the Glen Haven Historic District. Established in 1857, Glen Haven was a company town and eventually diversified into farming, canning of fruit, and tourism. The National Park Service is restoring many of the historic structures from the 1920s in the Historic District including the Blacksmith shop, the Sleeping Bear Inn, and DH Day General Store. Also included in the district is the Glen Haven Cannery that houses the Great Lakes Boat Museum.
Leelanau Coffee Roasting Company: After your tour of the dunes, stop in for a coffee at this local coffee roaster. 6443 Western Ave.
Good Harbor Grill: This is a fun, casual spot for lunch with a great nautical interior. They have a large menu of soups, salads, sandwiches and more. I enjoyed the turkey sandwich, a cup of split pea soup and a nice piece of homemade pumpkin pie. 6584 Western Ave. It is open May through October.
Other places to try include Western Ave. Bar and Grill and Blu Restaurant for fine dining. Blu received a James Beard nomination for Best Chef-Great Lakes and high praise from Wine Spectator and Travel+Leisure Magazine. Art's Tavern and Joe's Friendly Tavern in nearby Empire are fun spots to grab a drink.
While exploring Glen Arbor, make sure to stop in at Lake Street Studios at 6023 Lake St. which houses two galleries, the Forest Gallery and the Center Gallery. Here you will find paintings, ceramic and more by local artists.
Cottage Book Shop: Located at 5989 S. Lake St., this is a small charming bookstore located in an historic log cabin. You will love it.
Cherry Republic: At 6026 S. Lake St., this is the original location of the popular store featuring all things cherry from jam, salsas, chocolates, pies, ice cream and more.
Leland
Leland is lovely small town that is 25 miles northeast of Traverse City. The original inhabitants in the 1830s came due to its location as a fishing settlement. Make sure to take time to wander and explore. I was glad to have found:
Leland Fishtown: A totally charming area of Leland with restaurants, a fish market specializing in smoked fish, a cheese shop with great cheese sandwiches and a number of galleries and gift shops.
The Cove Restaurant: At 111 W. River St. in Fishtown, this is a must when you are in town. The views of the water and docks are the best and the food is really excellent. I thought the baked white fish with garlic and parmesan cheese was really good and the cherry pie was one of the best I have ever had. I would suggest going early as it is popular and the crowds can be large.
Village Cheese Shanty: Located on the dock in Fishtown, this popular spot for over 25 years, features pita, baguette and pretzel bread sandwiches, over 60 imported and domestic cheeses and local cherry and related products.
The Bluebird Restaurant & Tavern is the go to place according to locals at 102 River St. They also have The Early Bird which my sailing friends love for an early breakfast.
Sporck Tile Art in Fishtown for painted ceramic tiles and Leland Gal with its colorful home accessories, gifts, bags, textiles, apparel and more are both fun to visit. Owner Maggie Revel Mielczarek's pattern motifs include boats, fish, flowers and glimmering water evoking the beauty of Leland.  
Verterra Winery: This is the tasting room of the local winery in downtown Leland at 103 River St. The winery is located in Northport, MI. I stopped in and enjoyed visiting with the owner. They produce a number of whites, reds and fruit wines plus apple based ciders. I really enjoyed the pinot noir rose and bought a bottle to take home.
Blue Boat Coffee: This is a top coffee shop in town located at 106 N. Main.
If you want to stay in Leland, the Riverside Inn gets great reviews. It has four rooms and is located at 302 River St. Chicago friends rave about the restaurant for dinner.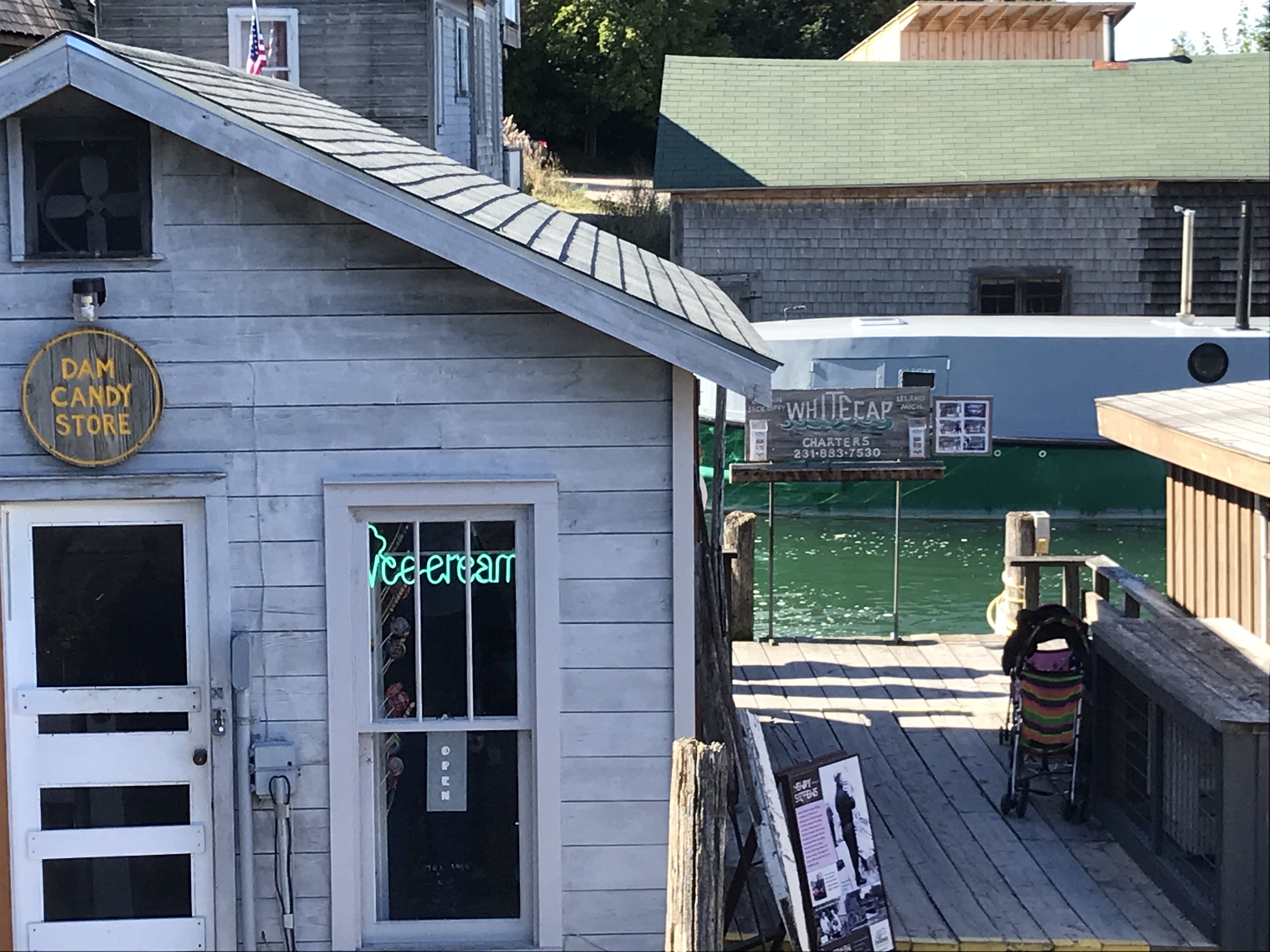 Suttons Bay
Suttons Bay is a cute, small town of just around 620 people. In addition to the wineries nearby, there are some fun shops and restaurants to explore. Here you will find:
9 Bean Rows – Farmstead Cafe Bakery: This is a good cafe and bakery in Suttons Bay. Produce from their own farm can be found in their own food as well as at many farmers markets in the area. 303 N. St. Joseph St.
Leelanau Cheese: Leelanau Cheese produces a number of cheeses made locally using local ingredients. In addition to their award winning Raclette and Fromage Blanc you can also find their specialty Sharp, Rosemary, Green Peppercorn and small wheels of Raclette. It is located south of Blackstar Farms at 3324 S. West Bay Shore Drive.
Cherry Country Quilters: 310 N. St. Joseph St. This is a fun store featuring fabrics, books, quilts, patterns and quilting classes.
Martha's Leelanau Table: This is a popular cafe for over 10 years. Martha's features breakfast, lunch and dinner, plus a full espresso bar, pastries and beer, wine and cocktails.
 Tandem Ciders: This is a local cider maker that uses fruit from both the Leelanau and Old Mission peninsulas. I tried the Farmhouse aged in American oak barrels and The Scrumpy Little Woody which is a cider and apple brandy aged in an oak barrel. The Smackintosh has a sweet and appley taste and is one of their most popular. Their tasting room is located in a fun old barn. They also offer some snacks including a cheese plate featuring local cheeses. 2055 N. Setterbo Rd. in Suttons Bay.
Omena
Located just north of Suttons Bay is the cute town of Omena. I loved visiting the Tamarack Gallery after a local friend recommended this really lovely gallery which for over 42 years features jewelry, paintings, glass and ceramics. The quality is excellent!! 5039 N. West Bay Shore Dr.
Check out the Omena Bay Country Store at 5055 N. West Bay Shore Dr. for take out food, ice cream, baked goods and more.
A fun spot on the water for great views is Knot Just a Bar. It is a casual spot that offers sandwiches, burgers and seafood with an emphasis on local fruits and vegetables. 5019 N. West Bay Shore Dr.