While reading a recent article in the New York Times about visiting sculpture parks around the country this fall season, This is a great way to be outside, enjoy nature, experience great art and get some exercise all at the same time. Over the past few years, I have made it a point to research these parks and to visit them whenever I am in the area. My top recent finds include the following:
Grounds for Sculpture – Hamilton Township, NJ
The Grounds for Sculpture is located just south of Princeton near Trenton in Hamilton NJ. Here you can walk through the 42 acres of beautiful gardens and parklands to view close to 300 sculptures from well-known and emerging artists. There are also inside exhibition spaces. It opened in 1992 after the vision of J. Seward Johnson, sculptor and philanthropist. He is known for his large works of such figures as American Gothic and Marilyn Monroe which I first saw in Chicago. You can also see his wonderful pieces that he created from Impressionist paintings. For example, you can admire Renoir's Luncheon of the Boating Party along the water.
I highly suggest eating at Rat's Restaurant for lunch or Sunday brunch, where you can enjoy good food in a building that is meant to look like Monet's home in Giverny, France. It overlooks the water-lily pond complete with boat and the Japanese Footbridge.
Storm King Art Center – New Windsor, NY
Storm King Art Center is located in New Windsor NY, 50 miles north of the George Washington Bridge. This is one of the country's best Sculpture Parks with more than 100 sculptures throughout the 500 acre property. You will find incredible sculptures from such well-known artists as Alexander Calder, Sol Lewitt, Louise Nevelson, Alexander Liberman, David Smith, Henry Moore, Isamu Noguchi, Maya Lin, Richard Serra and Roy Lichtenstein.
Pratt Institute Sculpture Park – Brooklyn, NY
The Pratt Institute is a 127 year-old art school with beautiful grounds and old architecture. These grounds have been turned into a large sculpture garden, the Pratt Institute Sculpture Park, with over 50  works by Richard Serra, Mark de Suvero and many more. Make sure to enter through the entrance at Dekalb Ave. at Hall St. It is well worth the visit.
Chinati Foundation – Marfa, TX
The Chinati Foundation was created by Donald Judd to oversee a permanent collection of his work and that of others. He purchased the former Ft. D.A. Russell Military Base which was very busy during WWII and was closed in 1946. Today over 12 of the former buildings now feature works by Judd, John Chamberlain, Claes Oldenburg, Dan Flavin, Roni Horn and Ilya Kabakov. Judd's 100 works in mill aluminium that all are 41 x 51 x72 inches are well worth the visit as are Dan Flavin's large-scale work in colored fluorescent light in six buildings.
Also don't miss Donald Judd's 15 works in concrete located on the grounds consisting of 60 individual units all with the same dimensions.
The Sydney and Walda Besthoff Sculpture Garden – New Orleans, LA
Next to the New Orleans Museum of Art is The Sydney and Walda Besthoff Sculpture Garden which has more than sixty pieces. I was excited to see this Sculpture Garden that opened in 2003, as I used to do business with Sydney in a past life when I was a banker. The five acre garden has some lovely pieces by Anish Kapoor, Joel Shapiro, Robert Indiana, Auguste Rodin, Rene Magritte, Henry Moore, Fernando Botero and Barbara Hepworth.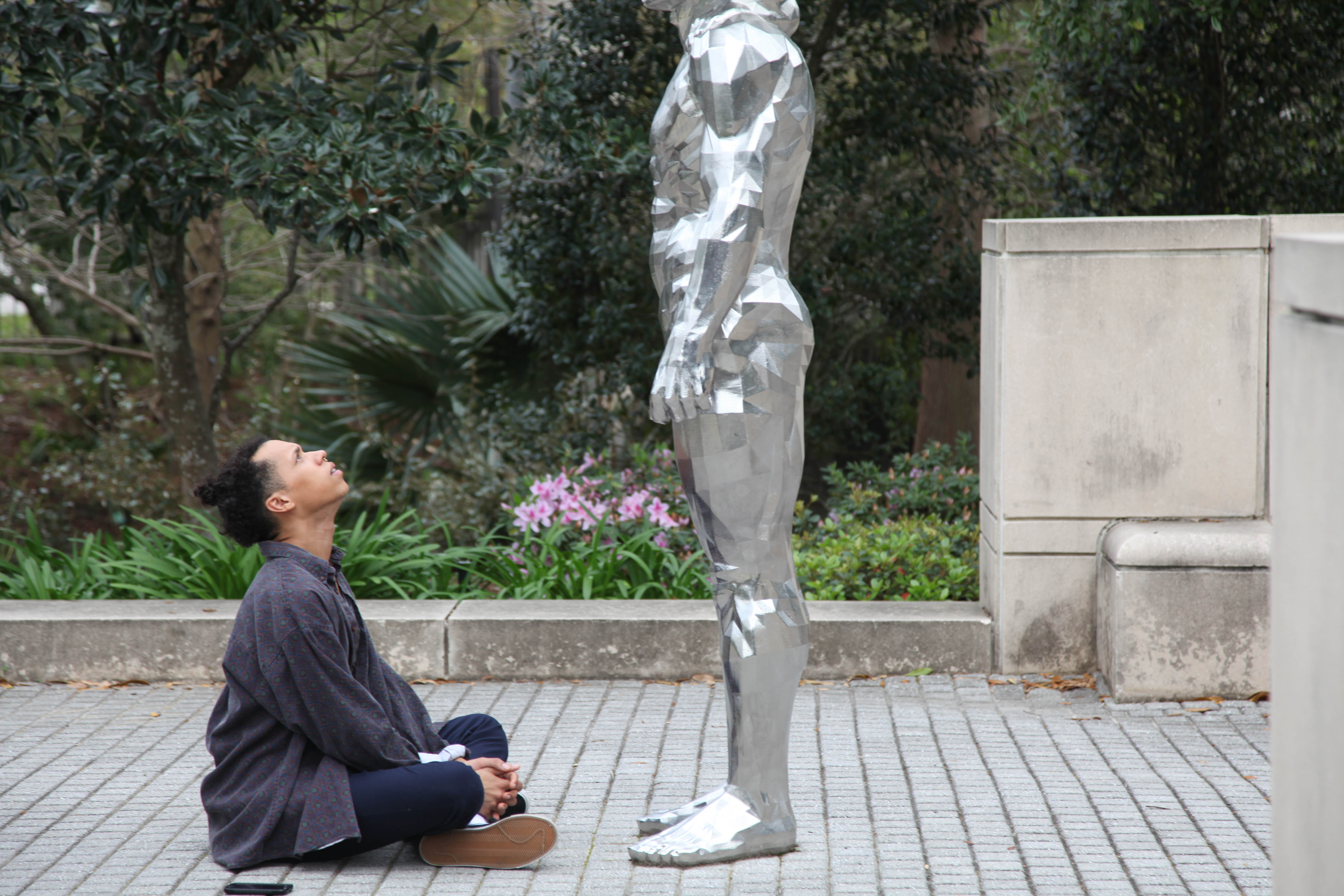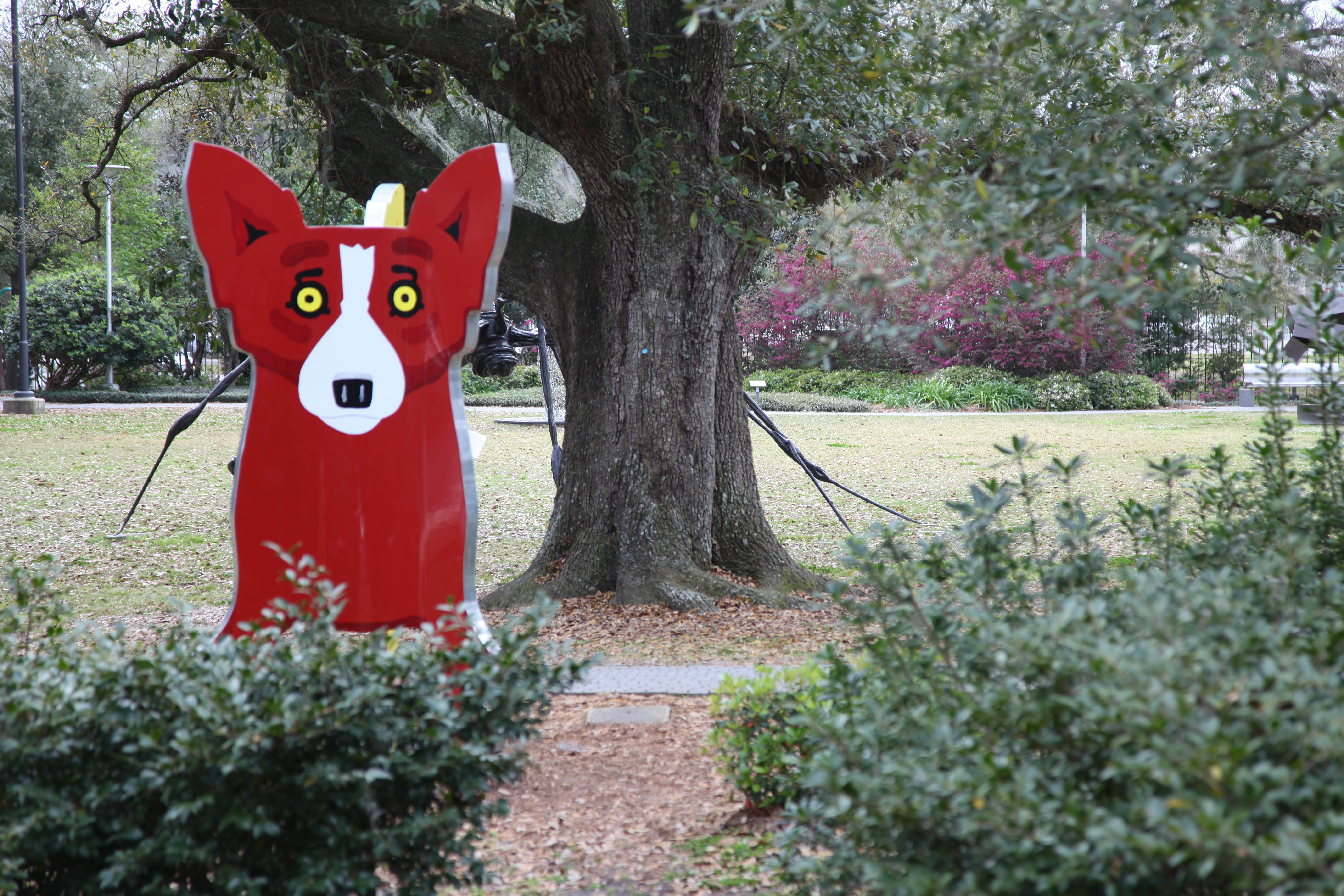 The Donald J. Hall Sculpture Park – Kansas City, MO
Located on the grounds of the Nelson Atkins Museum of Art is the Donald J. Hall Sculpture Park. The collection began in 1986 when the Hall Family Foundation acquired 57 works by artist Henry Moore. "The Hall Family Foundation's Modern Sculpture Initiative began in 1992, and the collection rapidly grew. Claes Oldenburg's and Coosje van Bruggen's site-specific Shuttlecocks, a generous gift from the Sosland Family, were completed in 1994." It was renamed in honor of Donald J. Hall in 2014 to mark the 25th anniversary of the sculpture park.
Crystal Bridges Art Museum – Bentonville, AR
Seeing the Crystal Bridges Museum of American Art was the the main reason for my trip to Bentonville. It has been featured on television and in many newspaper and magazine articles since it opened in November 2011. Seeing the permanent collection is a must, but make sure to take time to visit the 120 acres of  grounds which are lovely with many gardens and sculptures situated throughout. There are numerous walking and bicycle trails that surround the Museum. They encourage picnicking on the grounds. You can easily walk from downtown Bentonville to the Museum.
Don't miss James Turrell's Skyspace, The Way of Color, from 2009. This is made of native stone, steel, concrete and LED lighting and is a short walk south of the museum. At dusk you can experience the view of the sky from benches in the viewing chamber, altered by lighting effects that change with the light and weather conditions. I loved his work having seen installations in Dallas, Chicago and Japan. The show starts just before sunset and lasts around 45 minutes. Plan your dinner so that you can see this stunning experience! Sunrise viewing is possible one morning a month in the summer. Check the website for details.
Make sure to visit the latest edition to the museum which is the Bachman-Wilson house that was designed by Frank Lloyd Wright in 1954. It was originally located in Millstone, NJ and moved 1,250 miles to Bentonville in 2015 due to flooding concerns of the Millstone River.
A vibrant outdoor sculpture that is now part of the museum's permanent collection is Buckyball, the illuminated sculpture by Leo Villareal that had been on loan to the museum from the artist. It is s a 30-foot, ever-changing sculpture covered in LED tubes capable of displaying some 16 million distinct colors.
Newfields – Indianapolis, IN
Newfields A Place for Nature & the Arts is the name that has united all of the different parts  of the Indianapolis Museum of Art Campus that up until this point, have been pinned underneath "Indianapolis Museum of Art." The IMA, The Garden, The Virginia B. Fairbanks Art & Nature Park and Lilly House will all keep their individual names, and the phrase "at Newfields" has been added to the end of each — the Indianapolis Museum of Art at Newfields, for example.
Make sure to leave time to explore the extensive gardens and grounds. Located on 100 acres, adjacent to the Museum, is the Virginia B. Fairbanks Art & Nature Park which includes woods, wetlands, meadows and a 35-acre lake. The Oldfields – Lilly House & Gardens, home of J.K. Lilly Jr. the late Indianapolis businessman, collector and philanthropist, is a restored, historic, 22-room mansion that can be toured during your visit. I also recommend visiting the Greenhouse nearby, which also includes an attractive Beer Garden which is a great spot for a break after your tour.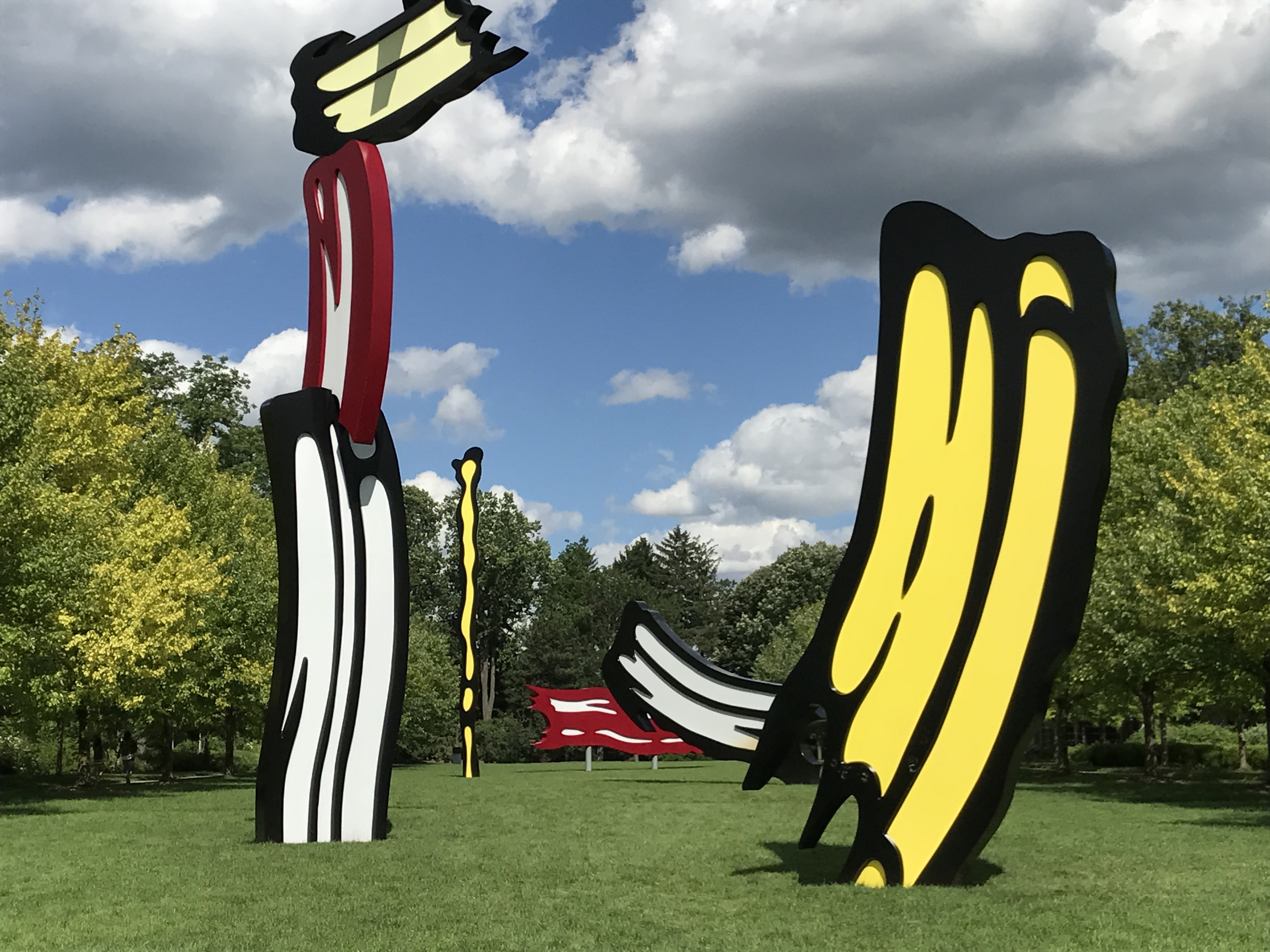 Olympic Sculpture Park – Seattle, WA
Located in Bell Town, along the waterfront, is the Seattle Art Museum's Olympic Sculpture Park. "Covered in monumental artworks, this award-winning nine-acre sculpture park on the waterfront is Seattle's largest downtown green space and is just one mile north of the Seattle Art Museum." It is open daily and has great views of Puget Sound. There are large pieces by Calder and others.
Nathan Manilow Sculpture Park – University Park, IL
Located on the campus of Governors State University in University Park, IL, the Nathan Manilow Sculpture Park features 29 sculptures on over 100 acres of green prairie landscape. There are some amazing pieces in the collection. It is located about an hour drive south of the city.
Art OMI Sculpture & Architectural Park – Ghent, NY
The Art OMI Sculpture & Architectural Park is a wonderful sculpture park plus arts center that features special exhibitions and residency programs in art, dance, music and writing. They also have special events including Summer Open Studios, exhibition previews, artist talks, kids day camps, art labs for teens, music and dance performances and more. The visitors center and cafe is located in a beautifully designed contemporary building with exhibition gallery. 1405 Route 22, Ghent NY.
Hakone Open-Air Museum – Hakone, Japan
I really loved our time at the Hakone Open-Air Museum. This was one of my favorite stops of the trip. Opened in 1969, the lovely grounds, with beautiful fall colors, are the permanent home for approximately 120 works by well-known modern and contemporary sculptors including many by Henry Moore. There are also five exhibition halls including the Picasso Pavilion which contains many of his ceramic pieces. This is a must see on your trip!
Ravinia Festival Sculpture in the Park – Highland Park, IL
Sponsored by the Women's Board is Sculpture in the Park.  Before your concert or event please make sure to walk through the grounds particularly around the North Lawn Sculpture Path. You can see works by Jaume Plensa, Fernando Botero and many others.
The Art Institute of Chicago – Chicago, IL
Though very small, the North Garden on the northwest side of the Art Institute is a beautiful respite from the hustle and bustle of downtown Chicago with four sculptures on display.
The Garden – Rodin Museum, Paris, France
On a recent visit to Paris, I enjoyed going back to the Rodin Museum. One of the highlights of the collection, are the eight works displayed in The Garden, including The Thinker and The Gates of Hell.