The Old Mission Peninsula is just outside of Traverse City and is an easy drive and great to explore. It is 19 miles long and 3 miles wide and has ten wineries on the Old Mission Peninsula Wine Trail, cherry orchards, beautiful inns/hotels plus restaurants to explore. 
You can make a day trip visiting the wineries, many of which have stunning tasting rooms and views. Make sure to visit:
Bonobo Winery: Bonobo Winery was founded by brothers and longtime Traverse City residents, Carter and Todd Oosterhouse. It has a rustic, elegant atmosphere helped by the creativity of Carter who was a host for many years on  HGTV. I was thrilled to have had a private tour by Todd. They produce a number of reds, rosés and whites. They do offer a limited menu of small plates in the tasting room to try along with the wines. I loved the pinot noir. This is a lovely winery that should not be missed.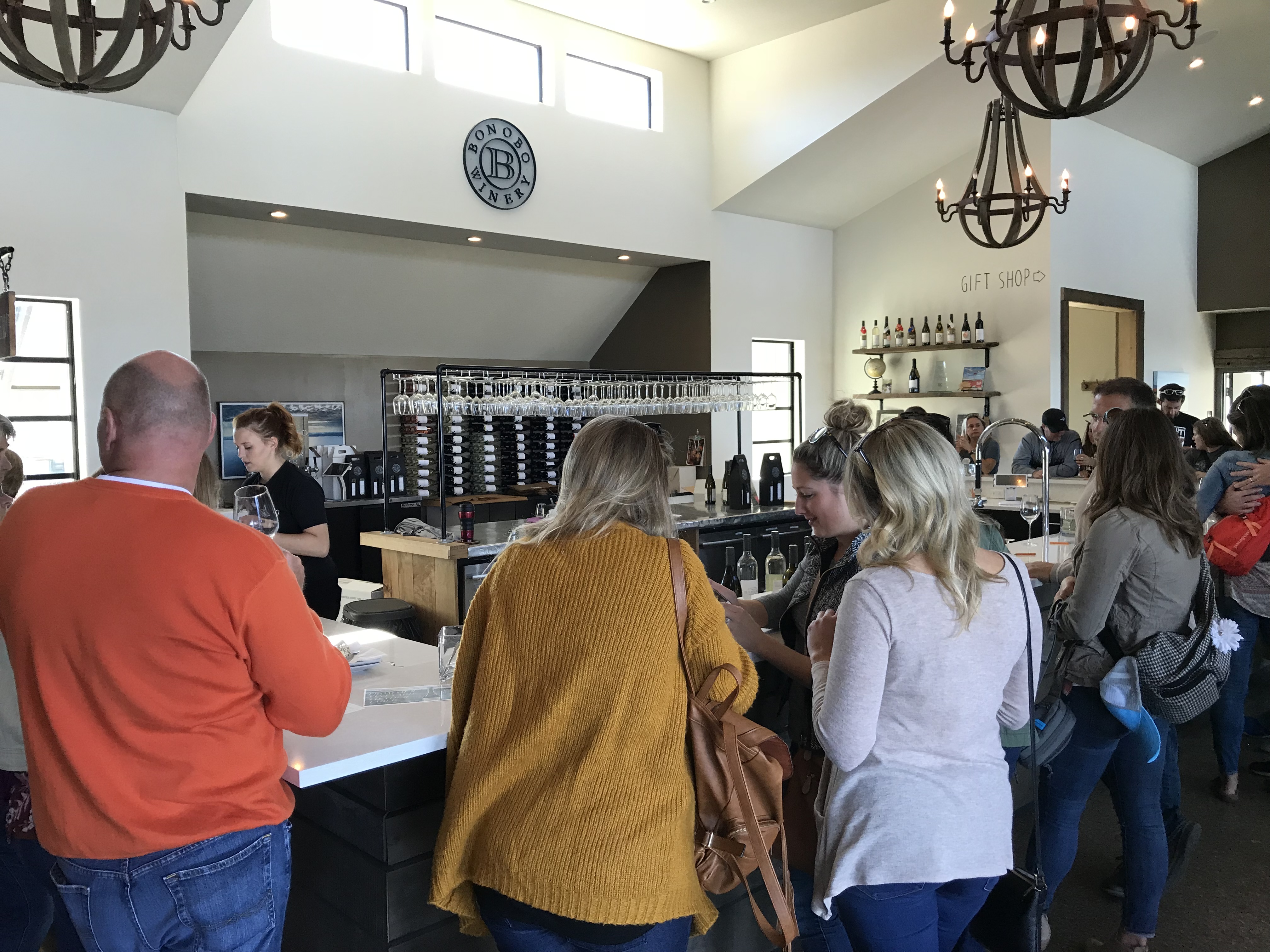 Bowers Harbor Vineyards: This is a winery that produces over 30 wines and ciders. Most of the wines are white including sparkling wines. They also make close to 10 reds. I did enjoy the Pinot Noir Rosé. It has a nice tasting room and attractive patio.
2 Lads: This winery came highly recommended by the sommelier at the Cook's House Restaurant in Traverse City. It is located on 59 acres and specializes in cool climate red, white and sparkling wines. Their flagship wine is the Cabernet Franc which was really excellent. Its modern tasting room has beautiful views of East Grand Traverse Bay. Grab a glass and one of their small plates and enjoy the experience.
Mari Vineyards: This winery has a large tasting room and outdoor patio. It produced a large number of whites and reds. Their flagship is a red blend that was smooth and full-bodied.
Brys Estate Winery & Vineyard: This is one of the largest winery estates on Old Mission Peninsula with over 90 acres. They have a lovely tasting room with large upper deck for relaxing in great weather. They make a number of reds, whites and rosé wines. I enjoyed tasting their pinot noir rosé. Just down from the tasting room is the Secret Garden which has 12 acres of lavender fields, blueberries, strawberries, perennial flowers and herbs. The store carries their lavender products, gift items and ice cream made for them by Moomers Homemade ice Cream.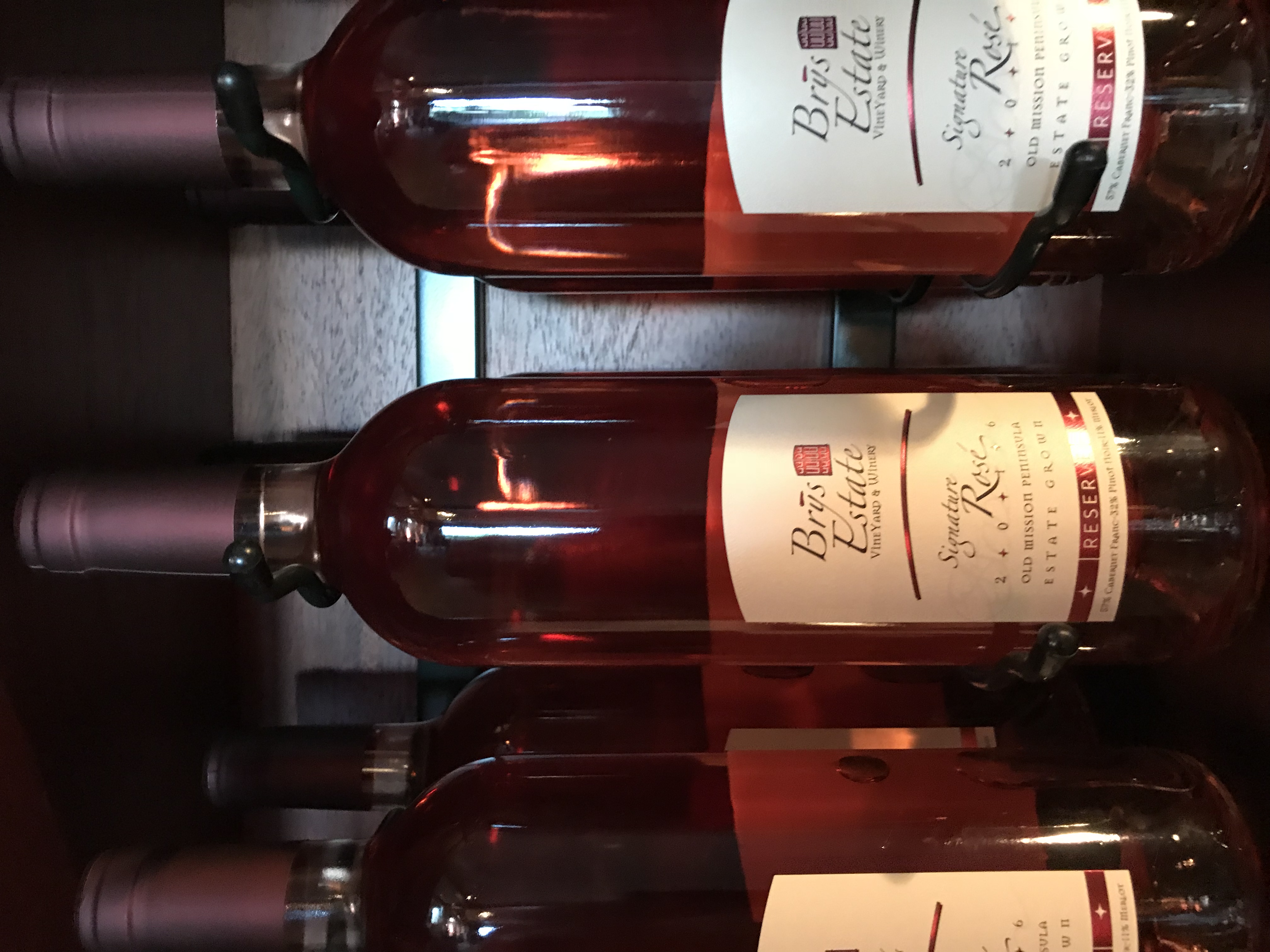 Chateau Chantal: Located atop a hill with stunning views, they make a very large number of white, red and dessert wines. The views from the outdoor patio are amazing. Hands on cooking classes are also available as are special monthly wine dinners and jazz events at sunset on Thursdays from June through August.
The winery is also a B&B that features a number of attractive rooms and suites.  Breakfast is included as are tastings and a glass of wine. The restaurant is not open in the evenings, except for special wine dinners. There are a number of restaurants nearby if you don't want to drive into Traverse City. 
Black Star Farms: This is a smaller tasting room compared to their large hotel, restaurant, tasting room on the Leelanau Peninsula. They feature a large number of wines.
To stay on the Peninsula, there is the historic Old Mission Inn at 18599 Mission Rd. This is a four room/two suite hotel that was built in 1869. Located with great views of East Grand Traverse Bay from the porch, it is like taking a step back in time. It features many antiques, old post boxes and a phone switchboard. It is a short drive to the lighthouse, to local restaurants, beaches and wineries.
The Boathouse Restaurant: This is a stunning restaurant location overlooking Bowers Harbor Bay on the west side of the Peninsula. The food is highly recommended.
Old Mission General Store: This is the area's original General Store and Trading Post since 1839. It is not to be missed as it is totally out of the past. You can grab a sandwich, coffee, bakery item or ice cream and enjoy the porch. The cherry ice cream was perfect on a lovely fall afternoon!!  
Mission Table/Jolly Pumpkin: Located along Bowers Harbor, this is the former home of Charles F. Stickney and his wife Genevieve that was built in the 1880s. Mission Table is the fine dining option for dinner, while the Jolly Pumpkin is a casual bar/restaurant for lunch or dinner. There is a tasting room for the the Winery Bonafide Wines, North Peak Draft Beers and Northern United Brewing.  
A highlight of your trip should be visiting the Mission Point Light at the north end of the Peninsula. It was built in 1870. You can visit historical displays, climb to the top to see the great views and visit the gift shop.