Whenever I travel throughout the country, I always gravitate to the old diners and cafes in a city. I have fond early memories of eating at diners at the Jersey Shore when I was a child, and love the atmosphere. Here are some of my favorites that I have tried recently. I hope you will enjoy them as much as I did!
Columbus, Indiana
Jill's Downtown Diner: At 421 7th St., this is the perfect downtown diner right out of the past. Open from 7am to 2pm. I highly recommend it for breakfast where the people watching is amazing!
Chicago, IL
After many years, I recently went back to Eleven City Diner at 1112 S Wabash Ave. They have an extensive menu of classic American diner meals and delis standards in a colorful retro-style restaurant. They have excellent omelettes, bagels, pancakes, waffles, soups, sandwiches including grilled cheese and reubens, mac & cheese, salads and hamburgers along with pies, cakes and ice cream. It was a fun experience.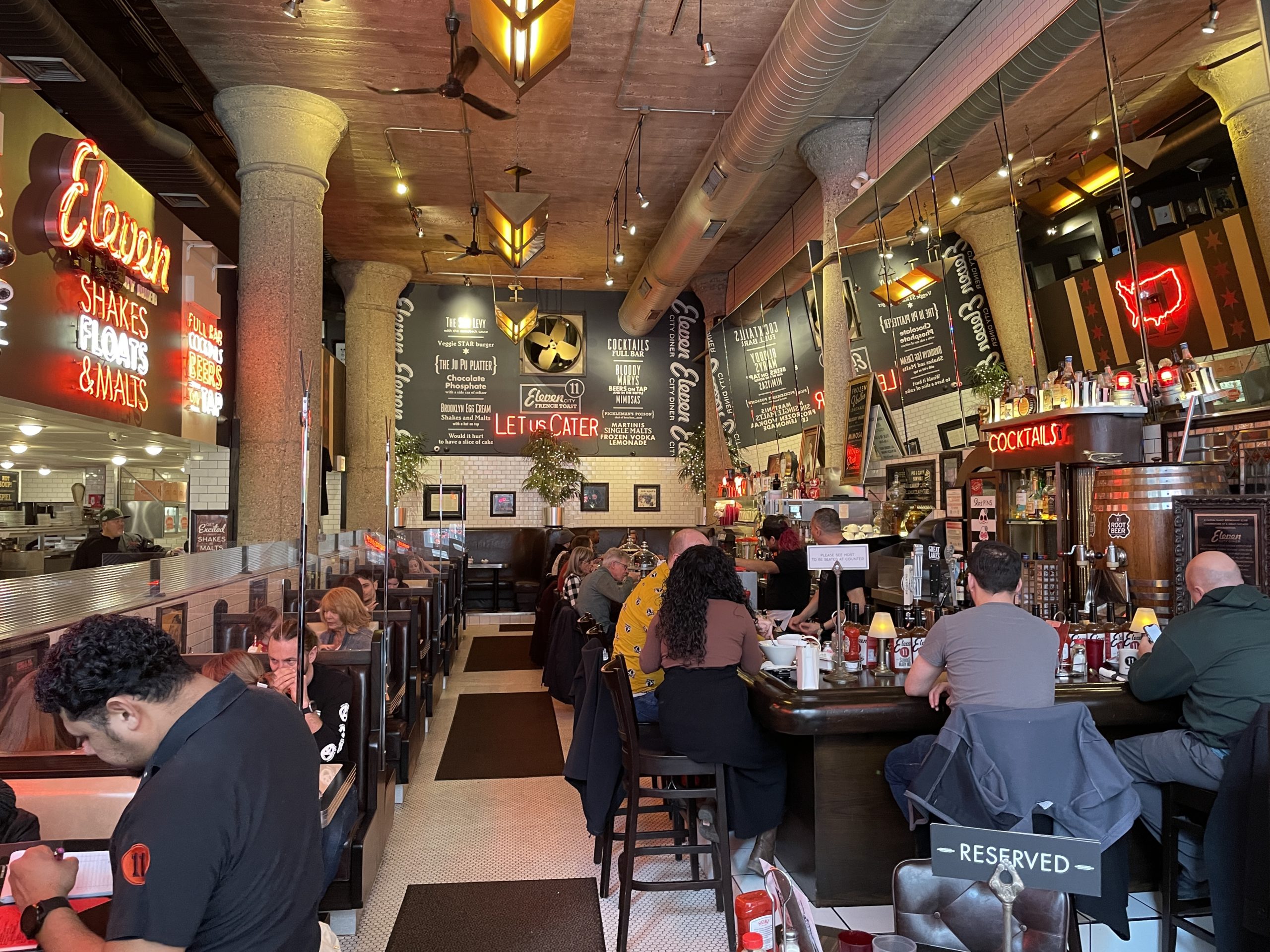 Brooklyn, NY
Diner: Diner, opened in 1999, in a classic Kullman Diner underneath the Williamsburg bridge at 85 Broadway. It is open for lunch and dinner along with a weekend brunch. The menu changes daily. I enjoyed the pork sandwich and salad and my friend his burger. The atmosphere is right out of the past including old tile floors. I highly recommend it.
Mackinac Island Michigan
Chuck Wagon: A casual diner for over 60 years, this is a fun, local's hangout for breakfast and lunch. I loved it for breakfast before my ferry back to the mainland. Don't miss it when you are in town. 7400 Main.
Moab, Utah
Moab Diner: Started in the 1960s as the Poor Boy Drive-Inn and known for its burgers, it became the Grand Ice Cream Parlor in the late 1970s. Today it is the Moab Diner which still serves ice cream but is a full service restaurant that is a great spot for breakfast with a fun atmosphere. It is a local's hangout. 189 S. Main. 
Asbury Park, NJ
Thanks to Eater NY and Philly, I found Frank's Deli & Restaurant, a casual diner/cafe in Asbury Park from 196o. It has a great selection of breakfast items, breakfast sandwiches and sandwiches. The atmosphere is right out of the past and attracts a local crowd. It was a favorite of TV legend Anthony Bourdain and is on the Anthony Bourdain New Jersey Food Trail.
Red Bank, NJ
Toast City Diner, at 45 Monmouth St., recently took over the space that has been a diner since 1959. I loved the traditional decor and design. They also have restaurants in Asbury Park and Montclair, NJ.
Traverse City, MI
J & S Hamburg: A fun, casual diner downtown, their slogan is "Curing Hangovers since 1938". I enjoyed breakfast on a Sunday morning which was a great time to feel like a local. It is a small place, so go early to stake out your table. 302 W. Front St.
Pittsburgh, PA
Pamela's Diner is a colorful, casual diner at 60 21st St. They feature a large breakfast menu with egg combos, omelets, breakfast sandwiches, homemade hash plus pancakes, french toast and waffles. The lunch menu is smaller but includes burgers, sandwiches and salads. I love the atmosphere.
Primanti Bros: Stopping by this local institution is a must when you are in Pittsburgh. The original location of this chain of restaurants is located in the Strip District at 46 18th St. Founded in 1933, its signature sandwich is grilled meat, an Italian dressing-based coleslaw, tomato slices and French fries between two pieces of Italian bread. In 2007, It was name an American Classic by the James Beard Foundation. 
St. Joseph, MO
South of the Patee House and the Pony Express Museum is Betty's Cafe at 5307 King Hill Ave. This is a fun, casual diner serving breakfast and lunch since 1989. The pie is to die for!!!
Knoxville, TN
Another new find is Pete's Restaurant, which is a fun diner that has been around for over 30 years. I loved the atmosphere and the great food. It is in a great location downtown, so skip breakfast at your hotel and head over early. 540 Union Ave.
Kansas City, MO
There are many food options in Kansas City's River Market from Kansas City Barbecue, Chinese (Bo Lings) and Vietnamese. There is an Italian grocery, a great bakery and vendors selling local produce. I had no idea that this even existed and was really excited to find it. I really enjoyed my brunch with family at the City Diner at 301 Grand. It was casual and fun.
Sedona, AZ
Coffee Pot Restaurant: Located on the west side of town, this is the perfect spot for breakfast before you head out on a hike or to tour the red rocks. Open for over 30 years they feature 101 omelettes. 2050 W. State Rd. 89A.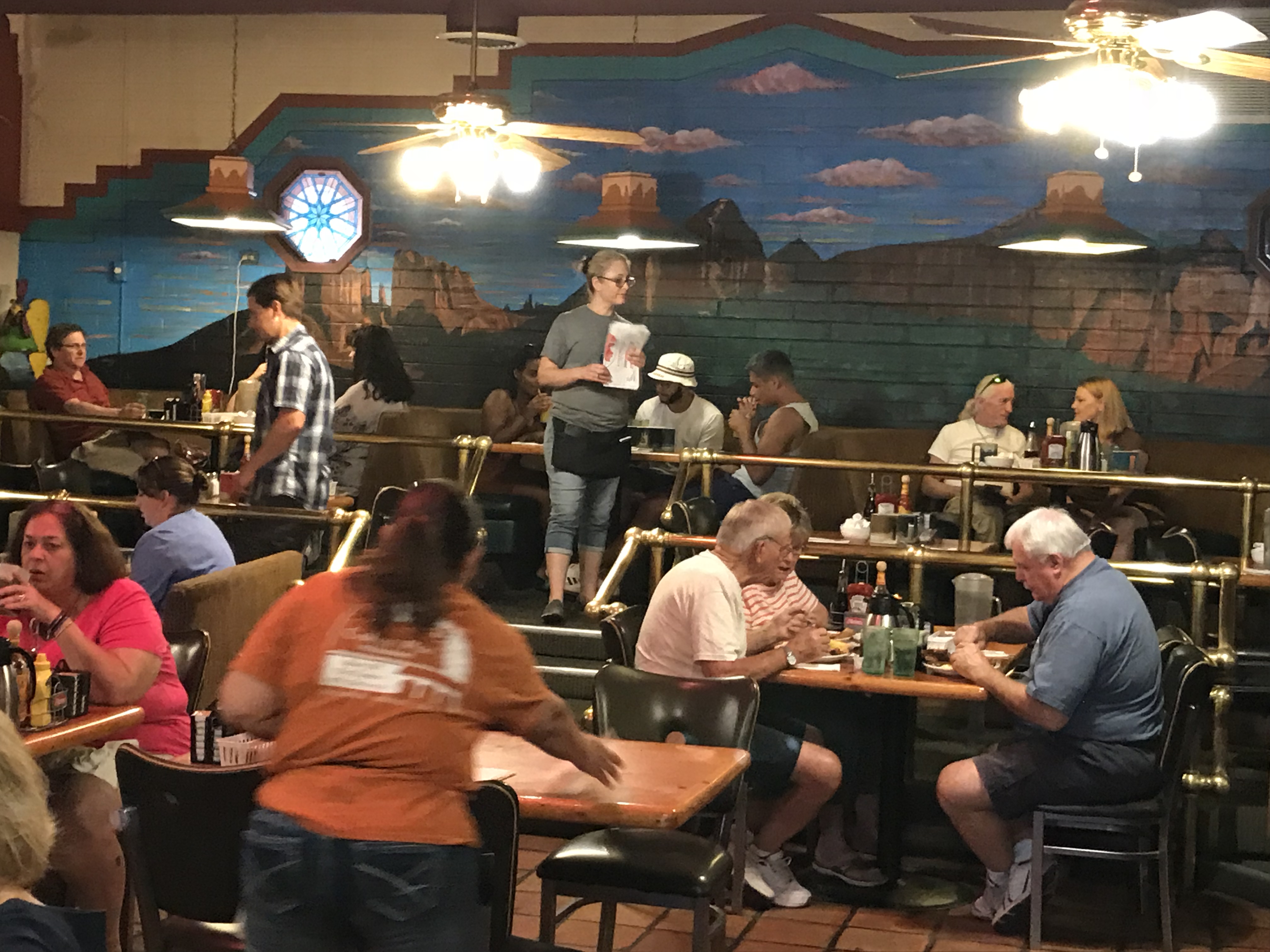 Ephraim, WI
Wilson's Restaurant & Ice Cream Parlor: A trip to Door County would not be complete without a visit to Wilson's Ice Cream Parlor. This is a vintage soda fountain serving ice cream, house-brewed root beer and burgers since 1906. The lines can be long so be patient. 999 Water St. South.