I love food markets and always try to search them out when I travel around the world. Many are located in historic buildings and have been there for decades. Some of my favorites from my recent travels include:  
The United States
Indianapolis, Indiana
From 1821, and in this location since 1886, the old city market is now the Indianapolis City Market and food hall. With more than 25 local food purveyors, it is a perfect place for lunch as you mingle with the locals who work nearby. The INDPLS GUIDE, a local guide book, recommends Three Carrots, Circle City Sweets, 3 Days in Paris, The Tamale Place and Tomlinson Tap upstairs for its beer selection. The building itself is listed in the National Register of Historic Places.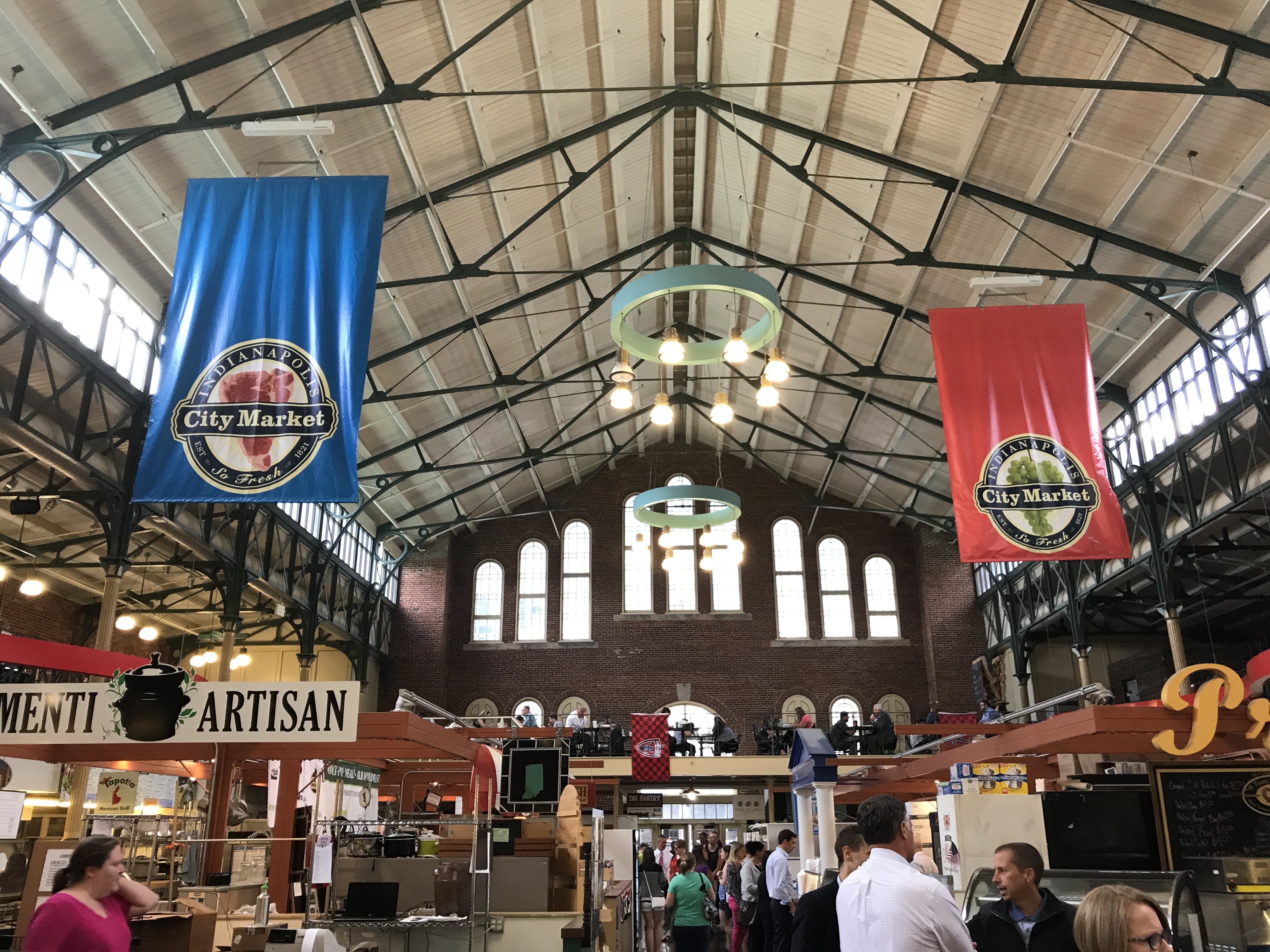 Cleveland, Ohio
The West Side Market, an historic market from 1912, is located west of downtown in the Ohio City neighborhood. It has more than 100 food vendors selling such items as fish, meats, cheeses, bread, fruits, vegetables, flowers, nuts and spices. Make sure to visit the market, have breakfast at the West Side Market Cafe, visit a local coffee shop and checkout the two microbreweries nearby. It is not open every day so check the website for days and hours. The West Side Market Cafe is the perfect spot for breakfast or lunch when you are in town. It is a short cab ride from downtown. The atmosphere and service is great and the frittata was very good. 1979 W. 25th St.
Nashville, Tennessee
When in town, make sure to head to the Nashville Farmers Market at 900 Rosa Parks Blvd. that is open every day. Here in the Farm Sheds you can find flowers, fruits and vegetables along with a good selection of local jams and jellies. Inside the Market House you can find a selection of local shops and restaurants including those featuring coffee, sushi, barbecue and desserts.
Chicago, Illinois
I always enjoy the Green City Market that is located in Lincoln Park on Wednesdays and Saturdays during the summer months. This is a fun spot to buy local and organic produce, have a bite from a local cart, listen to music or attend a cooking demonstration. In the winter it moves to the Peggy Notebaert Nature Museum a few blocks north.
Detroit, Michigan
Just northeast of downtown Detroit is Eastern Market. Here you will find a large area with over 100 shops and restaurants. There are also food trucks, public art and bike trails. Don't miss their Saturday Market, a huge farmers market; the Sunday Street Market featuring art, crafts and food trucks, and a smaller scale Tuesday Market similar to Saturday.
Highlights include the Germack Roasting Company at 2517 Russell St. for coffee. They also have a large selection of nuts, trail mixes, nut butters, chocolates and dried fruits for sale.
Locals like Trinosophes, a cafe, museum, performance space and art gallery at 1464 Gratiot Ave. Also check out Detroit City Distillery at 2462 Riopelle St. Their tasting room features their small batch, artisanal whiskey, bourbon, gin and vodka.
There are a number of stores including Salt & Cedar which is a printing press, bindery, and bookstore specializing in arts editions and letterpress posters and gallery featuring local artists. They also host food events, workshops and more. 2448 Riopelle St.
Ann Arbor, Michigan
Kerrytown Market and Shops is located in a fun, older area near downtown. Here on Wednesday evenings you'll find the Evening Ann Arbor Farmers Market, the Farmers Market on Wednesday and Saturday, and the Artisan's Market on Sunday. There are small shops featuring gifts and specialty foods, wines, coffee and several lunch counters.
New York, New York
I highly suggest walking through the Chelsea Market, which is in a renovated abandoned factory that was converted to house a large number of specialty food retailers, bakeries, butchers, a fish market, wine store and restaurants. It is at 75 9th Ave., between 15th and 16th. The High Line runs above it, so stop by on your visit.
Philadelphia, Pennsylvania
Reading Terminal Market, at 15 N. 12th St., is a large market featuring fruits and vegetables, bakery goods and food stands offering almost every type of food and ethnic food available. This is a great place for a quick lunch.
9th St. Italian Market is billed as the oldest outdoor market in the US. This is a several block long area of purveyors of fruits and vegetables, pasta, meats, fish, cheeses, wines, breads and other baked goods, chocolates, spices and tea, coffee, olive oils and other imported goods. The street is very colorful and not to be missed. The Italian influence is seen on the north end but more Mexican influence is seen in the stores and stands on the south. I enjoyed the coffee and atmosphere of Anthony's Italian Coffee House and their great ice cream and chocolate shop a few doors away at Anthony's Chocolate House. Sarcone's is a fifth generation bakery on the street. Di Bruno Bros has great imported goods.
There are a large number of restaurants including Ralph's Italian Restaurant and George's Sandwich Shop at 900 S. 9th. A little further south are the well-known Pat's King of Steaks at 1237 E. Passyunk Ave. since 1930, and Geno's Steaks for cheesesteaks and other sandwiches at 1210 S. 9th.
Rittenhouse Square is always one of my favorite neighborhoods and squares in the city. I used to stay at the Barclay Hotel on the north side of the square but it has since been converted to high-end condominiums. The square is surrounded by other nice hotels and cafes and restaurants including many with outside seating. On Tuesdays and Saturdays during the summer, there is a fun farmers' market with great local fruits and vegetables.
San Francisco, California
The Ferry Building Marketplace is a great spot to check out for restaurants, specialty food counters and shops. It is along the Embarcadero at the foot of Market St.
San Diego, California
Just northwest of downtown, Little Italy is an area of restaurants, galleries and boutiques. I walked through the very busy Saturday Mercato farmers' market which had great gourmet foods, produce, flowers, bakery items and coffee vendors. It is well worth the visit.
Seattle, Washington
Established in 1907, Pike Place Market, at First and Pike Streets, is the oldest continuously operating farmers' market and is one of the top places to visit in Seattle. There are amazing fish vendors and the fruit and the flowers are spectacular. You will find many other stalls and many restaurants. Lowell's is a wonderful place for breakfast. Their omelette with dungeness crab is a must!
Milwaukee, Wisconsin
Milwaukee Public Market is a very attractive public market at 400 N. Water St. There is an indoor market with vendors selling bakery goods, coffee, candy, flowers, seafood, soups, sushi, wines and of course Wisconsin cheese. In the summer there is an outdoor market featuring, fruits and vegetables and various arts and crafts.
St. Louis, Missouri
Soulard Market: The Soulard Market is one of the largest and oldest farmers markets west of the Mississippi. It was started in 1779 and is the original farmers market in St. Louis. Located at 730 Carroll St., it is open Wednesday through Saturday year round. They feature local fruits and vegetables in season and there are vendors selling meats, cheeses, spices, flowers and baked goods.
Kansas City, Missouri
The anchor of the River Market neighborhood is the City Market from 1857. There are many food options in the market from Kansas City Barbecue, Chinese (Bo Lings) and Vietnamese. There is an Italian grocery, a great bakery and vendors selling local produce. I had no idea that this even existed and was really excited to find it. I really enjoyed my brunch with family at The City Diner at 301 Grand. It was casual and fun.
Canada
Victoria, British Columbia
The Victoria Public Market at the Hudson is located in the historic Hudson building in downtown Victoria at 1701 Douglas Street. This market opened in 2013, preserving this well-known department store building. It is more of a food hall than market as it has a number of restaurant concepts from tacos, sandwiches, coffee and baked goods to pies, waffles, sushi and noodle bowls.  
Vancouver, British Columbia
Visiting Granville Island was by far one of the highlights of my recent trip to Vancouver. Taking the ferry from Vancouver's Aquatic Center across to the island is an easy way to get there. The top things to do while there include touring the Granville Public Market, visiting artists studios and galleries and trying one the many restaurants. There is also a craft brewery and a distillery open for tastings. The Granville Public Market itself is a colorful array of food stalls fresh produce, fruits and berries,  baked goods, seafood and flowers. It is open seven days a week.
For a another great experience, make sure to head to the Richmond Night Market. It is a weekend event held from mid-May to early October from 7pm to 12am on Friday and Saturday and to 11pm on Sunday. Here you will find a huge number of food vendors selling everything from dim sum and seafood to ice cream and bubble tea. There are also arcade games plus live performances in music, dance and martial arts. It is a great spot for families. I went early as the lines can be long to get in. Plus it allowed me to walk and see everything before it got very crowded. It is free for children under 10 and seniors over 60. Admission is $4.25 Canadian to enter. You can take the SkyTrain to the Bridgeport Station. 8351 River Rd. I stayed over a Friday evening, to make sure that I was able to see it.
Toronto, Ontario
When in Toronto, Kensington Market is fun to explore. There are narrow streets with a mix of Caribbean, Latin American, European and Middle Eastern shops and restaurants. There are secondhand and vintage clothing stores, fishmongers, produce and fruits stands, and street musicians. I also loved the street art! While visiting the Kensington Market, stop in for coffee at Café Pamenar at 307 Augusta Ave.; a sleek café with outdoor seating.
Around the World
Budapest, Hungary
Since 1879, the Budapest Central Market is a must see if you are a foodie and love markets. There were wonderful purveyors of meats, sausages and pastries and cookies of all kinds. Upstairs are many vendors selling local crafts and some food stands appealing to locals with local specialties. Upstairs, I was pleased to find Fakanal Restaurant for lunch featuring Hungarian specialties. This is a really fun, self-service, restaurant with a well-designed, casual atmosphere. I enjoyed a great chicken stew with vegetables on the side. There was a four-piece orchestra playing gypsy and Hungarian music. I enjoyed finding a great bakery downstairs after lunch for cookies! Vamhaz Krt. 1-3.
Ljubljana, Slovenia
Make sure to visit this colorful Central Market featuring flowers, fruits, vegetables, clothing and other goods. Along the market and the river are many small cafés and coffee houses that are filled with locals enjoying their coffee in the morning. There are also permanent cheese stores, butcher shops and some selling dried fruits and nuts. I also found a small area near the Cathedral where there were women selling wonderful dried flower arrangements. I found one who picks her flowers, dries them and then makes them into beautiful note cards and framed pictures.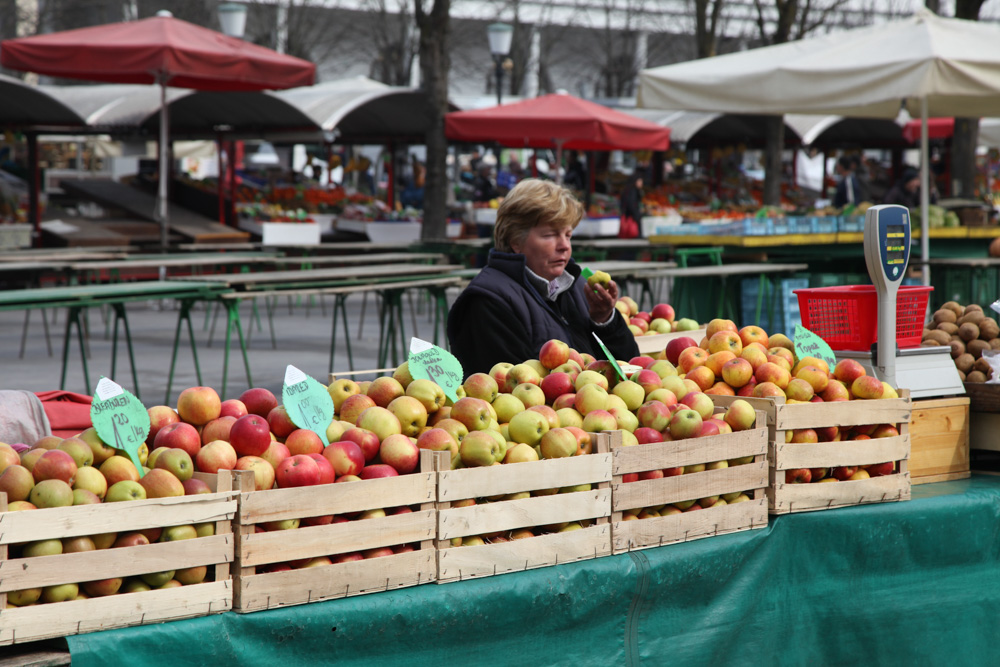 Istanbul, Turkey
When visiting Istanbul, make sure to walk to the Grand Bazaar and plan to spend a wonderful day exploring the thousands of stores. It is a covered bazaar with areas divided into several sections: antiques and carpets, leather and denim, gold and silver, fabrics and textiles, souvenirs and household goods and workshops. The pashminas are a steal! Take the tram to Eminonu. Walk the small side streets to the Spice Bazaar. This L-Shaped market is not as large as the Grand Bazaar and much more manageable. I loved buying spices and my new favorite olive oil soap.
Vienna, Austria
When in Vienna don't miss the Naschmarkt. This is a fun market filled with food stalls and restaurants. It is a short walk from the MuseumsQuartier and the Hofburg Palace. On a sunny Saturday afternoon it was jammed with locals enjoying the weather and the food. There are many options to choose from. There are also bakeries and shops selling cheese, wine, chocolates, meat and more. I enjoyed a coffee and apple pie at Kurkonditorei Oberlaa.
London, England
The historic Borough Market is a wholesale and retail food market in Southwark, London. It is one of the largest and oldest food markets in London, with a market on the site dating back to at least the 12th century. It is located under the shadow of the new Shard tower, by famed architect Renzo Piano. I enjoyed my first visit walking through the market, seeing the bars and restaurants and having a great lunch at Wright Brothers Oyster & Porter House. It had a great atmosphere and design plus my fish entrée was really excellent!
Brixton Village and the other arcade Market Row are the place to go for foods from around the world. You'll find Europe, India, Asia, Africa, South America and the Caribbean all represented. There's cafés and restaurants dishing up all sorts of flavors. And shops that sell everything from charcuterie and cheese to traditional Chinese medicine.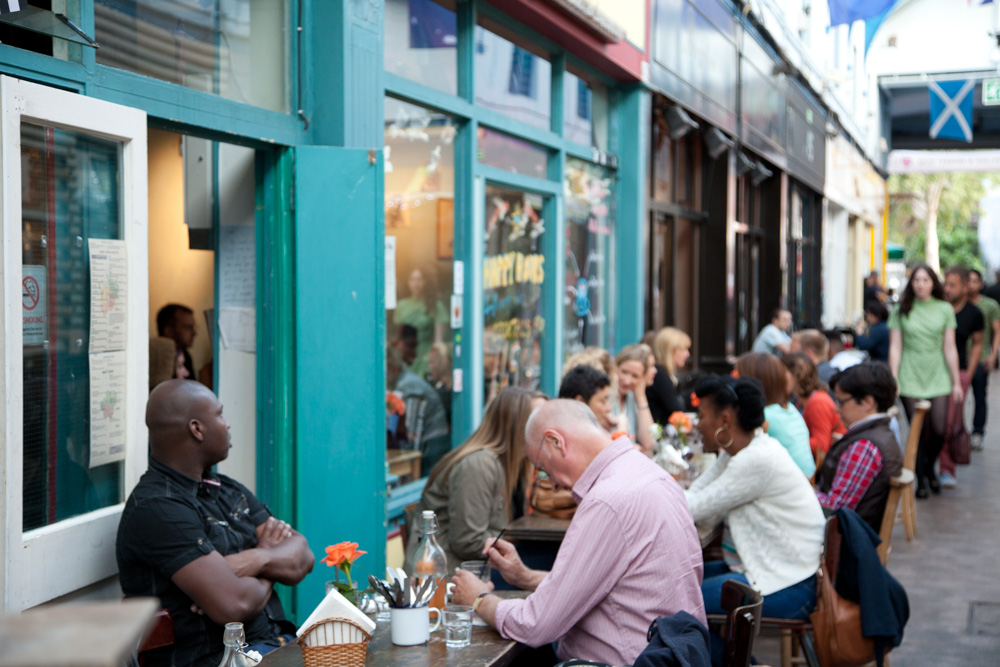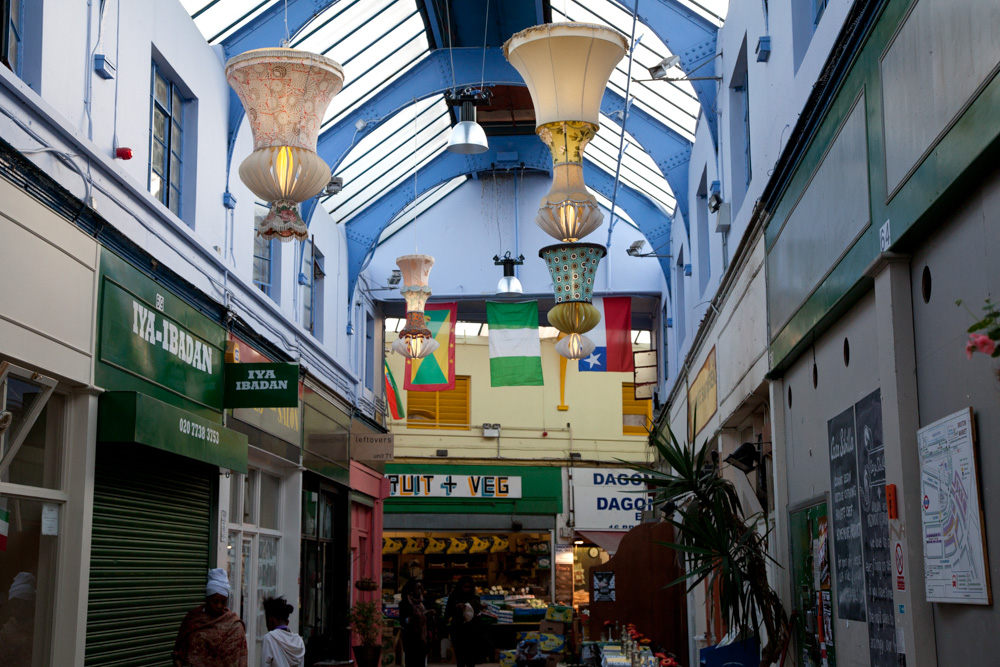 Spitalfields Market/Brick Lane is the place to be on a Sunday in London. There are clothing designers, vintage clothing and accessories shops and dealers, pop-up food courts and stalls with many ethnic vendors. The streets are crowded. The Old Spitalfields market is London's oldest dating back to 1666. On Brick Lane you will find street performers and vendors selling food and second-hand items.
Mexico City, Mexico
Mercado La Merced: As the largest market in Mexico City you can find anything from produce, piñatas, toys, and kitchen utensils and everything in between. There are also many food stalls if you are on the more adventurous side. There are many vendors selling chiles and several different types of mole. I know that you will enjoy the experience. While there, make sure to walk a few blocks away to the Sonora Market where there are many sellers of items for the occult, witchcraft and Santeria. It is very interesting to experience.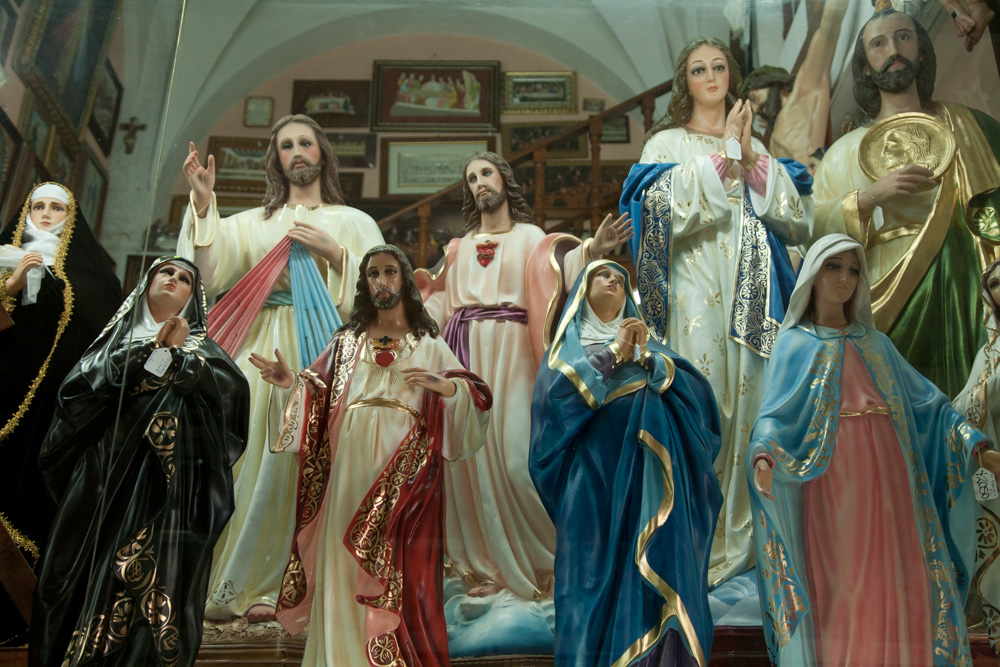 San Miguel de Allende, Mexico
Tianguis del Martes: I just went to my first Tuesday Market which is 1 1/2 miles from the center. Here you will find housewares, clothes, shoes, fruits, vegetables, and all kinds of food. There are hundreds of vendors selling their wares under multi-colored tarps. It is great fun and a little overwhelming. Watch your wallet, according to the locals. It is on the Salida de Queretaro across from Soriana in the Liverpool shopping center.
Mercado Ignacio Ramirez: Located a few blocks from the Jardin and behind the Oratorio church, is the main San Miguel covered market built in 1970. Here you will find fresh flowers, produce, meat, chicken and fish as well as food counters in the back.
Mercado Sano/Saturday Organic Market: This is a large farmer's market at Ancha de San Antonio #123  where I go every Saturday when I am in town. It is now located outside of Mercado Sano which now features permanent stands, on two levels, by local purveyors of organic produce, breads, cheeses, eggs, milk, coffees and coffee drinks, olive oils and other products. I always love La Panaderia Buena Vida for their multi-grain bread, muffins and yes a few cookies for the week. I always go to the coffee shop on the first floor right inside the front door.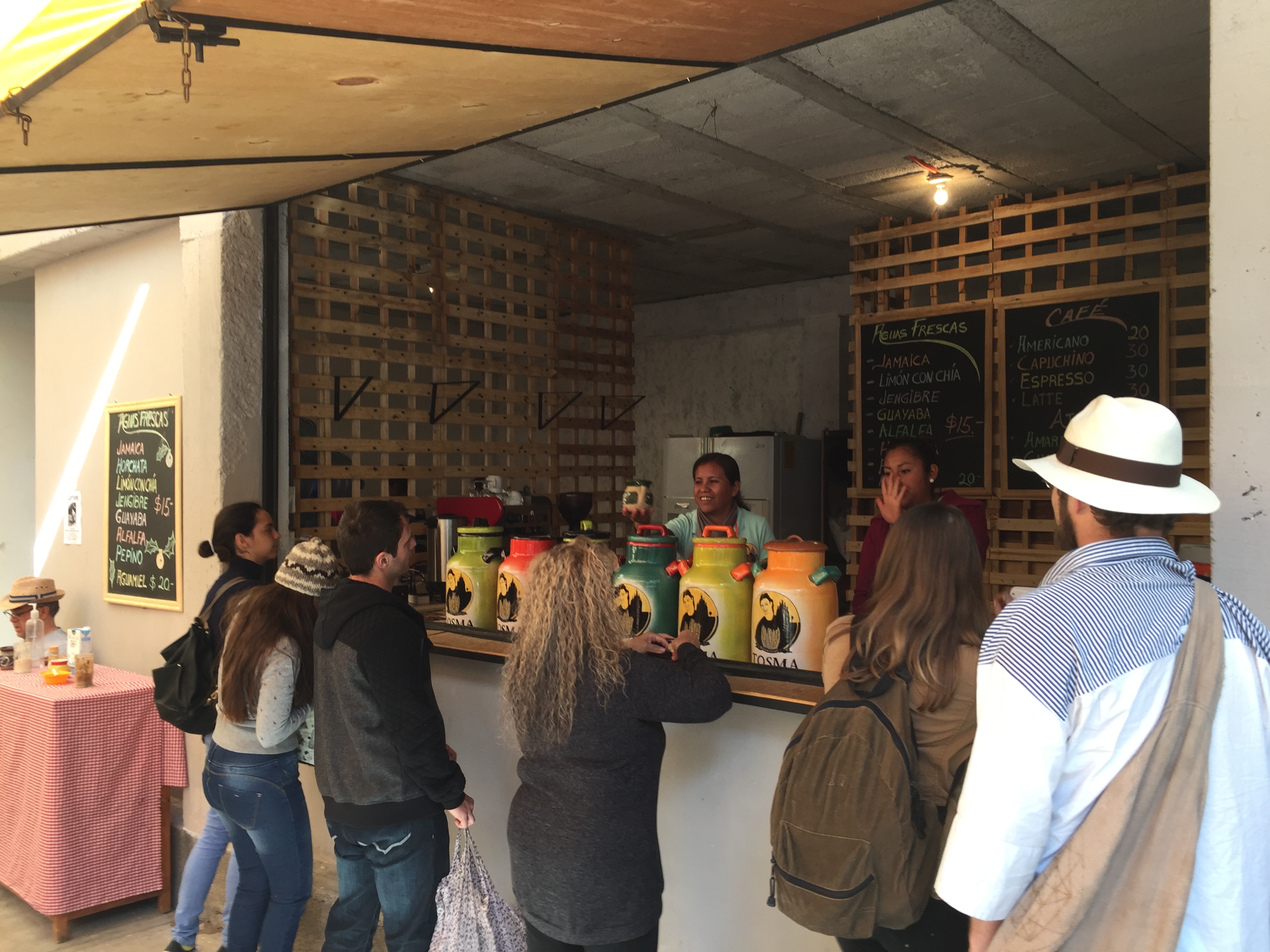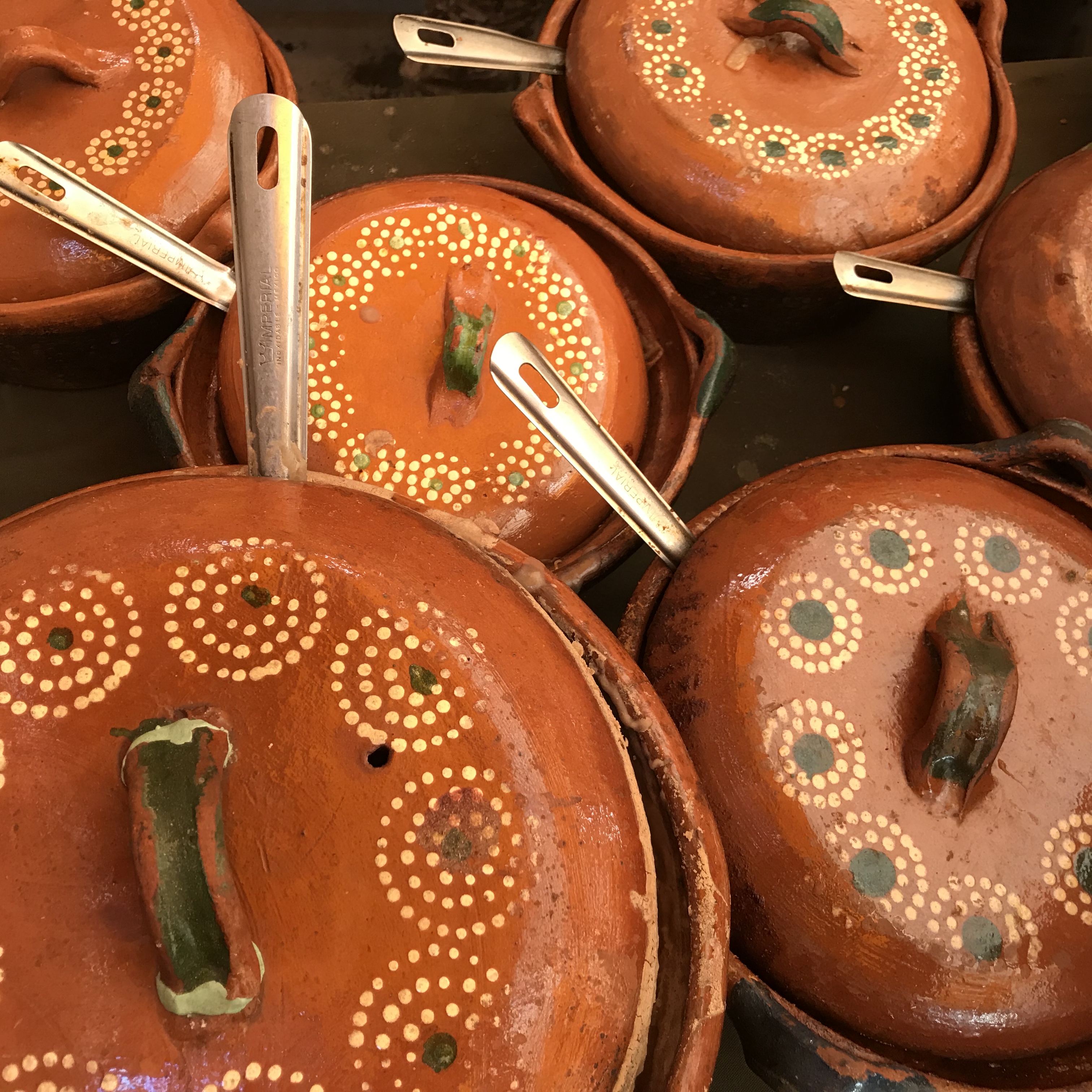 Puebla, Mexico
Mercado del Carmen: Located south of the Zocalo on 2 Sur and 19 Oriente, this is a market that several articles have raved about their famous cemitas sandwiches. Check out Cemitas las Poblanitas where you can have the sesame-seed rolls filled with meat, poblano peppers, white Oaxacan cheese, avocado and chipotles.
Otavalo, Ecuador
Located in a square in Otavalo, this is a crafts market that features wonderful textiles, ponchos, ceramics, art, masks and other local items. It it one of the best markets in South America. The Saturday market is much larger than the market during the week. I was there on a Tuesday and it was perfectly adequate. You will find a huge selection and good prices. They are always willing to negotiate!!!
Valencia, Spain
Mercado/Mercat Central, Plaza del Mercado: This is a very impressive market in the center of the city with over 1,000 stalls. It is an iron structure with a great dome and stained glass windows.
Barcelona, Spain
La Boqueria on La Rambla 91: This is one of the best food markets in Europe according to many sources. It has wonderful produce, meats, fish, cheese, chocolates and sweets. I had lunch at El Quim de la Boqueria, which was highly recommended. It was a really great choice. I would suggest going early around 12:30 to get a seat at the bar.
Madrid, Spain
Mercado De San Miguel: This is an old market building that has been restored to a new bustling market. There are vegetables, cheeses, meats, bread etc., but there are many stands selling wine, pastries, tapas, coffee, chocolates and ice cream. You can definitely go and make a meal out of it. I stopped by twice once for a snack and once for lunch! Plaza de San Miguel, s/n 28005.
Rotterdam, Netherlands
Markthal: Not to be missed, is this recently opened market and food court. I went to Rotterdam mainly due to the articles I had read and the pictures I had seen. It is a wonderful curved building with a painted ceiling of large flowers. It is part of a building that has a number of apartments along the side and across the top. Here you will find sellers of cheeses, vegetables, meats, pastries, flowers and fruits and vegetables. Along the sides are a diverse selection of restaurants to try. I enjoyed a tapas restaurant with a local friend.
Copenhagen, Denmark
Torvehallerne KBH: After visiting the Statens Museum for Kunst and the Rosenborg Castle, this market at 21 Fredericksborggade is the perfect place for lunch. Opened in 2011, this permanent market has many small food stands and restaurants. You can grab a sandwich, coffee, chocolate or pastries. I had a great seared tuna, shrimp and orzo pasta salad from HAV.DK.