Bhutan was by far one of my most exotic and memorable trips that I have taken. This is a small, landlocked country bounded by Tibet to the North and Northwest and the rest by India. To the East is the state of Arunachal Pradesh, to the South, Assam and West Bengal and to the West Sikkim. A range of high Himalayan peaks divides Bhutan and Tibet.
Rather than GDP or gross domestic product, the key indicator of the country is Gross national happiness (GNH), a measure of economic and moral progress that was introduced in the 1970s as an alternative to GDP or gross domestic product. The four pillars of GNH are good governance, sustainable development, preservation and promotion of culture, and environmental conservation.
Because of this focus, there is a wonderful artistic and cultural pride, with many festivals throughout the year based on the lunar calendar. Here you will also find pristine, untouched landscapes,as a result of a Government mandate that 60% of the country must be kept forested.
Bhutan was only opened for tourists in 1974 with the Paro airport opening in 1983. The government is allowing more tourists into the country, but they are trying to avoid overtourism, found in many countries such Nepal, with its many backpackers. There is no limit on the number of tourists allowed to visit in a year. Howeer, "in order to protect our culture, traditions and natural environment, the government has adopted a unique policy of "High Value, Low Impact ". This policy is aimed at attracting discerning tourists that will respect the unique culture and values of the Bhutanese people while also providing the visitors with an unforgettable one of a kind experience."
The best time to visit is from September to November, where you will ahve the clearest skies and March to April, where you find the bulk of the festivals. I hear you should avoid June to August which is the rainy or monsoon season.
As far as arranging your trip, all tourists (excluding Indian, Bangladeshi and Maldivian passport holders) who wish to travel to Bhutan are required to buy a visa (at a cost of $40) and must book their holiday through a Bhutanese tour operator or one of their international partners. The tour operator will take care of Visa arrangements for visitors. Independent travel is not permitted, so it is necessary to have a guide.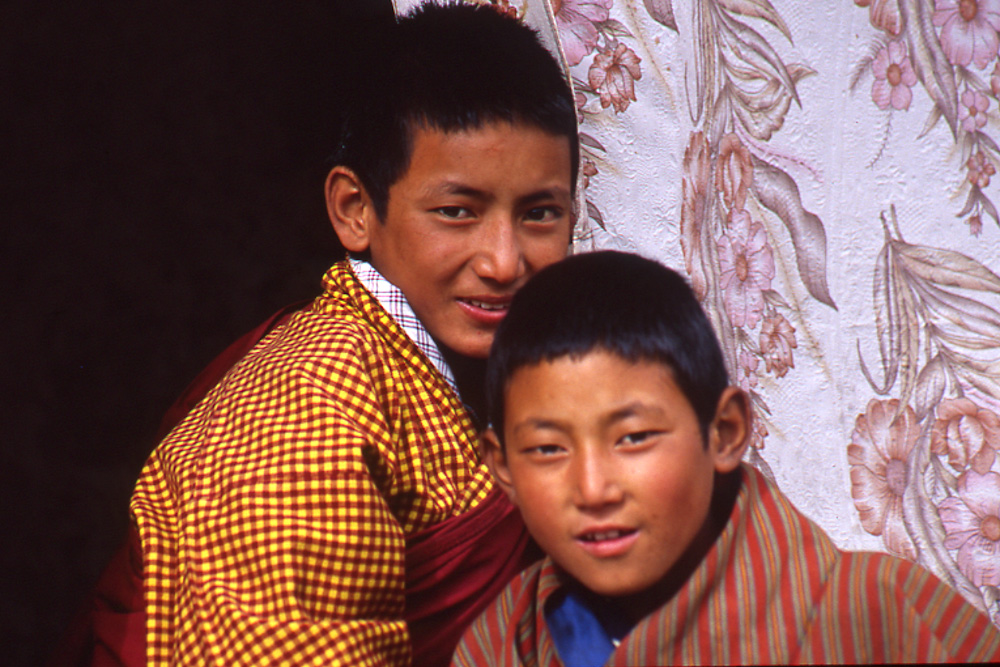 The Royal Government of Bhutan sets minimum selling prices for packages to Bhutan. The minimum daily package applicable per tourist per night is $200 USD per person per night for the months of January, February, June, July, August, and December. It is 250 USD per person per night for the months of March, April, May, September, October, and November. This includes a minimum of 3 star accommodation (4 and 5 star may require an premium payment), all meals. a licensed Bhutanese tour guide for the extent of your stay. all internal ground transportation,  camping equipment and haulage for trekking tours plus  a $65 USD Sustainable Development Fee (SDF). The later fee goes to provide funds for free health care for all children through high school.
Tourists travelling in a group of two persons or less shall be subject to a surcharge, in addition to the minimum daily package rates.  This includes $40 USD per night for single or individual travelers and $30 USD per person per night for two people. I recommend Asia Transpacific Journeys, based in Boulder, CO, to set up you private trips with a local guide. Ask for Eric Kareus who is excellent.
One more thing, Druk Airways, the only carrier into Paro, offers flights from Bangkok, Kathmandu Nepal, Doha Qatar, Delhi and Calcutta India. You can also now fly from Singapore. The five planes are generally Airbus jets, I went in and out of Bangkok which is the recommended airport. Since I was there, Bhutan Airlines has also started service.
Be aware that most people speak English due to the fact that it is used in the schools, however, Dzongkha, a Sino-Tibetan language, is spoken by over half a million people in Bhutan. It is the sole official and national language of the Kingdom of Bhutan. The Tibetan alphabet is used to write Dzongkha. The Ngultrum is the national currency.
 Check out our recommendations as to What to See and Do and Where to Stay while there.