I started to visit the South while working in banking many years ago and spent a good amount of time in Louisiana, Mississippi, Alabama, Georgia and the Carolinas. I still remember the tastes of the dishes that I tried for the first time on many business trips to the region. They made a very lasting impression! I have since attended the Southern Food Writing Conference twice in Knoxville, TN and really enjoyed learning about the history of Southern food and traditions of the region.
While most of us are not traveling these days, there are some great options in Chicago to enjoy some traditional Southern cooking and soul food.
My top recommendations include:
Valois, located at 1518 E. 53rd St. It is a counter-service/cafeteria-style restaurant featuring comfort food, BBQ, breakfast items and desserts. It was reportedly President Barack Obama's go-to place when he was in Hyde Park. They even have a menu on the wall listing his favorite dishes. I loved the casual atmosphere! I popped in for dessert after my brunch down the street and thought the coconut pie and the rice pudding were great.
Virtue Restaurant & Bar, is in the former A10 restaurant space at 1462 E. 53rd St., in Hyde Park. I went for brunch with friends and thought the experience was great. I loved the food and service. We all had the fried green tomatoes and shrimp which came with a remoulade sauce and an egg. The biscuits and the cheese grits were also great. I will definitely go back and thought brunch was the perfect time to go. Esquire Magazine named it one of the Best New Restaurants in America 2019!
I also love Peach's Restaurant at 4652 S. King Drive, just west of Hyde Park. It features biscuits, pancakes, waffles, omelettes and Southern specialties. It is a great place for breakfast or brunch.
North of Peach's in Bronzeville is a great recent find, Pearl's Place at 3901 S. Michigan Ave. This is a classic white-tablecloth restaurant serving Southern/soul food classics such as fried chicken & catfish. I went with my assistant who is originally from Memphis, TN. She loved the fried catfish! I really enjoyed the shrimp and grits along with collard greens. In addition to their menu, they also have a buffet featuring breakfast, lunch and dinner items. I highly recommend the experience.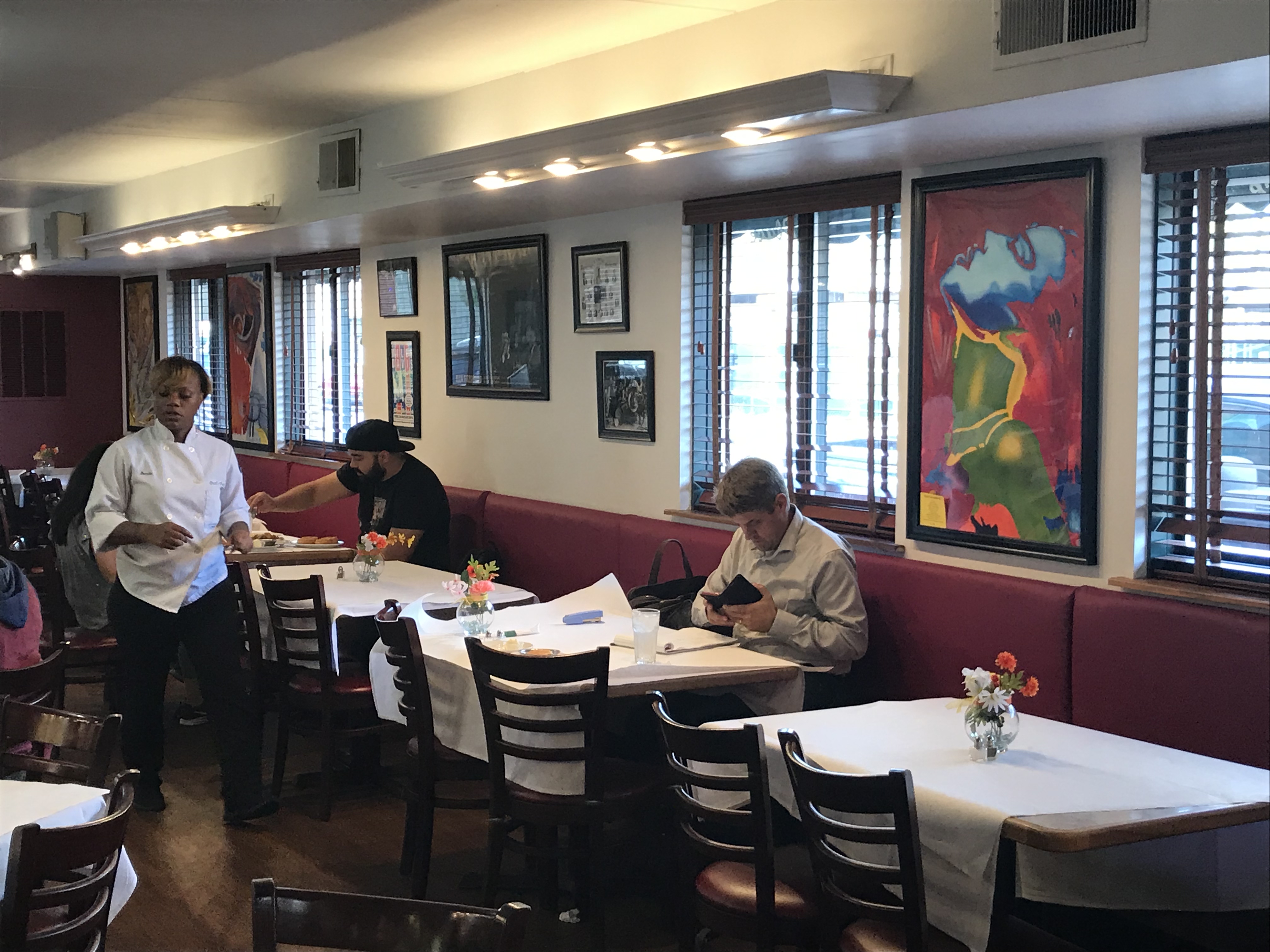 Also in Bronzville is Chicago's Home of Chicken & Waffles at 3947 S. King Dr. After hearing about it on Check Please on WTTW in Chicago a few years ago, I enjoyed my visit to this popular soul food restaurant. I am looking forward to going back again soon.
Big Jones is known for its Southern specialties for brunch, lunch and dinner at 5347 N. Clark. On my first visit I enjoyed their shrimp and grits for Sunday brunch. I went back again and had another good experience enjoying the Simple Southern Breakfast with two eggs, smoked ham, a biscuit and grits. It is very popular, so book your reservation online before you go.
At 1415 N. Wood, just east of N. Milwaukee Ave., is Ina Mae Tavern & Packaged Goods, a funky space featuring New Orleans cuisine. In 2019, Chef Brian Jupiter was named a James Beard Award semifinalist for Best Chef Great Lakes. I recommend it for Saturday or Sunday brunch, when they have live music. I had the Louisiana Grand Slam, which included scrambled eggs, a choice of meat, a buttered biscuit, fruit of the day, breakfast potatoes and grits. It was all great! It was topped off with a yummy beignet! My friends loved the biscuits and gravy and the fried chicken and pancakes.
The Delta at 1745 W. North Ave. is a fun, casual spot known for its craft cocktails and Southern cooking including catfish, fried chicken and other cuisine from the Mississippi Delta region.
Another great recommendation is Luella's Southern Kitchen at 4609 N. Lincoln. Chef Darnell Reed named the restaurant after his Grandmother Luella. Her influences can be seen in his traditional southern dishes from shrimp to chicken gumbo.
I highly recommend that you try Roux. Located next to the University of Chicago campus, Roux is Chef Charlie McKenna's New Orleans and Southern-inspired all day breakfast spot. It is located at 1055 E. 55th St. Having read about it for over six months, I was excited to try it. I went with my assistant and we really enjoyed the fried catfish and the tasty shrimp and grits. To top it off, I enjoyed the beignets which I had not had since I was at at Café Du Monde in New Orleans a few years ago. They also feature biscuits, cinnamon rolls, pecan pie, coffee drinks, biscuits and gravy and other southern specialties.
Sorry if you gain some weight based on my recommendations, but you will love the experience!