Winslow is an historic city in northern Arizona that is just over a three hour drive from Phoenix and an hour drive southeast of Flagstaff.  
According to Wikipedia, "in the era of steam locomotives, Winslow was an important stop on the Atchison, Topeka and Santa Fe Railway for adding water and fuel to trains. Passengers could disembark and have enough time to have a meal during the extended stop."
I enjoyed my stay before my trip to the Grand Canyon and my experience there. My top recommendations include:
La Posada Hotel: The Harvey House (La Posada Hotel), was the last of the famous Fred Harvey, Santa Fe Railway Hotels and was designed by Architect Mary Colter. Opened in 1930, the original hotel had 70 guest rooms, three dining rooms, fancy lounges, arcades, fountains and beautiful gardens along with a train station. In addition, the famed U.S. Route 66 was originally routed through the city and La Posada was the finest hotel on the historic highway. Celebrities like Howard Hughes, John Wayne, Bob Hope, and Albert Einstein stayed there in the past.
Fred Harvey established lunch and dining rooms along the Santa Fe Railroad and its spurs throughout the southwest. He also established hotels that were very successful. These establishments were known for fine dining and service as he introduced line, silverware, china, crystal and impeccable service to railroad travel.
The famous Harvey Girls were young women 18-30 who were hired as waitresses in the Harvey restaurants. They became part of the mystique of what was at the time, The Wild West.
 The hotel closed in 1957 and the furniture auctioned off. With no buyers for the property, the Santa Fe Railway gutted it and made it into offices until it moved out in 1993. The railroad abandoned La Posada in 1994 and announced plans to tear it down. It was purchased by Allan Affeldt and Tina Mion in 1997 who saved it from demolition and renovated it into the lovely hotel it is today.
Located near downtown at 303 E. Second St., I enjoyed this historic property with its classic room and lovely gardens along with the Turquoise Room where I had dinner and breakfast. I also liked the food and service. Also, there is a bar next to the dining room, the Martini Lounge. The Turquoise Room offers Fred Harvey specialties from the past as well as Native American inspired cuisine using local grown ingredients.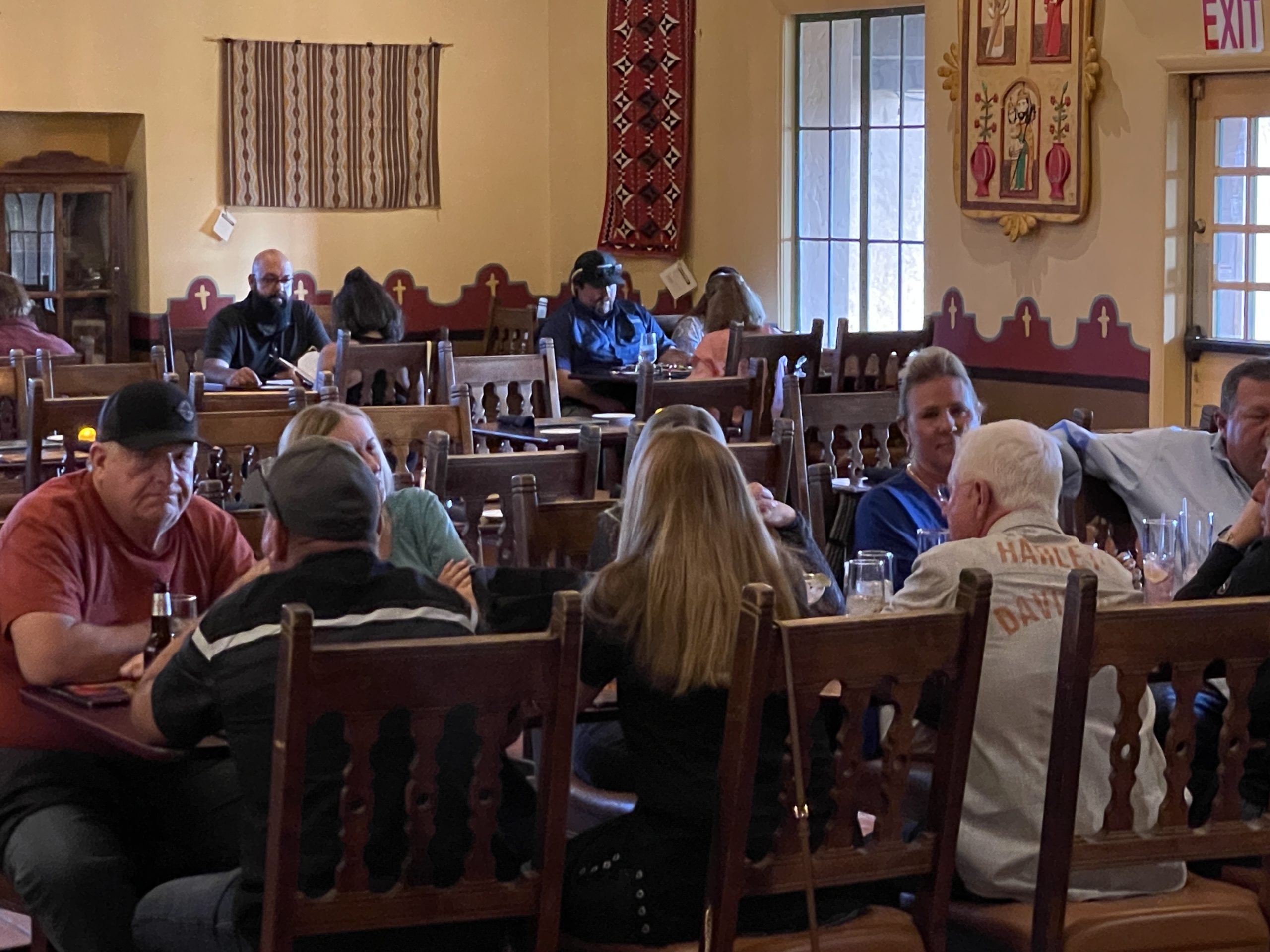 On site is the WAT or Winslow Arts Trust Museum that is located in the historic train depot of the La Posada. It tell stories of the art and architecture of the Southwest.
"Take it Easy" the 1972 song written by Jackson Browne and Glenn Frey and performed the Eagles, is well-known for its lyrics:
"Well, I'm a-standing on a corner
In Winslow, Arizona
Such a fine sight to see
It's a girl, my Lord
In a flat-bed Ford
Slowin' down to take a look at me"
Today you can walk downtown and stand on the corner at the park at Route 66 and N. Kinsley Ave. 
Flat Bed Ford Cafe: This is a fun diner downtown that opened 2021. Open for breakfast, lunch and dinner, it was named after the lyrics of the song. 214 N. Kinsey Ave.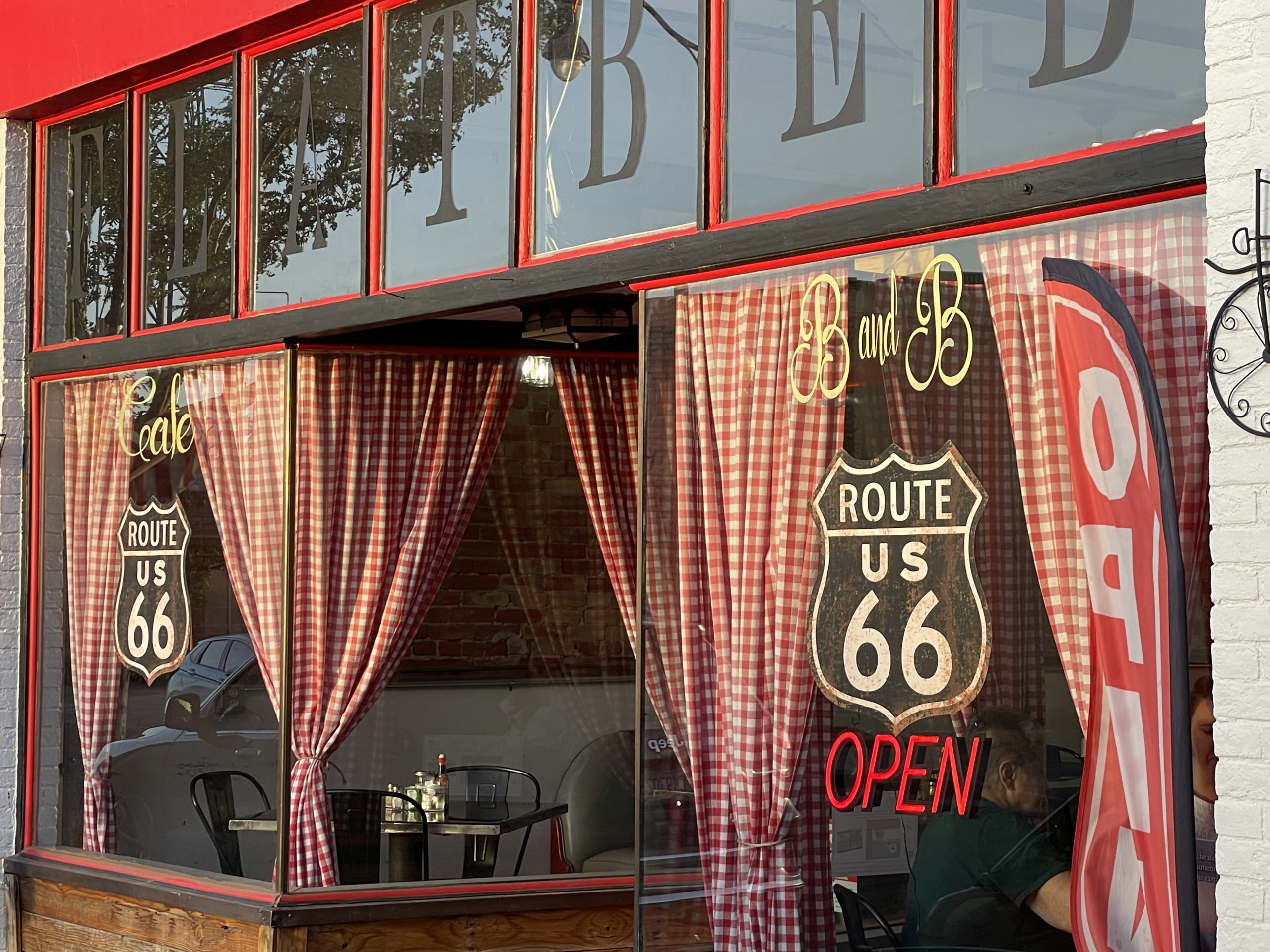 Olde Town Grill looks like a good spot. It is located in an historic building on Route 66. 108 E. 2nd St. The menu has burgers, sandwiches, soups, salads and more.
Arizona  66 Trading Company: At 101 E. 2nd St., this is a local shop with local and Route 66 gifts and souvenirs.
In 2022 the Sipp Shoppe celebrated its 50th year Golden Anniversary. It has coffee drinks, plus old fashioned sodas, great homemade ice cream, shakes, malts, crepes, soups and salads. 101 W. 2nd St.
RelicRoad Brewing Company is located next door at 107 W. 2nd St. This brewpub has a casual food menu plus 20 local craft beers on tap.
Winslow Arts Trust Museum is located next door at 107 W. 2nd St. This brewpub has a casual food menu plus 20 local craft beers on tap.
The Root Beer Stand: At 1001 N. Williamson, this fast food restaurant has been a Winslow staple for many years. The day before I flew to Arizona, I watched the show Home Town Kickstart which was inspired by the work that Ben and Erin Napier have done in their hometown of Laurel, MS and later Wetumpka, AL. This season they have chosen Winslow and other small towns to help them on a path of revitalization. The Root Beer Stand was completely redone and is now painted blue.
Ben and Erin also installed two antique cars next to two retired Santa Fe cupola cabooses on display in First Street Park downtown. 
Old Trails Museum: This is a local museum downtown that has exhibits and programs on the history of Winslow including info on the Sante Fe Railroad, Route 66, Fred Harvey, the Harvey Girls and La Posada Hotel. 212 N. Kinsley Ave.
Other nearby sites to explore are the Petrified Forest, a national Park, famous for its colorful petrified logs and rolling landscape of the Painted Desert. It is 50 miles east of Winslow.
James Turrell is one of my favorite artists He has a focus on light and space. Turrell's Roden Crater, opening in 2024 near the Painted Desert, will be a  large-scale artwork created within a volcanic cinder cone.
Meteor Crater Natural Landmark: Meteor Crater, or Barringer Crater, is a meteorite impact crater 37 miles east of Flagstaff and 18 miles west of Winslow in the desert of northern Arizona. The crater was created about 50,000 years ago. There is a visitors center on on the north rim.