2019 marked the 100th anniversary of the founding of the Bauhaus, the famed German design school. It was founded in Weimar Germany in 1919. In 1926 it moved to Dessau and then to Berlin when the Nazis make it impossible to continue there.
It was a thriving school until the Nazis finally forced it to close in 1933. Its modernist, clean-line aesthetic still resonates today in everything from furniture design, to art and architecture. I first learned of the school when I visited the Bauhaus Archive in Berlin several years ago. You may know of the famous Wassily chair by Marcel Breuer with its clean lines or the furniture or art by Josef Albers. Albers was an instructor and the artistic director in the furniture workshop from 1926 to 1927. Throughout its 14 year history, it was headed by three directors, the architects Walter Gropius, Hannes Meyer and Ludwig Mies van der Rohe.
Chicago has a special connection with the school. One of the faculty members, Laszlo Maholy-Nagy, moved to Chicago in 1937 and set up the New Bauhaus on Prairie Ave., which was open for a year. He then went to IIT (Illinois Institute of Technology) to start the Institute of Design.
IIT: Ludwig Mies van der Rohe, the last director of the Bauhaus in Germany, came to Chicago and became head of architecture at IIT. He designed many buildings on the campus which you can tour today.
Widely regarded as one of Mies van der Rohe's masterpieces, Crown Hall, completed in 1956, is one of the most architecturally significant buildings of the 20th century Modernist movement. "It features his basic steel and glass construction style, beautifully capturing simplicity and openness." It embodies his signature style in his famous quote "less is more". The building houses IIT's school of architecture.
In addition to Crown Hall, the campus encompasses 20 of his buildings, the greatest concentration of Mies-designed buildings in the world.
You can also visit a number of his building in the Chicago Loop, along the lakefront, in Lincoln Park, Hyde Park and in the Chicago suburbs. Make sure to see:
Chicago Federal Complex: The Kluczynski Federal Building is a skyscraper in the downtown Chicago Loop located at 230 South Dearborn Street. The 45-story structure was designed by  him and completed in 1974 as the last portion of the new Federal Center.
Across the street is the Everett McKinley Dirksen United States Courthouse, commonly referred to as the Dirksen Federal Building, is a skyscraper in downtown Chicago at 219 South Dearborn St. It was also designed by Mies van der Rohe and completed in 1964. The one story US Post Office Loop Station building completes the Complex.
AMA Plaza: 330 North Wabash (formerly IBM Plaza, also known as the IBM Building, and now renamed AMA Plaza) is a skyscraper in downtown Chicago. It was designed by Mies (who died in 1969 before construction began). The 52-story building is situated on a plaza overlooking the Chicago River. Today it is the home to the upscale Langham Hotel and office space.
One Illinois Center: Located north of Millennium Park at 111 E. Wacker Dr., this office building was designed by Mies and completed in 1970, a year after his death in 1969.
The Promontory Apartments: This is a 22-story, skyscraper in Chicago's Hyde Park neighborhood that was built in 1949. It was the first skyscraper Mies designed and was the first of his buildings to feature concepts such as an exposed skeleton.
860-880 and 900-910 N. Lake Shore Drive: He designed a series of four middle-income high-rise apartment buildings for developer Herbert Greenwald. The 860-880 buildings were built between 1949 and 1951, while the two 900–910 N. Lake Shore Drive towers were completed in 1955.
"These towers, with façades of steel and glass, were radical departures from the typical residential brick apartment buildings of the time. Mies found their unit sizes too small for him, choosing instead to continue living in a spacious traditional luxury apartment a few blocks away. The towers were simple rectangular boxes with a non-hierarchical wall enclosure, raised on stilts above a glass-enclosed lobby."
2400 N. Lakeview: Designed in 1963, this was his last residential high rise in Chicago.
A few blocks north are his Commonwealth Promenade Apartments built in 1957 at 330-340 W. Diversey Pkwy. 
Farnsworth House: Designed in 1945 by Mies van der Rohe and built in 1951, the Farnsworth House, a weekend retreat outside Chicago, in suburban Plano, for Dr. Edith Farnsworth. Here, Mies explored the relationship between people, shelter, and nature. The glass pavilion is raised six feet above a floodplain next to the Fox River, surrounded by forest and rural prairies. It is by far my favorite of his designs!
This substantially glass house has only been open for public view the last few years after a local group raised money to buy it from the last private owner. It is truly spectacular! Make an appointment for the guided tour online before you go! You can spend a little more for an interior photography permit which allows you to stay in 10 minutes longer to shoot pictures of the beautiful contemporary interior and furnishings. The Fall is the time to go when the changing leaves are spectacular as seen from the house.
Arts Club of Chicago: This is a private club and public exhibition space. In 1997, the club moved to its current location at 201 E. Ontario Street. Though the club demolished its former interior space designed by Mies van der Rohe, it did move the central staircase to the new gallery space. As a member, I always love seeing it when I am there. The lower level is open to the public, so you can visit and see it for yourself.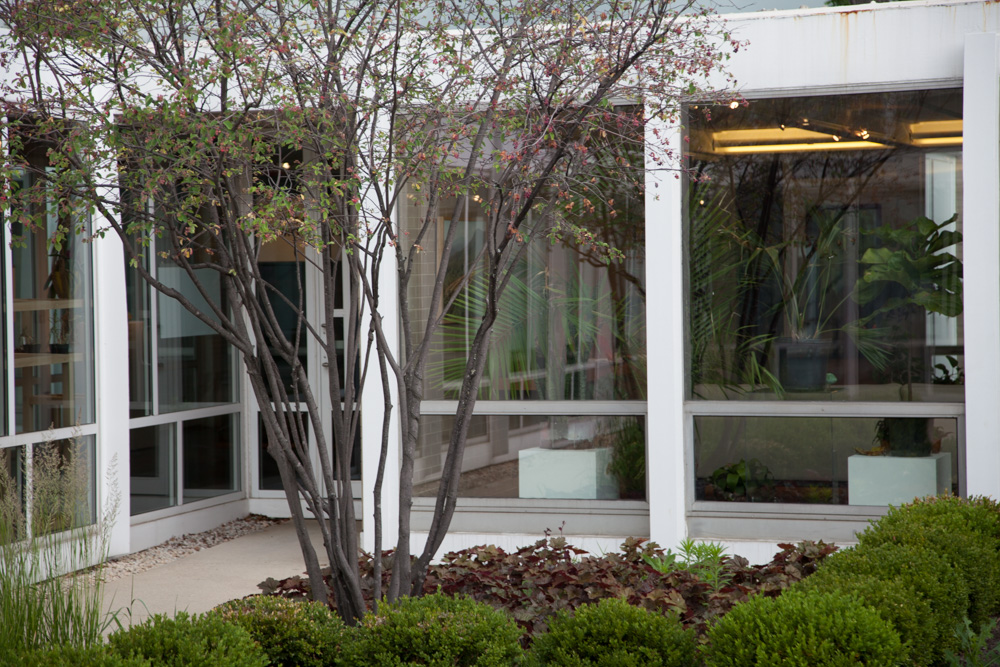 Robert H. McCormick House Elmhurst Art Museum: Located in a contemporary glass and steel building, the museum opened in 1997 in suburban Elmhurst, IL. Today it offers rotating exhibitions, educational workshops and studio classes. It has a collection of over 500 items including architectural drawings, works on paper, furniture, and paintings by Chicago artists. The highlight of your visit will be seeing Mies van der Rohe's McCormick House from 1952. One of only three houses he designed, it was moved to this location and incorporated into the design for the new museum. I was just back for an exhibition on the Bauhaus at 100 and the impact of this famous German design school. 150 S. Cottage Hill Ave.