Not to be missed are the tours of the famous mansions of Newport Mansions. Newport is where America's elite used to summer in the early 20th century. The Vanderbilts and Astors had cliffside mansions here (which they  referred to as cottages); Jackie O. also had a childhood home here and it's where her wedding reception to John F. Kennedy took place.
I recommend buying and printing your ticket for the Newport Mansions Experience online before you go. You get to tour five properties of the eleven which includes the Green Animals Topiary Garden. Some offer self-guided tours while some of the smaller properties require a guided tour. So you might want to book those before you go to get the time slot that you desire. I found that there was ample parking at each of the properties that I toured. For those without a car, there are trolleys from the Newport Visitors Center at 23 America's Cup Ave.
I only visited The Breakers on my first visit to the area, but saw it again along with four more on my recent visit. My list included:
The Breakers: The Breakers is by far the largest of the Newport mansion and therefore very popular. So make sure to go early to avoid the crowds! Home to the Vanderbilt family, the mansion became a National Historic Landmark in 1994. In 1893, Cornelius Vanderbilt II "commissioned architect Richard Morris Hunt to design a villa to replace the earlier wood-framed house which was destroyed by fire the previous year. Hunt directed an international team of craftsmen and artisans to create a 70 room Italian Renaissance-style palazzo inspired by the 16th century palaces of Genoa and Turin." There is a cafe on the property in the visitors center.
Marble House: Marble House was one of my favorites of the mansions that I visited. It was built between 1888 and 1892 for Mr. and Mrs. William K. Vanderbilt. Inspired by the Petit Trianon at Versailles in France it contain 500,000 cubic feet of marble. There was a Chinese Teahouse, that is is now a small cafe, where you can grab a salad or sandwich. I wanted something light as I was having afternoon tea and enjoyed my lunch overlooking the water.
Rosecliff: "Commissioned by Nevada silver heiress Theresa Fair Oelrichs in 1899, architect Stanford White modeled Rosecliff after the Grand Trianon, the garden retreat of French kings at Versailles." It is a beautiful home and was featured in the film The Great Gatsby.
The Elms: "The Elms was the summer residence of Mr. and Mrs. Edward Julius Berwind of Philadelphia and New York. Mr. Berwind made his fortune in the coal industry. In 1898, the Berwinds engaged Philadelphia architect Horace Trumbauer to design a house modeled after the mid-18th century French chateau d'Asnieres (c.1750) outside Paris."
Chateau-sur-Mer: Here you can see many examples of "high Victorian architecture, furniture, wallpapers, ceramics and stenciling. It was the most palatial residence in Newport from its completion in 1852 until the appearance of the Vanderbilt houses in the 1890s. It was the scene of memorable entertainments, from the "Fete Champetre", an elaborate country picnic for over two thousand guests held in 1857, to the debutante ball for Miss Edith Wetmore in 1889."
Cliff Walk: This is a pedestrian path, which skirts the cliffs along the water on Newport's east side and runs between the mansions and the Atlantic. It is a lovely way to see the historic mansion from the water. "From its 1st Beach entrance all the way to the Breakers, the path is mostly paved and can easily be entered or exited at the end of the streets along its 5.6-kilometer (3.5-mile) route."
Other highlights I found on my trip include:
Newport Art Museum: Not far from the historic mansions on Bellevue Avenue is this art museum that was founded in 1912. "The museum operates a gallery in the John N. A. Griswold House, a National Historic Landmark that is the premier American stick style building, which was designed by noted American architect, Richard Morris Hunt in 1864."  Here you can visit the permanent collection as well as see temporary exhibitions.
The museum's permanent collection consists of approximately 2,600 works of art in a range of media including works on paper (prints, drawings, watercolors, and photographs), paintings, sculptures, decorative arts, installation works, and textiles and is expanding to include new media. Concentrated on American art and contemporary art, the Museum's collection includes works of art from the 18th century to present.
You will see paintings by Gilbert Stuart and other 19th century paintings, prints and drawings by Winslow Homer and George Inness. The Museum also owns many 20th century works of art by nationally and internationally recognized artists such as George Bellows, Sol LeWitt, Roy Lichtenstein, Fairfield Porter and Andy Warhol. 73 Bellevue Ave.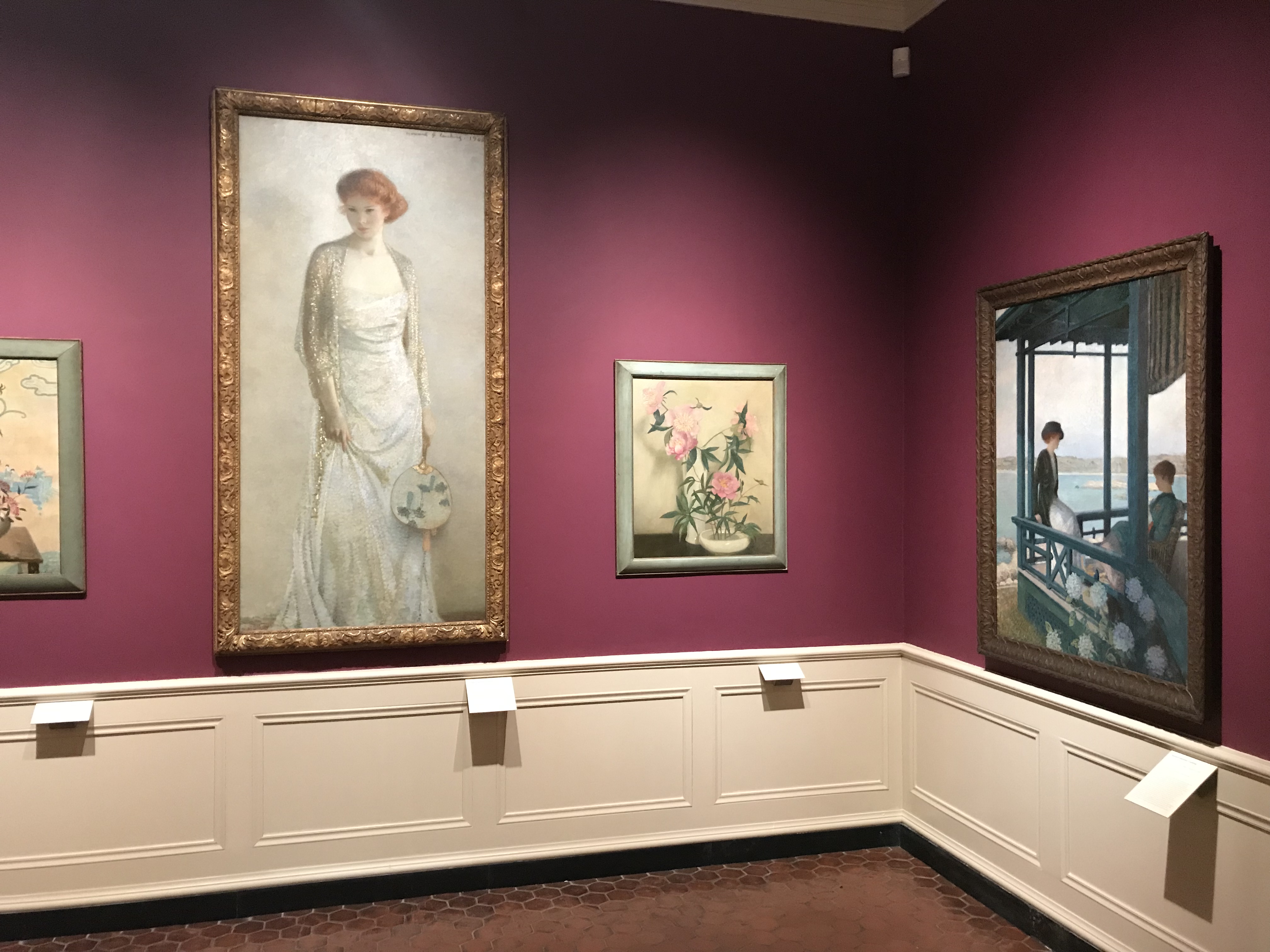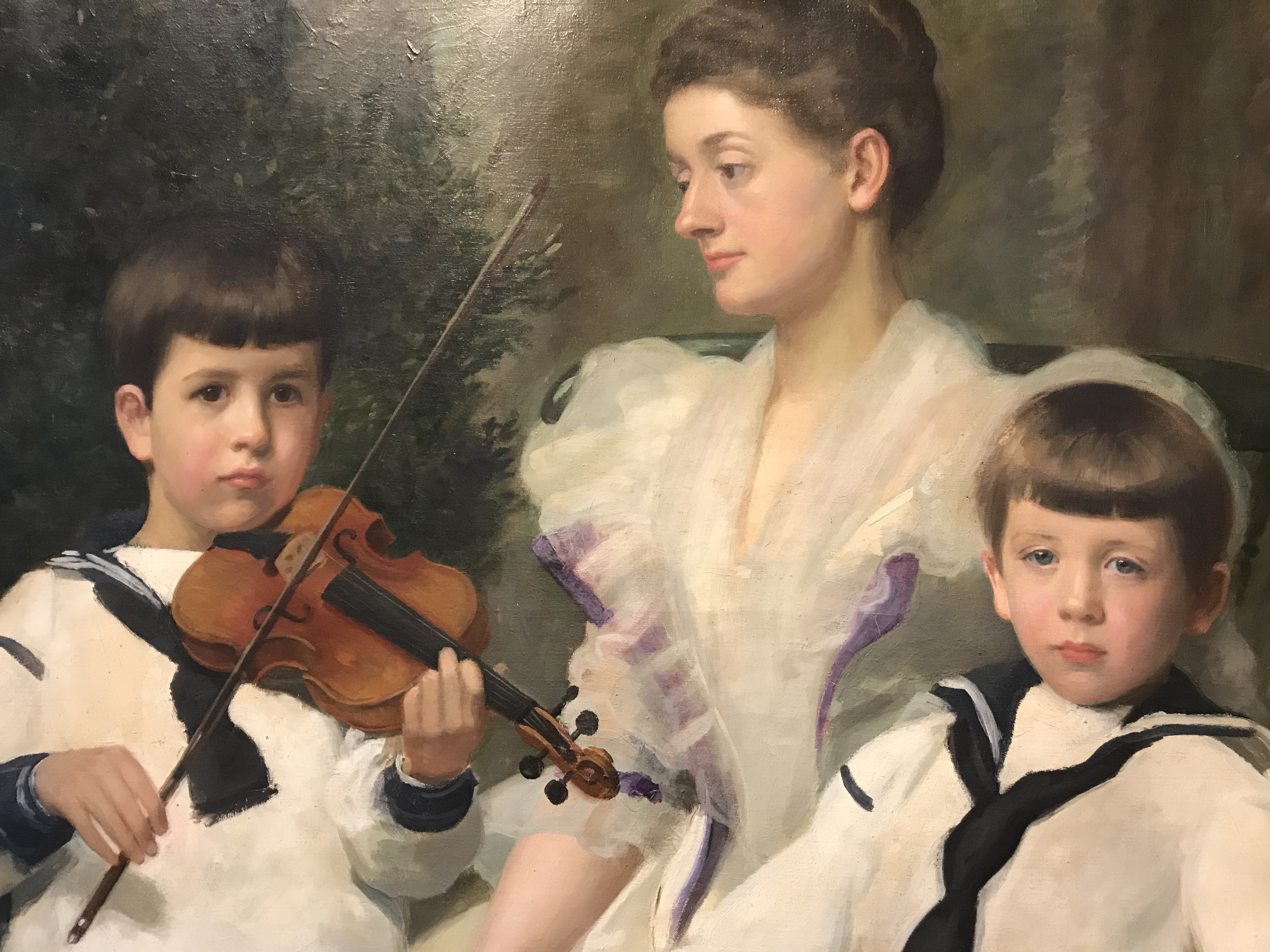 International Tennis Hall of Fame: At 194 Bellevue Ave., the International Tennis Hall of Fame honors both players and other contributors to the sport of tennis. The complex, the former Newport Casino, includes a museum with exhibits, grass tennis courts, an indoor tennis facility and a court tennis facility. 
Mariner Gallery: At 267 Spring St., this is an art gallery specializing in paintings of ships and modern sailing events and seascapes.
When I think of Newport, RI, I think of the historic mansions, large yachts and the Cliff Walk. I necessarily don't think of local wine and wineries. However, there have been regional wineries operating there since 1975. On my recent trip I was able to visit two on the drive from Providence.
Greenvale Vineyards: Greenvale Vineyards is located on 27 acres, five miles outside Newport at 582 Wapping Rd in Portsmouth, RI. Located in an historic stable, this is a family owned and operated farm since 1863. In 1983 they started growing grapes and producing wines. The winery today produces approximately 3,500 cases per year of red and white wines. I enjoyed the cabernet franc in the tasting room. Jazz concerts are held Saturdays from May through September, and tours are offered on weekends year-round at 2 pm, and by appointment during the week.
Newport Vineyards: This is a large complex, recently renovated, that includes a tasting room, microbrewery and restaurant. The winery makes a number of red, white and rose wines along with a port and ice wine. Taproot Brewery produces a number of ales, IPAs, lagers and pilsners. Their taproom cafe, in addition their beers also serves sandwiches, salads and snacks. brix restaurant, features locally sourced ingredients from their local farm partners and pairs their food with their own wines and beers. 909 E. Main Rd., Middletown, RI.
Musical activities that you might enjoy in town include the Newport Jazz Festival, established in 1954, and held annually in early August. The Newport Folk Festival is held in late July each year at the Ft. Adams State Park.
In September, foodies will find the Newport Mansions Wine & Food Festival at Marble House, which features tastings, seminars and special dinners.
The Newport Harbor Shuttle makes six stops around Newport Harbor including the mansions and the Ida Lewis Lighthouse. There is also the Jamestown Newport Ferry from Newport across the harbor to Jamestown, RI. 
Newport Restoration Foundation: Founded by Doris Duke in 1968, the Foundation, or NRF, is a non-profit organization to preserve, maintain and interpret the areas 18th- and early 19th-century architectural heritage. "In addition to a collection of more than 70 early American houses, now rented to tenant-stewards, NRF operates three museum properties that are open to the public: Rough Point, Doris Duke's Newport mansion which is home to a significant collection of European paintings, furniture, and textiles, and other European and Asian decorative arts; Whitehorne House Museum, featuring 18th- and early 19th-century Newport furniture; and Prescott Farm in Middletown, RI, a public park and historic site with ties to the Revolutionary War."