Williams, AZ is the Gateway to the Grand Canyon, plus it is considered to be the best preserved stretch of historic Route 66 from Santa Monica to Chicago. It is filled with fun gift shops, cafes and restaurants found in historic buildings. There are many places to buy Route 66 memorabilia and souvenirs. I decided to spend the night before my train trip to the South Rim of the Grand Canyon rather than drive over that morning from Flagstaff. It was far less stressful and Williams was fun to explore. 
My recommendations include:
Brewed Awakenings Coffee Shop is a great spot downtown for frozen yogurt and coffee in Williams. 326 Historic Rt 66.  
Grand Canyon Brewing Company is a large facility serving food and its own beer and spirits. I loved their Straight Bourbon Whiskey and their Prickly Pear Wheat Ale. 307 N. 7th St.
Pine Country Restaurant in Williams is known for its homemade pies. It is open for breakfast, lunch and dinner. 107 N. Grand Canyon Blvd. 
El Corral on Rt 66: This is a rustic spot known for its Mexican-American dishes. It is open everyday for breakfast, lunch and dinner. 320 W. Rt. 66. There is also Canyon Club for cocktails and live music at 132 W. Rt. 66, and a contemporary tasting room for the Grand Canyon Wine Co. at 138 W. Rt 66, which showcases Arizona wines.
Cruiser's Route 66 Cafe: This is a classic diner decorated with Rt. 66 signs, gas pumps and other artifacts. 233 Historic Rt. 66. They serve burgers, sandwiches, barbecue and more.
Historic Brewing Co. Barrel + Bottle House: I went here for dinner downtown on my night in town at  141 Railroad Ave.  They feature their own brews, craft cocktails and food. I had a great pulled pork sandwich on their lovely outside patio and an old fashioned made with a touch of their Picnic Pie Hole Porter.
Next door is Station 66 Italian Bistro for Pizza and Italian fare. 144 Historic Rt. 66.
On the outskirts of town, Goldie's Route 66 Diner, has a classic atmosphere. I stopped in for a rich and tasty chocolate shake. At 425 E Route 66, it was formerly a Denny's from the 1960s.  
Don't miss the fun souvenir shop, Addicted To Route 66, offering a wide variety of Route 66 memorabilia, nostalgic signs, souvenirs and jewelry. I had to buy a sign for my office. 124 W. Rt. 66.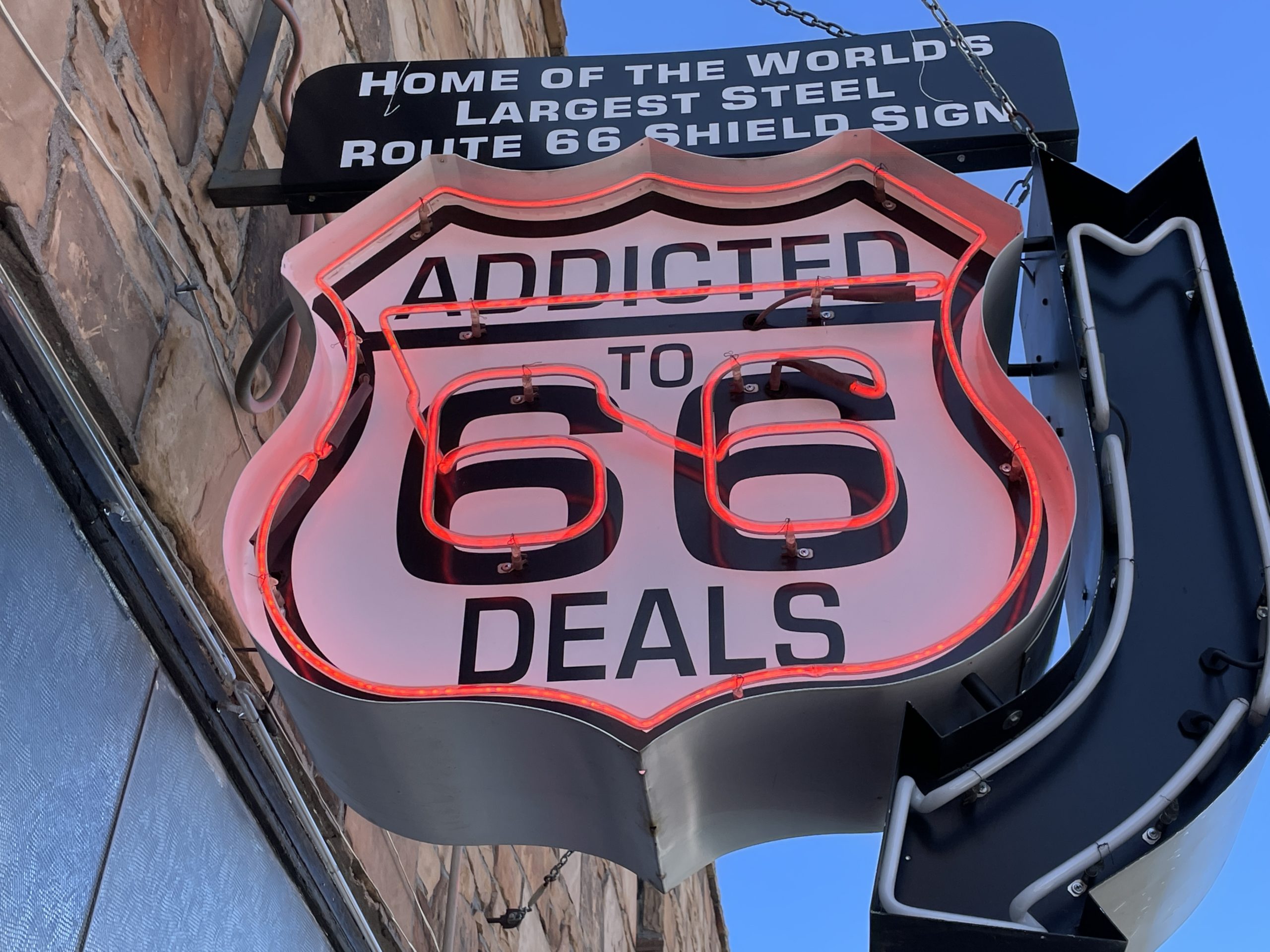 Pete's Route 66 Gas Station Museum: This restored gas station is now a private museum with a selection of vintage vehicles. 101 E. Rt. 66.
The Grand Canyon Railway Hotel is an excellent place to stay. It is a short walk to downtown and across from the train station which is located in a 100 year old depot building. A Xanterra Travel Collection property, the hotel has 298 refurbished rooms, a pool and spa, the Fred Harvey Restaurant for buffet breakfasts and dinners and Spenser's Pub. It was designed to resemble the historic Fray Marcos Hotel.
The Depot and the Original Fray Marcos Hotel were built in 1908 by the Santa Fe Railroad. Closed in 1969, the train depot was rehabilitated and re-opened in July 1990. Today the Grand Canyon Railway offers train service to the South Rim of the Grand Canyon. The first train from Williams was in 1901. There are daily morning trains with a return in the afternoon. The trip is two hours and 15 minutes. You'll have more than 3 hours to explore the canyon and its historic buildings and exhibits or you can spend a night at one of the hotels.
I suggest booking early as the trains are very popular. You have a choice of six classes of service to choose from. During the trip, there are lectures on history, entertainers playing music, an old-fashioned train robbery along with a cafe car, dome car and great views of the Arizona country-side. You will travel 65 miles through the high desert in the pine forests before reaching the South Rim. During the Holiday season there is a Christmas Polar Express Train. You arrive at the log cabin train depot at the park with free shuttles throughout the South Rim. Prior to the trip, there is a wild west show in Williams next to the Train Depot.
If you book your hotels and train trip at the same time, there is a discount in the pricing. I also suggest booking your lunch and dinner reservations and South Rim hotels far in advance. 
In addition to exploring downtown Williams and visiting the Grand Canyon, there are many activities for families. Check out the Visitor Center in the historic Train Depot for more information. These include rodeos, camping and RV parks, hiking, horseback riding, fishing and mountain biking. Bearizona is a drive-thru wildlife park with Canyonlands Restaurant and Bearizona Grill. There is also the Grand Canyon Deer Farm and the Canyon Coaster Adventure Park.