After returning home to Chicago from a wonderful 17-day trip to Paris in November 2022, I had cravings for some of the traditional dishes and pastries that I had enjoyed on my trip. I then realized that I didn't have to fly overseas in order to enjoy these treats, and that I could enjoy them right here in Chicago.
My favorite French cafés and bistros along with French art and architecture in the city and suburbs are as follows:
A perfect spot for coffee and pastry in Lincoln Park is Vanille Patisserie at 2108 N. Clark. They have a second location at the Chicago French Market downtown. Their macarons are excellent! They also offer afternoon tea, so make sure to call ahead for a reservation.
Opened in early 2022, at 615 N. State St., is Café Crèmerie. This is a small café with a lovely garden view in the back that serves coffee drinks, bakery goods like macarons, pastries, gelato and wine.
Right in the heart of the Loop is the new, contemporary Hyatt Centric at 100 W. Monroe. It is in the middle of the business and theater districts with great shopping and restaurants within a short walk. Its Bandol Brasserie & Raw Bar is a great new restaurant. They have a Southern French coastal inspired menu with French and Mediterranean classics. I enjoyed a business lunch there!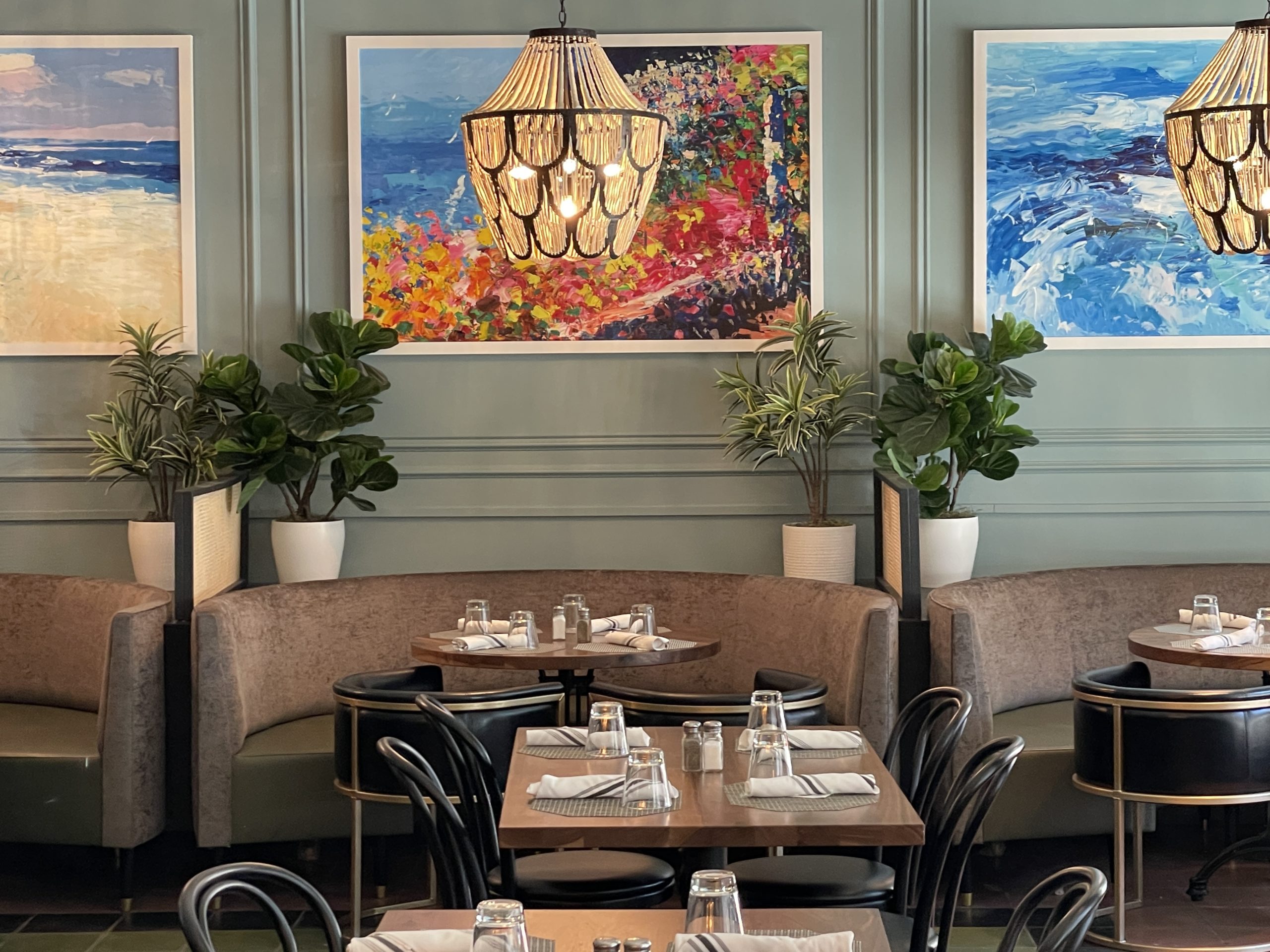 Nearby is Leonidas Cafe Chocolaterie. This is a small cafe featuring Belgian chocolates, French pastries and macarons, espresso and coffee drinks, sweet and savory crepes, Belgian waffles, croissants, croissant sandwiches, ice cream and gelato, omelettes and quiches. I had been to the one in Evanston, but just went to this location for the first time. It is a great location while you shop or visit the area. 59 E. Chicago.
Chez Joel: This is a wonderful French bistro in the middle of Little Italy in a traditional setting. I have always enjoyed the food and highly recommend it. They also have a lovely patio for dining during the warmer months! 1119 W. Taylor.
At 3307 N. Clark St. is the French café, Maison Parisienne. Opened by three friends from France, they offer not only coffee and tea but several varieties of quiche, sandwiches, soups and salads, plus wonderful macarons, croissants and pastries. I enjoyed the Quiche Lorraine with a salad plus a wonderful almond tart made from a 200 year-old French recipe. It is a casual spot with a small patio in the rear. I loved the sign on the wall that states 100% homemade by real French people. The chocolate, flour and butter are all imported from France, so the quality is outstanding! Their second location is located at 2564 N. Clark St. 
Located at 901 W. Armitage is the recent opening of the third Maison Parisienne. They have a great selection of pastries, croissants, baguettes, macarons, sandwiches, quiche Lorraine or croque-Monsieur. You can dine in, take out as well as buy French products including jams, jellies and mustard. The tomato goat cheese quiche was excellent as was the almond and pear tart. It is a short walk from my house, so I have four times since they opened in early 2023.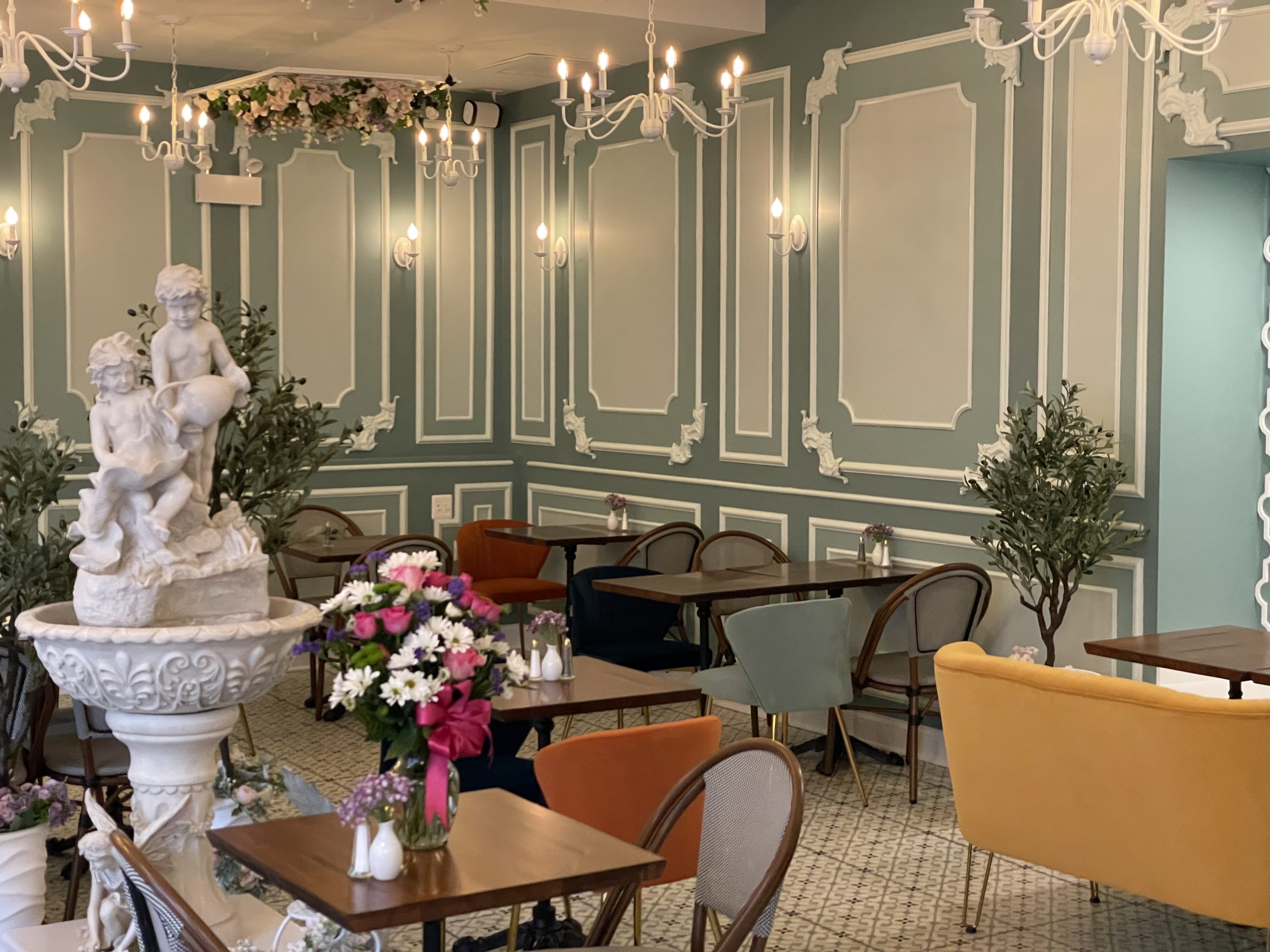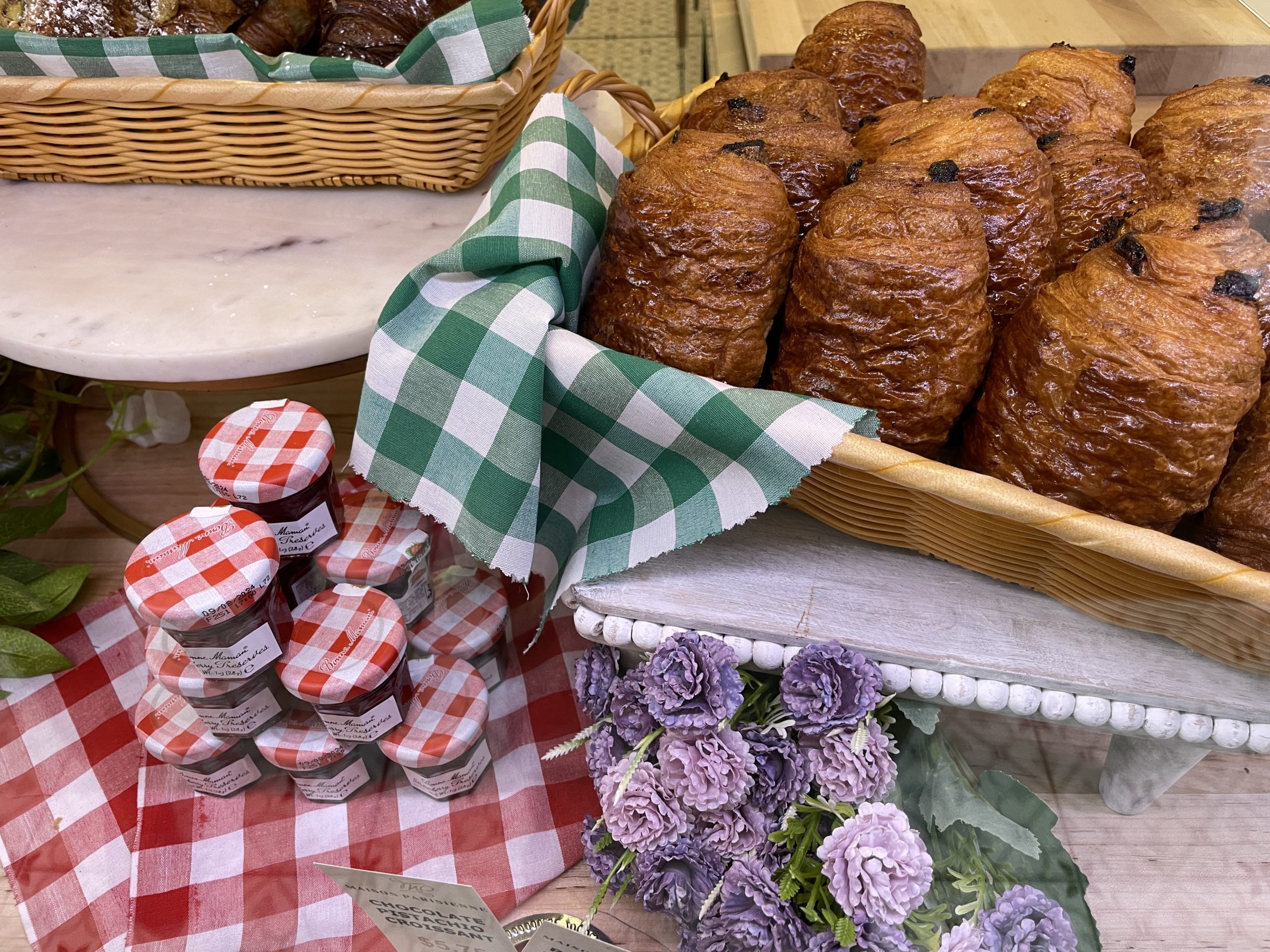 Also in the area is
Floriole Cafe & Bakery at 1220 W. Webster. This is a popular French bakery in Chicago's Lincoln Park neighborhood.  After a full remodel, they have seating downstairs as well as upstairs in a bright, open dining room. It is great for lunch or a latte and a pastry! It was named a few years ago as one of the best bakeries in the US. I live nearby, so I love running down for a croissant or pastry and a latte. They also have sandwiches, quiches and soups as well as other lunch and breakfast items.
Le Bouchon: This is a traditional French bistro, since 1993, with great ambiance and food. You will feel like you are in a small neighborhood restaurant in Paris. They are also open for lunch, which I prefer in order to avoid the crowds. I recently went back after several years and loved the experience with great food and service. The French onion soup and the moules frites or mussels and fries made for a perfect lunch. 1958 N. Damen.
West of the River North Arts District is Obélix which opened in 2022. This is a modern French restaurant from the owners Le Bouchon in Bucktown. I recently went for brunch on a Saturday and loved the atmosphere, the food and the service. The menu has many traditional French dishes. I loved the quiche, salad and tasty almond croissant. Make sure to book in advance as it is popular and often hard to get a reservation. 700 N. Sedgwick St.
A short walk from North Pond, the Lincoln Park Conservatory and the Lincoln Park Zoo is the traditional French Bistro, Mon Ami Gabi at 2300 N. Lincoln Park West. It is a neighborhood favorite. The outdoor dining area in the summer is a highlight. I enjoy it for Sunday brunch and loved the smoked salmon eggs benedict.
I suggest walking over to the nearby Lincoln Park Conservatory. The Conservatory consists of ornate panes of glass supported by a steel superstructure atop a rusticated granite base. Built between 1890 and 1895, it has a large selection of exotic plants and flowers from around the world in four display houses – The Palm House, Orchid House, Fern Room, and Show House. I was there last spring and loved the display of spring flowers. It took me back to my recent visit to the Jardin du Luxembourg near my hotel in Paris. 2391 N. Stockton.
Venteaux is a French brasserie located at the Pendry Chicago hotel, with an oyster & champagne bar and café from Michelin-starred Chef Donald Young. The colorful café in front features coffee, pastries, salads and sandwiches. I went for the first time and thought the avocado toast was one of the best I have ever eaten. 230 N. Michigan Ave.
Bistronomic: Bistronomic is an updated version of a classic French bistro. It is located at 840 N. Wabash. I went back again and enjoyed a great brunch on a Saturday before a Joffrey Ballet performance.
To enjoy an elegant hotel like in Paris, make sure to visit the famous Drake Hotel at 121 E. Walton. Here you can enjoy a traditional afternoon tea in the Palm Court.
Opened in 2022 is the BISTRO MONADNOCK, located downtown in the historic Monadnock Building at 325 S. Federal St. This  is a modern French bistro that focuses on traditional preparations of classic French dishes. It also has a 100 bottle French wine list along with classic cocktails. I was excited to meet Executive Chef Johnny Besch, who has spent decades cooking and studying under the guidance of some of the world's great French chefs. He gave us a tour of his kitchen, his wine cellar and curred meat cooler. He even has his family gourmet slicer for his charcuterie from 1921.
It has a classic French design. I enjoyed the French onion soup and the croque madame made with a
baguette, mornay sauce, smoked ham and a sunny side up egg. My friend also loved the soup and the escargots. It is open for lunch and dinner. I went for lunch. It is a good spot to eat in town before a concert or performance at the Auditorium Theater, Chicago Symphony, Goodman Theatre or Broadway in Chicago.
Bistro Campagne at 4518 Lincoln, is a traditional French bistro that has been a local's favorite since 2002. They have expanded and added on to the dining room. They have several cozy dining rooms inside along with great outdoor patio seating. I was very impressed with the food and extensive wine list. I went a few years ago with friends during Lincoln Square and Ravenswood Restaurant Week in October. It featured a three course menu with wine pairings for a very reasonable price. I will definitely go back!!
Near the Apollo Theater is Verzênay at 2507 N. Lincoln. This is a traditional French boulangerie, pátisserie, chocolaterie and café. Initially, I went for some cookies and almond croissants. Then I went back and loved the macarons. Now, I want to go back for lunch to try one of their sandwiches or quiche.
Maison Marcel. Having read about Maison Marcel as a great breakfast/brunch spot in Lakeview, I had to try it. This is a casual French bakery that offers a large number of drinks and pastries along with a menu featuring quiches, egg dishes, soups, salads and tartines. I really enjoyed the salmon tartine which included smoked salmon served on toasted rustic French country bread, herbed cream cheese, sprinkled with chives and capers and  served with a mixed greens salad. 3114 N. Broadway.
Recently reopened is Pierrot Gourmet, The Peninsula Chicago hotel's European-style café is located on the first floor on Rush St. Open for breakfast and lunch they have a good menu of salads, soups, flatbreads, quiches and wonderful pastries. After 2:30pm you can stop in for a pastry, dessert and coffee. I recently enjoyed my first visit with friends for lunch. 108 E. Superior.
La Fournette, at 1547 N. Wells, is a traditional French bakery and café, with a rustic wood decor, selling fresh-baked breads, sandwiches, coffee, macarons and pastries. It has a long history.
According to their website, "La Fournette traces its origins to Alsace, to the Zimmermann family bakery in Schnersheim, France. It is there that the Zimmermann family developed over four generations (110 years!) the expertise and craftsmanship for which they are reputed. On coming to Chicago in 2010, World Baking Champion Pierre Zimmermann and his wife, Michele, began to conceive of a bakery both distinctly Alsatian and uniquely Chicagoan, with quality, affordable, and accessible products." They originally had two locations with one across from my office. It was always one of my go-to spots for lunch. Currently it just has the N. Wells St. location. I was so glad to go back and enjoyed my favorite ham sandwich on a baguette, their quinoa taboulé salad and a yummy coconut cookie.
Thanks to a local friend, I was introduced to La Boulangerie & Co. at 1945 W. Wilson Ave. This is a French bakery and café serving, breads, croissants, pastries, coffee, quiches, sandwiches, soups and crepes. I enjoyed a latte and some great macarons! It is coincidentally next to the Lycée Français de Chicago or French international school. They have to other location at 3129 W. Logan Blvd. and 936 N. California. Ave.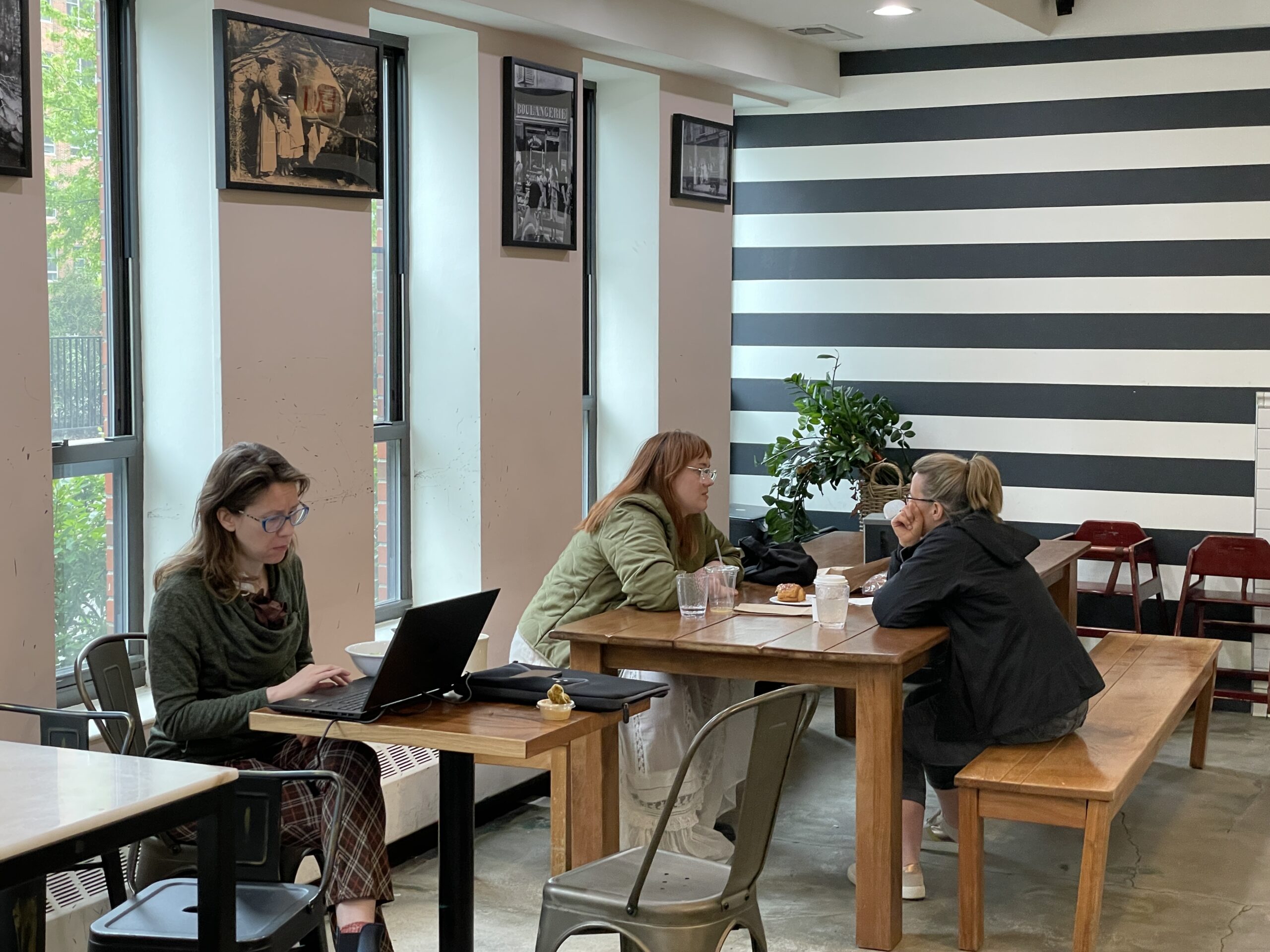 At the north end of the Southport corridor at 1403 W.Irving Park Rd. is Southern France Patisserie, which serves French pastries, macarons, sandwiches,quiche, breads, croissants, chocolates, truffles and more. I loved the salted caramel macarons.
One of my favorite spots in Roscoe Village is Le Sud a at 2301 W. Roscoe for French Mediterranean cuisine in a contemporary setting. I had a wonderful meal to celebrate a friend's birthday. The apple and beet salad was great and the scallops with kale and roasted beets was really outstanding. They have a great wine list as well. I can't wait to go back again soon for their weekend brunch.
After many years, I made a point of returning to La Crêperie at 2845 N. Clark St. This is a longtime French bistro, from 1972, specializing in sweet and savory crepes, along with an international wine list. They also have a lovely outdoor patio for summer dining. I recommend going for brunch as I had a tasty omelette and a Nutella crêpe for dessert.
Recently opened in early 2022 at 615 N. State St. is Café Crèmerie. This is a small cafe with lovely garden view in the back that serves coffee drinks, bakery goods like macarons, gelato and wine.
You can see many French inspired homes by walking the streets of Chicago's Lincoln Park and Gold Coast neighborhoods. Some of the best in Lincoln Park are on Howe St., south of Armitage.
In the Gold Coast, David Adler designed the legendary home at 1406 Astor St. for the Ryerson family. The home, completed in 1921, was designed with a distinct French style.  
The Art Institute of Chicago: One of the true treasures of Chicago, this is one of the top encyclopedic museums in the US with great collections in many areas from textiles, prints and drawings, photography, European decorative arts and even architecture. The AIC is known for its outstanding French Impressionism collection with works by all of the major artists. One of the masterpieces not to be missed is George Seurat's Sunday Afternoon on the Island of  la Grande Jatte which will only be seen in Chicago and will not be allowed to travel. Gustav Caillebot's Paris Street, Rainy Day is also a must for your list along with the famous Chagall windows by Marc Chagall, Claude Monet's Arrival of the Normandy Train, Gare Saint-Lazare and Henri de Toulouse-Lautrec's, At the Moulin Rouge. 111 S. Michigan.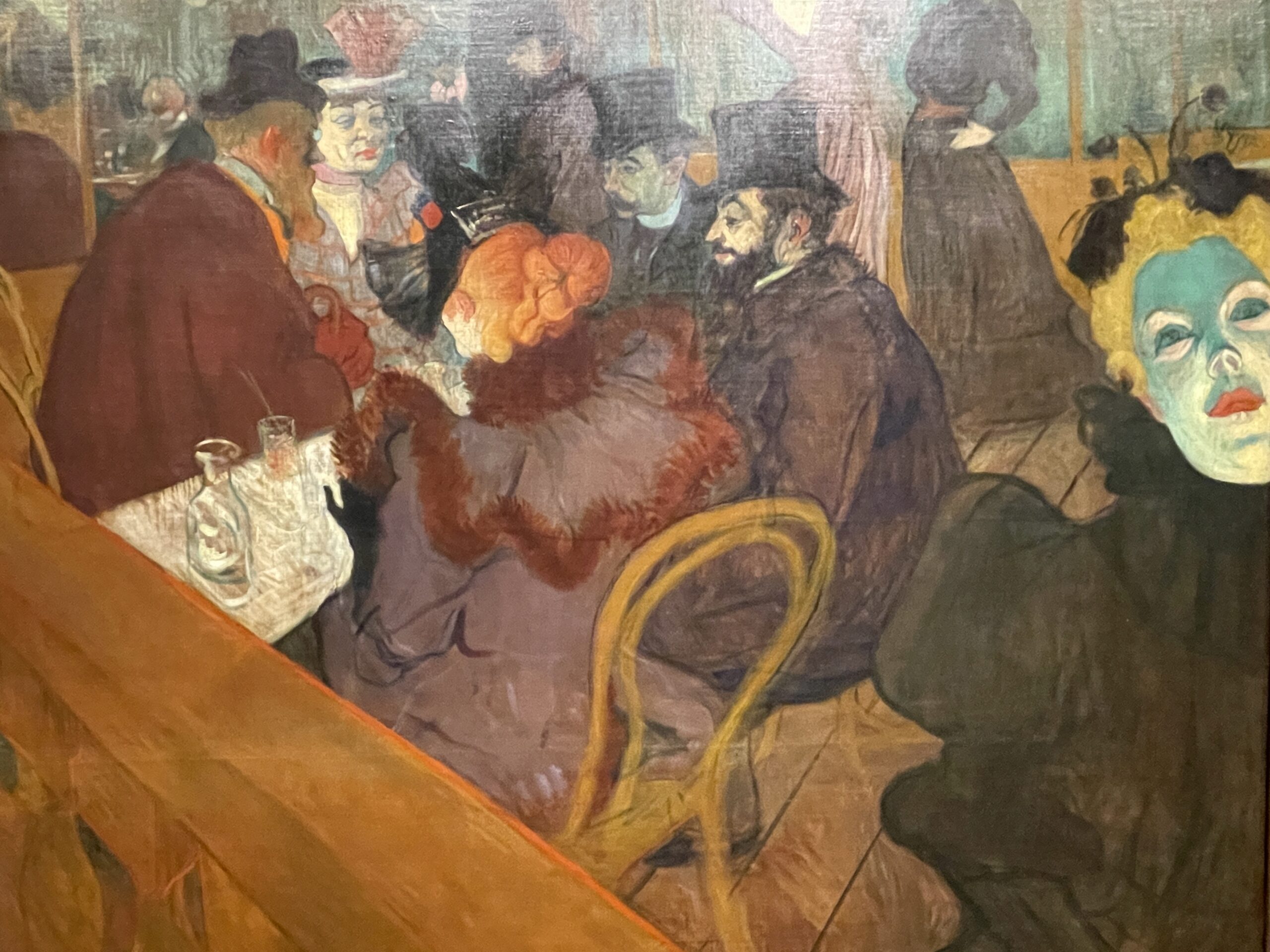 Also in Chicago is the The Alliance Française de Chicago.  Since 1897, the Alliance "has fostered a vibrant community of Francophiles discovering the joie de vivre of French language and culture." They feature French classes, wine tastings, cooking classes, lectures, workshops and music events. I became a member in 2022 and have enjoyed some of their summer Plein Air concerts outside in their courtyard. 810 N. Dearborn St.
Not to be missed is The Elks National Memorial and Headquarters at 2750 N. Lakeview Ave. in Lincoln Park. It was dedicated in 1926 to members of the Order who had served in World War 1.  Designed by Edgerton Swartwout,  in the French Beaux-Arts style. The building's lavish construction and interior decoration and artwork have caused it to be described as "one of the most magnificent memorials in the world." The rotunda with the beautiful murals and the grand reception hall with it murals, wood paneling and art glass windows makes it one of the most beautiful buildings in Chicago. You feel like like you are standing in a French palace.
In the suburbs on the North Shore, four towns to visit with French restaurants are Highwood, Highland Park, Winnetka and Evanston.
Highwood is a small Lake County town north of Highland Park that has been a top restaurant destination for many years. I have always liked Froggy's French Café, at 306 Green Bay Rd., since it opened in 1980. I had not been back in many years, so I made a special trip to have lunch with a local friend who lives nearby. I thought the menu choices and service were excellent. The food was really great! I was there for lunch so the café was perfect on a sunny winter day. The cozy back dining room is perfect for dinner. It was well-worth the drive from Chicago to have a great experience! 
Make a point to stop in before or after at the Gourmet Frog Bakery at 316 Green Bay Rd. where you can buy one of their great pastries, croissants, macarons or cakes.
A longtime friend who lives in Glencoe to the south, highly recommended That Little French Guy – Patisserie & Café, a French café and bakery at 1791 St. Johns Ave. in Highland Park. Based on her recommendation, I had to go on my last visit to town. The menu is quite extensive and the pastries are wonderful. I loved the macarons and my latte.
I recently went back up for Sunday brunch with a local friend at Pomeroy at 844 Spruce St. in Winnetka. Owned by Ballyhoo Hospitality, which owns several of my favorite places in the city of Chicago, it is a neighborhood bistro featuring French specialties. In addition to a traditional interior space, they have a large covered patio in the rear along with a small front terrace. I enjoyed the front terrace on a beautiful Sunday. They are open for brunch on weekends plus lunch and dinner.
Also in Winnetka, a great new find is Aboyer. Chef Michael Lachowicz opened his popular Restaurant Michael in 2005. In 2019 he opened George Trois within his restaurant which was a "14-seat dining room offering multi-course degustation menus and a true tasting experience of modern French cuisine."  Then in early 2019 he decided to close Restaurant Michael and create three new restaurants. In May 2019, Michael opened Aboyer alongside George Trois, A third restaurant Silencieux was later closed.
Aboyer is the more casual brasserie that I enjoyed with local friends. I look forward to going back. George Troix is the most elegant and the most expensive of the  two and offers a multi-course tasting menu. With Aboyer you get the benefit of the same kitchen but with a less expensive menu.
South of Winnetka in Evanston is the Leonidas Chocolate Cafe at 1907 Central St. I recently went for lunch on Memorial Day and enjoyed the food. The chain was established in 1913, when Leonidas Kistakedis set up his first tea room in Ghent, Belgium, offering chocolates and pastries.  Today they feature fresh Belgian Chocolates, French pastries, espresso drinks,  sweet and savory crepes, Belgian waffles, croissants and warm croissant sandwiches, omelettes and quiches. I loved the ham and cheese croissant sandwich and a decadent hazelnut cake. I highly recommend it.
South of Winnetka in Wilmetter, I enjoyed having lunch at St. Roger Abbey's Organic French Gourmet Patisserie at 1101 Central Ave.  I had plans to eating at another spot, but I parked right outside and it looked great. It is run by an order of Catholic nuns. The French nuns were wearing their habits as they served the food. They have a large selection of pastries, cakes, cookies, chocolates, coffee drinks, croissants along with soups and quiches. I thought it was a very unique experience. The products that are made at the Monastery by the Nuns, are made using organic flour, organic  sugar and rrganic vanilla extract and many other good ingredients.
I had heard great reviews about Patisserie Coralie, at 600 Davis St., for great French pastries.  So I made a point to try it on my last visit downtown. They have a full menu of tea and coffee drinks along with French cakes, pastries, crossants, macarons, sandwiches and quiche. They have an attractive inside cafe along with outdoor seating on the sidewalk to the east. I highly recommend it.
There are several more spots I want to try and will update my recommendations once I go. Hope you enjoy the food of my favorites. Bon Appétit!!