The small town of Tequisquiapan or Tequis is a colorful Pueblo Mágico located in the state of Querétaro a short drive from the capital Santiago de Querétaro and San Sebastián Bernal or Bernal. I just went for the first time and loved the experience of walking and exploring the city. It is an easy day trip from San Miguel de Allende, Querétaro or Bernal or you can stay there. I recommend going during the week, as it was peaceful and very quiet on a Thursday. I understand that it can become crowded on weekends.
It is located on the Ruta Arte, Queso y Vino or the Route of Art, Cheese and Wine featuring local wines and cheese.
My top recommendations include:
Start your exploration at the Plaza Miguel Hidalgo which is surrounded by colonial architecture and colorful sandstone arches.It is found between Calle Independencia and Calle Morelos. Make sure to visit the Parroquia de Santa María de la Asunción, a beautiful pink church from the 19th century.  Around the square are several places for you to sit and enjoy a cup of coffee or a bite to eat. There are many shops selling sweets and locally made cheeses from cow, goat, and sheep's milk. There are also several selling locally produced wines from the nearby wineries.
Visit the Mercado Artesenal de Tequisquiapan (Tequisquiapan Handicraft Market), where you can find lovely items made from ceramics, leather and opal, as well as woven fabrics and traditional baskets made of wicker and palm.
I highly recommend K'puchinos Restaurante – Bar for breakfast or lunch on the outside terrace where you can enjoy people watching and the nice views of the main square. I enjoyed a perfect omelette and a tasty hot chocolate. They also have a lovely, contemporary upstairs rooftop bar and restaurant, La Luna Terraza. Independencia 7.
Also getting good press is Los Agaves Restaurante at Guillermo Prieto 2. It is open for breakfast, lunch and dinner along with coffee and pastries. It also has a nice upstairs patio. 
By chance I found Cafetería Chocolate Molinillo, at Anador Independencia 17, a block from K'puchinos. This is a fun cafe where I enjoyed a latte and a great cajeta gelato on the outside patio. They also feature live music on the outside rear patio on some evenings.
Later in the afternoon, I enjoyed finding Gelatería Dulce Fusión at Guillermo Prieto 2. They have a good selection of ice cream flavors and coffee. I had my first Merlot sorbet or flotante that was fresh and flavorful. 
Museo del Queso de Vino is a restaurant at Salvador Michaus #3 where you can also buy local cheese, plus wine and beer from Tierra de Alonso. La Charamusca Café y Tertulia at Calle Ezequiel Montes 1, is a good spot for coffee and pastries. I also saw the highly rated Restaurante el Maravillas downtown at C. Morelos Nte. 7 for dishes made with authentic and traditional Mexican ingredients. They also have a rooftop terrace.
La Carreta Cheese, Wine & Piano Bar is a restaurant at C. Morelos Nte.5, featuring local cheeses from Queso Quiron, local wines, quiche, pizza, salads and more.  There are also six locations of Quesería La Vaca Feliz featuring a large selection of local cheeses. I visited one at Ezequiel Montes #13  and Niños Heroes esquina Guillermo Prieto.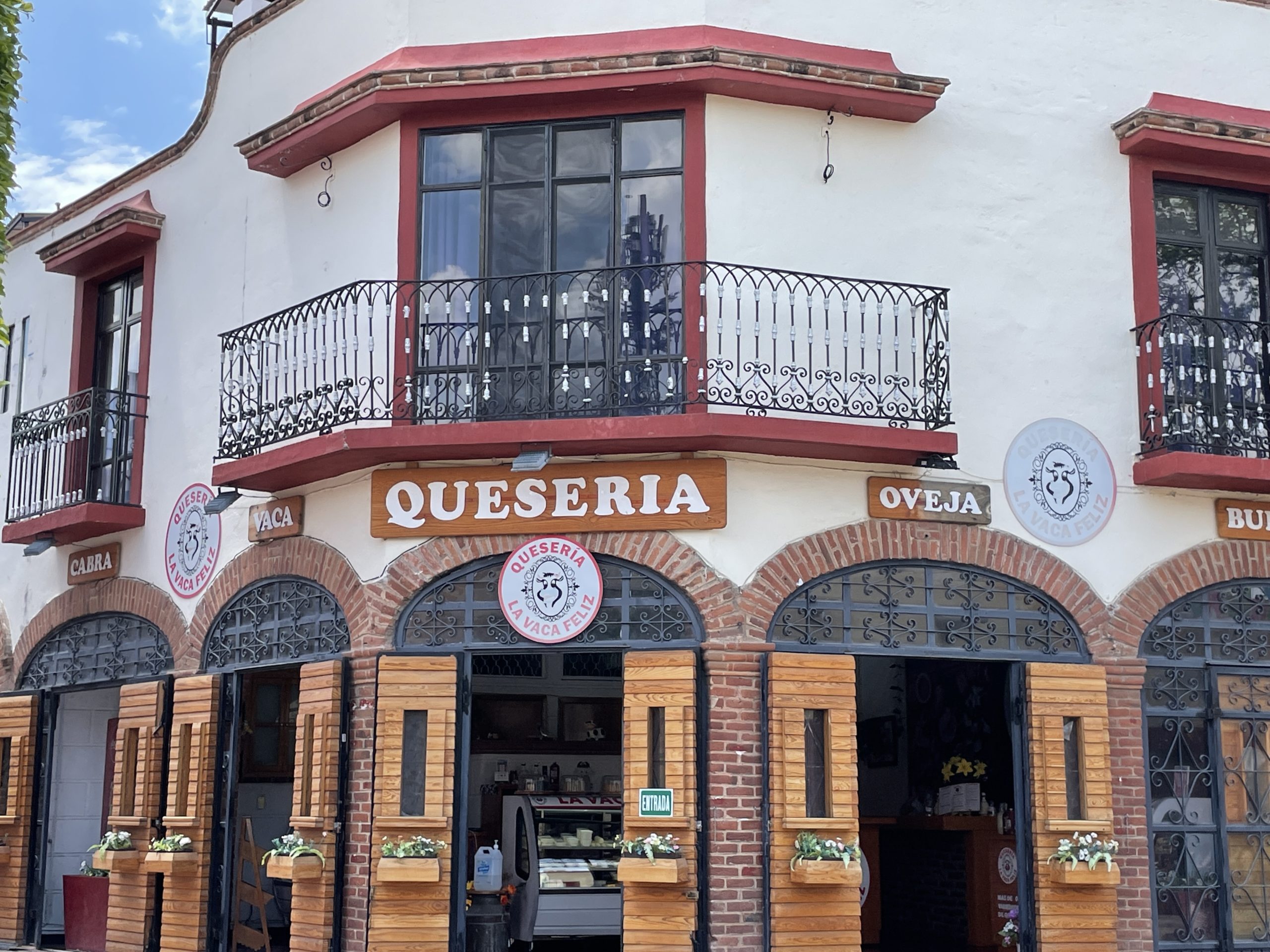 As mentioned above, the area is located on the Ruta Arte, Queso y Vino or the Route of Art, Cheese and Wine featuring local wines and cheese. There are tours and tastings available, so sign up at the office at Juarez 16. In late May and early June, the town hosts the National Festival of Cheese and Wine or the Feria Nacional del Queso y el Vino. There are tastings, lectures, competitions, and workshops, along with music and dance performances.  
Not far outside of town is Bocanegra Cava de Quesos. This is a local cheese factory offering tours of their cheese cellar along with cheese tastings paired with wine, mezcal and beer. Make sure to book before you go. I enjoyed the cheese cellar tour followed by a tasting on their downstairs patio. I ordered a glass of red wine to go with my cheese selection which I enjoyed. You can also buy their cheeses in their store. I bought a hard cheese with cranberries and nuts which I served to friends in San Miguel. Upstairs they have an attractive restaurant Gastronómica with lovely views of the countryside. The menu features starters, salads, pastas, seafood, pizzas and hamburgers. Carretera Estatal 200 km 50 Fuentezuelas.
Across the parking lot is is NORTE B, their winery and brewery where you can taste their products and buy them in the downstairs store. The structure is built out of shipping containers.
Nearby are two other fun spots. Tequila & Barro at Carretera Estatal 200 km 50, features their own tequila. It is next to a small microbrewery, Cervecería Tekesquite, at Carr. Querétaro-Tequisquiapan, Km 50.2. which makes ales, stouts and porters.