Fruita is a small town in western Mesa County, a short drive west of Grand Junction. I read many articles saying that it was a must place to visit, so I made sure to drive over while staying in Grand Junction.
It is known for its Saturday Farmers Market, its charming and walkable downtown with bars, cafes, restaurants and microbreweries along with its annual festivals and access to outdoor sports such as mountain biking, hiking, and rafting and its proximity to the Colorado National Monument.
I made my first stop at the Fruita Farmers Market. It is open from mid-June to the end of October on Saturdays from 8:30am to 12pm at 250 S. Elm St., a short walk from downtown. There are a number of vendors selling baked goods, fruits and vegetables along with live music performances. I enjoyed my Palisade peaches that I bought from Mosher-Talley Orchard in nearby Palisade, CO.
Camilla's Kaffe: This is a popular downtown café for breakfast and lunch. Started in 2008, they focus on microbrews, specialty coffee, featuring the works of local artists. There is also a colorful outdoor patio. They have a large menu of omelets, breakfast sandwiches, soups, salads, sandwiches, wraps and burgers. I went for lunch and loved the reuben sandwich. It was one of the best I have had! 206 E. Aspen
Hot Tomato Pizza: Recommended by several locals to me, this is a local pizza restaurant with a bike theme. Their focus is on thin-crust pizza and microbrews. Their daily special the day that I was in town, with Palisade peaches, mozzarella, Canadian bacon, gorgonzola and fresh rosemary sounded excellent. 124 N. Mulberry St.
Aspen Street Coffee: Located downtown at 136 E. Aspen Ave., this is a small-town coffee shop where you can have coffee by day and local wines and whiskey by night. Their menu features  breakfast bagel sandwiches, breakfast burritos, baked goods  and quiche.
Bestslope Coffee Company: This is a local coffee company that roasts its coffee onsite with beans from Chiapas in Mexico, Bolivia, Ethiopia and Burundi. They also make their own pastries including scones, cookies and muffins along with breakfast burritos. I enjoyed my latte while exploring downtown Fruita. 129 N. Peach St.
Copper Club Brewing Company: Copper Club is a local microbrewery that features twelve of its seasonal craft beers on a rotating basis. They make wheat beers, ales, ambers, IPAs, lagers and sours. I really enjoyed trying the Berried Under the Wheat, a blueberry wheat ale. It was a perfect choice. 153 N. Mulberry St.
Suds Brothers Brewery: This is a local restaurant and brewery in the heart of downtown. They have a full food menu plus craft cocktails, wine and cider along with their brews. They make several ambers, lagers, wheat beers, IPAs, porters and sours. The SOB Mexican Lager was excellent! 127 E. Aspen St.
Base Camp Provisions: At 155 N. Mulberry, this is a local brewpub with a full food menu of salads, sandwiches, burgers and other dishes like poutine, fish & chips and mussels. They feature regional craft beers and cocktails along with their own beers that are brewed at their Base Camp Beer Works in nearby Grand Junction.
After I read that an artist friend opened The FARM in downtown Fruita, I made it a point to visit it. FARM stands for Fruita Arts Recreation Marketplace. It is a community of artists and entrepreneurs who share this mixed-use, retail and private working studio spaces. In addition to visual artists, it is home to healing arts, yoga, gift shops, media and others in the outdoor recreation industry.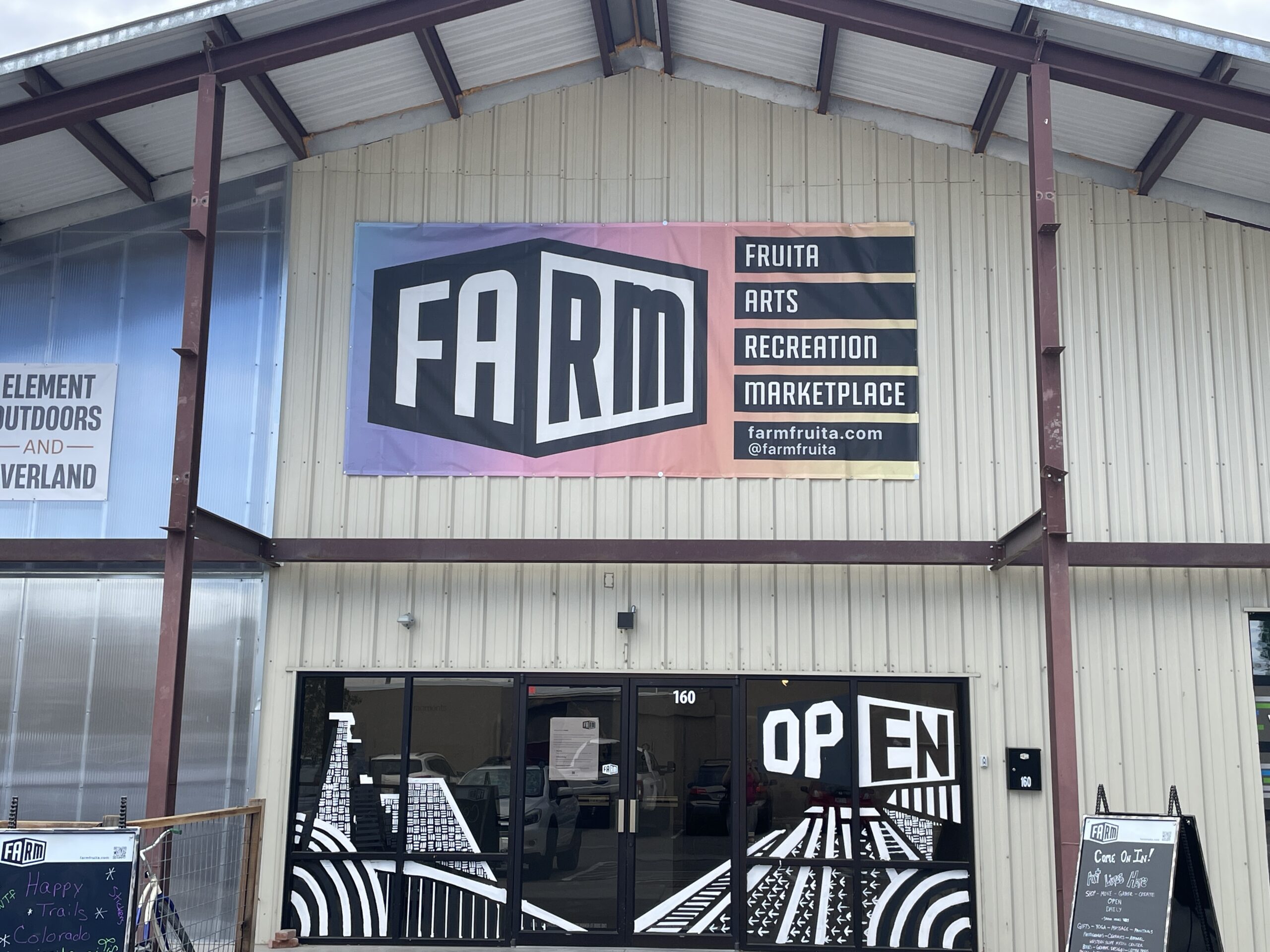 I really enjoyed meeting several of the local talented artists including Tony Genova and Troy Seure at The Muse, a creative space with classes and workshops, Van Fossen Studios with Leigh Ann Van Fossen and her husband James plus Lynn Ashton of Lynn Ashton Art Works. 160 S. Park Sq.