Flagstaff is a city in northern Arizona surrounded by mountains, desert and ponderosa pine forests. Here you can find outdoor adventures along with art, culture and excellent food. Downtown Flagstaff has many historic buildings, boutiques, coffee shops, microbreweries and many restaurants to explore. It is an easy drive from Sedona. Sedona can be somewhat crowded with tourists at times, so Flagstaff is a good option to visit as it is much more low key. The combination of college students, the outdoor/mountain culture and many small local businesses give Flagstaff a very vibrant downtown and one of the best downtown scenes in Arizona. 
Where to Stay in Flagstaff
There are several historic downtown hotels, but I chose to stay outside of downtown, at the Little America Hotel at 2515 E. Butler Ave. Built in 1952, this is a lovely hotel east of town in a 500-acres private forest. I was very impressed with the rooms, the beauty of the grounds, the restaurant and its mid-century design. I also enjoyed their Silver Pine restaurant for breakfast. There is also a fitness center, hiking trail and outdoor pool and hot tub. The rooms are scattered throughout the property.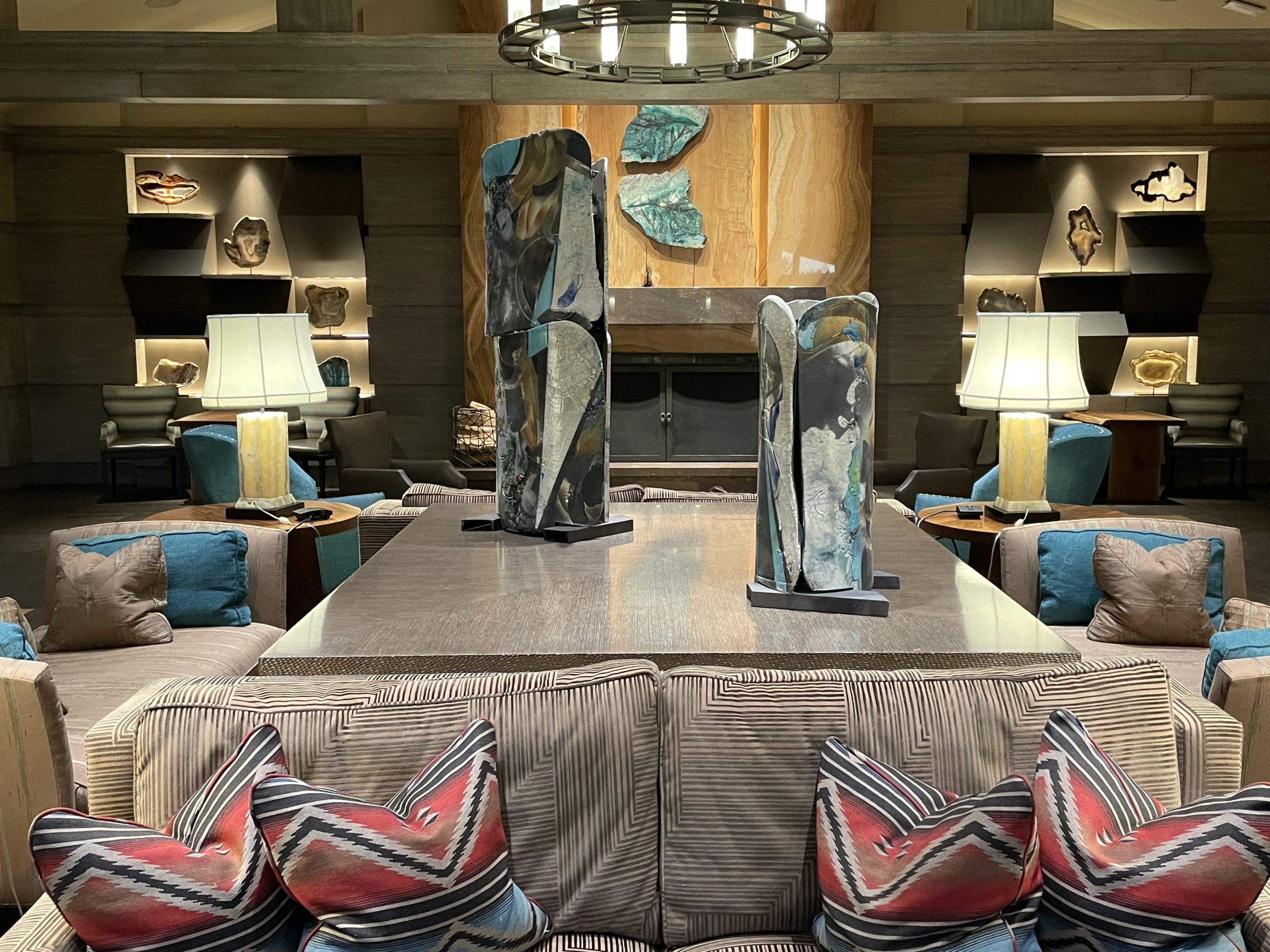 Where to Eat in Flagstaff
Atria: I had a wonderful dinner by James Beard nominated Chef Rochelle Daniel. She features farm-fresh foods grown across Northern Arizona. I had the perfect roasted beet salad, salmon and chocolate hazelnut gelato. It has a sleek, contemporary design. It is very popular, so make sure to make your reservation in advance. 103 N Leroux St.
I also enjoyed Matty G's Steakburgers & Spirits for lunch after driving into town from Winslow. They have a large menu of burgers, sandwiches, wraps, salads, tacos, fries and hot dogs. I had a wonderful grilled pastrami sandwich and sweet potato fries. It has a great casual vibe and excellent service. They also have restaurants in Phoenix, Mesa and Scottsdale. 6 E. Aspen Ave., Suite #100.
Mozelle's Bakery: Next door to Matty G's, this is a local bakery that is known for its pastries, cookies, cakes, pies and tasty macaroons. 6 E. Aspen Ave.
I stopped by for a glass of wine at Brix at 413 N. San Francisco St. A wine bar and restaurant, it has a lovely outdoor patio plus a creative farm focused menu along with wines and cocktails.
The Toasted Owl Cafe: I chose The Toasted Owl for lunch as it has a colorful outdoor patio. It is a funky spot for breakfast and lunch with a menu of omelettes, pancakes, breakfast sandwiches and tacos along with sandwiches, salads, soups and burgers. I had an excellent brie, prosciutto and fig jam sandwich. 12 S. Mikes Pike St.
AWA Kava Bar is a fun spot for coffee and tea at 218 S. San Francisco. I stopped in for coffee before I headed to Williams.
Macy's European Coffeehouse: At 14 S. Beaver St., this a casual spot for coffee and bakery items along with a breakfast and lunch menu. I recommend the scones!
Black Barts Steakhouse – Saloon – Music Review: This is a fun, casual spot that has been in business for over 40 years. They have a focus on steaks and other entrees along with live music reviews and a classic full-service bar. It is located in a RV park on the east side of town very close to the Little America Hotel.
Firecreek Coffee Company has several creative drinks on the menu. I really liked the Horchata latte made with almonds, cinnamon, vanilla, espresso and choice of milk.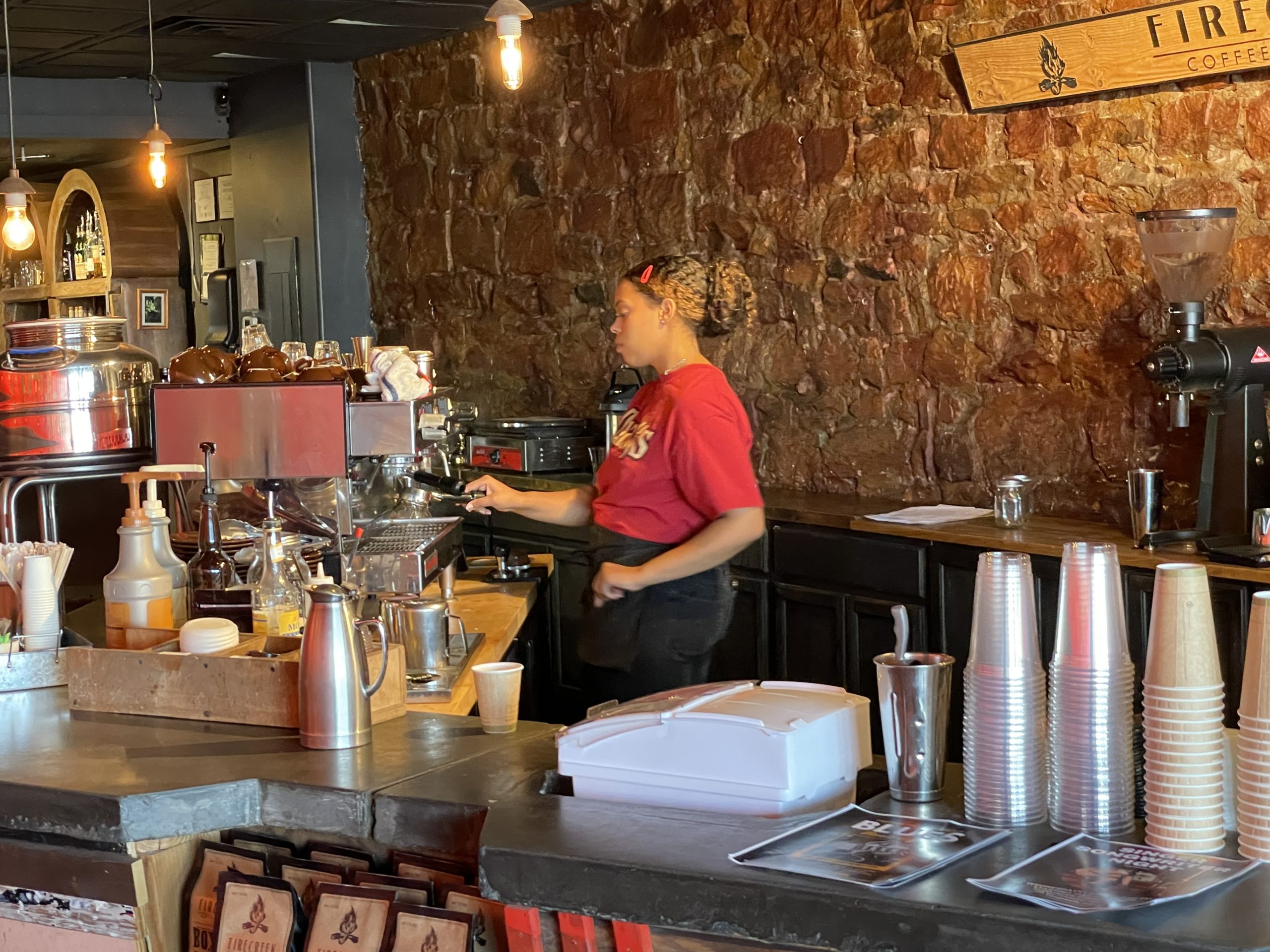 They also offer breakfast, a specialty coffee bar and house-baked goods. In the evening they offer live music along with beer, wine and cocktails. 22 Historic Rte. 66.
Flagstaff Brewing Company, at 16 Historic Rte. 66, is a casual brewpub featuring their beer along with burgers and sandwiches. Their beer is hand-crafted in small batches onsite. I really enjoyed the Blackbird Porter, a rich, smooth beer. Next door is the Flagstaff Coffee Company owned by the brewery which serves coffee and tea drinks along with coffee drinks made with different liqueurs.
I also enjoyed Flagstaff Station Market Cafe after my visit to the Museum of Northern Arizona. It is located north of downtown at 1800 N. Fort Valley Rd. In addition to coffee drinks they have a breakfast and lunch menu including baked goods, croissants, cookies, muffins, panini sandwiches and soups.
Lumberyard Brewing Co. is located in an historic building, from Flagstaff's Lumber era, at 5 S. San Francisco St. A local brewery since 2020, they make a number of beers, along with seasonal offerings, including IPAs, ales and lagers. I really liked their Red Rock Raspberry, an ale with a raspberry flavor.
Other fun spots to try in town include:
Late for the Train Coffee Roastery at 19A E. Aspen Ave., and Sweet Shoppe Candy Store with excellent gelato, candies and chocolates, at 15 E. Aspen Ave. 
MartAnne's Breakfast Palace: At 112 E. Rte. 66, this is a casual cafe for Mexican food for breakfast, lunch and dinner.
Downtown Diner is a classic diner, at 7 E. Aspen Ave., serving breakfast all day.
Steep Leaf Lounge is the place for tea drinks, loose tea along with teapots, infusers plus mugs and cups at 1 E. Aspen Ave.
Collins Irish Pub & Grill is a traditional Irish pub at 2 N. Leroux St. Located downtown in the Hotel Monte Vista, Rendezvous Coffee & Spirits is a place to gather and enjoy coffee drinks or cocktails at 100 N. San Francisco St. Oeno Wine Lounge, at 22 E. Birch Ave. #1, features a number of wines from Arizona. It has an indoor lounge and outdoor patio.
Other microbreweries to try include Beaver St. Brewery, at 11 S. Beaver St. #1, that opened 1994. Their sister brewery is Lumberyard Brewing Co., mentioned above. Here you can also order pizzas, tacos and burgers along with playing pool.
Mother Road Brewing: This is a downtown microbrewery for beer, food and live music at 7 S. Mikes Pike St. Dark Sky Brewing was recommended by local friends. However, it was closed on the days I was in town. They also have a beer garden and food menu. 117 N. Beaver St.
Drinking Horn Mead Hall, at 108 E. Route 66 is a fun spot for several flavors of mead and mead cocktails. Mead is an alcoholic beverage made by fermenting honey mixed with water, and sometimes with added ingredients such as fruits, spices, grains or hops.
For my next trip I would like to try The Crown Railroad Cafe, a diner, at 3300 E. Rte. 66 and Bigfoot BBQ for lunch in the Old Town Shops at 120 N. Leroux.
What to do in Flagstaff
I would start walking around downtown at Heritage Square. This a gathering place located in the heart of historic downtown, surrounded by retail shops and restaurants with outdoor patios. 
Flagstaff is home to a 1.8 million acre pine forest, a 12,637 foot tall mountain at Humphreys Peak, located within the Kachina Peaks Wilderness in the Coconino National Forest, and the state's largest ski resort, the Arizona Snowbowl. So there are a lot of hiking and biking trails nearby to enjoy. The fall is a wonderful time to see the changing aspen leaves.
You can also visit the Lowell Observatory in the first international Dark Sky City with historic and state-of-the-art telescopes. From 1894, it is a National Historic Landmark, where the planet Pluto was discovered in 1930.
Orpheum Theater: Check out the schedule of concerts and shows in this historic downtown theater from 1911, which is now a concert venue. 15 W. Aspen Ave.
Art lovers will enjoy the Museum of Northern Arizona. I heard about it through a local friend who works there. You can see their collection of fine art created by Native American and non-Native artists including drawings, paintings, prints, sculpture, and mixed media. There are also archaeological and ethnographic items such as pottery, stone and bone tools, baskets, jewelry, kachina (or katsina) dolls and other carvings, and textiles. 
You can also view geological and paleontological specimens including rocks, minerals, meteorites, animal and plant fossils along with fossil tracks and trails and botanical and zoological specimens. 
They have beautiful grounds with a Dan Maningha sculpture. It is next to the Rio de Flag Trail where you can hike and see the small canyon.
If you are in town the first Friday of the month, you might enjoy the First Friday Art Walk where the local galleries and businesses are open from 6pm to 9pm. There are special exhibitions and live music.
Music lovers will enjoy the Museum Club for Country Music east of downtown at 3404 E. Route 66. In September there is the Pickin' in the Pines Bluegrass & Acoustic Music Festival. In June, there is also the Flagstaff Blues & Brews Festival.
Flagstaff is one of the gateways to the South Rim of the Grand Canyon. It is a 90 min. drive from town. I opted to take the train from Williams, but you can also drive and park at the Grand Canyon Village.