From casual to fine dining, Moab has some excellent choices to explore. My suggestions include:
Desert Bistro: I was so pleased that I chose the Desert Bistro for my first night's dinner in town. Located in an old adobe house, a block off of Main St., it has been in this location since 2012. This is one of the best fine dining spots in town, with a lovely terrace in back. In addition to regular menu items of appetizers, salads and main courses, they feature nightly game dishes as well as fresh seafood plus bread and desserts baked in house. I loved the beet salad and a wonderful fish flown in from Hawaii. I highly recommend it for a great experience. 36 South 100 West.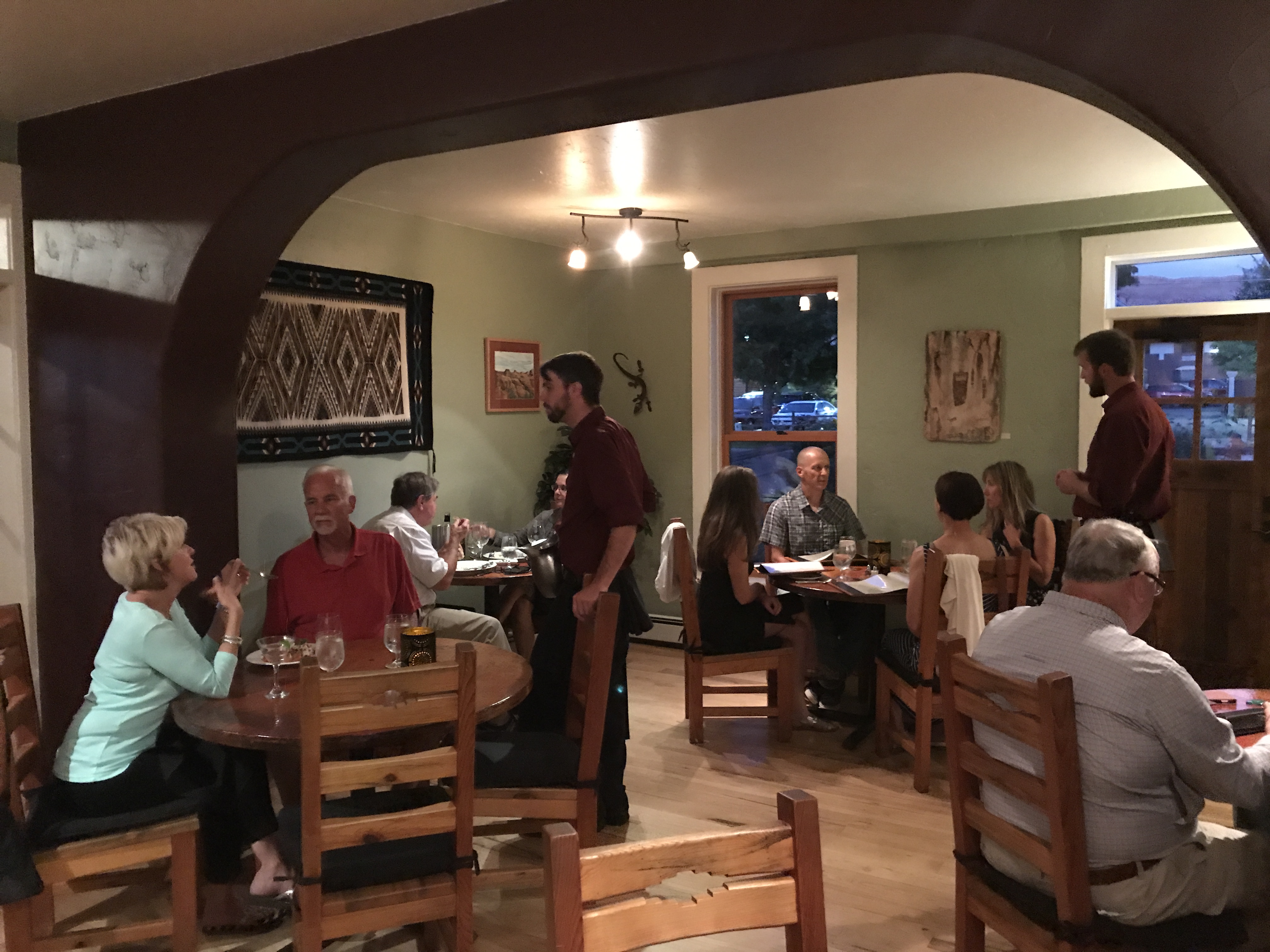 Moab Diner: Started in the 1960s as the Poor Boy Drive-Inn and known for its burgers, it became the Grand Ice Cream Parlor in the late 1970s. Today it is the Moab Diner which still serves ice cream but is a full service restaurant that is a great spot for breakfast with a fun atmosphere. It is a local's hangout. 189 S. Main. 
Jailhouse Cafe: This is one of my favorite spots on my trip to Moab. At 101 N. Main, this breakfast-only restaurant is the perfect spot for breakfast or brunch. They feature a large menu featuring omelettes, eggs benedict, pancakes and waffles. The food was very good. They also have outdoor seating in addition to a casual dining room inside. The building was built as a home in 1885 and later became the County Courthouse in 1892.
Moab Brewery: At 686 S. Main, this is a fun, local microbrewery and restaurant. They feature their locally brewed IPAs, ales, pilsners and stouts. They also feature a number of salads, sandwiches, wraps, burgers and other pub food. They recently opened The Moab Distillery next door.  They make a gin, vodka and three Rayo Agave products and a single-malt whiskey. 
Eklecticafe: I thoroughly enjoyed this fun cafe for lunch after my visit to Arches National Park.  It is at 352 N. Main and features breakfast, brunch and coffee. They also have a lovely outdoor patio. The homemade salmon burger was really excellent and was the perfect choice for lunch before I left town.
Moab Coffee Roasters at 90 N. Main, features cold brew coffee, espresso and homemade gelato and ice cream. The gelato was excellent!  
Moab Garage Co.: Another great coffee spot downtown is The Moab Garage at 78 N. Main. They have coffee, ice cream as well a selection of gift items. Make sure to stop in when you are in town.
Sweet Cravings Bakery + Bistro: This is a fun spot in downtown Moab serving coffee, baked goods, breakfast and lunch. The macaroons dipped in chocolate were excellent. 397 N. Main.
Next time I will try the colorful Love Muffin Cafe, at 139 N. Main, known for its breakfasts, lunch and coffee. It has a large menu of breakfast paninis, burritos, bowls and egg dishes plus sandwiches and salads for lunch. They feature seasonal, locally sourced items with an emphasis on organic, vegan and gluten free items.  
Check out Milt's Stop & Eat which is Moab's oldest restaurant/diner from the 1950s. It is located at 356 Millcreek Dr., just four blocks from Main St.  Miguel's Baja Grill is a good spot for Mexican and Southwestern cuisine at 51 N. Main
Outside of town on Highway 128, The River Grill at the Sorrel River Ranch and the two restaurants at the Red Cliffs Lodge are also good choices. I enjoyed a good Sunday brunch in the dining room at the Red Cliff Lodge with a large selection to choose from. Their casual Cowboy Grill features a daily BBQ buffet for lunch from April to October. A close Chicago friend just stayed at Sorrel River Ranch and loved the dining room. The views from the outside deck are really amazing.