Newport has many dining options from fine dining and neighborhood farm-to-table restaurants to casual spots along the water and traditional afternoon teas. 
On the way to Newport I stopped in Bristol where I had a good lunch at the  The Lobster Pot … a great lobster roll while overlooking Bristol Harbor. It has been a popular spot since 1929. They have indoor and outdoor seating and an extensive seafood menu. 119-121 Hope St. Also in Bristol are a number of other restaurants and bars including the Judge Roy Bean Saloon. 
Once in Newport, along the Newport Harbor you will find a number of bars and restaurants. One of the top is The Black Pearl at Bannister's Wharf. This is a local institution with a Classic Tavern Room, their Commodore's Room for upscale dining and a popular waterside patio and raw bar. They are known for their clam chowder.
Nearby is Coffee Grinder on the dock at 33 Bannister's Wharf. This is a small, casual coffee shop at the end of the wharf overlooking the water and boats in the harbor. The location is perfect!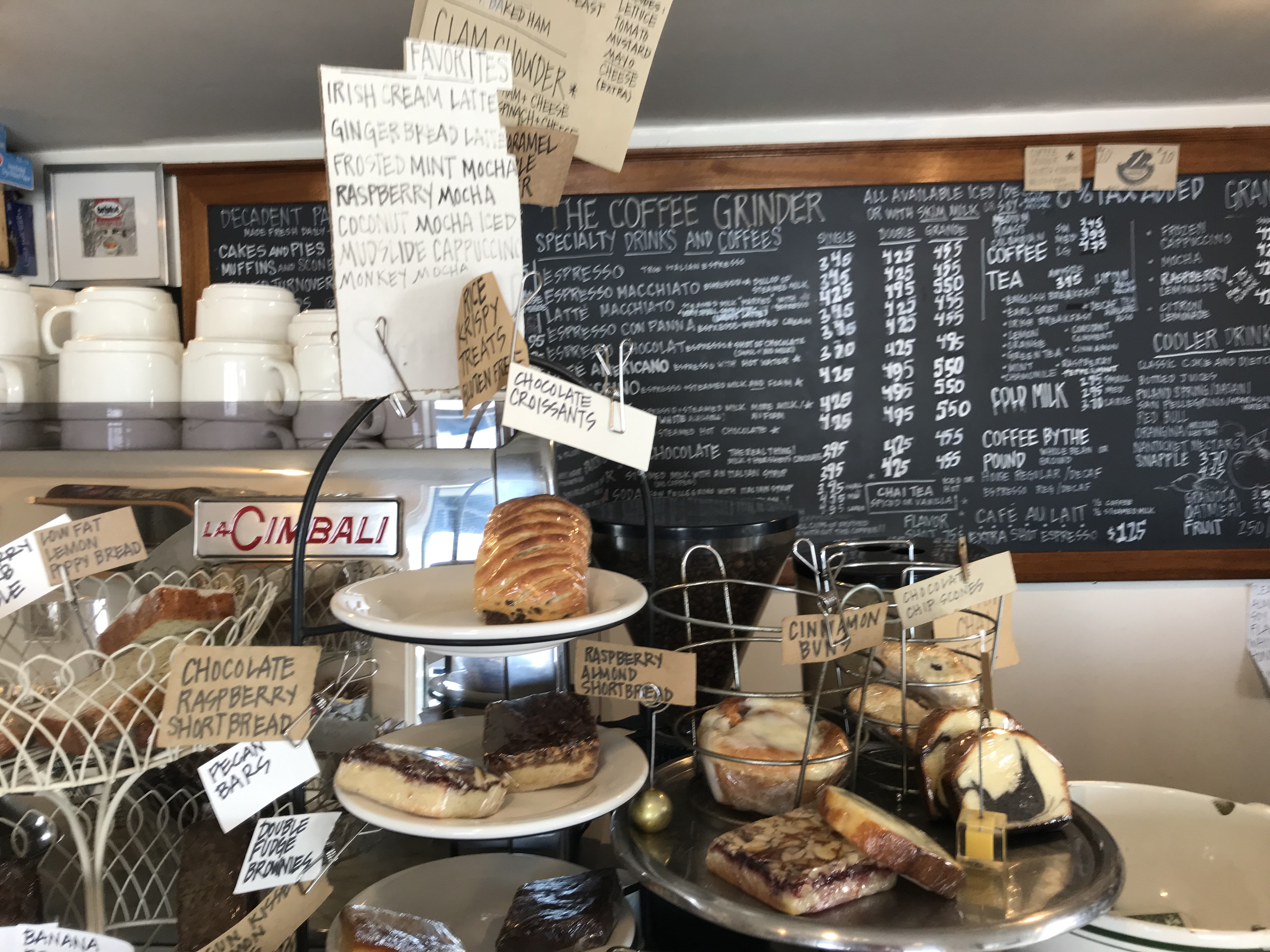 Stoneacre Brasserie: At 28 Washington Square, this is a contemporary restaurant with an emphasis on French cuisine and locally sourced ingredients. I went for dinner on my first night in town and had great mussels along with frites (fries) and grilled asparagus. It is a neighborhood spot away from the harbor.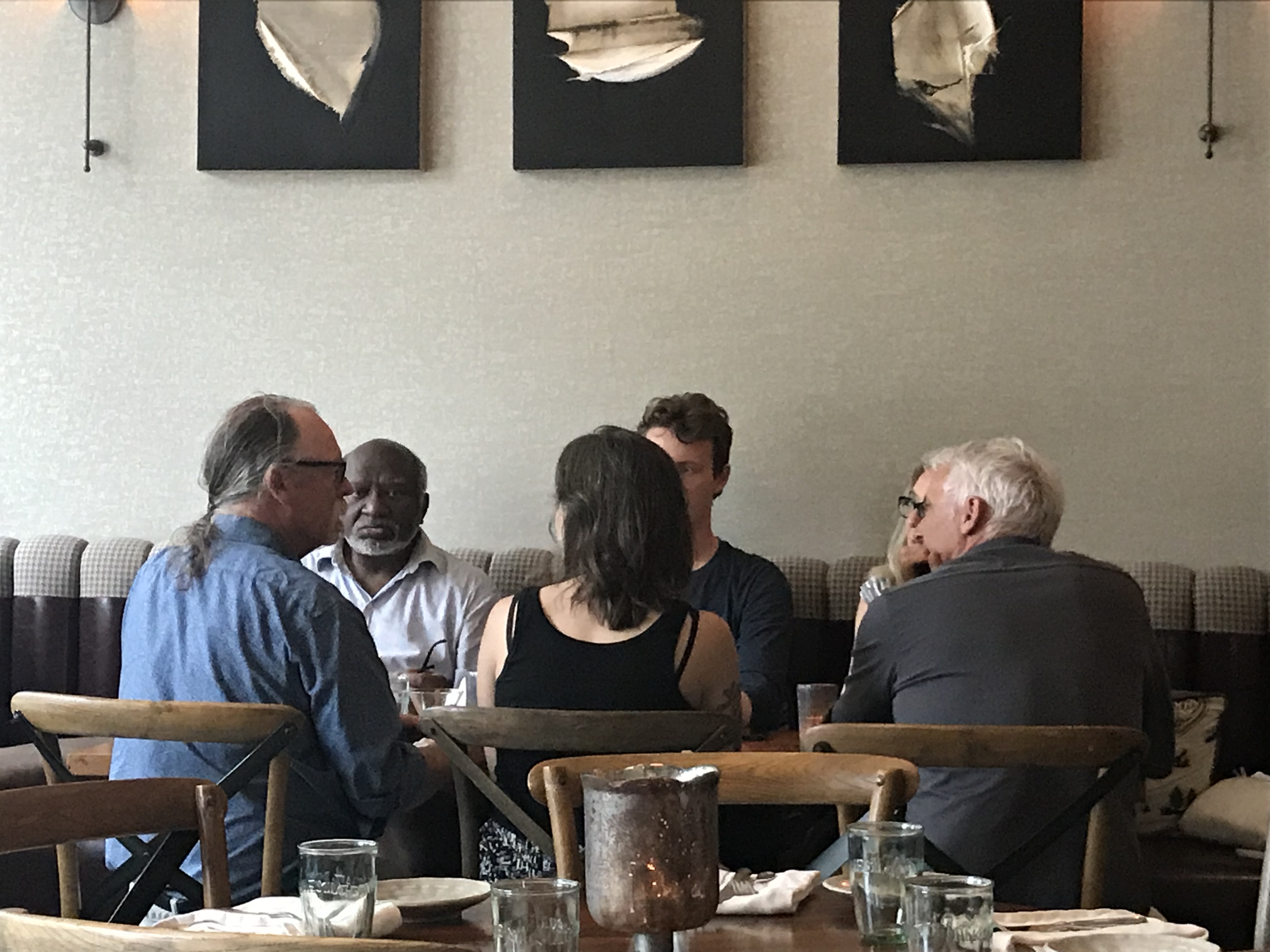 I always try to enjoy a classic afternoon tea when I travel. On this trip, I really enjoyed my afternoon tea at The Viking Hotel. I had a very nice experience at this boutique hotel at 1 Bellevue Ave a short walk from my hotel. The tea, with a choice of breads, scones, sandwiches and chocolates, was really excellent and the cost was so reasonable!
I highly recommend The Vanderbilt Grill at the Vanderbilt Hotel, an Auberge Resorts Collection property. It is located in the heart of Newport. I enjoyed dinner with a lovely English couple who I met at my hotel. I thought that the Atlantic Halibut with fresh peas and served on top of a tasty lobster bisque were both excellent. The hotel also has The Bar downstairs and The Roof Deck overlooking the city and the harbor.
The Mooring Seafood Kitchen & Bar. After reading great reviews, I made sure that I made a reservation before heading back to Providence. I enjoyed my last lunch in town sitting on the outside patio by the water. The lobster roll was a perfect choice! I highly recommend it. 1 Sayers Wharf.
I enjoyed exploring the wharfs along the water, but they do attract a large number of tourists. I recommend getting off the beaten path and go where the locals go. The Broadway St. District is an area with shops, cafes, bars and local restaurants.
Fun spots include The Corner Cafe known for its breakfasts and Empire Tea & Coffee at 22 Broadway.
Empire Tea & CoffeeOther recommended spots to try include the elegant White Horse Tavern from 1673, believed to be the oldest tavern building in the US. It is a fine dining restaurant featuring local cuisine at 26 Marlborough Street.. Belle's Cafe is a popular spot in the heart of the Newport Shipyard serving breakfast and lunch daily.
Also on the water is the Marina Cafe & Pub and 22 Bowen's Wine Bar &  Grille.  22 Bowen's is a classic harbor-side tavern specializing in steak and fresh, local seafood. It has a nautical-themed dining room with waterfront views. 22 Bowen's Wharf.
Midtown Oyster Bar  is a popular oyster and raw bar at 345 Thames St.
The Wharf Southern Kitchen & Whiskey Bar at #47 Bowan's Wharf, the Smoke House at #37 Scotts Wharf for barbecue and cocktails, Kaffeology Coffee-Bakery at 359 Thames St., and The Red Parrot Restaurant at 348 Thames St. are also fun spots.
Gary's Handy Lunch is a classic diner at 462 Thames St. for breakfast and lunch. The Franklin Spa at 229 Spring St. is also a classic breakfast spot that locals love.
The Wine Enthusiast recommends 41°North for its bar and restaurant options along the waterfront. They also recommend Cara Restaurant at The Chanler at Cliff Walk and The Restaurant at the Bouchard Inn & Restaurant.