Pittsburgh has always been known for its food based on its immigrant and industrial heritage, but today it is becoming a great "foodie" destination with many great restaurants found throughout the city and in some of the emerging neighborhoods. My recommendations, by neighborhood, for where to eat in Pittsburgh include:
Downtown/Northshore/Deutchtown Historic District
Pork & Beans: I am always in search of great BBQ spots when I travel. I heard about Pork and Beans on Eater.com; they are known for their Texas-style barbecue, home-style sides and local craft beer, and booked it for lunch after visiting the Andy Warhol Museum and Mattress Factory Museum nearby. The menu includes a number of salads, sandwiches and barbecue platters featuring pulled pork, pastrami, pork belly, spare ribs or sausage. I really enjoyed the  BBQ brisket with collard greens and creamed corn and loved the rustic, roadhouse-inspired design. It is the fourth restaurant in the Richard DeShantz Restaurant Group, which also operates Butcher and the Rye, Meat & Potatoes, and Täkō which are all popular sports spots in town and also highly recommended. 136 6th St.
Federal Galley: Just north of downtown is the Federal Galley, a new food hall with a mix four restaurant concepts and a bar with both indoor and outdoor seating. 200 Children's Way, right across from the Children's Museum of Pittsburgh and the National Aviary.
Stop in at Crazy Mocha Coffee Company which has multiple locations in town. The one at 2 E. North Ave. is convenient to the Andy Warhol Museum and the Mattress Factory.
For wonderful views of the city, take the restored cable cars of the Duquesne Incline to Mount Washington. It is a National Historic Landmark and has been used by commuters since 1877. There is an observation deck and exhibitions at the top. If you want to have dinner at the top of Mount, local friends like and recommend Altius Elevated Cuisine on Mount Washington at 1230 Grandview Ave.
Strip District
To the east of downtown is the the hip Strip District that is lined with many converted warehouses. Once the old market district, it has a vibrant mix of old-style grocers, gourmet food shops, street stands selling produce, stores selling sports gear from the local teams, plus upbeat bars, classic Italian eateries and sandwich places. Make sure to visit:
Maggie's Farm Rum: This is a local rum distillery that is the producer of Pennsylvania's first craft rum. All products are distilled from scratch in copper pot stills in the historic Strip District. They have received numerous awards including those from the American Craft Spirits Assoc. and the American Distiller's Institute.  3212A Smallman St. 
Primanti Bros: Stopping by this local institution is a must when you are in Pittsburgh. The original location of this chain of restaurants is located in the Strip District at 46 18th St. Founded in 1933, its signature sandwich is grilled meat, an Italian dressing-based coleslaw, tomato slices and French fries between two pieces of Italian bread. In 2007, It was name an American Classic by the James Beard Foundation. 
Smallman Galley: This is a local, communal Food Hall at 54 21st St. They feature four restaurants, a coffee bar plus two bars. It is an incubator for new and local dining concept. It is a great spot to grab a sandwich, a burger, a Vietnamese banh mi or noodle dish or pizza. The concepts change so check the website for the current offerings. I enjoyed a latte at the recently opened Common Place Coffee.
Lidia's: At 1400 Smallman St., this is Lidia Bastianich's Pittsburgh restaurant bringing Italian hospitality to the Strip District. It is open for lunch, brunch and dinner. I always enjoy her Lidia's restaurant in Kansas City, MO.
Make sure to stop in for Ice cream at The Milkshake Factory. Since 1914, when they began as a small soda fountain and chocolate shop, today, they feature chocolates, hot chocolate, shakes, sundaes and sodas. The chocolates include salted caramels, truffles, chocolate bark and fresh dipped items.
Bar Marco, at 2216 Penn Ave., is a small wine bar featuring dinner plus a large wine list and creative cocktails. They also get great reviews for their weekend brunch.
The Enrico Biscotti Company: Biscotti lovers will love this bakery and cafe featuring a large selection of biscotti in many flavors. I enjoyed the pumpkin and nut flavor! 2022 Penn Ave.
Penn Avenue Fish Company: This is a Stip District favorite featuring a fish market, sushi bar and restaurant that features fish sandwiches, salads with fresh seafood, bisques and chowders, grilled seafood platters and pasta with seafood. 2208 Penn Ave. They have a second location downtown at 308 Forbes Ave.
Wholey's Market is a large fish market at 1711 Penn Ave. that is fun to walk through.
De Fer Coffee & Tea: This is a cafe at 2002 Smallman St. specializing in small batch coffee and fine teas. In 2017 they opened their roastery and cafe in the Strip District. In addition to tea and coffee they offer a full menu of breakfast items, panini, meat and cheese plates, cocktails and beer. 
Leaf & Bean: If you are a cigar lover, then make sure to visit this cigar and coffee bar at 2200 Penn Ave. If you're not, then at least pop your head in to see the fun antiques on the walls and ceiling giving it a uniquely Key West or Cuban style.
Pamela's Diner is a colorful, casual diner at 60 21st St. They feature a large breakfast menu with egg combos, omelets, breakfast sandwiches, homemade hash plus pancakes, french toast and waffles. The lunch menu is smaller but includes burgers, sandwiches and salads. I love the atmosphere.
La Prima Espresso Company: Stop in at La Prima for their espresso/cappuccino bar or a great pastry. 205 21st. St. at Penn Ave.
Pennsylvania Macaroni from 1902 is an Italian market featuring pasta, cheese and other Italian specialties.
Gaucho Parrilla Argentina: This is a popular spot featuring Argentinian cuisine and grilled meats. It is popular and the lines are often out the door. 1601 Penn Ave.
For chocolates and ice cream stop in at Grandpa Joe's Candy Shop featuring homemade fudge and specialty chocolates. 2124 Penn Ave. Klavon's is a neighborhood staple for ice cream since 1923. It closed in 1979 and was reopened in 1999. They features shakes, floats and sundaes as well.
Point Breeze
The area near the Frick Pittsburgh Museums and Gardens is a fun area to visit and explore.
Prohibition Pastries: This is a local bakery at 7105 Reynolds Street. They feature a large selection of cookies, cakes, bread, pastries and pies.
Point Brugge Cafe: At 401 Hastings in the Point Breeze neighborhood, this is a cozy cafe featuring Belgian-inspired dishes including Moules Frites or mussels and fries. This is a good alternative spot before or after you visit the Frick and their museum cafe is full.
Bloomfield
Bitter Ends Garden & Luncheonette: I read about this fun spot for lunch not far from my hotel. At 4613 Liberty Ave, this is a tiny spot that is open for breakfast and lunch. Check out their menu which changes daily. They feature, pastries, salads, soups and sandwiches. All of their breads and pastries are baked in house. I loved the chicken salad sandwich with a mustard aioli and lettuces. They source everything locally or grow it on their ½ acre organic farm outside of the city. Chef Becca Hegarty received a James Beard Nomination in 2018 for Rising Star Chef.
Shadyside
Make to sure to walk along Walnut Street in Shadyside where you will find a fun collection of restaurants, coffee shops, bars and boutiques. Not to be missed are:
Prantl's Bakery: Prantl's is a bakery in the German tradition, with old-fashioned fruit Danish and nut-filled coffee cakes. There has been a bakery in this location for over 100 years. You have to stop in for their burnt almond torte. It is a Pittsburgh institution and is a must to try when you are in town. I loved it!! 5525 Walnut St. They have a second location at 438 Market St., downtown.
Acorn: At 5528 Walnut St., Acorn features modern American seasonal cuisine. Chef Scott Walton spent 20 years in restaurants in Chicago, but moved to Pittsburgh, the home of his wife. I enjoyed the staff, the service and a wonderful salad for lunch. I highly recommend the experience.
The Yard Gastropub: Local's like the casual The Yard Gastropub, a brick-walled bar serving craft beer and pub food. They are known for their gourmet grilled-cheese menu. 736 Bellefonte St.
East Liberty
Starting with retail development like Whole Foods and then the addition of two new hotels, the Ace and the Indigo, today East Liberty has become one of the hottest neighborhoods in Pittsburgh. I stayed at the Ace which is located in a former YMCA and also visited the Indigo which is a stylish, contemporary boutique hotel. If you decided to stay in the neighborhood, you can easily walk to local restaurants. Make sure to try:
Whitfield: This is the restaurant located off the lobby of the Ace Hotel. It is casual restaurant with great food that is open for breakfast, lunch and dinner plus brunch on Saturday and Sunday. I enjoyed breakfast there when I stayed at the hotel rather than leave the hotel. In 2018, Chef Bethany Zozula was a James Beard Foundation Semifinalist for Best Chef Mid-Atlantic and Pastry Chef Casey Renee for Outstanding Pastry Chef. 120 S. Whitfield St.
Twisted Frenchman: This modern French restaurant can be found around the corner from the Ace hotel at 5925 Baum Blvd. It is located on the second floor of the historic Royal York Auction Gallery building. Chef Andrew Garbarino features a tasting menu experience of 3, 8, 14 or 21 courses that get excellent reviews. Downstairs on the first floor, Bar Frenchman is a more casual French bistro featuring traditional dishes along with cocktails and wines.
Paris 66 Bistro: This is a warmly decorated Parisian bistro featuring French fare, wines, beer and cocktails plus espresso drinks and pastries. Their macarons are excellent. I loved the salted caramel! They also have outdoor seating in back in the warmer months. 6018 Centre Ave .
Zeke's Coffee: At 6015 Penn Ave., this is a local coffee roaster in a modern, rustic space that features coffee drinks and bakery items from scones, muffins and cookies to breakfast sandwiches, quiche, breads and cakes. You will see many locals enjoying the space and working on their computers.  
Spoon: This is a more upscale restaurant, featuring local ingredients in modern American dishes. 134 S. Highland Ave.
At 5996 Centre Ave., Dinette is known for its thin-crust pizzas and small plates.
North Oakland
The Oakland neighborhood, including North Oakland, is the academic and healthcare center of Pittsburgh and one of the city's major cultural centers. The neighborhood is home to three universities, museums and hospitals as well as restaurants and shopping.
Don't miss Legume Bistro when you are in town, at 214 N. Craig St. For over ten years, it has been one of the best restaurants in town and was a James Beard Foundation Semifinalist for Best Restaurant 2018. I enjoyed my dinner with local friends and thought the halibut entree was excellent.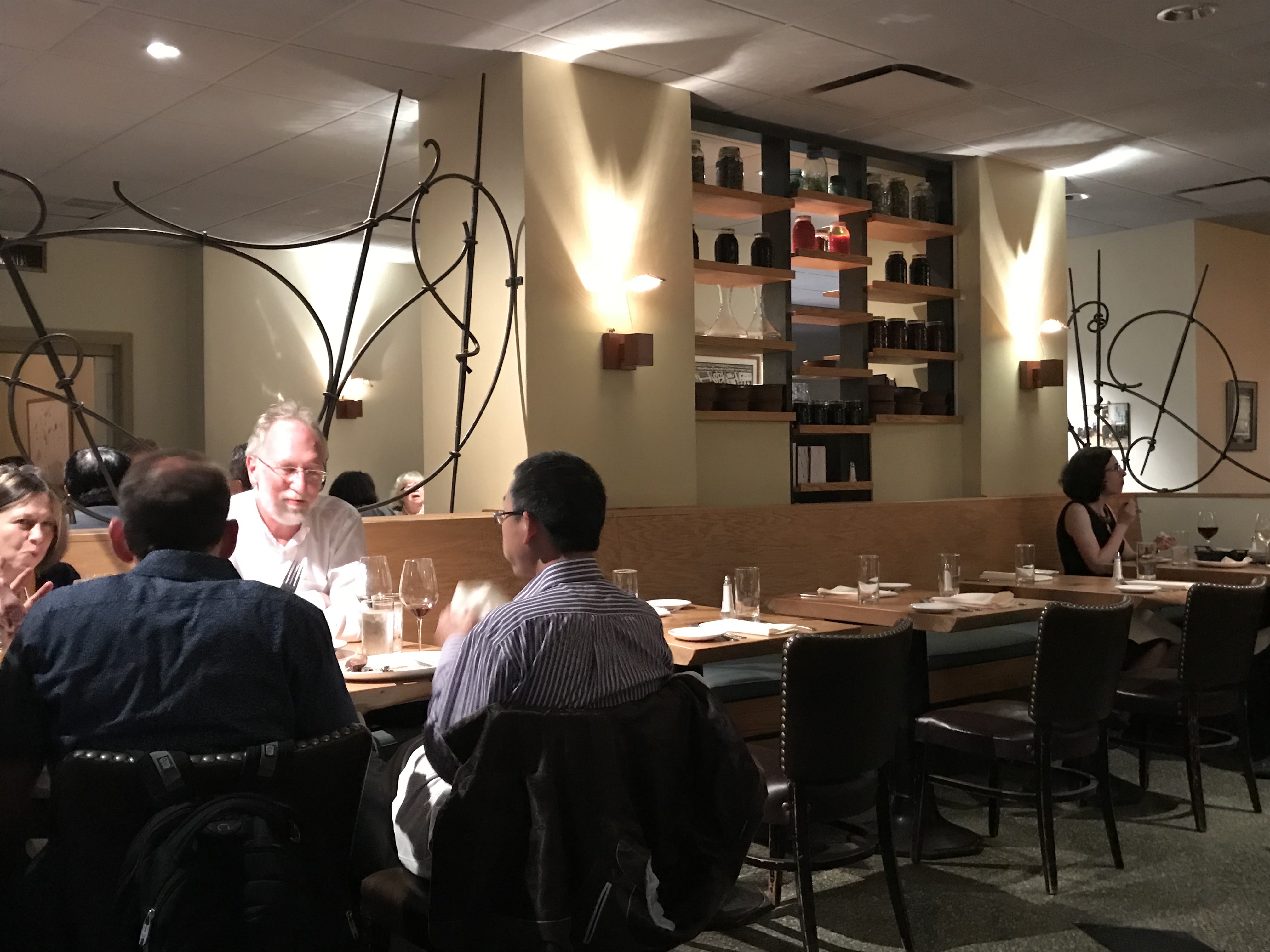 They have a fun cocktail bar and casual restaurant, Butterjoint, across the hall. They feature Western PA beef burgers ground daily, homemade pierogies and sausages, cheeses, desserts and a soup and salad of the day.  
Opening in May 2018, Pie for Breakfast is their newest venture. To quote Chef Trevett Hooper, "imaging if a truck stop and a European coffee shop had a baby". It is a few doors over at 200 N. Craig.
Lawrenceville
Lawrenceville is one of Pittsburgh's largest neighborhoods that has reinvented itself from its industrial past to become a hub of innovation, creativity, restaurants, boutiques and nightlife. Butler St., where the bulk of the establishments are located, is a great walking street. Make sure to visit:
La Gourmandine: This is a French bakery at 4605 Butler St. that comes highly recommended by the NY Times for their almond croissants. 
Merchant Oyster: This is a casual spot that features oysters, clams, mussels, chowder and lobster rolls along with local brews. 4129 butler St.
Allegheny Wine Mixer: At 5326 Butler St., this is a fun, trendy bar and cocktail lounge that was recommended by Cure to go for a drink before our dinner reservation. They feature a large number of wines, craft beers, cocktails plus cheese and meat platters.
Cure: Opened in 2011, Cure has become a "Foodie" destination in Pittsburgh. Using local products they feature Mediterranean-inspired plates of cured salumi, oysters and a small offering of pastas that put it on the map. Chef Justin Severino was a 2015 James Beard Semifinalist for Best Chef Mid-Atlantic. I enjoyed dinner with my freshman year college roommate and loved the food and atmosphere. 5336 Butler St.   
Morcilla, 3519 Butler St.: This is a Spanish restaurant opened by the chef at Cure, Justin Severino. They feature a Spanish menu of tapas and pintxos, sandwiches, small plates and large plates plus wine and cocktails. I enjoyed dinner there on my last night in Pittsburgh. The Octopus a la Plancha and the Asparagus a la Plancha were both great. I also enjoyed my conversation with the couple next to me!  
Poulet Bleu: One of the hot new spots in town is Poulet Bleu in Lawrenceville. It was opened by Rick DeShantz and Tolga Sevdik of the DeShantz Restaurant Group which also has Meat & Potatoes, Butcher and Rye, Tako and Pork & Beans (listed above) which I enjoyed while in town. They were a James Beard Foundation Semifinalist in 2018 for Outstanding Restaurateur. It is known for its French onion soup, beef tartare, escargot and steak frites. It is an attractive French-inspired decor with a lovely outdoor patio in front. It will be opening a second floor dining room and roof deck as well. It is definitely on my list for my next trip. 3519 Butler St.
Also on my list for my next trip is The Vandal at 4306 Butler St. It features an Eastern European-inspired menu for lunch, dinner and weekend brunch. The weekend brunch menu features dishes like scrapple with chicken confit, biscuits and rosemary gravy, or beignets with orange curd or housemade granola. The restaurant also hosts events in partnership with local businesses including a four-course meal with beer or wine pairings from the neighboring craft beer shops and wine bars. Various local chefs are also invited to prepare brunches and tasting menus.