There are some very good places to eat in Sedona. I recommend avoiding the tourist areas and visit the following:
Mariposa Latin Inspired Grill: Just west of downtown Sedona, this is a beautiful restaurant with stunning views of the red rocks. It has indoor and outdoor seating, great service and, an extensive wine list plus a large menu of Latin American cuisine including steaks and seafood. I loved my halibut entree with grilled corn, black beans and quinoa. I highly recommend it when you are in town. It is located at 700 AZ Hwy. 89A  just west of downtown. It is one of the four Sedona restaurants owned by Chef Lisa Dahl and the Dahl Restaurant Group.
Cucina Rustica Rustic Tuscan Grill: Mariposa has a sister restaurant Cucina Rustica located in the Village of Oak Creek. As I was staying in the village, I decided to enjoy dinner at this restaurant and avoid the crowds downtown. It is an upscale restaurant with an extensive menu of Italian specialties and wines.  The dining room is really warm and beautifully decorated. There is also an outdoor patio with additional seating and music on certain nights. I enjoyed a very nice dinner as both the fried calamari and beet salad were excellent. 7000 State Route 179.
Dahl Restaurant Group in addition to Mariposa and Cucina Rustica has Pisa Lisa  the smallest and most casual of its four restaurants with an emphasis on pizza, salads, tapas, panini sandwiches, their Tuscan tomato bisque and homemade gelato. Rounding out the group is Butterfly Burger for gourmet burgers and  Dahl & DiLuca Ristorante Italiano. It is formal and elegant and was their first restaurant to open. They have a large menu to choose from.
Tlaquepaque Arts & Crafts Village, the charming collection of shops, galleries and restaurants ,has several good restaurants to choose from.  Rene Restaurant & Wine Bar is the more fine dining experience serving continental cuisine with a Southwestern flair since 1978. They have a lovely outdoor patio.  The Secret Garden Cafe is a more casual spot and features salads and sandwiches, pastries, espresso and ice cream. The Oak Creek Brewery & Grill is a local microbrewery grill located on the second floor. They offer a casual dining menu along with their ales, porters, IPAs and lagers brewed on premises. Sedona Cake Couture is a lovely bakery for a great cookie or cake.
Elote Cafe: This is an award wining restaurant south of downtown that features a  modern Mexican and Southwestern menu inspired by the markets of Mexico and chef/owner Jeff Smedstad's 20-plus years of travel across Oaxaca, Veracruz, Puebla and his native Arizona. It has an emphasis on seasonal and locally grown ingredients. It is open for dinner on Tuesday to Saturday starting at 5pm. Chef Smedstad was a 2018 James Beard Foundation Semifinalist for Best Chef Southwest and has been featured in the NY Times, Chicago Tribune and other publications. They have a new larger location at 350 Jordan Road where you can now make a reservation!
One of my favorite spots is to go to the Enchantment Resort, for lunch or for dinner to see the sunset on the red rocks. It is in a really spectacular setting at the head of Boynton Canyon a few miles west of town. There are three bars restaurants to choose from. They have outside dining but Tii Gavo has the better views. The food and service are good, but the views are what you come for! Che Ah Chi gets good reviews for its Native American influenced cuisine. View 180 is their cocktail bar.
Coffee Pot Restaurant: Located on the west side of town, this is the perfect spot for breakfast before you head out on a hike or to tour the red rocks. Open for over 30 years they feature 101 omelettes. 2050 W. State Rd. 89A.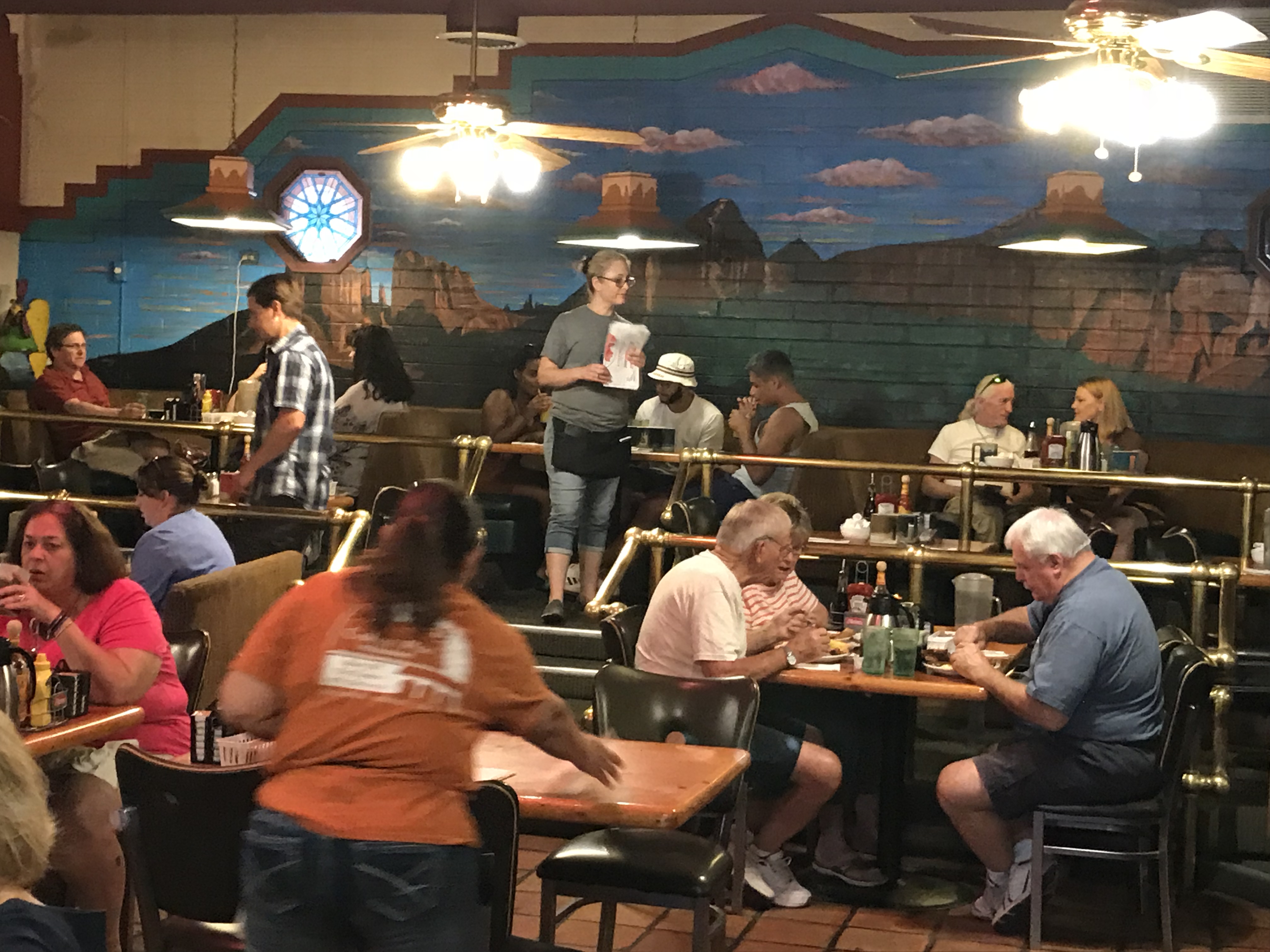 Oak Creek Espresso:  Just south of Sedona in  the Village of Oak Creek is Oak Creek Espresso. It is a casual, local coffee shop with its small-batch beans roasted on-site plus baked goods. 6500 State Rt. 179.
Locals also recommend the Creekside American Bistro with great outdoor seating for the sunsets overlooking Oak Creek and the Red Rocks and The Hudson that is an upscale, yet casual, local neighborhood restaurant, established in 2015, that is open for lunch and dinner. Owned by the same team as Creekside American Bistro is Mesa Grill at 1185 Airport Road. It is a Southwest Style Grill serving breakfast, lunch and dinner.
Other spots getting good press from Eater.com, Fodors and others include the upscale Cress on Oak Creek at L'Auberge de Sedona, the casual Tamaliza Cafe for tamales and Timo Wood Oven/Wine Bar. Pump House Station is a casual spot for breakfast, lunch and dinner and SaltRock Southwest Kitchen is recommended at the Amara Resort & Spa. Indian Gardens Cafe & Market is a casual café in an historic 1940s General Store setting with great outdoor patio seating.
RedRock Cafe is a casual café serving Southwestern food for breakfast, brunch and lunch. Open Range Grill and Tavern is a casual American grill with rustic-chic décor and great views of the red rocks. ChocolaTree is an organic market and restaurant featuring healthy vegetarian fare, chocolates and treats.
I also read that Sedona Memories Bakery Café is a fun bakery and deli for breakfast and lunch. 321 Jordan Rd.  The Cowboy Club Grille & Spirts, is a casual bar and restaurant since 1993. They are know for their Pecan prime rib on Friday nights, their buttermilk fried chicken on Sundays and their elk chops and bison pot roast. I am excited to try it on my next visit. 241 North Hwy 89A.  The Golden Goose American Grill at 2545 W State Rte 89A is a fun spot for steaks, seafood dishes, and burgers with a nice outdoor patio.
Getting good press and reviews, is the Sedona Hideway House located at 231 AZ-179. It is a  casual spot with stunning views. Also recommended for Mexican food is Tortas de Fuego with three area locations.