Vancouver, BC has some great restaurants to try from casual Asian spots to fine dining restaurants. My recommendations by neighborhood include:
Downtown
Forage: Located at 1300 Robson St., this is a local restaurant featuring locally sourced ingredients from fisherman, farmers and foragers along with beer, wine and spirits from wineries, distilleries and craft breweries. Thought the smoked duck breast looked amazing. I was so glad that I ordered the pan seared halibut with a dungeness crab creamed corn, cucamelon, dragon's tongue beans and holy basil oil. It was an incredible dish. I was also glad that I went on my first night in town as it was a great experience. They are open for breakfast, brunch and dinner.
D'oro Gelato & Caffe: With two locations in town, I went to the one at 1222 Robson St. where they feature some outstanding gelato flavors along with pastries, desserts and coffee. They also have a menu of panini, soups and salads. So make sure to stop in when you are in the area. I enjoyed the salted caramel flavor!!
Mink Chocolates Cafe: Around the corner from the Auberge Hotel, this is a good spot for coffee, tea, desserts, chocolate drinks and great handmade chocolates. 863 W. Hastings. 
Miku Sushi: This is a very good spot for sushi in a contemporary setting with great water views. I enjoyed dinner here after flying back from Victoria. The Harbour Air Seaplane Terminal is a short walk. 70 – 200 Granville St.
Afternoon Tea at the Fairmont Hotel Vancouver: The Fairmont downtown features a themed afternoon tea in the private dining room of its restaurant. When I was there, they were having The Great British Tea Party featuring scones, tea sandwiches and sweets. It is a fun experience that I highly recommend. 900 W. Georgia St. (Although the hotel has temporarily suspended the afternoon tea service, I've been assured it will return.)
Hawksworth Restaurant: This is the elegant, upscale restaurant at the Rosewood Hotel Georgia. It has received great press and reviews. It is open for breakfast, lunch and dinner. As I was trying other spots for lunch and dinner when I was in town, I was able to go and enjoy a lovely breakfast on my last morning in town. 801 W. Georgia St.
I enjoyed my lunch at the Botanist restaurant at the Fairmont Pacific Rim Hotel, located at 1038 Canada Place. The menu features local produce and seafood. I had a great halibut entree for lunch. The service was also excellent.
After lunch or dinner, stop downstairs for a great gelato at Bella Gelateria at 1001 W. Cordova St. 
The Blackbird Public House, a fun, casual bar filled with vintage antique photos. 905 Dunsmuir St.   
As you explore Stanley Park, check out the Teahouse of Stanley Park at Ferguson Point which gets great reviews for it food and views.
Granville Island
Visiting Granville Island was by far one of the highlights of my recent trip to Vancouver. In addition to the food offerings at the Public Market, there are a number of restaurants to try as you explore the area.
The Sandbar: Located on the northside of Granville Island, this two level restaurant with both indoor and outdoor seating, has spectacular views of downtown Vancouver. I thought my salmon burger was perfectly done. I highly recommend it. 1535 Johnston Street.
After lunch head downstairs, in the same building, to the Granville Island Gelato & Coffee Cafe. They have some wonderful flavors.  
Granville Island Public Market: Open seven days a week, the Public Market has a number of purveyors selling fruit, fresh produce, baked goods, coffee drinks, seafood, ice cream, spices, oils and vinegars and specialty food items. There is also a farmers market on Thursdays from early June through late September.
Granville Island Brewing: This is a large microbrewery, on Granville Island, that features 10 of their local brews. I thought their Maple Shack Cream Ale was really outstanding. Love the smoothness with a hint of Canadian maple syrup.  
The Liberty Distillery: Located at 1494 Old Bridge Street on Granville Island, this is a local distillery making a line of vodka, gin and whiskey. Started in 2010, it was started making Vancouver's first hand-crafted, premium spirits made from 100% BC organic grain. I thought the Burgundy Trust Whiskey, aged in Burgundy wine barrels, was particularly good and very smooth!
Other Granville Island spots to try include Off the Tracks Espresso Bar & Bistro and A Bread Affair for great pastries. I loved the raspberry vanilla scone made fresh that morning from fresh berries from the Public Market.
Chinatown
Chinatown has a great mix of casual ethnic spots to more high-end dining along with Asian markets and shops. My recommendations include:
Bao Bei Chinese Brasserie: I had a really excellent meal at Bao Bei. Thanks to a close Chicago friend who had eaten there for his recommendation. With great recent press, they feature modern Chinese food with an emphasis on shared plates and creative cocktails. I had some wonderful steamed dumplings made with steamed prawns, scallops, rockfish and chives. The fried rice dish, made with tomatoes and albacore, was also very good as was the tofu with dark cherries. It is very popular and they don't take reservation, so I suggest going early as soon as they open at 5:30 pm. I did and it filled up very quickly. 163 Keefer Street.
The Keefer Bar: This is a fun Chinatown bar with a patio. They feature Asian-inspired cocktails paired with fusion small plates. 135 Keefer St.
There are many other restaurants, cafes and bakeries. I enjoyed The Boss which is a bakery and restaurant at 532-534 Main St. The restaurant in back features a number of rice, noodle, and congee dishes. I really enjoyed my coconut bun from the bakery!
Tea lovers should not miss Ten Ren Tea and Ginseng Co. at 500 Main St. I had been a customer of their store in Chicago's Chinatown for many years until it recently closed after 30 years. They have a great selection of Chinese imported teas. My favorite by far is the jasmine pearls!!
Yaletown
Yaletown was one of my favorite neighborhoods that I explored on my recent trip to the city. Originally the area was the 1886 terminus of the Canadian Pacific Railway. Today it is centered along Mainland and Hamilton streets with shops and restaurants now occupying the historic buildings. It has many restaurants from Japanese, Thai and Mexican.
Blue Water Cafe: At 1095 Hamilton, Blue Water Cafe is known for its seafood. I was very disappointed to find that it was not open for lunch when I was exploring the neighborhood. I will make it a point to have dinner there on my next trip, as the reviews are excellent.
Yaletown Brewing Company: This is a really fun local's hangout offering house-brewed beers, weekly small-batch tastings and casual pub food. I enjoyed the pulled pork sandwich topped off with a tasty slaw. I thought their wheat beer and pear saison were both excellent. Both were light and had a fresh taste. 1111 Mainland St.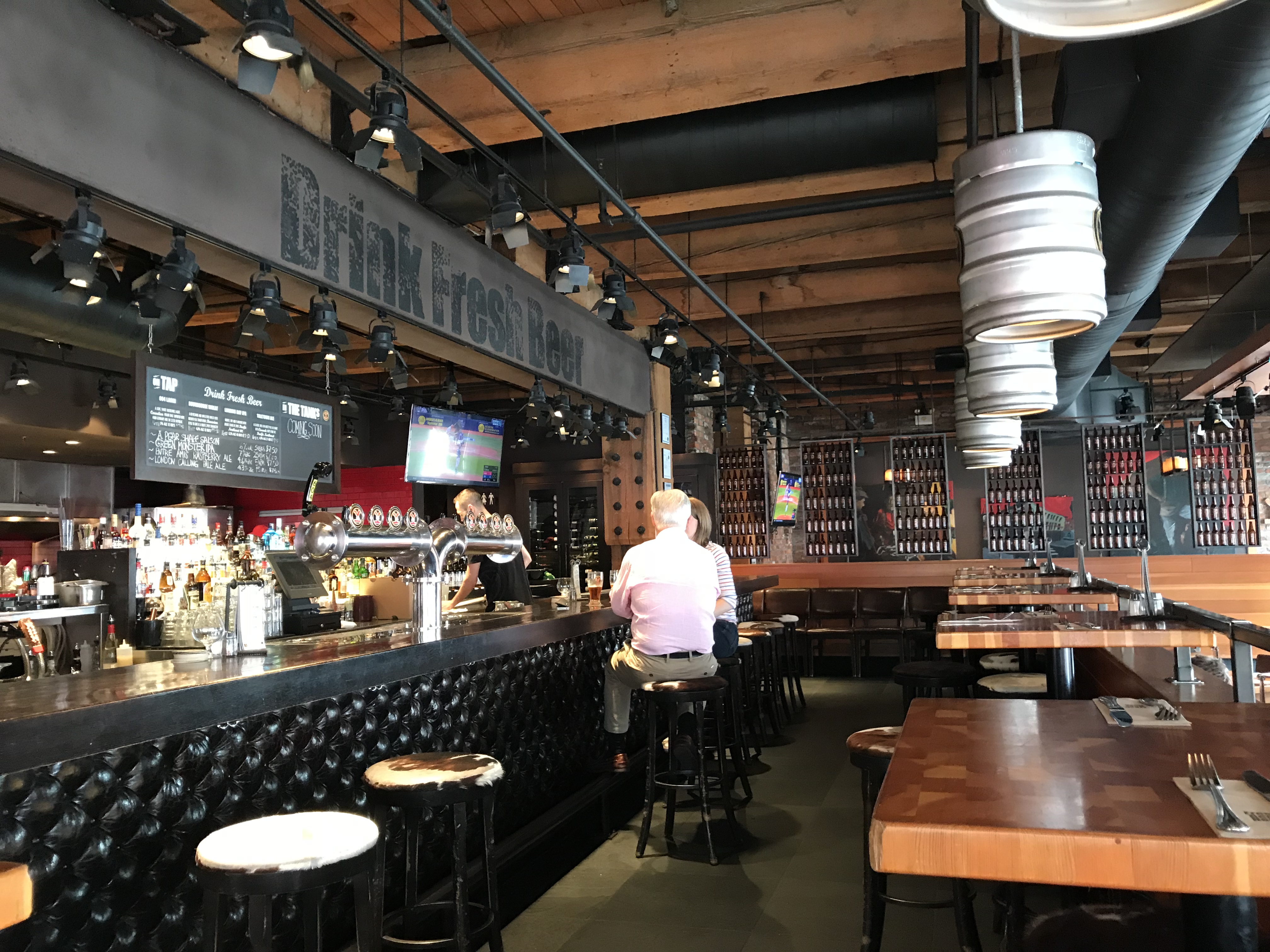 Yaletown Distilling Company: This is a small craft distillery, owned by the Yaletown Brewing Company and found behind the Yaletown Brewing Company, at 1132 Hamilton, that produces the Yaletown Small Batch Craft Vodka, the Yaletown Small Batch BC Gin and the Yaletown Single Malt Canadian Whisky. The whisky was smooth and really excellent! I recommend trying it. They offer tastings and tours at this location.
Cioppino's Mediterranean Grill & Enoteca: At 1133 Hamilton St., this Italian restaurant gets high marks from Wine Spectator Magazine for its food and extensive selection of wines. 
Contemporary Art Gallery: Before or after your meal, stop in at this independent nonprofit public gallery featuring contemporary works by local and international artists. 555 Nelson St.  
Gastown
My next trip, I want to spend time in Gastown. Just east of downtown, Vancouver's oldest neighborhood, has a mix of souvenir shops, indie art galleries and decor stores in Victorian buildings. There are hip cocktail lounges and many  restaurants serving everything from gourmet sandwiches to local seafood.
L'Abattoir, located in the center of Gastown at 217 Carrall St., gets great reviews for its cocktails and Pacific Northwest fare.
Nemesis Coffee at 302 W. Hastings and Timbertrain Coffee Roasters at 311 W. Cordova are on many lists for great coffee.
Railtown
Railtown is immediately east of Gastown in an area called the Downtown Eastside. It is an emerging area with a growing number of cafes, breweries and more. I enjoyed:
Railtown Cafe: I enjoyed stopping in at this cafe, featuring good coffee drinks plus food items. 397 Railway St.
Postmark Brewing / Vancouver Urban Winery: At 55 Dunlevy Ave. in the Settlement Building, Postmark is a craft brewery that makes a number of ales, stouts, IPAs and lagers. It also shares the space with the Vancouver Urban Winery and Scratch Kitchen restaurant. It is a fun space to visit. You can try a number of their wines. On a warm July afternoon I really enjoyed tasting their rosé.  
Richmond
Richmond is a Vancouver suburb located south of the city where the airport is located. Known for its Asian influences, it is home to the International Buddhist Temple, an elaborate complex resembling Beijing's Forbidden City. There are over 200 Asian restaurants in the Golden Village district. It is also home to the the famous Richmond Night Market. I recommend:
Sea Harbour Seafood Restaurant: Located at 8888 River Road, this is a traditional Chinese restaurant featuring dim sum during the day and seafood at night. It is located near the Bridgeport station and a short walk to the Richmond Night Market. I had dinner there before the Night Market. I thought it had an authentic atmosphere, with large family groups and good food.
For a great experience, make sure to head to the Richmond Night Market. It is a weekend event held from mid-May to early October from 7pm to 12am on Friday and Saturday and to 11pm on Sunday. Here you will find a huge number of food vendors selling everything from dim sum and seafood to ice cream and bubble tea. There are also arcade games plus live performances in music, dance and martial arts. It is a great spot for families. I went early as the lines can be long to get in. Plus it allowed me to walk and see everything before it got very crowded. It is free for children under 10 and seniors over 60. Admission is $4.25 Canadian to enter. You can take the SkyTrain to the Bridgeport Station. 8351 River Rd. I stayed over a Friday evening, to make sure that I was able to see it!
Food Tours
There are a number of companies offering local Vancouver food tours:
Vancouver Foodie Tours: For those interested in exploring the food scene in Vancouver, then sign up for one of their walking tours which include Gastronomic Gastown Tour, Best of Downtown and the Granville Island Market Tour. They recently added a World's Best Food Truck Tour as well.
Culinary Walking Tours offers a fun experience with its Vancouver Tours. They feature three, a Gourmet Ice Cream & Pizza Tour, a Railtown Urban Eats Tour and an Olympic Village Food Tour.
I just saw a segment of Samatha Brown's Places to Love. She did a segment on the restaurant, Salmon n' Bannock southeast of Granville Island. It features First Nations' or Native Canadian cuisine with an emphasis on wild game and fish. The food looked great. 1128 W Broadway #7