Buffalo has some great hotel options when you are in town. I think staying north of downtown is best since you can easily get to the emerging neighborhoods with their bars and restaurants, to the art museums, to Frank Lloyd Wright's Martin House and to the beautiful mansions and parks.
I was very pleased to have found the Mansion on Delaware through a New York Times article. It is located at 414 Delaware Ave. I enjoyed my two night stay in a beautifully designed room. The staff was very helpful. They will make dinner reservations for you or drive you to restaurants within a certain radius. Valet parking is also included along with a daily breakfast buffet. They also offer free drinks from 5pm to 7pm in the living room area. They tend to have events and weddings on weekends, so make sure to book early.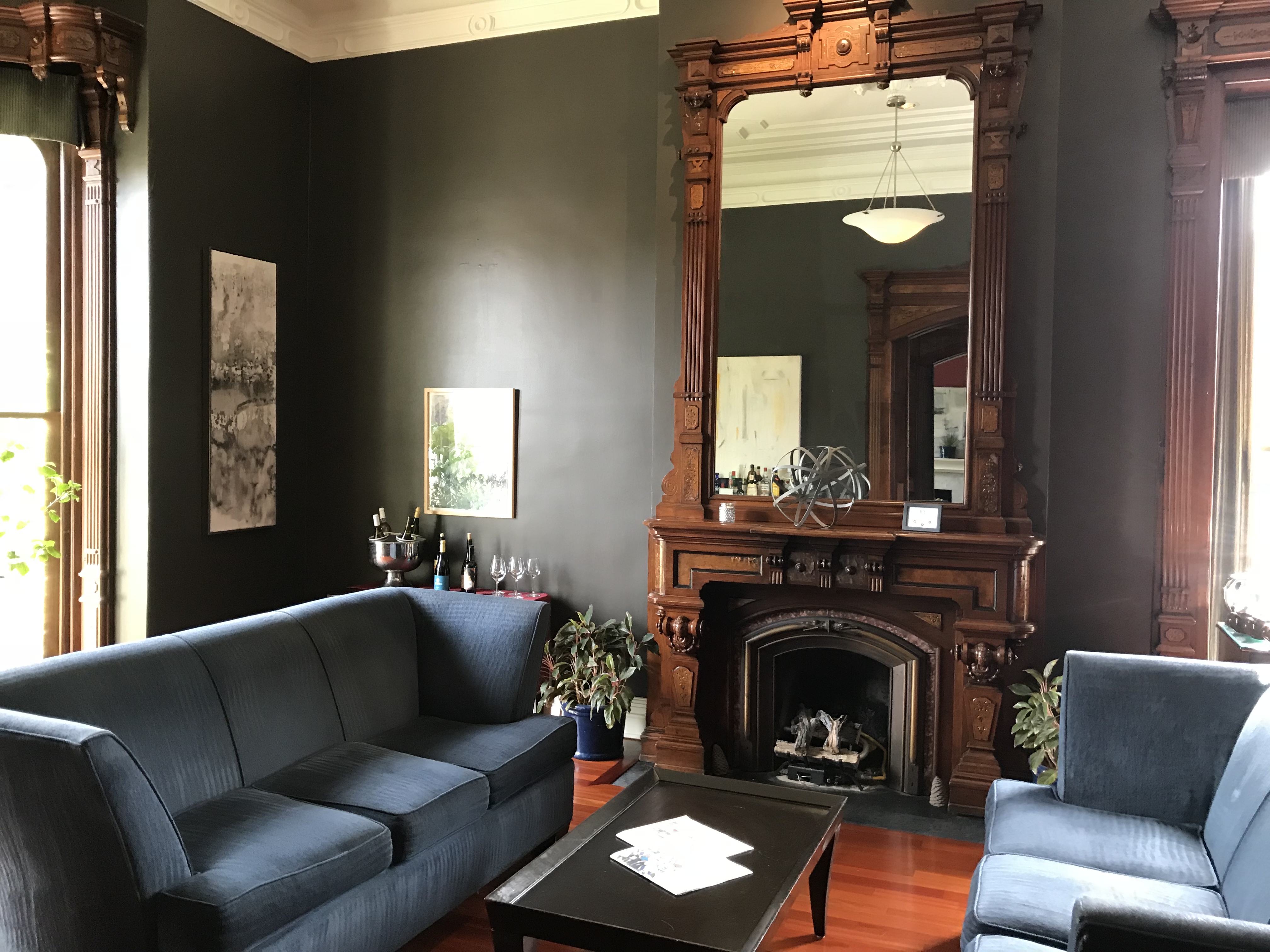 The Curtiss Hotel is located north of downtown at 210 Franklin St. just south of the Mansion on Delaware. It is a luxury boutique property with a restaurant and rooftop bar.
The Hotel Henry Urban Resort Conference Center: This is a new property with 88 guest rooms that has been featured in the New York Times, Architectural Digest and The Huffington Post for its great design. It is located in a large property that was a former mental hospital which opened in 1880. It is listed as a National Historic Landmark. Only one third of the property has been renovated to date. The building was designed by H.H. Richardson and is highlighted by two Romanesque Revival-style towers. It sat vacant for many years until its recent transformation.
Their 100 Acres is a contemporary, ingredient-focused restaurant, bakery, coffeehouse, bar room, and gathering space located on the first floor. I stopped in for a cup of tea with a friend who grew up in Buffalo. There is also a bar/lounge on the second floor. It is convenient to Buffalo's Elmwood Village with boutiques, restaurants, bars and coffee shops and two of the city's top art museums. There are a number of Queen Anne and Victorian style homes in the area as well. Because of its history as a former mental hospital, some people may not enjoy staying there, but it is a lovely property. Rockwell Road & Cleveland Circle.
If you need to be downtown, the Hotel at the Lafayette, a Wyndham Trademark Collection property at 391 Washington looks very good. The building from 1904 has been totally renovated. The Lafayette Brewing Company and the Public Espresso coffee shop are onsite.