From small boutique hotels to beachfront resorts, Puerto Vallarta has many lodging options. My recommendations include:
Nuevo Vallarta is an area north of the airport that I found to be a great place to stay. I visited friends at the Marival Residences as their guest. This is a luxury resort with beautiful apartments and five bars and restaurants to choose from. You can stay there, though many have purchased timeshare weeks. They have one, two, three and four bedroom units. You can stay next to the plunge pools, stay in penthouse units or three bedroom suites along with units overlooking the beach.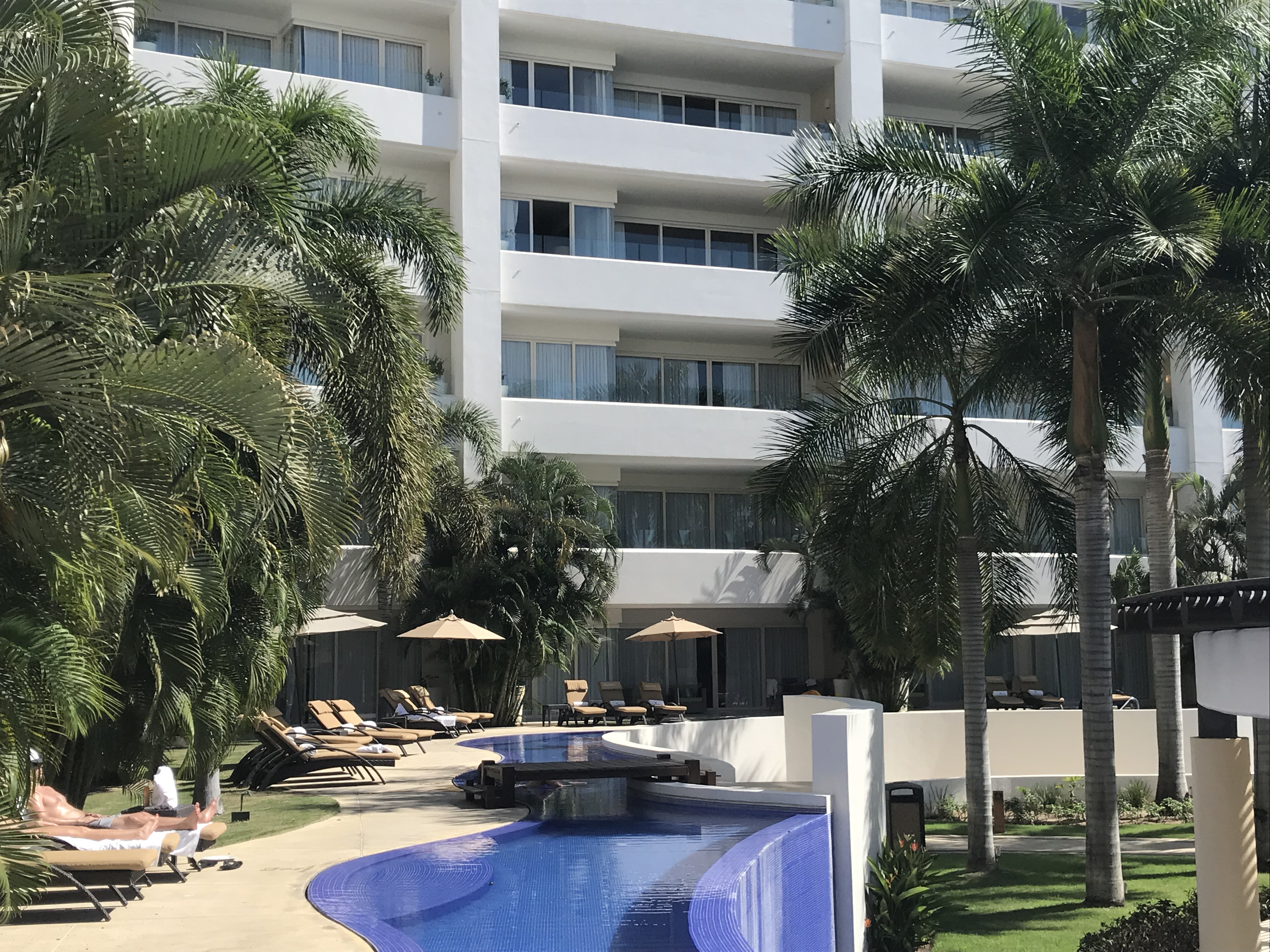 I found the staff and the service to be really outstanding. They were all so friendly and helpful. The food is really excellent with many great menu items to choose from for each meal. You can eat at their new beach club restaurant called Mozza Mare or at their rooftop tapas bar, Insu Sky Bar, with small plates and amazing views. Omaggio is a great spot for breakfast outside.
They also have a fitness center and spa along with several pools.
I highly recommend it as a place to base yourself while in the area. It is convenient to the airport and you can easily arrange transportation to visit Sayulita and other towns to the north and likewise you can easily get to downtown Puerto Vallarta.  
Hacienda San Angel: Located at Calle Miramar 336 in Centro above the Cathedral, this is a stunning boutique hotel in a traditional Mexican style. It has beautiful gardens, fountains, three pools, a rooftop restaurant and a wedding chapel. It has a famous history, as Richard Burton purchased the main villa as a Valentine's Day gift for his wife Susan in 1977. He fell in love with Puerto Vallarta while filming Night of the Iguana in the mid 1960's. Elizabeth Taylor, Burton's ex-wife owned the house nearby. The hotel is owned by Janice Chatterton who has beautifully renovated the property.
Casa Kimberly: Casa Kimberly, is a lovely nine-suite boutique hotel also owned by Janice Chatterton of Hacienda San Angel. Richard Burton and Elizabeth Taylor chose the casitas after they met on the movie set of Cleopatra. Burton fell in love with Puerto Vallarta while filming Night of the Iguana. We toured the property after our dinner at Hacienda San Angel. You can see the home owned by Taylor and the bridge, Puente Del Amor or Bridge of Love, which Burton would cross for romance from his home across the street. It is fun seeing the space as well as many photos of Elizabeth Taylor.  Calle Zaragoza 445.
For a romantic setting south of Puerto Vallarta in Yelapa, a close friend in Chicago recommends Verana, a hillside boutique hotel, eco lodge surrounded by jungle and, therefore, very secluded. You have to take a boat where you hike uphill and your luggage is transferred by mules. The views are stunning. You can go to the spa, take cooking classes, go fishing, hike the jungles, visit waterfalls or explore nearby hidden beaches and remote islands by boat.
To book the best deals in Puerto Vallarta check out the Dunhill Travel Deals.