Door County, Wisconsin is the 4th largest cherry producing region in the country. Cherries have been grown in the area since the late 1800's. In addition, apples are an important crop as well. There are a large number of orchards and farm markets on the peninsula where you can buy fruit, jams, jellies and other local produce. I did a lot of my Christmas shopping while there!
Wood Orchard Market: At 8112 Hwy. 42 in Egg Harbor, this market has a cherry focus with cherry jams and jellies, dried cherries, cherry salsa and cherry strudel. They also carry fresh fruit, fudge, bread, pies and local crafts.
White Cottage Red Door: Located in Fish Creek, this is one of the County's oldest farm markets that features specialty foods like jams, jellies, salsas, snacks, teas, fresh homemade pies and fudge. They also have a wine tasting bar where you can taste complimentary wine samples. 8813 Highway 42.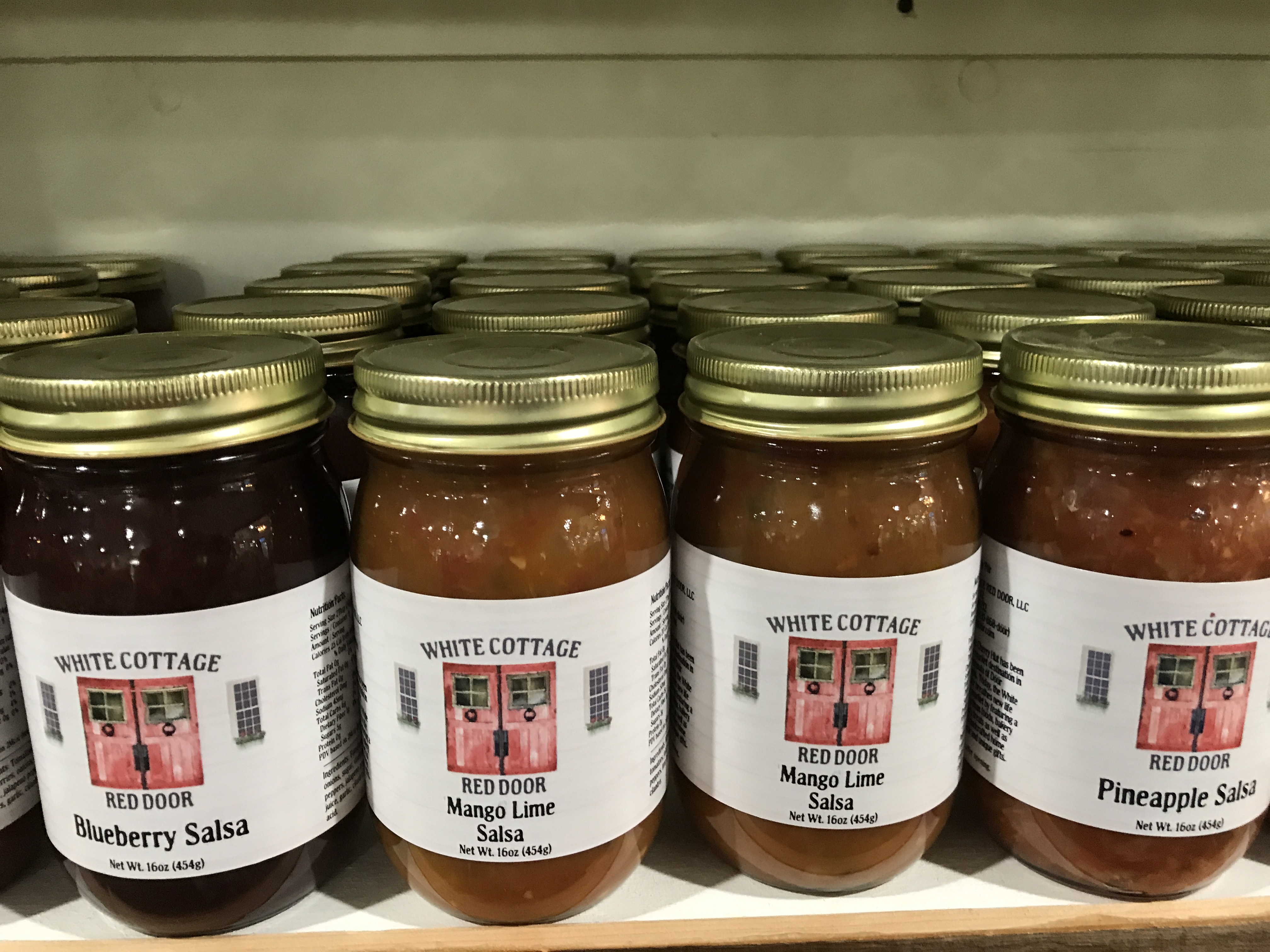 Seaquest Orchards Farm Market: This farm market from 1986 is located two miles north of Sister Bay at 11482 Hwy 42. It is located at Seaquist Orchards which began over 100 years ago. They specialize in fruit and fruit products. You can find fresh fruit, made from scratch bakery items, salsas, pie fillings, dried fruit, gourmet fudge, gifts and more. I am enjoying their no sugar added jam at home of which they have eight varieties from tart cherry to apricot and blueberry.
Wisconsin Cheese Masters: Located at 4692 Rainbow Ridge Ct., South of Egg Harbor, this store carries a large selection of cheeses from blues, cheddars, European styles, goudas and Wisconsin Originals.
Door County Soaps: Next to Wisconsin Cheese Masters, this is a store located at 4690 Rainbow Ridge Ct. in Egg Harbor that carries a line of all natural soaps, lotions and home products. I am enjoying their lavender soap and lotion I bought there.
Lautenbach's Orchard Country Winery & Market: This is a Fish Creek family-owned winery and market offering fresh fruit, specialty foods, cherry gifts and bakery items. 9197 Hwy. 42.
There are a number of local Farmers Markets on different days of the week throughout the summer and fall in most of the towns on the peninsula. The most popular include Baileys Harbor on Sundays, Fish Creek on Wednesdays and Sister Bay on Saturdays and Wednesdays.
Koepsel's Farm Market: Located at 9669 Highway 57 in Baileys Harbor, this is a market where you can buy homemade jams and jellies, fresh seasonal fruits and vegetables, baked goods and Wisconsin cheese plus homemade pickled and canned goods. They also have great chocolate covered cherries, apple butter and pumpkin butter which I am enjoying at home.  
Authentic Island Lavender:  This is a Door County lavender farm that distills its lavender oil and makes over 160 products. 10432 Water Street in Ephraim.