I recently was back in Grand Junction and decided to spend two nights in order explore the downtown and the nearby towns of Fruita, Palisade and Paonia. Once an overlooked destination, it is now getting great press as a must see place to visit and explore. It was my third trip to the area. It has a small, walkable downtown with some fun bars, breweries, music venues, excellent restaurants, local bookstores, art galleries, retailers, street festivals and antique stores to explore. There are also sculptures and murals. I would definitely recommend stopping if you are driving through. There are some excellent hotel options in case you want to stay longer.
Where to Eat in Grand Junction
Bin 707 Foodbar: I had a wonderful lunch at this local farm-to-table restaurant at 225 N. 5th St. With a fresh, seasonal menu I had a really great gazpacho, salad and probably the best peach pie I have ever had. They also opened Tacoparty at 126 S. 5th. It looks like a fun spot with a very creative menu that features locally sourced ingredients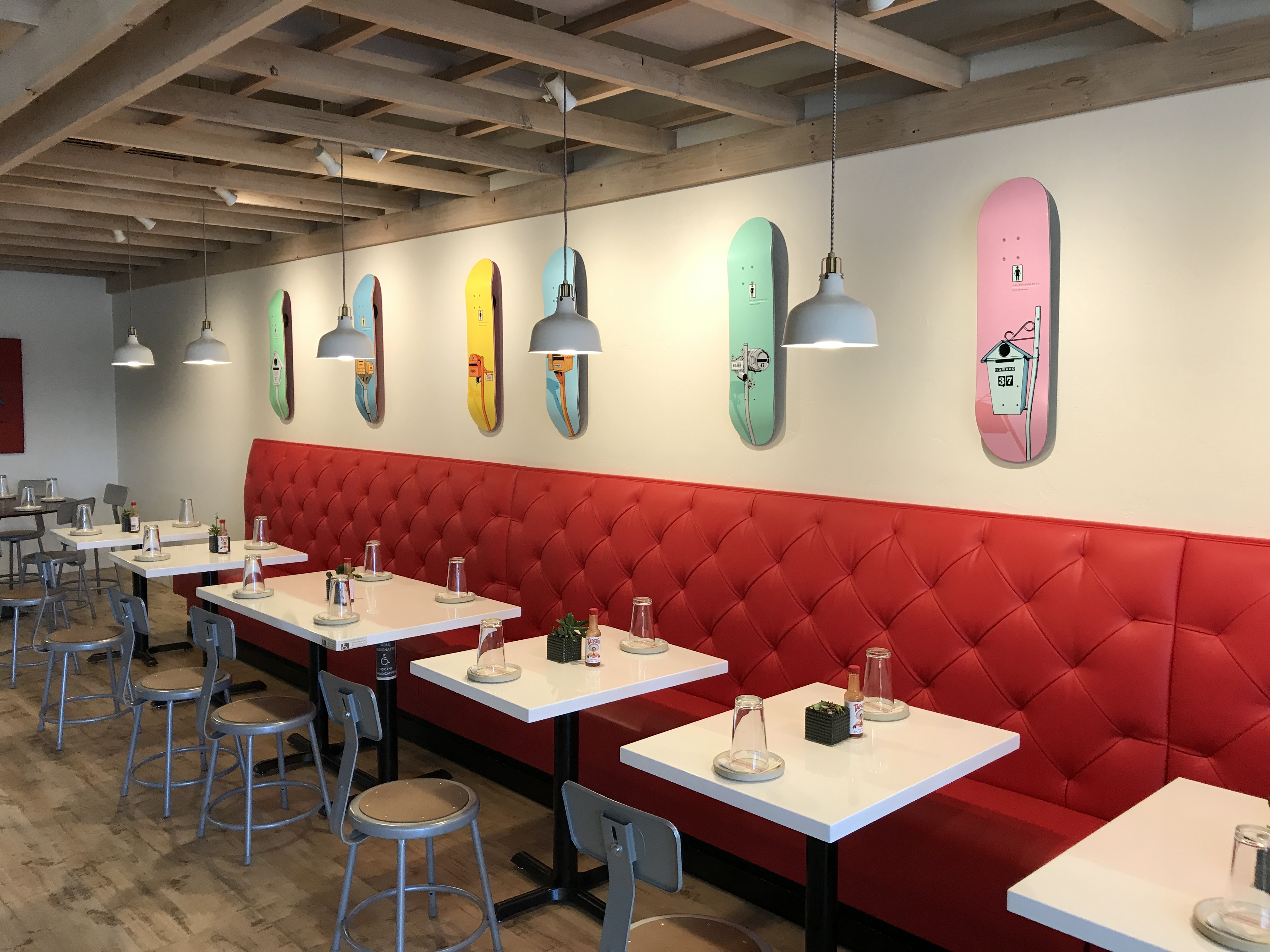 Main Street Bagels: After I landed at the airport, I immediately headed downtown for lunch at this local artisan bakery and cafe. I enjoyed a great lox and bagel sandwich.
Devil's Kitchen: This rooftop restaurant and bar is located on the top floor of the contemporary Hotel Maverick which is just north of downtown. With lovely views, it has a creative menu, great service along with both indoor and outdoor patio seating. I enjoyed my dinner of the beet salad and hoisin duck tostada.  840 Kennedy Ave. 
After reading that Kiln Coffee Bar was a great new spot for coffee, I made a point to stop in for a morning latte at 326 Main St. I enjoyed it and the friendly staff.
Another coffee shop that I enjoyed was Mountain Air Roasters. They roast their coffee onsite with the beans coming from over a dozen countries around the worls. 126 N 7th St.
For ice cream, I recommend Gelato Junction at 449 Main St. They have a huge number of flavors of handmade Italian gelato and ice cream along with truffles, old fashioned malts, soups and sandwiches. I had to try the Palisade peach.
A local friend loves Cafe Sol at 410 Main St. for  healthy, organic, gluten–free and vegetarian items in a colorful space. I also read that Dream Cafe is great for its all day breakfast and lunch menu. 314 Main St. Nearby at 336 Main St. is The Goat and Clover Tavern. I walked by this tavern, which has a British and Irish vibe, that serves traditional dishes including brunch. I am excited to try it when I am back in town. 
I also read that Randy's Southside Diner, with three area locations, is a fun breakfast spot as well with a classic diner vibe.
Where to Drink in Grand Junction
Grand Junction has number of craft breweries and bars. 
Check out Rockslide Brewery and Restaurant which looks like a fun spot for beer and casual food at 401 Main St. They have been one of the best micro-breweries in town for over 25 years. They make a number of ales, wheat beers, stouts and porters.
Also downtown is the Ramblebine Brewing Company, a new taproom featuring a dozen beers including seasonal sours, farmhouse ales, IPAs, saisons and blondes. 457 Colorado Ave.
Handlebar Tap House: Located near the local bike trails, this a popular spot for craft beer and burgers loved by local cyclists. 417 Monument Rd #1.
Blue Moon Bar & Grille: This is a casual bar and restaurant with cocktails, beer and wine and a menu of American comfort food.
Quincy Bar: Located at 609 Main, Quincy Bar looks like a fun dive bar for drinks, music, dancing and karaoke that opened in 1913.
The Palisade, CO based winery, Carlson Vineyards, which I have visited in the past, has a tasting room in downtown Grand Junction at 545 Main St. Just like at the winery, you can try their reds, whites, rosé and fruit wines.
What to Do in Grand Junction
Downtown Grand Junction has a Creative District with murals, sculptures and art galleries. 
The Avalon Theatre: Built in 1923, this downtown venue hosts many performances from music, theater, dance and films. It celebrated its 100 year anniversary in 2023.
When exploring in downtown, make sure to visit Out West Books. This is an independent, local bookstore located at 533 Main St.
There is a Friday Gallery Walk, where you can visit numerous venues and galleries downtown.  
Other cultural instittutions include the High Desert Opera, "a professional non-profit musical theater and opera company dedicated to bringing quality, fully-staged productions to the Grand Junction area and Western Colorado."  For music, the Grand Junction Symphony Orchestra offers classical, pops and chamber music performances from September through April at several venues in town.
Historic Homes on 7th: The North Seventh Street Historic Residential District is a 14.4 acres historic district which was listed on the National Register of Historic Places in 1984. It includes 27 historic homes.
Museum of the West: This downtown museum at 462 Ute Ave. tells the history of the area from mining to pottery.
There are many outdoor activities in the surrounding area including biking, hiking, camping, horseback riding, river rafting and fly fishing.
Colorado National Monument:  This is a nearby National Park Service unit with "sheer-walled canyons cut deep into sandstone and granite–gneiss–schist rock formations. This is an area of desert land high on the Colorado Plateau, with pinyon and juniper forests on the plateau. The park hosts a wide range of wildlife, including red-tailed hawks, golden eagles, ravens, jays, desert bighorn sheep, and coyotes. Activities include hiking, horseback riding, road bicycling, and scenic drives; a visitor center on the west side contains a natural history museum and gift shop. There are scenic views from trails, Rim Rock Drive, which winds along the plateau, and the campground. Nearby are the Book Cliffs and the largest flat-topped mountain in the world, the Grand Mesa."
Discover the 2nd largest concentration of arches outside of Arches National Park at Rattlesnake Arches in McInnis Canyons National Conservation Area. Located just outside of Grand Junction, Rattlesnake Arches boasts some spectacular rock formations.
With a full schedule of visiting Grand Junction, Fruita, Palisade and Paonia, I was unable to visit the park, but I would like to do so in the future. The photos I have seen are beautiful.
Wine lovers will love the many wineries in the Grand Valley AVA with tasting rooms that have spectacular views of the nearby mountains. The best are located in nearby Palisade and Paonia and Hotchkiss.
Where to Stay in Grand Junction
I recommend the Tru Hotel by Hilton Grand Junction Downtown. This is a  contemporary hotel downtown that is an easy walk to the downtown restaurants, bars and shops. I enjoyed my room and the friendly staff. They do include a complimentary breakfast buffet and there is free parking in the outside lot. It was my first Tru hotel brand experience. I would definitely stay there or in another one of their more than 250 other locations throughout the US.
Another great choice is the boutique Hotel Maverick, with 60 rooms. It is located a short drive from downtown near the campus of Colorado Mesa University/CMU. It is a contemporary property with Betty's Gourmet Coffee on the first floor and Devil's Kitchen rooftop restaurant and bar. The views from Devil's Kitchen are really beautiful. I enjoyed my dinner there on my first night in town. 840 Kennedy Ave.