I have been going to Aspen for almost 40 years! I now spend between four to six weeks there a year, so finding the best restaurants is very important to me. Below are my top recommendations on where to eat in Aspen. I also enjoy trying many new restaurants in nearby Snowmass Village and my favorites down valley in Basalt and Carbondale. I have included the links to that information as well. During the ski season you will find many excellent on-mountain spots in both Aspen and Snowmass.
I have included a number of casual spots as well as fine dining restaurants. In the last two years I have noticed that the nicer restaurants have been increasing  their prices by a large amount.  You can find some less expensive options on their menus or go for happy hour or après-ski when you can find food and drink specials. Another option is to go to the more casual local's spots, head to Snowmass Village or drive down valley to Basalt, Willits or Carbondale.
Not to be missed is the White House Tavern at 302 E. Hopkins. Located in an old house from 1883, with a warm decor and great art, this gastropub has an extensive cocktail and wine list plus great burgers and excellent salads at reasonable prices. They now have a large outdoor patio for summer dining.
I also like Spring Cafe at 632 E. Hopkins. It has a large selection of vegetarian/organic items including juices, smoothies, salads, sandwiches and other entrees. The veggie burger is really good and I enjoyed a good kale salad and tasty gazpacho on my last visit. They also have coffee drinks, pastries and cookies.
One of my favorite restaurants of the past in Aspen was Mogador. Barclay Dodge, the former owner, is now back in town and has opened BOSQ at 312 S. Mill. It has a lovely outdoor deck for summer dining as well as a sleek, contemporary dining room. Featuring "new world cuisine", the menu features a number of creative appetizers, salads, entrees and sides. I enjoyed lunch outdoors on a beautiful August day. The gazpacho, heirloom tomato salad with burrata plus a halibut ceviche were very well prepared. I will be back in ski season!
In September, 2023 Colorado became the sixth state in the US to Michelin Guide recognition. One of the first five restaurants in the state, and the only one in a Colorado ski resort town, to receive a Michelin Star was BOSQ. This is a big honor and I am very excited for them.
Around the corner is a great new coffee shop Unravel Coffee + Bar featuring Ethopian coffee. It is the perfect spot to grab a coffee, pastry, croissant and other sandwiches, quiche and a salad. They have four other locations throughout Colorado. I enjoyed the friendly staff.  315 E. Hyman Ave.
Ellina Restaurant + Bar: Located at 430 E. Hyman, Ellina is serves contemporary Italian-American cuisine paired with an award winning wine cellar. I aways enjoy the food and was just back with friends where I had an excellent halibut entree. They now have outdoor seating upstairs on the Mall as well as on the patio downstairs.
Creperie Du Village from 2011 is now French Alpine Bistro – Creperie Du Village. This is a warm, casual spot located at 400 E. Hopkins. There is a small outdoor patio. Inside, the attractive, eclectic decor is warm, romantic and inviting, thus the perfect spot for eating a traditional French crepe, fondue or raclette on a snowy night. The decor has been recently updated and is really stunning. I recently went back for lunch with  a local friend and really enjoyed the experience!
I recently went to Mi Chola for the first time. This is a casual restaurant serving Mexican food and classic cocktails. It is a very hip and colorful space. It has an extensive menu of appetizers, soups, salads, burritos, enchiladas, tacos and main courses. Prices are very reasonable. I thought the tacos al pastor with rice and beens were excellent and a great choice. My friends enjoyed their several shared dishes as well. They are also open for lunch. As it is very popular, I suggest making a reservation in advance. 411 E. Main St.
Caribou Club: At 411 E. Hopkins (members only), this hot spot is expensive but has wonderful food and wines in a perfect setting. See if your concierge can arrange for you to dine there. As a member, I try to go every time I am in town. The lounge and main dining room are beautifully decorated. For a more private experience, ask to dine in the wine cellar.
Campo de Fiori Ristorante: Great Italian food at 205 S. Mill in Aspen. They have outdoor dining in the Summer.  I enjoyed the branzino entrée on a recent trip and then on my last visit the linguine Positano pasta dish with shrimp sautéed with white wine, garlic, cherry tomatoes, arugula and basil.
J-Bar/Prospect Restaurant: The J-Bar or Jerome Bar is the iconic Western saloon which has been there since the Jerome Hotel opened in the 1880's. It is the oldest bar in the state of Colorado.  I just went back for lunch with friends and loved the hamburger! I also had my first "Aspen Crud" cocktail made with vanilla ice cream and bourbon which has been a classic since Prohibition. I just went back and had it again!
I had a very good lunch experience on my first visit to the Prospect restaurant. I really loved the meatloaf on a cold, snowy day in Aspen. The scallop entrée was really excellent on a recent visit for dinner. I enjoyed my first breakfast in the same space at the original Jerome restaurant more than 35 years ago when it looked like it is right out of the wild, wild west. It is now an Auberge Resort and is located at 330 E. Main St.
The Jerome recently opened a sleek, contemporary, modern speakeasy, Bad Harriet. It was named in honor of the wife of the original hotel owner Jerome B. Wheeler. It is a great spot to grab a cocktail before your dinner in town. It is located in the building next door that was the former Aspen Times. I highly recommend it. They do offer some food items and also pass some complementary passed small bites.
In September, 2021, the hotel added a new coffee shop off the lobby in the former tea room called Felix Roasting Co. They have three other locations in NYC in NoMad, NoHo and SoHo. Located in a beautifully decorated space, they feature coffee and tea drinks, pastries, food items like avocado toast. It is well worth the visit, despite somewhat high prices. The design, by Ken Fulk,  includes beautiful paintings, antique floral-patterned wallpaper — based on a coffee flower, Murano glass chandeliers, tufted velvet and leather banquette seating and a gold stamped-tin ceiling.
During the summer months, the Jerome also has The Garden, a lovely patio bar and restaurant, located in its lush outdoor courtyard.
Located in the former BB's space at 525 E. Cooper #201, Betula Aspen opened in late December, 2018. It is a warm and inviting space that features French Pan-American cuisine. I was very impressed with my first meal there. The burrata and roasted acorn squash appetizer was really great and the pan-seared jumbo scallops with cauliflower and capers was a great choice for my entree. My friend loved the tuna tacos. I will definitely go back again!
The St. Regis also has a nice restaurant, the Velvet Buck, for Colorado-centric cuisine. Their  bar and lounge, called Mountain Social Bar & Lounge has a great mural that is reminiscent of Maxfield Parrish's famous mural at their King Cole Bar in NYC.
Pine Creek Cookhouse: Castle Creek Road in Ashcroft. Pine Creek is one of my favorite places for lunch with amazing views and is one of my favorite spots in the US. During the winter you can snowshoe, cross country ski or take the sleigh from the Ashcroft parking area. In the summer you can drive to the restaurant or ride horses or bike. It is a perfect place after hiking the Cathedral or American Lake trails. It is very popular, so make sure to book your reservation beforehand. I love the Cookhouse salad with salmon or chicken which has a perfect maple balsamic dressing. I was just back and loved the experience as always!!
Woody Creek Tavern: 2858 Upper River Road in Woody Creek.  This is a classic, rustic tavern with great Mexican and American food. It is a real locals hangout! They have a perfect patio for summer dining as well. I have to go every summer when I am in town. It is under new ownership and has reopened after a renovation. I just went back for the first time since it reopened and was pleased to see that nothing, including the interior, had changed!! It is very popular, so I would go early for dinner and right as it opens for lunch,
Next door is Aspen Outfitting Company, where you can grab coffee, a donut, ice cream and breakfast burriots plus other snacks and drinks. Here you can also sign up for fly fishing, river rafting and other activities.
Another Aspen classic and oldest restaurant is the Red Onion which opened in 1892. It is a fun bar and restaurant that serves salads, burgers, sandwiches and more. I went back recently after several years and really enjoyed my lunch. They offer daily lunch specials as well. It is currently closed for remodeling and has announced plans to reopen in 2023.
Cache Cache: 205 S. Mill. Great French cuisine in a warm bistro setting. The bar menu is a great alternative. The bar has been remodeled and has a fun, contemporary vibe.
Plato's Restaurant: Aspen Meadows Resort, 845 Meadows Road. A great spot in the summer before or after a Music Festival or Aspen Institute event. Book the outside deck if you can. I was just back with local friends and enjoyed the food, service and outstanding views.
Casa Tua: Sleek Italian restaurant with excellent food and service. It has a large patio for al fresco dining in the summer months. 403 S. Galena.
Two other good spots include The Wild Fig and Ajax Tavern. Ajax Tavern, with its great outdoor terrace, is the casual dining restaurant of The Little Nell hotel. Don't miss their famous truffle fries!!  I also just tried the yummy tomato soup and grilled cheese sandwich for lunch
I have been back twice to Wild Fig and loved the warm bistro atmosphere and great food. I recommend the fig salad, the fig glazed pork chop and the mussels. They are in the process of moving to a new space next door in the fall of 2023. I will keep you updated.
Taking over the former Wild Fig space at 315 E. Hyman Ave. is Le Bateau. It is a very attractive space with a menu of French and Mediterranean-inspired dishes. I went in August after it opened in June, 2023.  I was very impressed with the food. I loved the stone fruit salad with arugula, whipped chevre, candied walnuts and calabrian honey along with the diver scallops made it sweet corn risotto, girolles, asparagus and peach "aigre-doux".  The chocolate cake with a whipped hazelnut cream was the best!! I look forward to going back again.
Owned by the same group as The Wild Fig, The Monarch, Steakhouse No. 316 and the Woody Creek Tavern is CP Burger at 433 E. Durant. It had been on my list for a few years, so made a point to check out this casual spot. I had an excellent tuna burger made with a tuna steak. kale, a miso vinaigrette and a wasabi aioli along with sweet potato fries. They also have many other burgers,  hot dogs, salads and milk shakes.  It is a perfect place for families while in town as there is a kids' menu.
Also at the Little Nell is their dining room Element 47, which is a good spot for breakfast, lunch and dinner with it's sleek design. I have enjoyed eating there twice.
Poppycock's Cafe is a casual and local's favorite for breakfast at 665 E. Cooper. I always love going. I was just back again on my recent trip and loved the smoked salmon eggs benedict!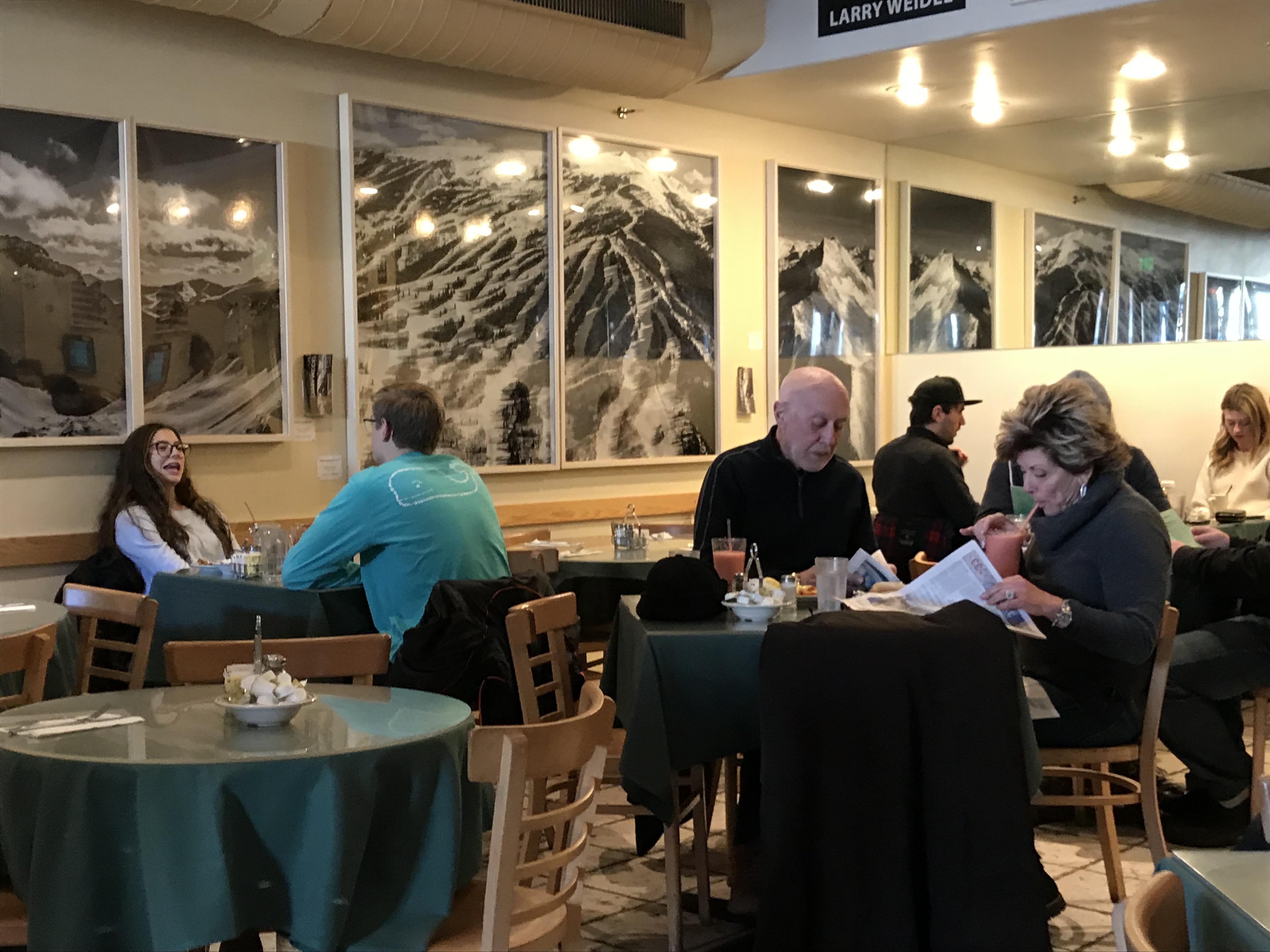 Another favorite of locals for many years is the Hickory House at 730 W. Main. Open for breakfast, lunch and dinner, they are known for their burgers, ribs and BBQ. With an extensive breakfast menu, I went back after many years for brunch and enjoyed the experience. It is a fun, casual spot that you will enjoy when in town.
The big food event of the year is the Food & Wine Classic in Aspen. It is one of the premier culinary and wine events of its kind in the country. The three-day weekend in mid-June involves cooking demonstrations and wine and food tastings. Seminars led by wine and food superstars provide a world-class experience. Tickets sell fast and are very expensive.
The former Lulu's is now Steak House No. 316 which is at 316 E. Hopkins. The food, service and atmosphere were excellent. It is perfect on a cold snowy night. It has steak plus many seafood options as well. The Colorado striped bass with Himalayan red rice, pine nuts, horseradish creme fraiche and micro beet salad was a great choice. They recently opened a second restaurant in downtown Boulder.
Aspen Brewing Company: A well-known craft brewery in Aspen. The brewery is located at 404 Aspen Airport Business Center across Highway 82 from the Aspen Airport. Here you can tour the facility on Friday and Saturday afternoons from 2 to 6 pm. More beer is available to taste in downtown Aspen at their expanded Aspen Tap at 121 S. Galena St. with great outdoor seating. They also have a complete gastropub food menu.  I thought their This Season's Blonde, which is an English style pale ale, was excellent. They describe it as having  a wheat and honey malt flavor paired with bright floral and citrus hop flavors. They are known for an IPA, red ale, a brown ale and a porter, with seasonals including a Summer pilsner, an Imperial Red in the Fall, a Winter stout and Springtime Belgian Saison. Their Brett Barrel Saison, received the silver medal at the Great American Beer Festival.
French Pastry Cafe & More (formerly Franck Thirion French Pastry & Cafe) is at 111G Aspen Airport Business Center. This is a fun, local's spot serving coffee, great croissants and French pastries plus a large selection of salads and sandwiches. Breakfast is also served.  This is a great new find away from downtown! I was just back and had an excellent caprese sandwich on a French baguette with tomato, pesto and mozzarella along with a perfect raspberry tart!  I also bought a chocolate and  an almond croissant for breakfast.
Just around the corner at 305F is Mawa's Kitchen open for breakfast, lunch and brunch on weekends. The food is really excellent and fresh, with many vegetarian and vegan options. I loved the tartine with goat cheese, prosciutto and fresh grilled peaches. The macaroons were equally good. I  went back for Sunday brunch and thought the smoked salmon benedict was the perfect choice!  Was back again and loved the farm omelette. It is definitely not a touristy destination due to its location away from downtown. Chef and owner Mawa McQueen was a James Beard Semifinalist in 2022 for Best Chef Mountain. In the summer, I always love sitting on the outdoor patio.
Two other spots for you to try near Mawa's and French Pastry & More are Louis Swiss Bakery at 400 Aspen Airport Business Center and Francesca's Pasta Market & Empanadas. Louis Swiss Bakery sells their artisan breads, croissants, bagels, muffins, cookies and pies long with coffee drinks and sandwiches.
Francesca's Pasta Market & Empanadas sells homemade pasta, desserts and Argentinian empanadas in eleven flavors.
Meat & Cheese Restaurant and Farm Shop ihas a great selection of gourmet food items, meats and cheeses. There is a casual cafe serving soups, salads and sandwiches. Everything is so fresh. I thought the brisket sandwich was really wonderful and highly recommend that you try it!!!  The rotisserie chicken board is also good. I do prefer it for lunch over dinner. Make sure to go downstairs to Hooch, which is their fun cocktail lounge featuring craft cocktails. The Old Fashioned was excellent! 319 E. Hopkins.
Next door is the Bear Den Aspen – Café & Bakery which opened in February, 2020 in a charming old house on the corner. Serving breakfast, lunch and dinner, they feature local, seasonal and organic food along with their homemade pastries, breads and pastas.  They also serve coffee drinks. I stopped in for a latte and tasty macaron.  On my last trip, I enjoyed dinner on the outside patio. I really enjoyed the mussels and an excellent salad.  It is a great new addition to downtown. 301 E. Hopkins.
On the north side of Meat and Cheese is Brunellecshi's Gourmet Pizza, Pastas & Salads. When Meat and Cheese is crowded, this local Italian favorite is a great place to try. I liked the look of the menu, so I went and really liked the Capresse Panino sandwich with buffalo mozzarella, tomatoes, prosciutto with a fresh basil pesto and a balsamic reduction. They have indoor seating upstairs and patio seating on the street. 205 S. Mill St.
Meat and Cheese took over the former Of Grape & Grain space which had been there for many years. They have now moved around the corner to 111 S Monarch. This is the best wine shop in town and also has a good selection of beer and liquor.
Aspen Art Museum – Rooftop Café: Located on the top floor of the Aspen Art Museum, this is a fun spot for coffee, lunch or après-ski while visiting the museum. There is no admission charge for the museum, so you can eat there without having to pay. They also host local music and cultural events throughout the year.
A favorite for sushi is the hip, Matsuhisa Aspen.  In the basement at 303 E. Main, they have an extensive menu of entrees, rolls, sushi and sashimi by chef Nobu Matsushisa.  They also have a Omakase tasting menu. It is a very popular spot, so make sure to make a reservation before you go. They also have the more casual Matsuhisa Aspen Upstairs. They also have locations in Denver, Vail and Beverly Hills as well as several in Europe.
For sushi I also like Kenichi at 533 E. Hopkins. I have not been in a while, so I need to go back on my next trip. The recently opened a second location in the Base Village in Snowmass.
Another great addition to the dining scene in Aspen is the opening of Home Team BBQ. This is a local outpost of the Charleston, SC based BBQ chain. It is found in Inn at Aspen at the base of Buttermilk, which is located at 38750 CO Hwy. 82. It is a great spot if you don't want to deal with parking or crowds in town. They feature a number of sandwiches, tacos and combination platters. I had a really good smoked brisket meatloaf entree.
After landing on my recent flight from Chicago, I headed over for lunch on their large outdoor patio. I had a really tasty pulled pork sandwich. It is a perfect spot on a beautiful day overlooking Buttermilk Mountain.
Clark's Aspen is the first venture outside of Texas for this Austin, TX based oyster bar and seafood restaurant. It is located in the former Little Annie's which closed in 2016.  Open for lunch and dinner, Clark's features oysters, mussels, crab cakes, lobster rolls, chowders and a number of fish entrees. I enjoyed the crispy red snapper with stone ground grits and a perfect peach crumble for dessert. 517 E. Hyman.
The former Justice Snow's, in first floor of the historic Wheeler Opera House, closed at the end of the 2018 ski season. It has been replaced by a fun gastropub, Aspen Public House where they feature a daily brunch and nightly dinner. I enjoyed a very good brunch with local friends. It is under the same ownership as Capitol Creek Brewery in down valley Willits, and features some of their beers on tap. 328 E. Hyman.
At 614 E. Cooper, across the courtyard from Mezzaluna, is Alpina.  Formerly called the Local Coffee House, they rebranded themselves in August, 2023 to include coffee drinks,  pastries and breakfast items along with an expanded lunch and brunch menu. I liked the new space and a tasty almond croissant. They also have outdoor patio seating. It is next to Here House, a private club, which offers events, wine tastings and more.
I recently went back to Mezzaluna, known for its Italian cuisine and wood-fired pizzas, after an absence of several years. It is still a very good dining option and has been popular since it opened in 1987. I enjoyed my dinner as did my local friend. I also enjoyed the service and atmosphere. 624 E. Cooper Ave.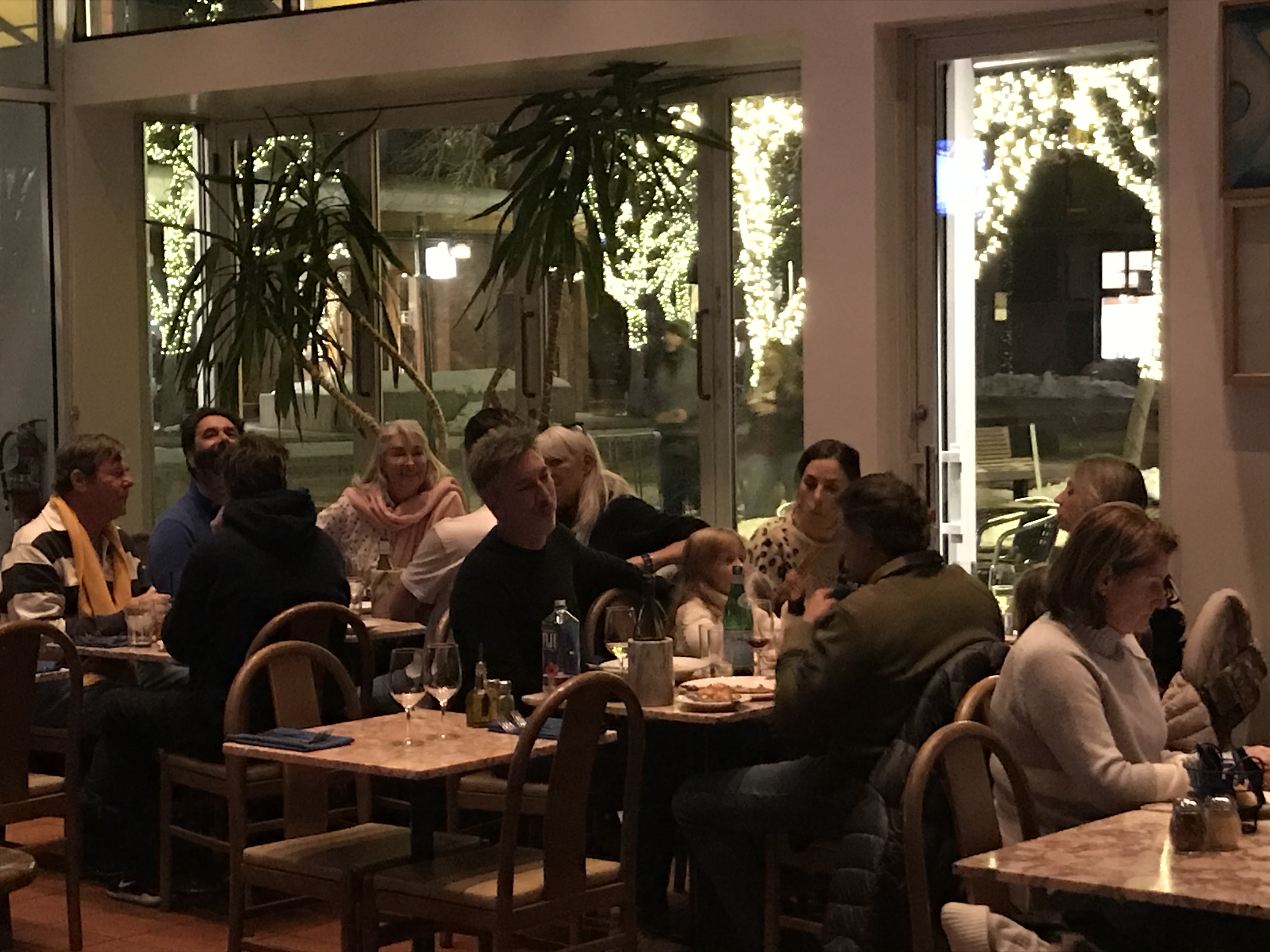 Another great new spot in downtown is Sant Ambroeus. In addition to now being in Aspen, it has locations in NYC, Palm Beach, FL, East Hampton, NY and Milan, Italy where the first store opened in 1935. They feature coffee drinks, wine, cocktails, beautiful pastries along with breakfast and lunch dishes.  I enjoyed my first visit and the beautiful space with its old-world flair. They also have outdoor patio seating
I recently found Jour De Fête, a casual cafe, for coffee, breakfast and lunch. It is next to City Market at 710 E Durant.  I enjoyed a great latte. I just went back and had a perfect omelette for Sunday brunch! I was just back in order to try the pork roll sandwich, called the Jersey roll. It is a favorite of mine from my annual summer trips to the Jersey Shore. It is has been there since 1988. They now have outdoor patio seating.
Other fun spots to try include Jing Aspen for Asian fusion cuisine including dim sum, sushi and sashimi.  I thought the miso salmon was excellent. 413 E. Main.  Another fun, casual spot for Chinese food and dim sum is Little Ollies at 308 S. Hunter. It is next door to the very casual, Zane's Tavern for pub food and spirits.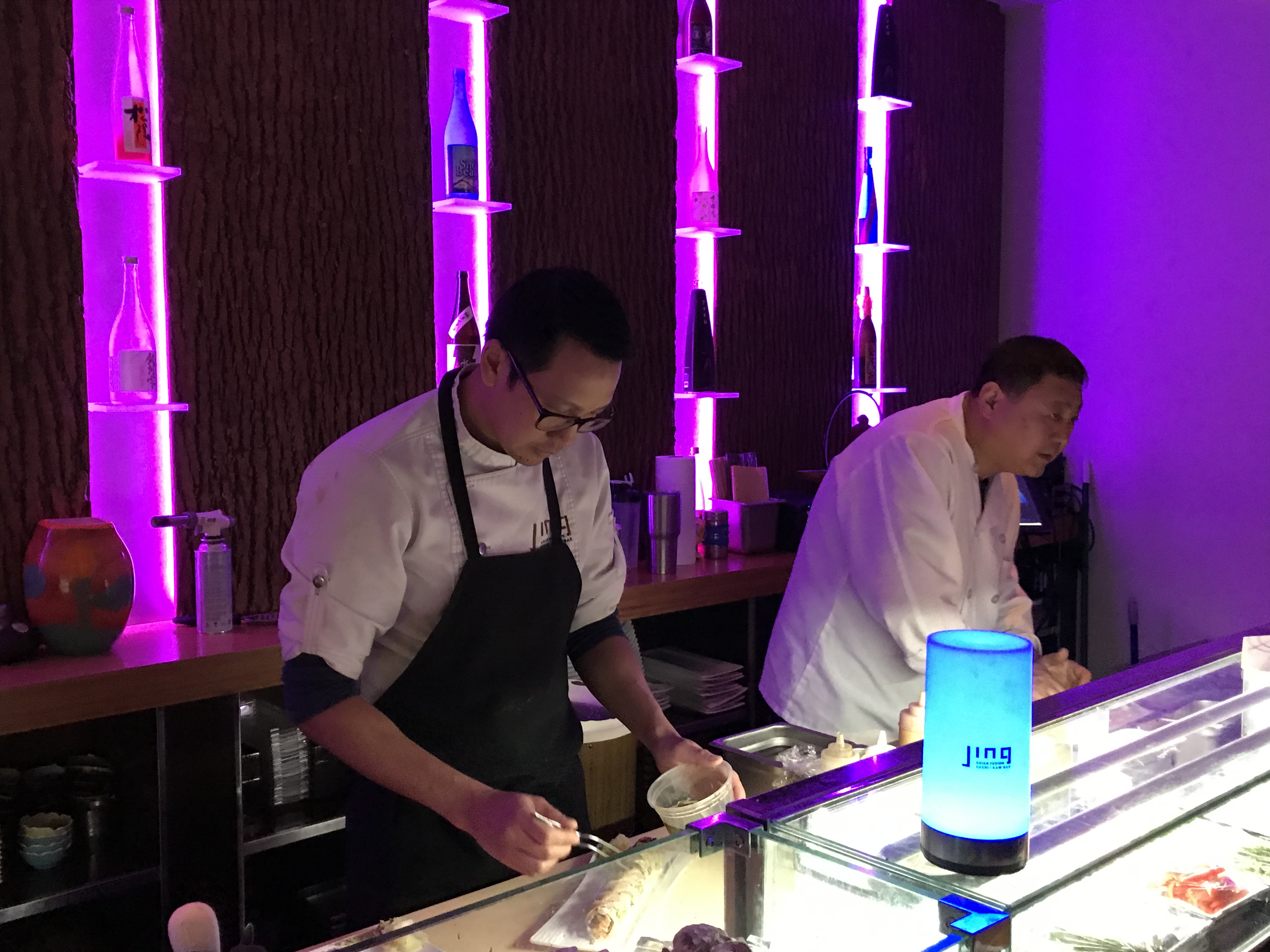 I just went to CHICA at 501 E. Dean St. for brunch on a perfect August day.  They feature Latin American cuisine by well-known chef Lorena Garcia. The atmosphere was much more relaxed than during the winter where there were long lines to get in. I really enjoyed my smoked salmon bagel sandwich and a yummy tres leches cake.  Our server Hector was delightful!! They have a lovely outdoor patio. Make sure to check their website for the dates they are open, as in 2023 they were closed for the summer.
Below CHICA and the Silver Queen Gondola, is Gorsuch Ski Cafe. They have a menu of of coffee and tea drinks along with breakfast and lunch items. I have enjoyed going several times with friends.
Across the patio is ASPENX Café.  Located in a retail store and ski shop, here you can find a counter focusing on gourmet coffee and tea, baked goods, Ladurée macarons, breakfast items, ice cream, and beer and wine. I went for the first time and enjoyed a great latte. The pastries and macarons look excellent. They are planning on opening a second location in Base Village in Snowmass.
Nearby is Aspen Country by Harper + Hudson. This is a store featuring home accessories, clothing and other locally made gifts. In the outside courtyard they have opened the casual Aspen County for coffee, cocktails, along with sandwiches, burgers, salads and breakfast items. I went to their other location, Tavern Kitchen and Bar in Snowmass and loved the pulled pork sandwich. So I ordered it again in Aspen. 409 S. Hunter St.
I also recommend The Crepe Shack by Mawa's Kitchen at 401 E. Cooper. As with their Snowmass location, they have a large menu of breakfast crepes, sandwiches and pastries along with savory and sweet crepes, coffee and tea and gelato.
Another restaurant that I recommend is the Red Mountain Grill located at the Aspen Golf Club, a public course just outside of town at 39551 CO-82.  I heard about the great views, so I went for brunch on a Saturday. It was not crowded and I really liked the service and the smoked salmon benedict. The views really added to the experience! It is open for lunch and dinner as well as brunch on weekends. They also feature speciality menus every night of the week.