There is so much to see and do in San Miguel. Add these highlights and recommendations to your list:
Instituto Allende, Ancha de San Antonio 22: Stop in to see the wonderful mural in the center courtyard and others in the back on the left. There are some great galleries and a cafe restaurant. There are also handicrafts markets held throughout the year normally around holidays like Easter, Christmas and New Years.
The Instituto opened in 1951 in an historic hacienda, from 1740, owned by the Canal family. The art school at the Instituto played a major part of the first expats, under the GI Bill after WWII,  moving to San Miguel to study photography, visual arts, textiles and Spanish.  Today they offer a bachelor's degree in visual arts along with workshops and classes. There are also Spanish classes taught privately or in groups.
Language Classes: There are many places to study Spanish from private tutors to professional schools. My nieces liked Centro Bilingue at Correo 46 and I have other friends who swear by Warren Hardy Spanish.
Buy the weekly Atencion at a coffee shop or the Biblioteca and just sit in the Jardin under one of the sculpted ficus trees and watch the people and listen to the church bells of the Parroquia. There are often concerts or dancing in the center gazebo and mariachis playing in the evening.
Make sure to visit the wonderful churches and chapels. The Parroquia de San Miguel Arcangel built in the late 17th century (the pink facade was added in 1880), San Juan de Dios, the Oratorio de St. Philip Neri where construction began in 1712 and Templo de San Francisco from the mid-18th century are my favorites.
Learn to Cook: There are many great venues for cooking classes including those by Kirsten West. She has worked with famous chef Rick Bayless at Frontera Grill in Chicago for years and has also been influenced by the world famous Mexican Chef and cookbook writer Diana Kennedy. Her cooking school La Pina Azul Cooking School offers cooking classes in Col. San Antonio.
Well-known local chef Paco Cardenas also teaches classes in his home including a market class where you go first to the market to buy the fresh produce. You can email him at pacopos3@yahoo.com for a schedule and reservations or check out his website. Friends who have taken the class loved it.
Another friend, Kris Rudolph, owner of El Buen Cafe, has La Cocina Cooking School next to the restaurant at San Jorge 26 in Col. San Antonio. She offers classes in traditional Mexican cuisine, Oaxacan cuisine, modern Mexican fusion, moles and market tours with salsa cooking class.
To sample a number of local restaurants, both upscale and casual, make sure to take a food tour given by Taste of San Miguel. I have taken three with family and friends and have always enjoyed them.
Based in San Miguel but produced near Guadalajara, Casa Dragones is an award winning tequila. They have a small tasting room at Doce 18 Concept Store at Relox 18, but their main tasting room and event space on Recreo is spectacular and should be experienced. The home was former 17th century stables that was connected to the Mexican Revolution. Make sure to contact them to book a tasting. I enjoyed my recent tasting and thought the tequila was excellent. I really like the smoothness of the blanco which is mean to be sipped. It also produces a joven which goes better with cocktails. It is a great experience so try it when you are in town.
Make sure to visit La Otra Cara de Mexico, or Another Face of Mexico Mask Museum located at Casa de las Cuesta, B&B. Owner Bill LeVasseur has amassed a wonderful collection of masks used in dances from around Mexico. There are excellent displays along with a sales area where you can buy masks. Cuesta de San Jose #32.
Make sure to check out the schedule at El Sindicato Centro Cultural Comunitario at Recreo #4. They offer a series of monthly concerts, theater, lectures and more.
Two Sundays before Easter Sunday, there is one of the most festive processions of the season. Senor de la Columna, or Lord of the Column, is a statue that is normally found in Atotonilco. But on this Sunday the statue is carried all night from its permanent site arriving at the top of Avenida Independencia around 7 am. As fireworks explode overhead, the statue is carried, flanked by Roman soldiers and followed by the pilgrims who have walked all night. All proceed down Independencia walking over beautiful sawdust alfombras or carpets that have been made by the residents or over chamomile flowers that have been thrown in the street. The smell is amazing and it is very festive. The procession ends at San Juan de Dios church. Don't miss this if you are in town.
The Friday night before Palm Sunday is one of my favorite nights in town. The Virgin of D0lores or Our Lady of Sorrows is celebrated with decorating all of the fountains in town and making home altars. You see these particularly in the older Mexican sections. You can enter the homes to see the altars which have the Virgin at the foot of Jesus on the cross. They use candles, wheat grass and oranges on the altars. Many are really over the top and many are really very simple. There are many families with children walking from home to home, gathering in the homes with their friends, enjoying the paletas (ice cream bars) and sweets handed out at each location. It is festive, peaceful and a really wonderful experience.
Everyone should experience Semana Santa or Holy Week in a place like San Miguel. Beginning with several processions on Palm Sunday, there are processions most days throughout the week. On Thursday everyone is out again visiting the traditional seven churches at night. There are also several Last Supper recreations. The week culminates with the trial of Christ in front of the Parroquia and the Funeral Procession late in the afternoon from the Oratorio. It is very formal and very somber and should be experienced once. Saturday brings the Procession of the Virgin of Solitude where women carry the statue from the Oratorio. On Easter Sunday the big event is the blowing up of the Judases in the Jardin at noon, when life size paper mache effigies of Judas are filled with fireworks and blown up in front of a large crowd.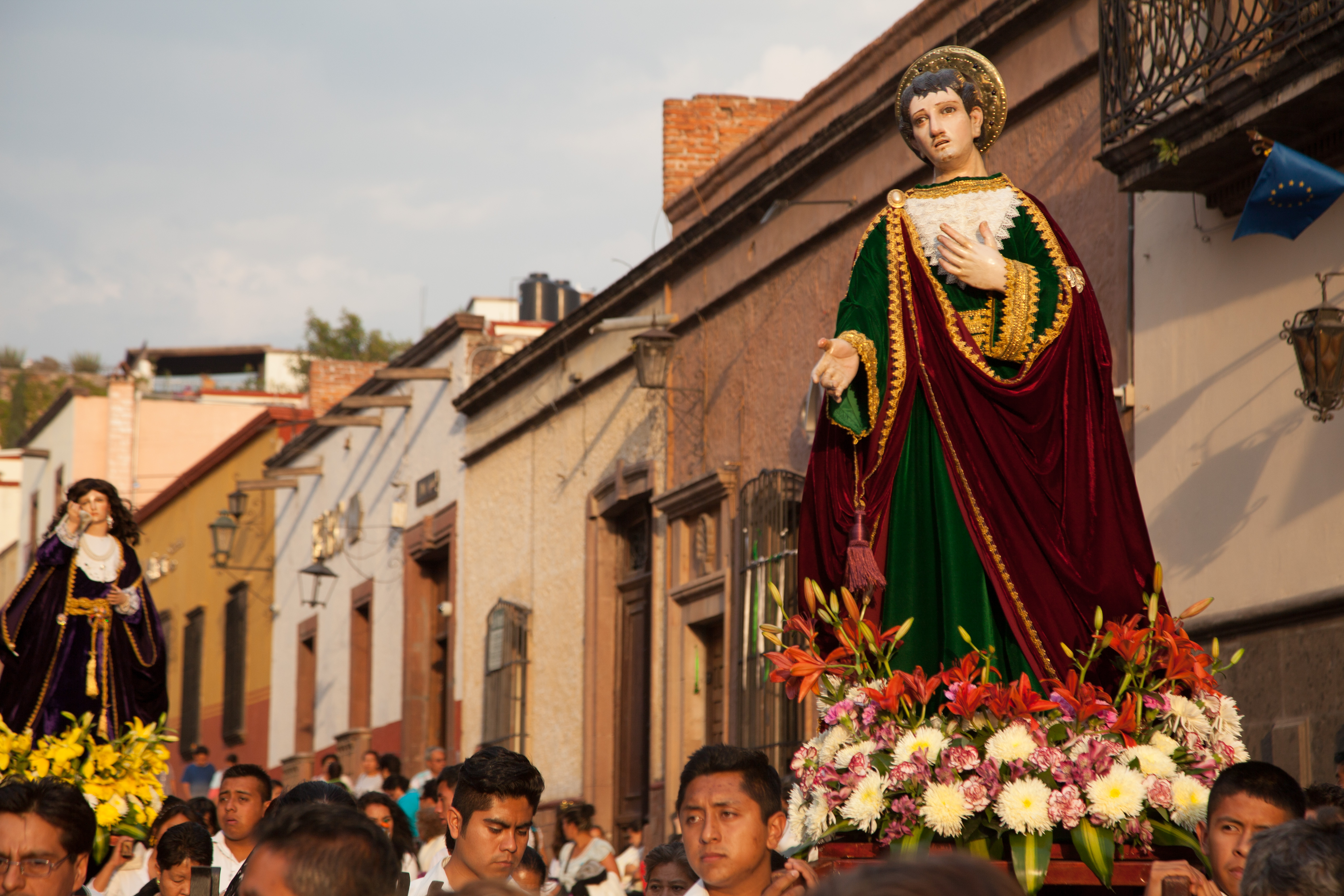 Other fun events include the Locos Parade in late June, the San Miguel festival in late September with its many parades and fireworks display and battle reenactment in the early morning hours of Saturday and the festivities for Day of the Dead on November 2nd. Don't miss going to the main cemetery on the 2nd. It is a big scene with vendors, mariachis and everyone visiting and decorating the graves. There are always festivals so don't be surprised to hear fireworks early in the morning; this along with roosters and church bells is just part of life in San Miguel.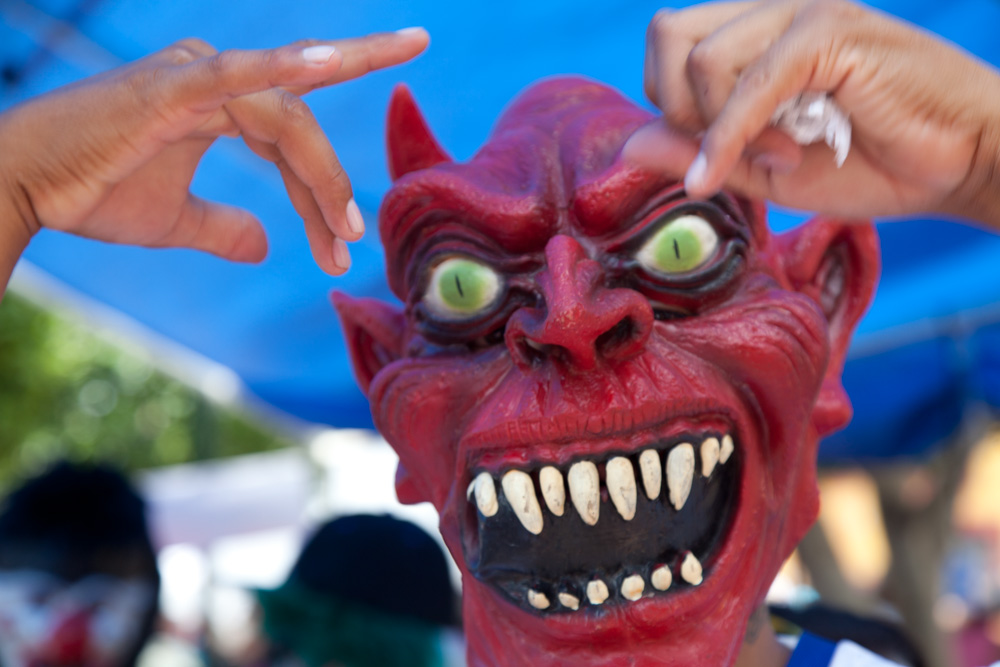 On January 6 is Epiphany or Three Kings Day in Mexico, when children receive their holiday gifts. Make sure to visit the toy market or mercado de juguetes near the San Juan de Dios Market and look for the procession of the three kings in the Jardin that afternoon.
Attend a bullfight at the bullring at Recreo 52. Look for posters for information on buying tickets. There are usually bullfights on December 31st and in September around the celebrations of Independence and the San Miguel festival.  There was one on the Saturday before Easter in 2023. Bullfights are part of the Mexican culture and should be experienced at least once!!
For those who enjoy hot air balloon trips you will enjoy seeing the city from above. Vuela en Globo offers such trips in San Miguel.
There are now many wineries near San Miguel where you can taste some very good local wines. There are more on the way.  
Over the past few years there has been a major effort through the Muros en Blanco project in the Colonia Guadalupe to create wonderful street art. Make sure to take time to wander through the streets and enjoy the great murals.  There are new pieces being created at all times.
The idea of murals has spread through out the San Antonio neighborhood and along Sterling Dickinson and Cinco de Mayo.
I recommend that you also visit three local parks. Parque Guadiana or Guadiana Park is located just east of Ancha San Antonio in Colonia Guadiana at Potranca 12. It is a peaceful spot where you can sit and enjoy the locals. It is supported by a nonprofit group of locals.
Recently renovated is the larger Parque Juarez south of the Jardin at Aldama and Solano. It is a tranquil park with colorful flowers, winding paths and  benches under shade trees. There is a playground, some small vendors and often local artists selling their work.  I love watching the children play or the student bands practicing in the late afternoon. There are often zumba or yoga classes as well. The public laundry or lavanderia is also fun to visit near the park at the end of Recreo.
Recently opened in 2020 on the north side of town is Parque Municipal Zeferino Gutierrez.  It is an attractive park with a pond and several sculptures. It is the largest park in the city and with flat sidewalks, it is a perfect spot to walk and exercise. I have friends who walk there every day.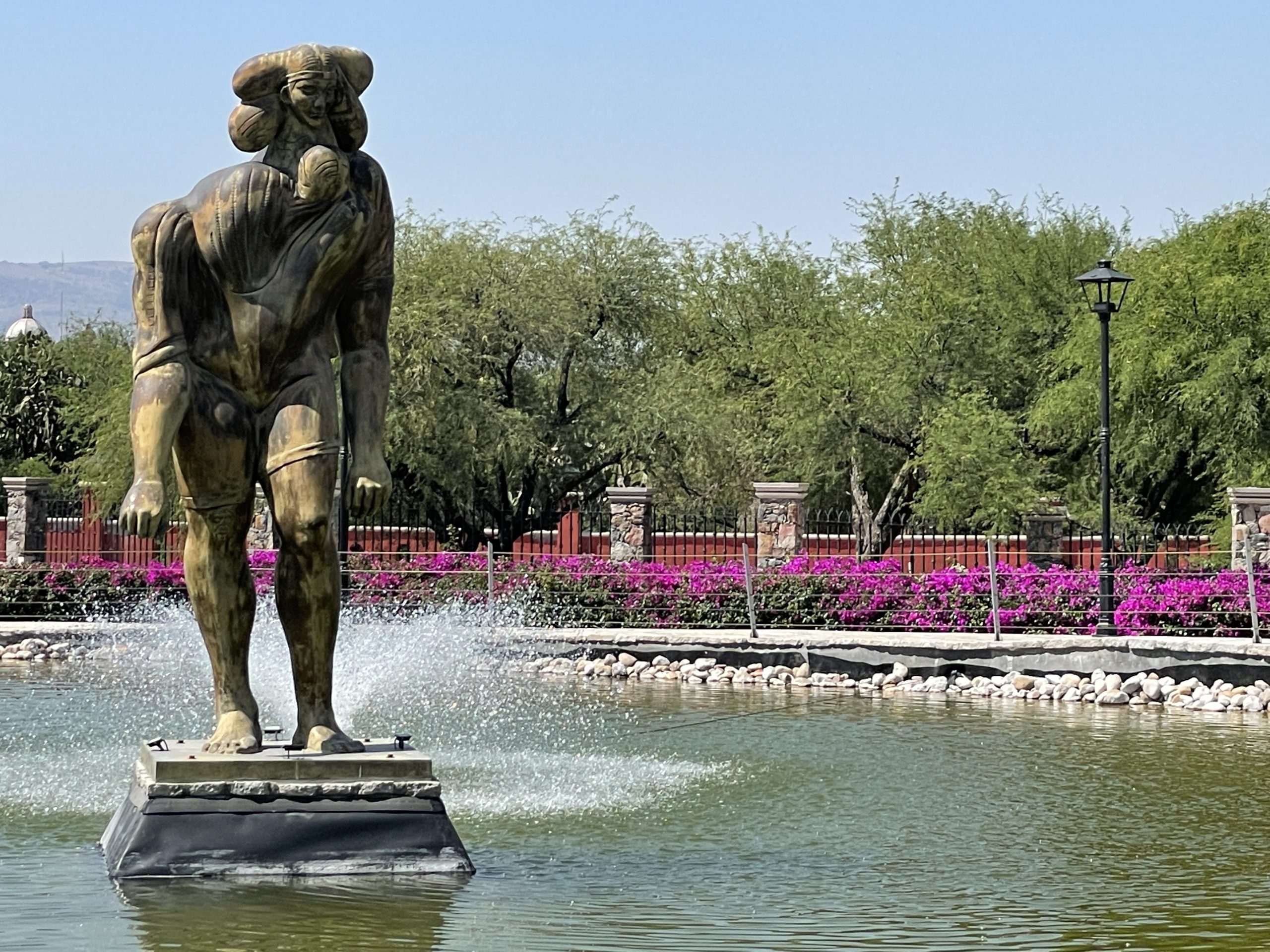 In addition to the local parks, make sure to visit El Charco del Ingenio or Botanical Garden. Established in 1991, it located on the outskirts of town and is a short cab ride from Centro. I recently went back after many years and was very impressed. They have a new visitors center and store, a cafe and a museum about the history of the area.
They do offer tours in English along with environmental educational programs, classes, workshops, concerts and festivals. The canyon played a major role in the development of the town of San Miguel. Water through the canyon was used in aqueducts, pipes and dikes as a source of energy for the grain and textile mills including the Fabrica La Aurora textile factory. You can still see traces of a colonial-era bridge and an old hacienda.
Walk to the left from the visitors center and you will see a number of sculptures and great views of the canyon and the tall cliffs.  Walk to the right and you will see the wetlands of the presa which attracts a number of birds. A the end you will see new conservatory featuring Mexican plants. I loved seeing the flowering cacti on a lovely April afternoon. There are many trails which can be easy or more difficult with trails heading into the canyon.
I also recommend having lunch at the cafe or enjoying a coffee or an ice cream. I loved the garambullo cactus fruit sorbet which they make in house.