Visiting San Miguel
Founded in 1541, San Miguel de Allende, with its spires and cupolas, centuries-old churches, steep cobblestone streets and stuccoed walls painted in bright tones of terra-cotta and sienna has a very old-world flavor. I call it "Europe on Central Time." The March 7, 2005 issue of New York Magazine, described this 16th century city as "the closest thing Mexico has to Florence"; again in 2021 The Travel + Leisure Annual Reader's Poll ranked San Miguel #1, out of its top 25 world destinations. In 2008 it was named a UNESCO World Heritage Site.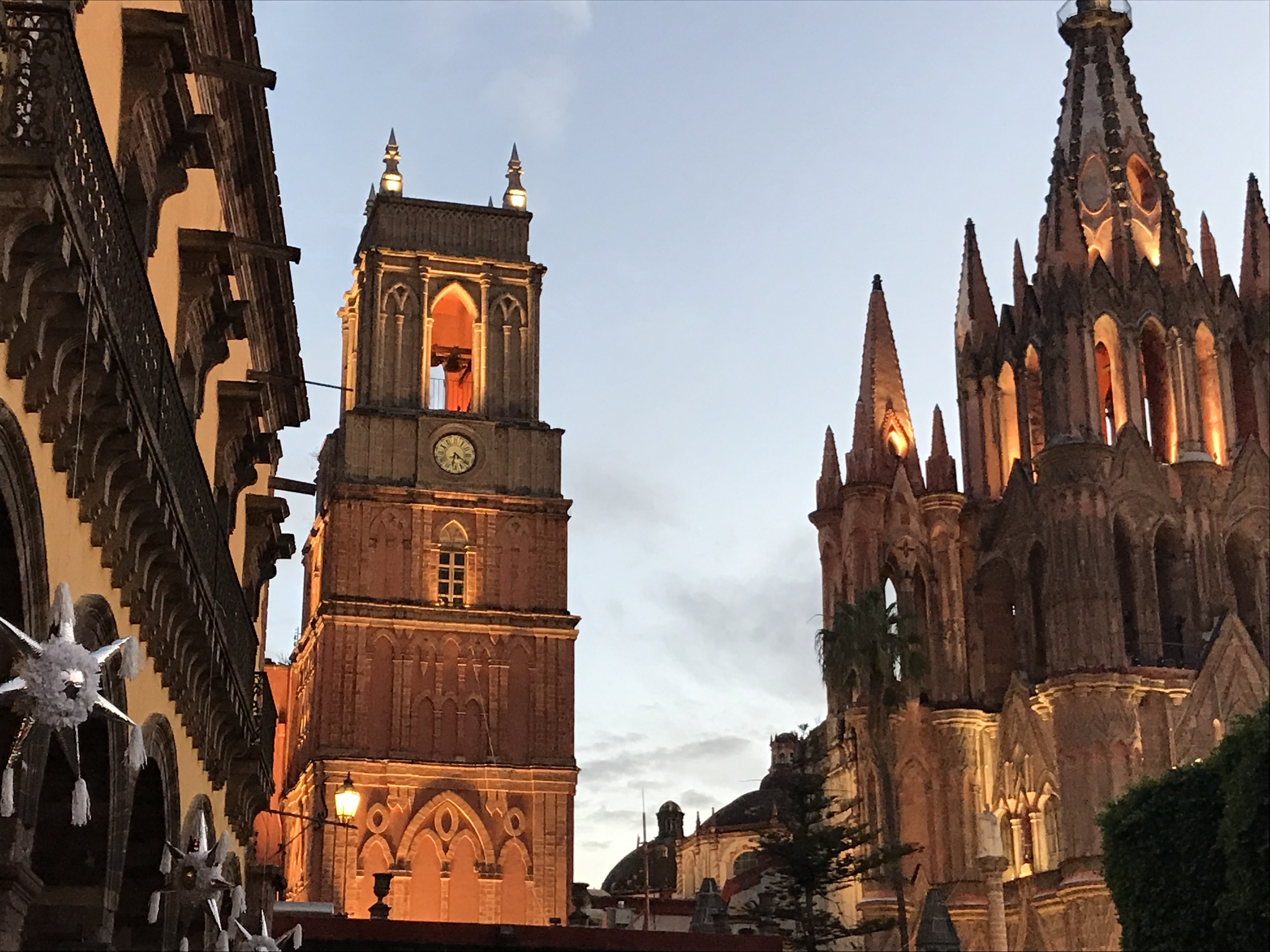 Since 1947, when it was established as an art colony, the town has attracted many foreign artists as well as fine Mexican artists. Today, the town of approximately 100,000 people is home to 10,000 foreigners from Canada, the United States and Europe. In addition, it is a major tourist destination not only from the US but now more than ever from Mexico City and other Mexican cities.
People love the 300 year-old architecture from Spain, the heavy, carved wooden doors along narrow sidewalks, the explosion of bougainvillea over compound walls surrounding meticulous courtyards. Unlike Cancun or Acapulco, where American fast food joints and discos rule, San Miguel de Allende still feels like Mexico.
I fell in love with this hill town in 2001 and since 2005 have made it a second home. The colors, the pace of life, the people and the positive energy all make it one of the most special places I have ever visited in the world. I am amazed by all of the people living here full-time who have traveled or lived all over the world but who end up in this magical town.
I recommend that you walk the streets, be present, sit in a cafe or the Jardin and just watch the people and see their kindsness, listen to the sounds of the church bells, taste the local cuisine and be amazed the colors and textures of the homes and buildings.
Make sure to check out my recommendations on where to eat, casual Mexican dining, the nearby wineries, where to stay, where to shop and what to do while there.
Getting to San Miguel
Located in central Mexico, San Miguel the city lies 170 miles northwest  (272 km) from Mexico City, 53 miles (86km) from Querétaro and  60 miles (97km) from the state capital of Guanajuato. The closest airports are located in both Querétaro (QRO) and Leon/Guanajuato (BJX).  You can fly on American through Dallas to both airports and on United from Houston into both as well. I have flown several times on Volaris non-stop from Chicago to Leon.  It flies into both airports from several other US destinations.
With the interruptions in airline schedules after the pandemic in 2020, the schedules and cities served have changed dramatically, so do check often if you are making future plans. But I do recommend that you fly into one of these two airports to make it easy to get to San Miguel. You can take Bajio Go Airport Shuttle to and from the airports, but I prefer hiring a private driver in case of delays. I have worked with Carlos Sanchez of Go Carlos Tours for over fifteen years and highly recommend him.
You can connect in Mexico City and then fly into either airport.  Or I have several friends who fly, say from Toronto, nonstop to Mexico City on Air Canada or Aero Mexico and then take Bajio Go or hire a private driver to and from Mexico City. I have heard that traffic can be congested and it takes around four hours each way. Depending on the flight schedules, this often requires staying in a hotel near the airport in Mexico City.
You can take a bus from the Mexico City airport to San Miguel on ETN to Querétaro and then change buses to get to San Miguel. I have taken the bus and then had my driver pick me up at the bus station in Querétaro. I like ETN which is a first class bus, with assigned seats, WiFi, movies and music, bathrooms and luggage placed below. Primera Plus is another good bus option.
Also if you are visiting San Miguel while visiting Mexico City before or after your trip, you can take the ETN bus from the North Bus Terminal or Terminal Central de Autobuses del Norte in Mexico City.  It takes 3.5 to 4 hours but is very easy. I have done it several times and highly recommend it. The bus station in San Miguel is located just west of downtown.
If you are vacationing or visiting other cities in Mexico, for example Puerto Vallarta, there are flights on local Mexican airlines like TAR that flies into Queretaro. Interjet also has internal flights into Leon/Guanajuato.
When to Go
San Miguel de Allende is located in Mexico's central highlands at at altitude of 6,234 ft. The high desert climate is generally dry and sunny throughout the year. During the early winter months including the Christmas season, the daytime temps are warm during the day but can drop below freezing at night, so pack accordingly. In March and April, the days are warm and the evenings cool. It it is also jacaranda season, when the the purple trees with it violet-colored flowers are in full bloom and can be seen all over the hills in town. It is my favorite time of the year!
May tends to be the hottest month with daytime highs reaching close to 90 degrees. During the summer months, the daytime highs are cooler as the heat is tempered by oftentimes powerful afternoon thunderstorms. The fall temperatures are very pleasant with warm days and cool nights.
As the city has become a growing, popular tourist destination, you will find massive crowds during San Miguel's Holy Week celebrations, or Semana Santa, from Palm Sunday to Easter, as well as during its  Independence Day celebrations on September 15th and 16th. I find that the week between Christmas and New Years can be also be very crowded as is the celebration of Day of the Dead or Dia de los Muertos  from October 31st to November 2nd.
Throughout the year, there are many weekend weddings and also other holidays that you can experience. Just remember, if Centro is crowded, there are other neighborhoods that you can explore, with excellent restaurants, that are not as popular with the tourists. The weekly English-Spanish newspaper Atención San Miguel has an insert called Que Pasa which is a great reference for you to use to determine what you need to do daily while there. You can buy it at the Biblioteca or at several shops and cafes when it comes out on Fridays.